Hi everyone! Since this time I have a chance to join a project called "The Amazing Journey" which is arranged by The Tourism Authority of Thailand (TAT) in order to promote 12 must-visit cities in Thailand.

After drawing lots, destination of my team is Chumphon ... A province that some people don't even notice which part of the south it is. Or some don't know attractions in Chumphon which is not different from me. I have been to Chumphon only once since I was born and I was too young to remember.

This is a chance to re-memorize a clear picture of Chumphon. According to my research about the province, our team will be divided into north and south part. Mine is the southern one.

My Chumphon trip is 4 days 3 nights which covers weekdays and weekends because I really want everyone to be able to follow the trip. May I separate the journey into 2 parts. The first part includes travelling program for 2 days.

The selected locations are Hat Tawan Chai, Tham Khao Plu Hot Spring, The Royal Chumphon Warship, Koh Phithak, Suan Nai Dum, Royally Initiated Development Project in the area of Nong Yai, Prince of Chumphon Shrine, Khao Mutsea, Wat Phra That Sawi and catching squid. The rest 2 days are diving trip...

This project is sponsored by TAT but itinerary is designed by me. If you are ready, let's go. I guarantee Chumphon has something more than you think.


The trip starts with Nok Air. My flight is the earliest one for Bangkok (Don Muang) - Saratthani, 6.10 - 7.20AM. There are lots of people travelling in morning flight. Anyway, please prepare spare time. I already check in via website and choose the seat on the right side next to window at the back. There is no morning sunlight at that zone and also see seashore view, as shown in the photo. For clothing, I intend to wear yellow one. Though I haven't put on makeup and feel very sleepy, I still give camera to my sister for taking photo right there, not shy at all.

Now I arrive at Suratthani. Some of you may wonder why I land at Suratthani as Nok Air has direct flight to Chomphun. The reason is I would like to have a car for travelling and most of my review is in the south of Chumphon. Driving from Suratthani is therefore quite convenient for me. For this journey, I choose car rental service from Thai Rent a Car which you can book in advance with selection of car. Let's pick up the car. I am a driver while my sister acts as navigator.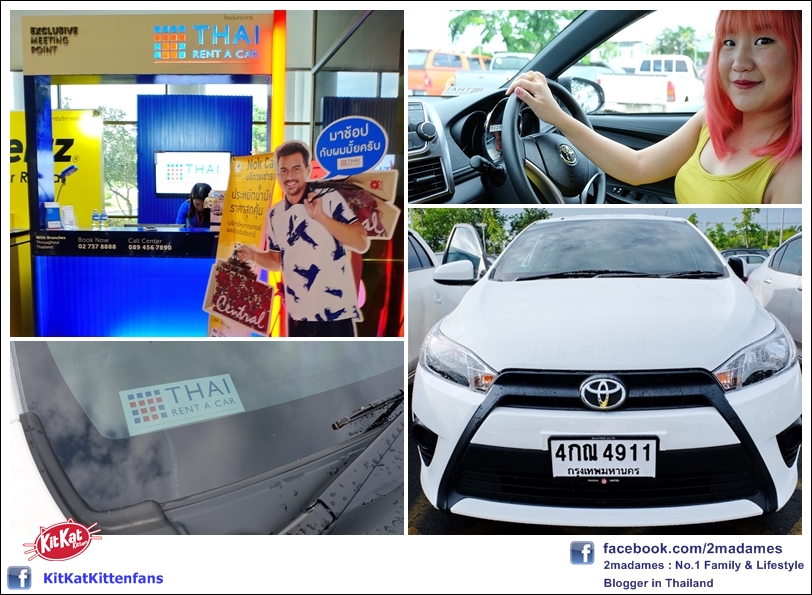 The first destination is "Tham Khao Plu Hot Spring". From airport to the spring takes around 54 minutes. I have planed the journey by using Google Map. So, we are following Google Map today. Tham Khao Plu Hot Spring is located in Amphoe Lamae which is next to Suratthani. Entrance fee is 20THB per person. Opening hours: 9.00AM - 6.00PM. The spring opens to public. The private section will be charged extra.

After paying entrance fee, I walk along the pavement inside which is under shade of trees. Hot spring is on foothills. The area of Tham Khao Plu is full of betel (in Thai called "Plu") which is a source of the springs' name.

Walking inside for few minutes is public hot spring area. Tham Khao Plu Hot Spring is a medical tourism since bathing in warm water at 55-65 °C helps relaxing you body, simplifying circulatory system as well as curing skin disease.

There are few users. The hot spring is in medium size but seems slightly shabby. If it is renovated, will look much better.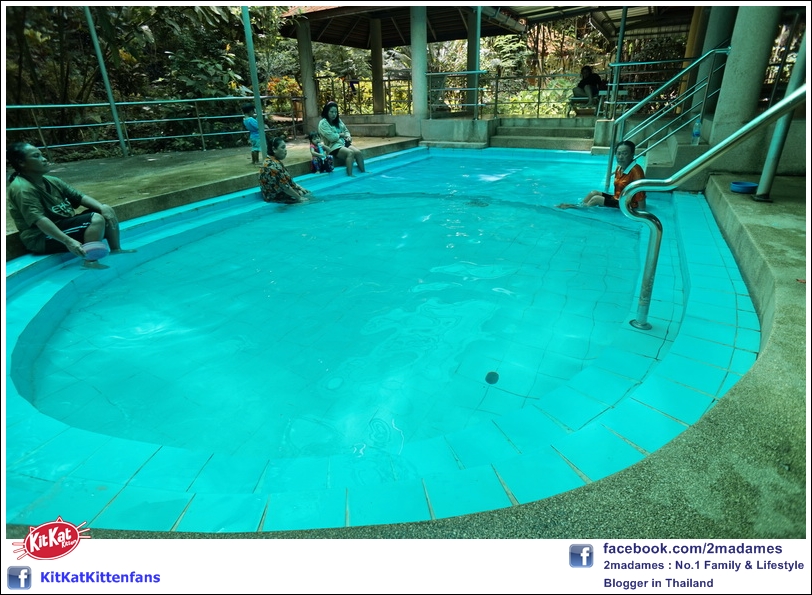 Besides hot spring, walking inside the pathway will find stairs in the middle of plentiful nature.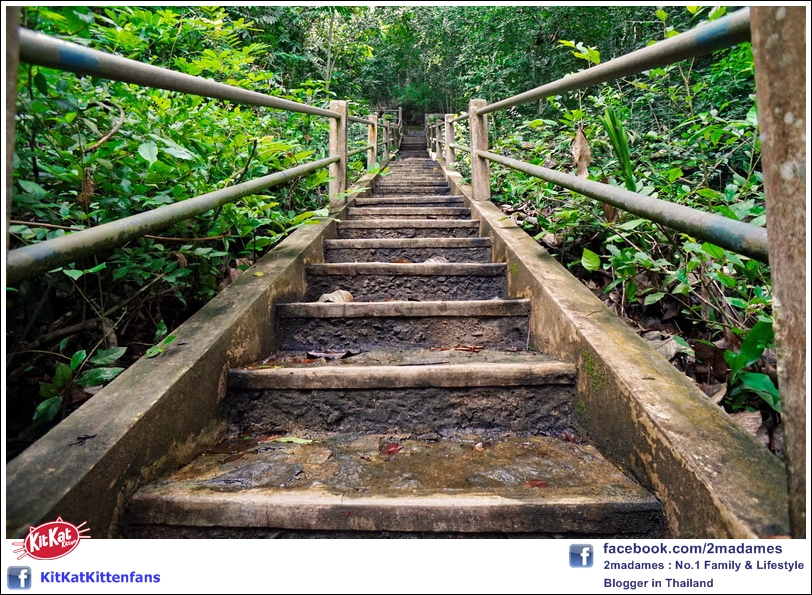 After hundred of steps, here's the cave.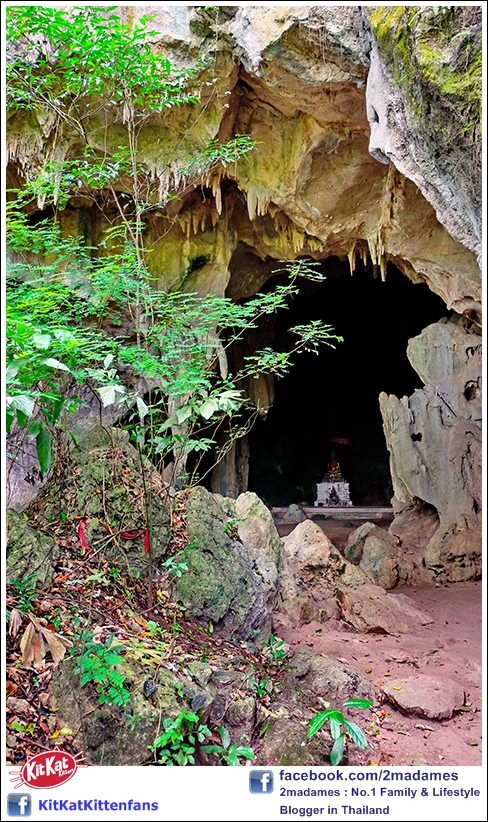 There is a Buddha image situated in this cave. You can come for worshiping.

The cave at Khao Plu is a small one. This is the view looking from inside the cave.

We stop for taking photos during returned trip to bottom.


From Tham Khao Plu, we continue our journey. Based on concept of Chumphon, it is an elongated province with 220 km of coastline. The first beach I'm visiting is "Hat Tawan Chai" located in Amphoe Lamae. It takes 30 minutes from Tham Khao Plu Hot Spring. There are signs along the way to Hat Tawan Chai. Please slow down at beach entrance as it is right at the corner. You may miss it. Pay attention for the small restaurant as shown in photo. Asking from locals, Hat Tawan Chai is a site for fisherman to do fishing or squid fishing at night. It is a perfect place to learn livelihood of fisherman. While I take photos, a villager tell me in southern language to zoom at the boat. I don't understand. So, I smile back and shake head in order to show I don't get it. He still tries to explain repeatedly in southern language till another person helps translating. I am quite impressed with the kindness of Hat Tawan Chai villagers.


Walking to the beach will face with sky right after the rain while the sun is shining. The overall ambiance at Hat Tawan Chai is quite peaceful suitable for relaxing and watching sunrise. Coconut plantation and pine trees appear along coastline. The sand is not finely powdered. However, I'm still very excited as it is the first beach of this journey.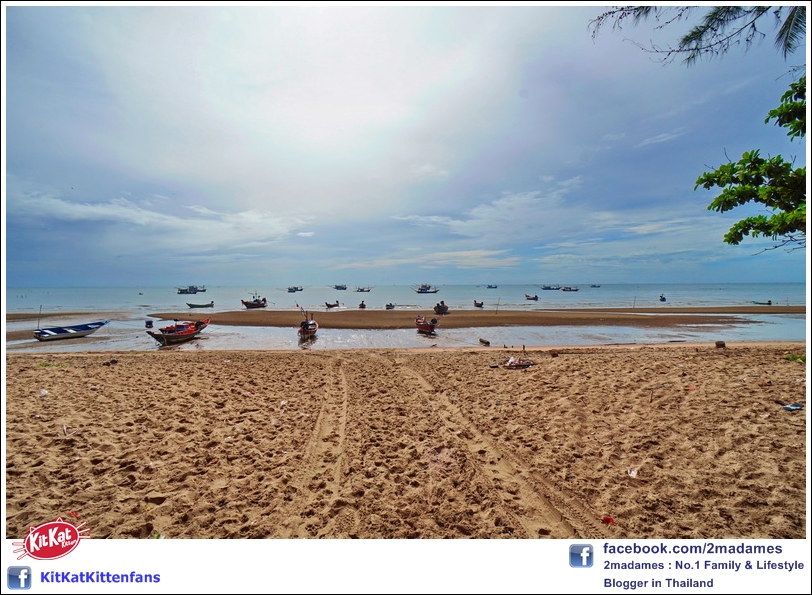 And what we should do is photographing with full posture.


After satisfying with the beach, our next location is "Prince of Chumphon Shrine" which is the largest one in Thailand. It is 40 minutes from Hat Tawan Chai. The shrine is in Tumbon Paknam Langsuan, Amphoe Langsuan, beside Hat Laem Son. Opens daily 8.00AM - 8.00PM. Inside admiral, on ground floor, contains history of Prince Chumphon equipped with flowers and incense for worshiping. When I arrive, I am confused where the shrine is. Finally I decide to ask locals again. They tell me to park behind the warship which there is an entrance.


Now I'm on upper level. The sky is not clear but very sunny.

Inside is the sculpture of Prince Chumphon. As it is Thursday, there are not many people.

I'm hungry now. Prior to the next stop, let me have lunch first. Although it is the first meal, I prefer to have seafood at "San Sai Seafood" restaurant.

There are various seating zone but I choose small cot beside the sea.

Let's see what I order. The first dish is my sister's spicy Papaya Salad. It is so sour that we request them to adjust it. Next one is grilled squid. Actually I prefer to have spawning squid but it is hardly found in this season. Another must menu is Fried Rice with Crab. It is slightly sweet but fish sauce with chili can help. Last dish is Prawn with Tamarind Sauce. The overall taste is acceptable but there are lots of flies. The restaurant provides mosquito-repellent but doesn't help much.

Eating and watching atmosphere at Hat Bang Nam Chued, Paknam Langsuan, is quite relaxing.

Fishermen just moor and walk pass the beach. I ask them to photograph.

My next site is "Koh Phithak". I follow Google Map as usual and arrive within 10 minutes. Flood tide decreases to the ground for wide area. I have never seen flood tide decreases this much before. Based on my research, there is car taking care service but there is big tour group on that day. I follow them to parking lot. Just go end of the way, not difficult to find.

Finally we are at Koh Phithak. The island was once called "Koh Phi-Tak" (means ghost greeting). There was fisherman who sailed a boat to catch fish near the island and saw a person weaving hand and calling him. When he approached closer, there was no one on the island. Fisherman therefore calls it Koh Phi-Tak. After villagers settled down on the island, they changed the name to Koh Phithak (means protect) for fortune. However, ...

"There are 2 assumptions for the source of name Koh Phithak. One believes that the name originally comes from "Phi-Tak" that villagers have legend about "Pu Dej" (who saw the ghost) and ghost greeting voice. Another presumes it is from "Thi-Pak" (means camp site) because the island was a temporary living place during storm period to wait for calmer weather, before continuing sailing." Source: Pin Butri ( http://www.manager.co.th/Travel/ViewNews.aspx?NewsID=9560000074930)


Going to the boat after parking.

A bridge for getting on the boat is elongated into the sea. Look back at another side of coast where water is not drained.

At the end of the bridge, wheelman is waiting.
So, I ask him ... "Which boat is going to Koh Phithak?"
He answer ... "You can get on this one. I will bring you to the island."
He tells me to walk down the stairs on right side which is quite steep. When return back , I use the one at front, more convenient. I ask him "Why didn't you let me walk down this one at the beginning?"
He say ... "It is for beauty queens while they were confining here."
Okay, I'm not a beauty queen but I walk up by the stairs they used. Because I'm pretty half of them.

I'm ready now. Let's go! The man in blue shirt will bring us to the island. The boat has motors but doesn't have roof, like shown in the photo. The fare is 40THB per person with traveling time of 10 minutes. He gives us his number for calling him to pick up.

We are so excited. My hair is blown away. Luckily my sister's hair is short, so it's not messy. I have to wear a hat to protect my hair. At the beginning, I am curious why the boat go slowly.
I tease him ... "Is this the fastest you can go?".

He answer ... "Can't sail fast due to shallow water".

So, we lean out and find it really shallow. During the way, I ask where they run through the sea to Koh Phithak. He points at sand ridge in the middle of the water. When the tide decreases, we can walk pass. For other area, when flood tide increases, will overflow the head. Our boat needs to take a detour in order to avoid the sand ridge.


We are close to Koh Phithak now. The water is in different with the coast side. There are both households and home stays available on the island.

Upon arriving, my sister acts for taking manly photos.

Follow by mine, acting like watching the view.

There is a board stating Koh Phithak's location: Tumbon Bang Nam Chued, Amphoe Langsuan, Chumphon. Slogan of the island is "Marine street crossing the sea, Freshwater in the middle of island, Rock oyster, Tornning sea, Two water beach". There are attractions around the island with directional sign. You can also ride a bike. For manly women like us, we choose to walk.


I follow the sign for nature learning route. Pavement is made of bricks covered by green moss giving a mood of nature. Sideways are full with butterfly, flowers and trees ... including mosquito. I have mosquito bites all over my legs and arms. It is very fierce. I recommend to bring mosquito repellent.

Here's the view at the end of walkway. I have to say "Wow!" to clear sky and blue sea. So different from coastline.

Walk to the left will find Pro Ta Phithak Shirne. We stop for worshiping as usual.

Going little further is red concrete bridge for touring around the island.


Blue sea and clear water like I mentioned earlier. Feel so lively.

As I said there are intersection to the left and right. The left side is red bridge. I choose to walk and watch the view on right side. Then I find stairs up to the hill but we are not afraid.

There are signs telling tree name along the way. This one is Schefflera elliptica (Blume) Harms.

Such a worthwhile scenery to climb up for. We don't regret for visiting Koh Phithak.

I walk inside the soil way finding coconut plantation.

There is Gnemon as well. I have never tried it before but will definitely do in this trip.

We walk pass a location where villagers are sitting. There are refreshment and smoothie stalls. After a long and hot journey, drinking cold beverages helps a lot. Before leaving Koh Phithak, let me give information for those who are interested. Please contact Khun Aumphon Thanikrut (Pooyai Rung) at 08-1093-1443, 08-9018-0644. He is a coordinator to all home stays on the island which there are 15 of them. The island also have other activities such as catching squid, diving and others.

During returned trip, I drop by Statue of Buddha facing out to the sea.

I arrive at "Suan Nai Dum" in 30 minutes. The concept of this place is "Great toilet, Think of Suan Nai Dum". The objective is being an agritourism of Chumphon in order to learn florae among clam atmosphere as well as gardening. It is a breakpoint for tourists offering freshly squeezed orange juice, coffee, food and OTOP products from Suan Nai Dum. To thank you for visiting, this place fulfill happiness like you wish in mellow ambiance at Suan Nai Dum.




Let's check on toilets or various kinds of restrooms at Suan Nai Dum. This is the first type.

This one can climb up. The partition is open-able.

Or Tarzan style, have to climb up.

Suam Nok Kala (toilet outside coconut shell).

Inside every type looks like this.

Sky walk for touring around the site.

There are souvenirs selling outside including beautiful florae.

After a long day, it's time to take some rest. The resort I'm staying for the whole trip is "Tusita Resort & Spa". In the photo is resort's lobby, Tusita in the garden.



Accommodation at Tusita Resort & Spa is classified into 3 styles including Tusita in the garden, Tusita @ the Beach and Tusita @ the Sea which are located separately, but not far.
Let's see Tusita in the garden. Walk along pavement.


Resort facilities include swimming pool and fitness center. The rooms are situated around pool area. Decoration is in British India style.

Follow me for example of the room in garden zone.

This room is called "Wimantip Villa" with 80SQM, single bed.

Offers lots of pillows together with dry flower.

Equipped with private balcony and green scenery.

Moreover, there are working table and sofa set with lady finger banana which is famous fruit of Chumphon. Restroom is perfectly divided into Jacuzzi, streaming room and shower are.

Next is Tusita @ the Beach, 500 m. from garden zone which I stay at this one. The decoration is in Mediterranean style. Are you ready? Let's go.


Lobby is in light brown and blue color giving warm feelings.

Bar zone.

Living corner.

Pool table.

Further to the lobby is pool area.

Another activity at the resort is biking along the beach.

Walk way to the beach at Tusita Resort & Spa, beach zone, is beside Hat Arunothai.

Looking back from the beach will find the room "Beahfront Jacuzzi Pool Villa".


In front of the room is private pool to enjoy swimming and watching scenery view.

Let's see inside.

Large blue sofa facing out to the sea with lady finger banana.

Behind sofa is colorful bed zone.

It has large single bed.

Together with comfy pillows.

Restroom behind large door is shower room and rain shower.

And Jacuzzi for couple.

Another example of the room in this zone is "Beachfront Jacuzzi Room" which is available in both single and double bed type. In photo is double one. The room is equipped with living area, long comfy sofa and working table and Jacuzzi.


And last type is on the 2nd floor called "Beachfront Jacuzzi Suite" which is available in both single and double bed type. Example is double bed type with Jacuzzi.

Highlight of this type is balcony for watching sea view of Hat Arunothai with daybed.

And large white cradle for appreciating the ambiance.

This is the view when look down from balcony.

I'm getting hungry. Time for dinner. Tusita arranges romantic dinner on the beach.

Let's see my dinner today. First dish is mixed seafood with spicy sauce. Next is Seerfish Deep Fried with Fish Sauce eating together with hot steamed rice. And what I'm impressed the most is Southern Yellow Curry with Crab and Pickled Bamboo Shoot. The crab is fresh and huge with mellow taste. Finally the must menu, Yellow Leaf Vegetable Stir Fried with Egg and Shrimp. My dessert is lady finger banana in coconut milk. It is my first to try this menu, very yummy.

Say goodbye to first night with this shot. Allow me to bath in Jacuzzi and have a sweet dream on comfy bed.

Good morning for the 2nd day at Chumphon. Last night it rains heavily. The sand is still wet.


As breakfast is the most important meal of the day, I won't miss it. Let's see breakfast at Murraya Restaurant, in garden zone. These are what we order. Actually almost everything in menu.

Time to continue the journey. First location I'm proudly to present is "Royally Initiated Development Project in the area of Nong Yai" which takes around 1 hour to arrive. Here's a sign at entrance. This royal project is related to water for solving flood problem that used to cause huge damage to Chumphon. Apart from that, it also stores water for agriculture and create revenue to villagers. This area is built as "Kaem Ling" in natural way with capability to store water of 102 SQM. It is also a learning center providing theory of Sufficiency economy to result in successful outcome.


I visit learning center to acknowledge the king's theory.

There are clear signs along the way. If you would like to have an explanation from expert, please contact with the project in advance. Or to visit individually, the center provides board describing process and benefits for your learning.

Following the way will pass many interesting projects. End of the pavement is a bridge made of Cotyletobium wood.

Asking from villagers, there are birds in the morning. If you would like to watch the birds, just cross this long bridge.

The bridge leans across large swamp which is Kaem Ling to opposite side.

The opposite side plants rice and feeds animal. This period is ploughing up and over. So, I decide not to walk across since it is raining.

After the royal project, we reach to "Hat Sairee" within 40 minutes. If you come here , don't forget to visit Prince of Chumphon Shrine located on foot hill where you can drive to. The shrine is situated on Chakri Naruebet warship facing to the sea.


Chakri Naruebet warship.


In the photo is small shrine where the prince passed away.


Then I return to viewpoint at "Khao Mutsea" because I pass it at the first. So, I switch to Hat Sairee first.


There is sign for entrance. Make a turn at the sign for breakpoint because another lane is late to turn.

Since the road is quite steep, I'm not sure how the way would be. I decide to park the car and walk instead. The stairs are convenient to walk and not far. Only 3-5 minutes.

There is coffee shop of Baan Tham Singha Coffee community at the top.

Coffee field is right at the Khao Mutsea.

As I don't drink coffee, I choose to refresh with iced milk tea and iced green tea.

On top of Khao Mutsea is a location of Phra Bodhisattaya Awalokitesuan (also known as The Goddess of Mercy) for tourists to worship.

You can see scenery in 360 degree with plenty points to take photos.

On the right side of Khao Mutsea viewpoint is Hat Paradornparp.


Another area is a shop selling bird's nest which is a well known product of Chumphon.

Viewpoint of Paknam Chumphon Community and Hat Paknam Chumphon.

Further to Khao Mutsea, we are at Hat Paradornparp which we just know it recently from viewpoint and it is where we gonna have lunch. I get to a restaurant when it is about to rain.


The restaurant name is "Lui Restaurant". It is quite famous in Chumphon. I want to have crab meat but the owner said the crab is small and has less meat. However, it comes out okay. Although it's small but very fresh. Another dish is Egged Squid Steamed with Lime Sauce. The egg is yummy. Last one is spicy Southern Yellow Curry with Sea Bass and Coconut giving mood of southern food.

From Lui restaurant, we drive to the south of Chimphon for 50 minutes to Amphoe Sawi. We plan to visit "Wat Phra That Sawi" which is a holy historic site of Sawi villagers and surrounding districts. The architecture is inspired from Phra Borommathat Chedi Nakhon Si Thammarat. It is assumes that the temple was built in Ayudhya period. Chedi is in bell-shaped which enclose relics of Lord Buddha.

Bring beautiful flowers for the relics.

Chedi's surrounding area is an open gallery of Buddha images.


History of the temple is from following link https://www.gotoknow.org/posts/4836.
There is a legend describing history of Phra That Borom Sawi. Going back in time, King Sri Thammasokarat brought his army to stay at a deserted temple in Sawi district and found an albino crow with a group of crow on brick pile. They flapped their wings and roared. His Majesty ordered to dismantled the bricks that were covering large pagoda base. Once dug deeper, they found a jar containing the Buddha's relics. His Majesty had his man built a new pagoda over the old one. After the repair, they celebrated for 7 days and 7 nights. His Majesty gave the name "Phra Borommathat Kawipeek" (where "Ka" means crow and "Wipeek" means flapping). Later on, the temple was called "Phra That Kawi" where the word "Kawi" was eventually changed to "Sawi" in present.

Prior to King Sri Thammasokarat's leaving, His Majesty was worried if there was no one taking care of the relics. Therefore, a soldier who were sleeping was called. The soldier's name was "Muang". His Majesty asked if Muang was willing to stay here and take cafe of the relics. He said yes. Therefore, his head was cut and used as offering to the spirits in the shrine for keeping the relics. The shrine was called "Phra Sua Muang Shrine". In present, there are locals and tourists worshiping the shrine especially Chinese tourists....


Finishing from Phra That Sawi, my sister wants to eat fruit because she sees it when we drive pass. Right after her word, here's fruit stall. So, I immediately park the car to buy fresh fruit.
At Amphoe Sawi, fruit stalls can be found along the way.




Last program of the day is catching squid arranged by Tusita Resort & Spa. It is one of activities from resort. I get on the boat at Paktako Home Stay.


Once ready, move things to the boat.

Now I'm ready. The boat departs around 6.00PM - 6.30PM. Take 40 minutes to reach at the right location.

Cross to another side is mangrove forest.

Here we are in the middle of the sea. Along the way we see other boats catching squid as well.

Our boat drops anchor at area next to Koh Keenok. Equipment includes fishhook and artificial bait. Then turn on the light to entice the squid.

While waiting for squid, try to pull the hook all time. If you see squid, hurriedly pull up the hook.


I can't catch it. Guess it's not my way but fisherman catch a very big one. After pulling up from water, squid will spread the ink. Please be careful. When it's done, squid will look transparent like this.

This one is as big as my body.

Finally it's time to eat. We grill squid on the boat. Wait for it to ripe quickly.

This is how super fresh squid look like. It tastes very sweet. Eating together with spicy sauce is even more delicious.

Tusita also prepares dinner on the boat. Menu is as you see in the photo. Happily full on the boat. Then go back to accommodation and get ready for the journey tomorrow.

So, this is the end of first part with The Amazing Journey arranged by TAT in order to promote 12 must-visit cities in Thailand.
Please wait for the last part ... From the photo. I will go diving for sure ... I guarantee it would be fun!!!


[Spoil] คลิกเพื่อดูข้อความที่ซ่อนไว้ Don't forget to have a chat with us at Facebook : Kit Kat Kitten Fan Page