It's the season to travel to the beach and Phuket is definitely one of the top destinations, which many people usually choose to go.
There are beautiful beaches, clear waters and many islands that attract us to go there, dive and see beautiful corals. However, accommodation is also something that attracts us to get there.
Today, My Life My Travel has a review of luxurious accommodation with beautiful views for you.
It's Avista Hiedaway Resort & Spa Phuket.
.
.
He said that (who he is) the first impression is a long lasting memory.


And this first spot causes me to be agape and tongue-tied. The design is exceptionally beautiful and very elegant. This area is just a step through the door and it is called 'Welcome Court'.
It is a beautiful, distinctive and eye-catching artwork.
(Ah Ah Ah).

After passing the Welcome Court it is the hotel lobby. I scream louder after seeing this.

Lobby is so pretty, large, open, airy with high ceiling. Overall areas are in white enhance the feeling of roomy, specious and calm. Most importantly, the front of the lobby is overlooking the sea view.

A brick wall is decorated with golden lined design. The first stop wins my heart already.

Welcome drink tastes like mixed herbs but the strong smell is mainly from bale fruit. It is sweet and so refreshing. At check in, staff introduces the hotel facilities and provides a hotel map since the hotel is (very) large.

After checking-in and storing stuffs neatly, there is no reason to wait any longer. Let's explore the hotel. Staircase is exceptional. You will love this spot if you like to shoot. It is also beautiful to shoot portrait and pre-wedding photos. There are many spots to shoot.

I think Avista Hideaway has a variety of design and decor. I really like these many shady trees. Look at this pathway!

I walk until the first pool, there are totally 3 pools at Avista Hideaway

This is the main swimming pool.

The floor is made of white marble. There are poolside chairs on both sides.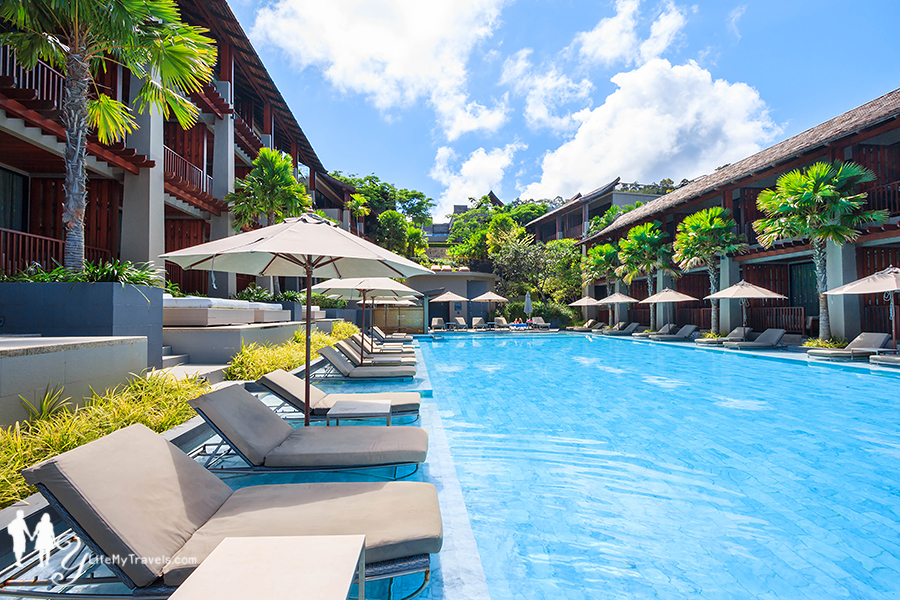 When looking out there you can see the Andaman Sea. A beautiful blue sky like this, let's jump!


Before jumping, let's have a look guest rooms first.
Avista Hideaway has totally 150 guest rooms in 6 different types.
Buena Vista
Family Vista
Club Vista
Jacuzzi Suite
Duplex Jacuzzi Suite
Tropical Hideaway Pool Suite
And the first room that I will show you is Jacuzzi Suite.


This room is similar to Duplex Jacuzzi Suite.

There is a bathtub inside the bathroom.

The Jacuzzi on the balcony is very outstanding.


Also you can have a very private sunbathing here.

Let's continue with the next room type is Tropical Hideaway Pool Suite
It's the room that I scream very loud after my first seen. It is so spacious, beautiful and a private pool is extremely large.

The bed is huge. I like this kind of bed. It gives me the princess feeling (not relevant at all). On the left is bathtub, the front is the pool and the right is a sofa. It's fully equipped.


Let's have a look outside. There is a working desk at this corner where you can write this and that.

Through the glass door is the bathtub.


Surprisingly, it's open air and so beautiful. If you walk to the front, you will find the rain shower and from here you can access directly to the bathroom.

Let's take a look the pool. It's large and there is a small pantry with some of kitchenware and TV in this area. Again, fully equipped!


Let's have a look at another zone. This zone is a bathroom and a dressing room that is separated from the bedroom. How is it? Do you also like it?


Let's walk back to the room that I stay. Let's see what room type I have.
On the way, I find another pool. There is the fitness centre and the kid's club in this area.

I am so jealous that couple. Well, I have a couple here as well.

And then it's time for me to relax.
I'm back to my room and it's Club Vista. The first thing I do is running to my balcony to enjoy the sea breeze and the bright sky. The air is so cool.

An evening sunlight is looking so warm.

Oh! I am so sleepy when seeing my bed. This room is in light tone. It looks so comfortable and delicate. It is lengthy room. After opening the main door, you will find the closet and the bathroom first and following by the bedroom.

There is a big sofa for a comfortable sleep at the bathroom sliding partition. The partition can slide to open and close. It's pretty sexy if you leave it open.

Let's continue to see the bathroom. There is a bathtub and bathroom with separate wet and dry area.

Bath foam is well prepared by the hotel.


And there is a full set of bathroom amenities and equipments including a weight scale.


Minibar is fully filled.



And the distinctive point of this room type is that most of the rooms are overlooking the sea view and this is something really special.

After showering, let's lie down and take the fresh air here.

The sun is about to set not long after I get up. The sky is looking so beautiful.
Oh, I forget to mention that the third pool is in the Club Vista zone. It's quite private because other guests likely use the main pool.

I have more energy to capture beautiful scenes at nightfall after my short nap.

Next to the headboard is the working desk corner and various items are placed here.

Photo from the bathroom through bed room.

Despite a night, this balcony still wins my heart. Who said the sky at night is not beautiful? Let's drink a glass of wine in this atmosphere setting.

And another photo from the pool in Club vista zone at night. It's so beautiful that you can go on and dream about it.

And the stomach suddenly cries for dinner in the evening. I will take you to taste the foods at Vista which is the main restaurant serving breakfast, lunch and dinner for both Thai and Western foods.

The restaurant is large with many lighting colours.

I want you to see how beautiful it is in real.

The seats are available in 2 zones. There are indoor with air-conditioning and outdoor with open air, which you can enjoy the cool breeze and fresh air.

Beverages come first.



The first menu is pretty light 'Grilled Chicken Salad' (I don't remember the full name).

Salmon Filet Steak is very tasty and so soft with a great sauce.

Spaghetti Carbonara in a big portion is so tasty and rich with a lot of bacon.
I'm not disappointed about the food tastes at all.

After being full from dinner, let's take a stroll. The main pool at night without people is so beautiful and quiet.


Before going back to the room, I stop by and have a look the attractively decorated lobby again.

Trust me, you will fall in love with this place easily because it's so beautiful.

I will have a sweet dream all night long.

Waking up with the same bright and lively weather.

Morning sunlight is so warm like the body is getting full energy.

The breakfast room is at Vista, the same restaurant we had dinner last night.

Let's see what do they have.








Grab the table you like the most and enjoy the sunlight in the morning is pretty good idea.



After the breakfast, I take a walk to Kid's Club. Kids will surely like it here.


The spacious room in bright colour fits so well with my age. (I seem to misunderstand and think I am still a little kid.)


Next to that is Fitness Centre


Walking down to the lower floor is the library with many books, Internet service as well as soft drinks are available. If you like the quiet corner and you are into reading this room is perfectly match to you.


And there are many more activities to make your holidays at Avista Hideaway not boring.

You can see from the picture that I don't hit the ball at all. (I don't think it's embarrassing.)

And there are more activities such as table tennis and pool table.


We play every single things thus we are so hungry at noontime. There is no reason to wait, let's go for lunch at the main restaurant Vista. You can see the pool from the restaurant as well.


You can choose where to sit and here are a few photos at daytime.



This time I order a Thai menu, I wonder if it's delicious.
The staff serves crackers as an hors-d'oeuvre becuase we have a Thai menu.

The first dish is Stir-Fried Crab Meat with Curry Powder

The second dish is Pad Thai. A regular portion is bigger than this. I'm afraid that I can't finish so I ask for a smaller one.

The third menu is Roast Duck Curry or Gang Ped Pbed Yaang in Thai. This menu is served with steamed rice.

And the last menu is Tom Yum Koong with thick soup.
To conclude, every dish is so delicious but you have to inform that you want the taste for Thais.

After having lunch is a moment of relaxation, swimming and napping. In the evening, seeing the sunset from this corner in front of the lobby is so romantic. It's the moment that I really love.

Not long after, I head to enjoy the atmosphere at Sizzle Restaurant.

And tonight we will have the dinner here.

Wow, It's so romantic and I'm standing and having a sweet daydream.



After the sunset and the twilight, this place is so sweet with the sound of jazz music in this kind of atmosphere.

A glass of cocktail to enhance the romantic atmosphere.


The first dish arrives. It's really fresh and delicious seafood.

The next one, my gentleman tastes and tells me that it's more delicious than anywhere he has had before.

Finishing up with this light menu.

And not to be missed is dessert. It's sweet, sour and delicious lemon tart served with small piece of fruits.

And a tasty complimentary dish from the chef at last.

How is the Avista Hideaway Resort & Spa Phuket?
The luxurious and elegant spot that wins our heart to the max at first sight.
Many activities to do on holiday without felling bored.
A romantic dinner venue with delicious foods
This is the choice that you have to choose and I can really guarantee that you will not be disappointed.
And you can follow My Life My Travel at this link below.