If you are travelling to Bali soon and confused about where to stay, what to explore and where to eat then your search come to and end by this post : #BaliBible
Prelude:


I had initial thoughts of booking a rental car from the airport itself to explore the Bali, but it needs International driving permit so I skipped that from my TODO list instead book a taxi service online KLOOK which gave my cheapest prize of Rs. 900 (13 USD) only. I also ensure to book a local SIM to access internet on the move for GPS,Email and Social media. I book the same from KLOOK and it was around 9 USD. The driver was waiting right at the arrival gate and was helpful enough to drop to my Villa which was inside a private property off the main road.Day 1: Check In + Relax:I booked my Villa (Avillion Cinta Villa) for the first 3 night at Sanur beach and I was happy that i made a right choice as it had best facilities and lively neighborhood nearby to eat and roam around. Not to mentioned the fact that, it was right next to the beach :) The staff and manager was very helpful and made sure we had comfortable stay. The complimentary breakfast was made as per guest request which include lot of variety from western to Balinese dishes. I would definitely recommend the same.After checking, I just enjoyed some time in the pool, beach and nearby local shops to enjoy a dinner.Day 2: Garuda park & Uluwattu Temple
I boarded my flight from Bangalore Airport and this time I picked up #FlyScoot for its reasonable prize, though you will miss the amenities like free food/luggage and infotainment system but that makes it perfect for #Backpackers to explore the world at budget prizing. So #WanderLust & #WanderMust :)
Though i was concerned about my Bali Trip. If you heard the recent news, the Mount Agungvolcano which erupted volcanic ashes in the air as high as 2 km causing shut down of the Bali airport for entire day resulting in the cancellation of 400+ flights. I was quite lucky as I had to fly to Bali on Friday night and Airport was shut down on Thursday. Luckily Mount Agung heard my prayers and was relaxed on the Friday which gave a green flag for the Airport to open and I landed in Bali on Saturday morning. yeahh :)
Bali Immigration and Visa: One of the reason I choose Bali as my travel destination as it has facility of on arrival Visa which is completely FREE :D
You just need passport which is valid for next 6 months (no form filling or photos require) and ready to go, immigration is very quick as its just a Stamp like HongKong VISA.
https://www.klook.com/invite/Q161Z?c=INR
Bali island is blessed with many tourists attractions and many of attractions are spread around the island. It is very obvious that lot of tourists will be travelling around to gather the memories around the famous places, considering narrow roads and lot of tourists vehicle create traffic jams. One of the best way to escape the traffic and parking problem is to hire a two wheeler and scoot around the island :) I rented a 200CC Automatic Scooter (Yamaha N-Max) in 2,00,000 IDR (around 900RS) for 2 days.
It takes around 30 minutes from Garuda park to the Uluwattu temple. You should be careful to select the route through Toll Road in Bali. It has different lane for 2 and 4 Wheeler and it doesn't accept cash as you have to pay by the smart card. I was lucky as a local rider swiped for me when he observed that I was struck at the Toll Booth :)

The parking ticket cost around 5000 IDR (20 INR) and entry ticket is around 6000 IDR (around 300 INR). You will get a free drink at the restaurant near the main entry gate. The Garuda park has three main statues, 2 are completed whereas third one is under construction till date.

After spending almost 1-2 hour, I moved to the next destination for today's menu - Uluwattu Temple.

It took me other 30-40 minutes to reach there as the roads were narrow and some tourist traffic blocking the way as usual :) The parking was around 2000 IDR with entry ticket of 30000 IDR (150 INR). The view from the temple is amazing with sea waves crashing against the land.


The main attraction at Uluwattu temple is Kecak Dance, which has entry fee of other 20000 IDR. Make sure you gather near the place for the Kecak Dance at 5PM to buy the ticket first as the dance starts at 6PM and seats will be filled very quickly.


This time i choose to ride towards Tegalalang Rice Terrace Or also known as Rice fields. Its very close to the Ubud City Center with approximate ride of 30-40 minutes.In my previous two rides i rented a 200CC Yamaha N-Max scooter, this time I opted for little cute one known as 'Scoopy' :) . It was powered by 150CC engine only but made sure it didnt struggle going throw curves of Ubud roads, not to mention the fact that it look alike a Vespa sibling ;) #DoYouVespa?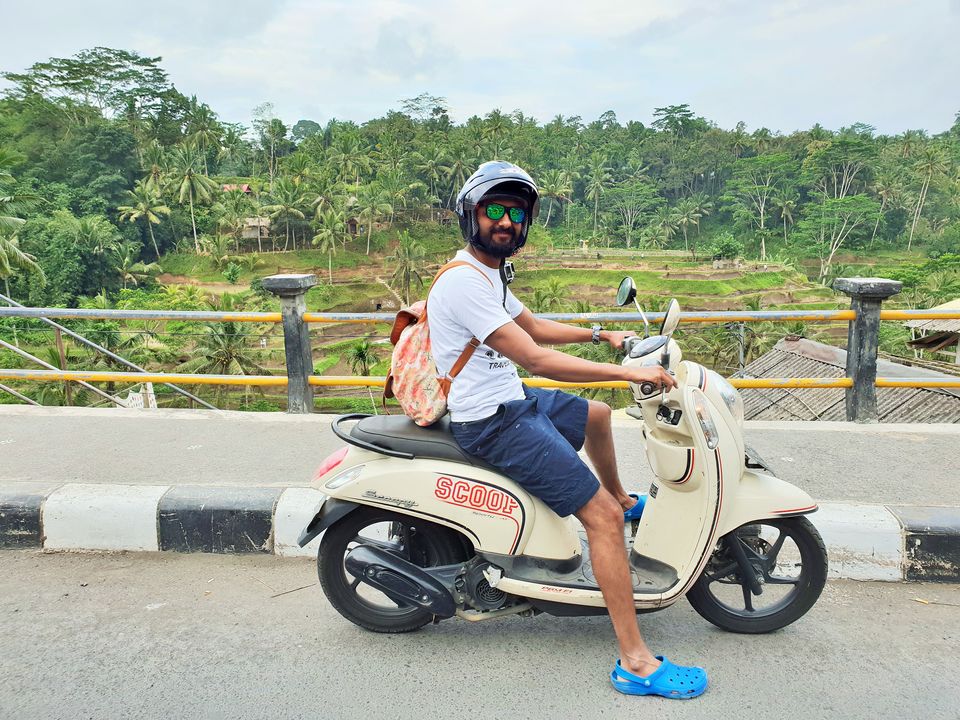 Moving on to the next part, the rice fields address shown in the Google Map was not where I wanted to go as the main rice fields are 100 meters ahead of the destination shown in the Google map. Its very easy to spot as there are lot of shops on the main road with 100's of vehicle parked so you will not miss it. I was little concern to park on main road as No Parking sign was right there, but i guessed its mainly for Cars as plenty of 2 Wheeler was parked on the both side.


You can follow the stairs to go down to the rice fields, make sure you drop some change to the donation boxes setup by the local farmers. You can drop from 10000-20000 IDR(50-100Rs) at each place as it helps farmers to maintain the pathway and other facilities across the rice fields. Trust me its all worth of getting a lot of amazing pictures and day full of enjoying in nature.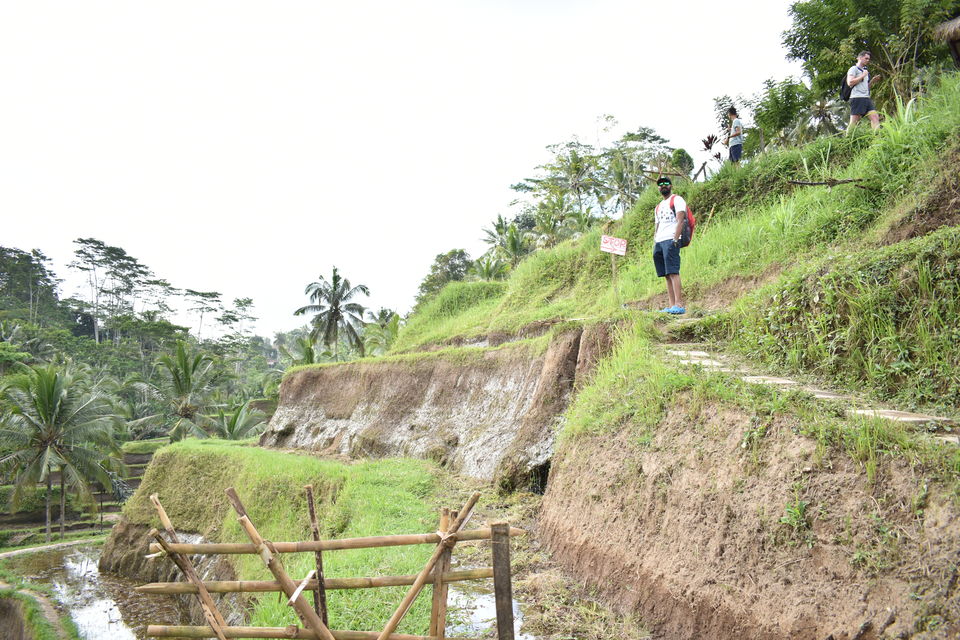 Be prepared yourself to burn all the extra calories you have been carrying by eating junk food while on travel, as you have to cover the 100's of stairs up and down to explore the different sections of the rice fields.After a day full of workout and amazing pictures, you can relax at the cafes with the panoramic view of the rice fields.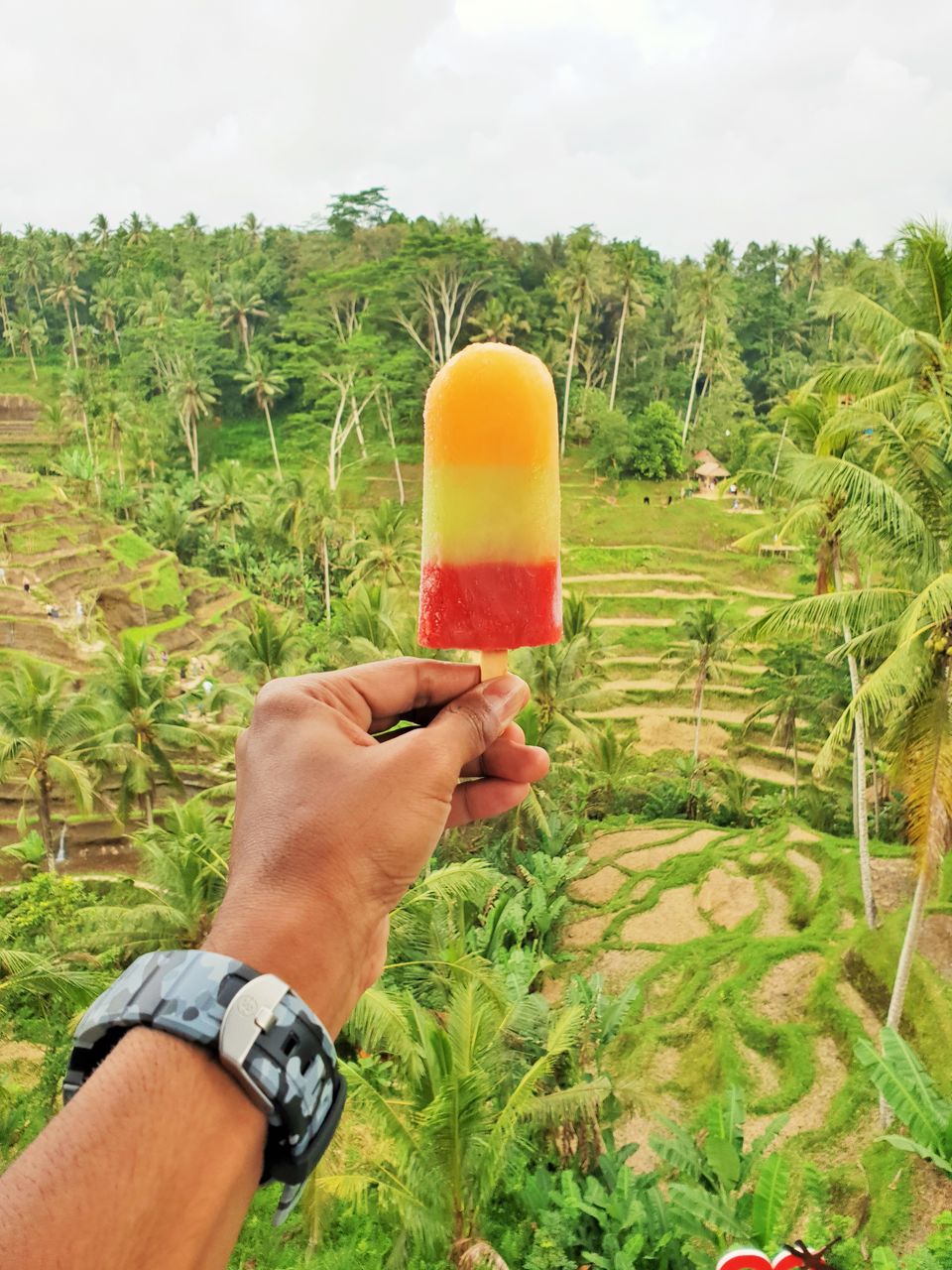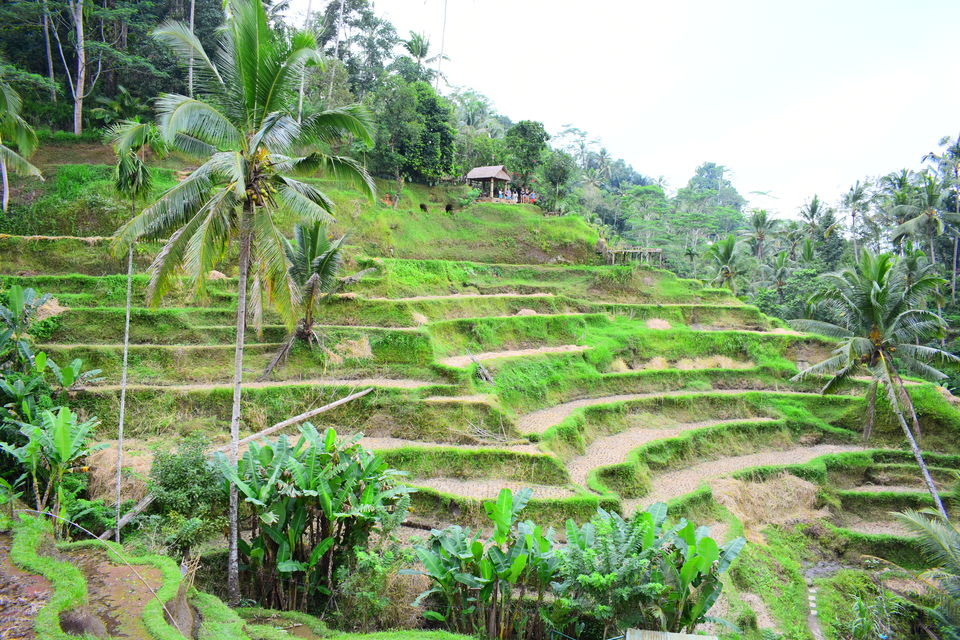 The Kecak dance is a performance based on Ramayana and involves main scenes like Devi Sita Kidnap, White Monkey Hanuman taking the ring to Devi Sita and later on the final battle between Lord Rama and Ravan. The most interesting part about the play is background music, as no instruments are being used therefore around 20-30 men keep chanting 'kecak-keack.
Day 3: TEGENUNGAN WATERFALL
Keeping the same spirit to explore the Bali, I decided to ride to Tegenungan Watefall after reading a lot of positive review comments online.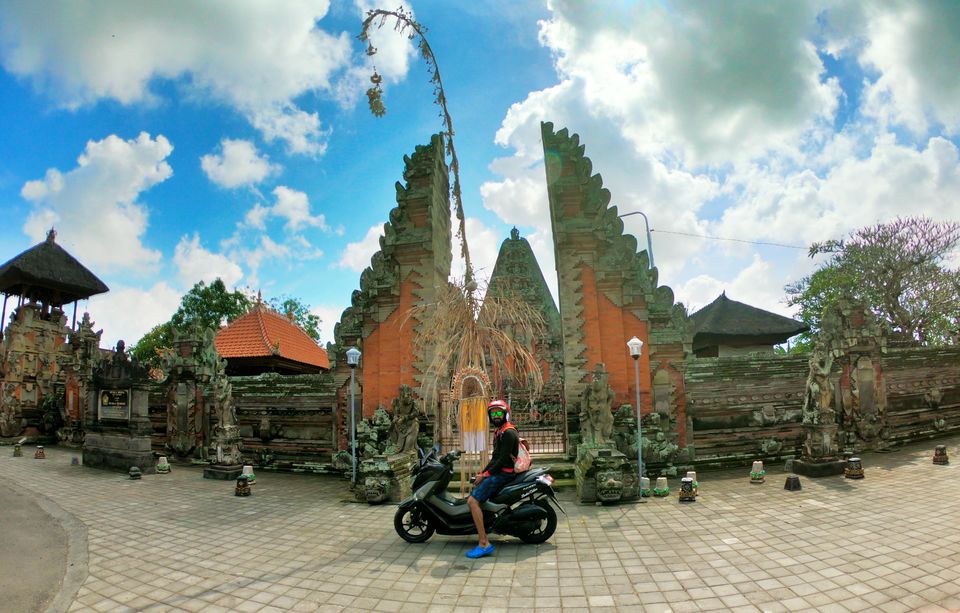 The roads in Bali can be tricky as you may see sudden potholes or animals on the road. It seems to be normal as driving in India is no different :) I was lucky to escape a BIG sinkhole caused by the landslide, if you can notice in the video
Most of the roads are very narrow till you reach near the Waterfall, i wouldn't suggest self driving car instead hire a scooter or a taxi for the full day (as taxi may cost hardly 2000 Rs for 10 hours). The parking had decent space as its mostly on street and I wasn't asked any charges for the scooter parking.
The entry ticket was 15,000 IDR (70 Rs) per person accepted in cash. In Bali, most of the places only accept cash so make sure you carry enough Forex while travelling.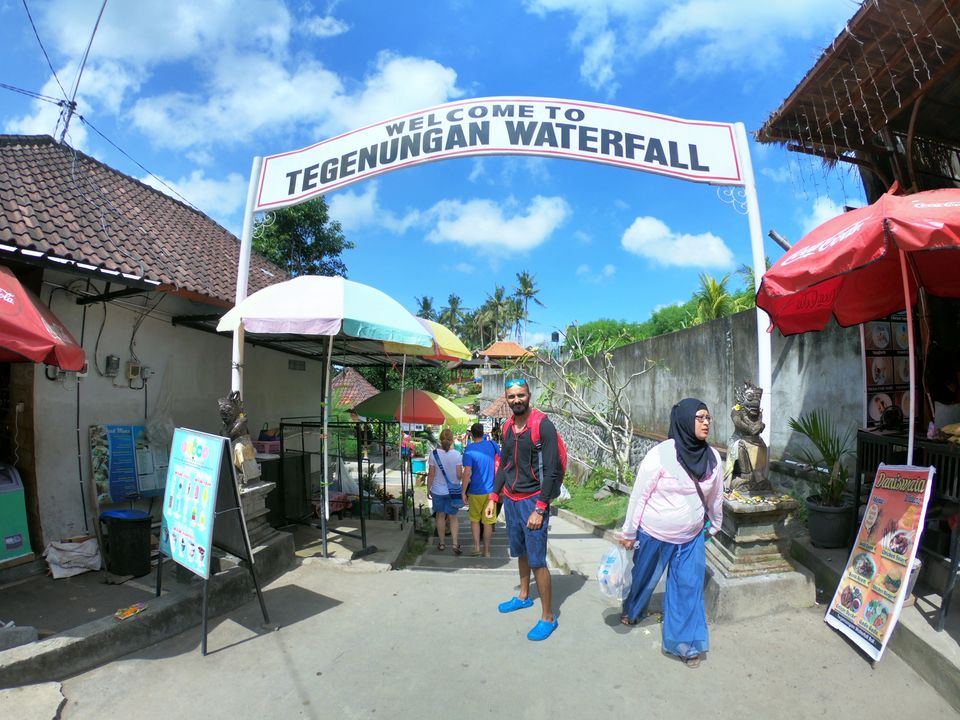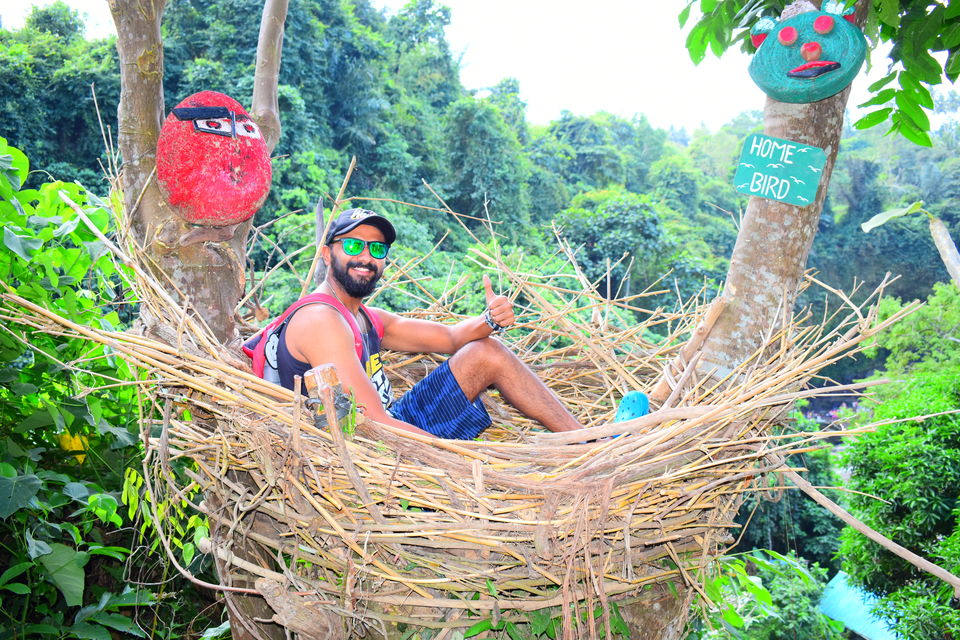 There is a Toilet too at the Waterfall, but not well maintained. If you prefer, you can go to a Cleaner Toilet offered by the shops (you may have to buy some item though).
You can spend 2-3 hours easily at the waterfall by clicking the photos and enjoying the fresh water flowing through the waterfall.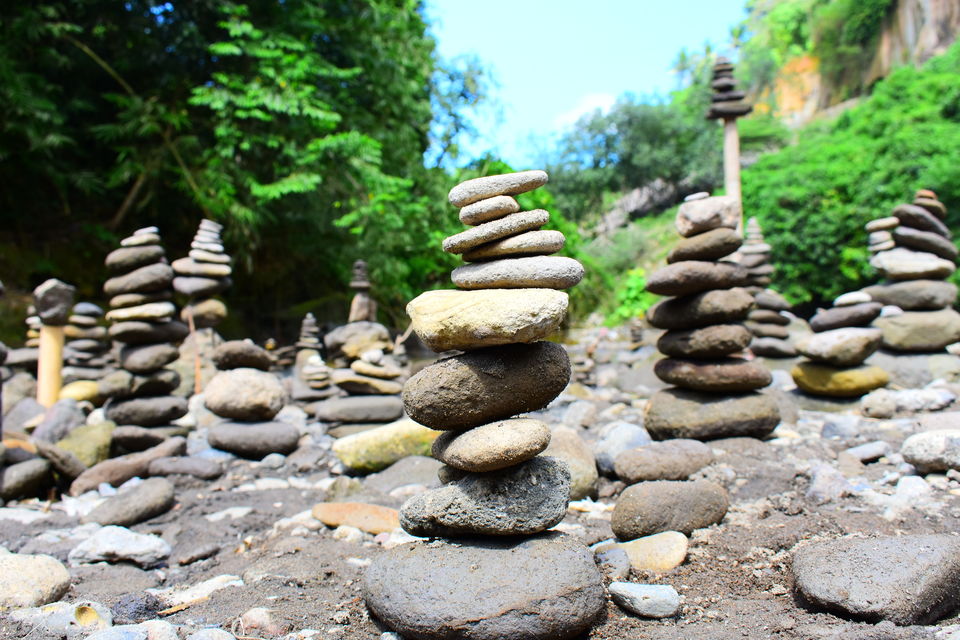 You can enjoy a dip but its not allowed to go under the waterfall as its dangerous.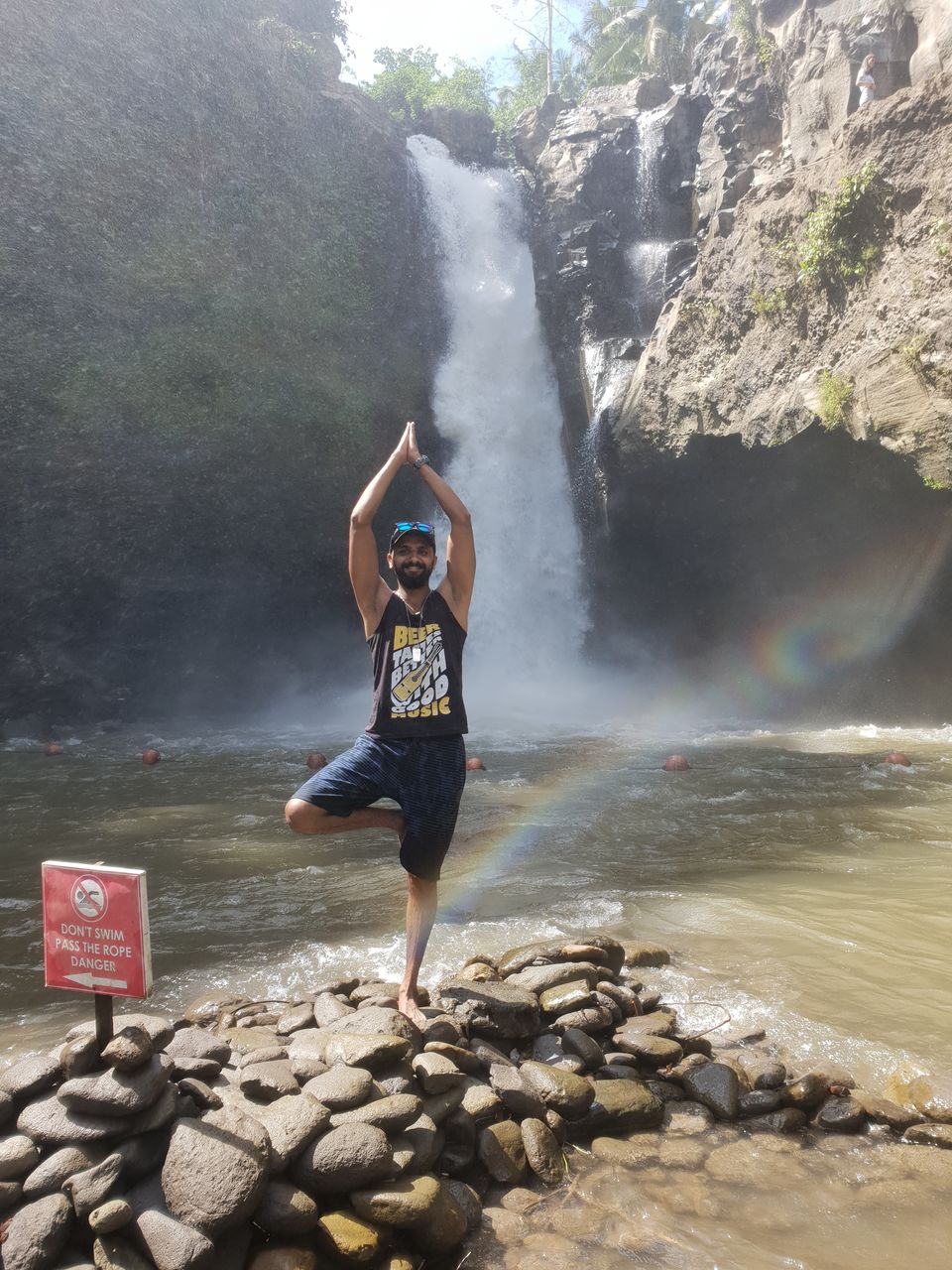 Overall its a nice attraction near the Ubud city center worth of half day trip :)
Day 4: Tegalalang Rice Terrace (Ubud)
Day 5:
Pura Lempuyang Luhur & Blue Lagoon Beach
Adding to my previous blogs on #ExploingBaliOnScooter, here is more interesting place to visit in Bali. Pura Lempuyang Luhur temple is one of the most Instagramed moment for sure. Its around 2 hours away from the Ubud City Center or even Sanur beach.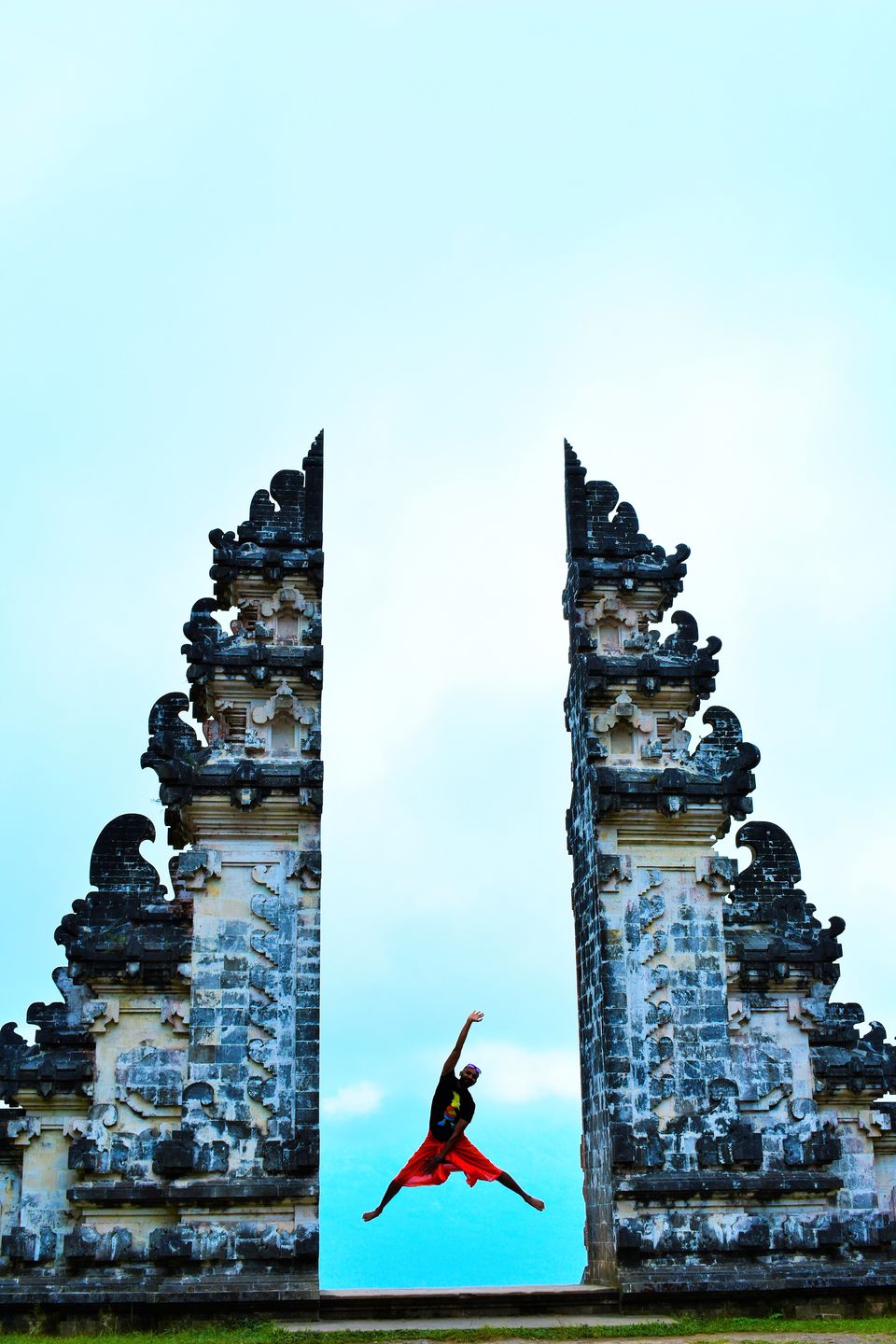 You can see the amazing view of Mount Agung Volcano from the temple. If you heard the recent news, this is the same volcano which erupted volcanic ashes in the air as high as 2 km causing shut down of the Bali airport for 1 day resulting in cancellation of 400+ flights. I was quite lucky as I had to fly to Bali on Friday night and Airport was shut down on Thursday, I was concerned about missing my flight. Luckily Mount Agung heard my prayers and was relaxed on the Friday which gave a green flag for the Airport to open and I landed in Bali on Saturday morning. yeahh :)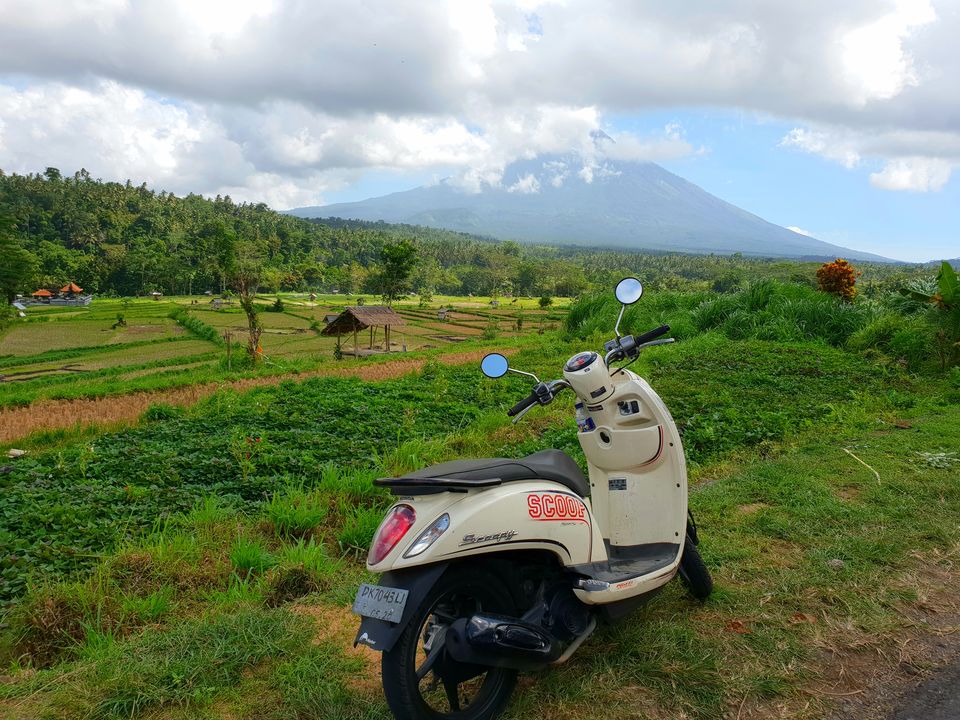 I decided to go by 150cc Scoopy and it had its tough time going though up and down the hills. I added a quick stop over near Blue Lagoon beach as it had perfect set for clicking some colorful memories.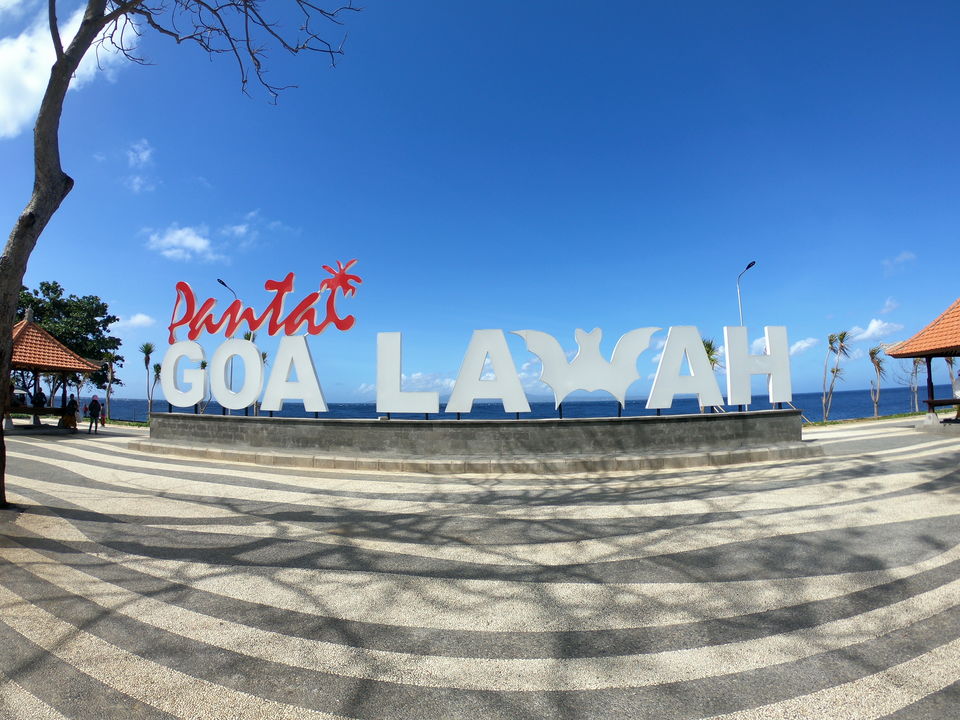 I also got the opportunity to introduce a new friend for the Scoopy :D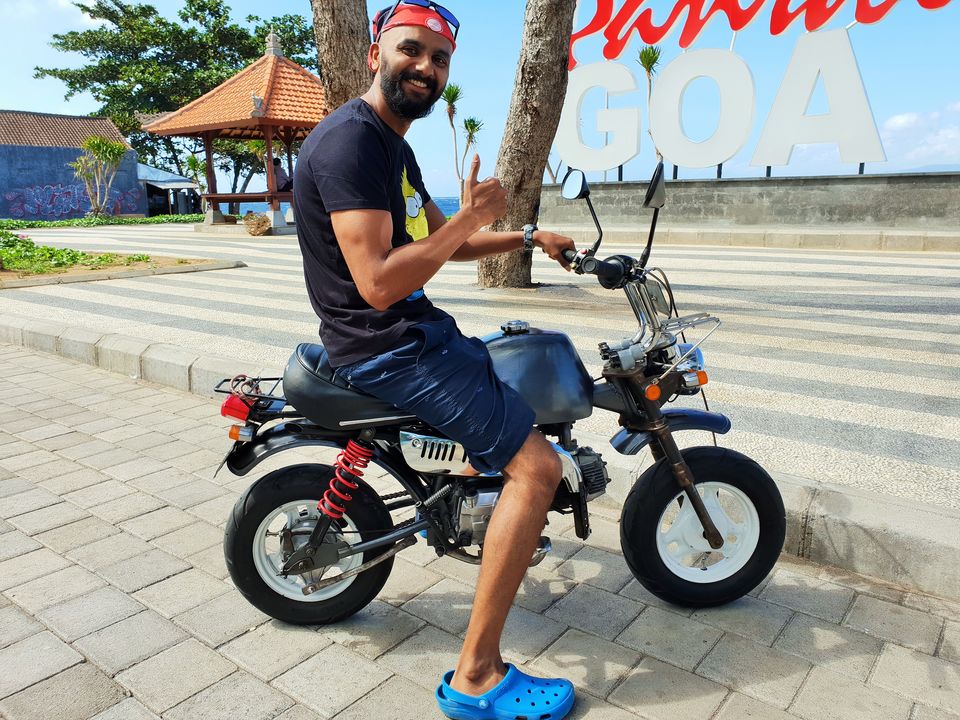 If you ask me, there is nothing special at Blue Lagoon beach as its just a pier side. Instead, you should stop 15 minutes before where the view is much much better.
After spending an hour there, I challenged the Scoopy for the next mountain task. It helped me to reach the temple safe and sound.
The entry to temple is free of cost, but usually you need to put money in donation boxes before you are allowed to go up to the temple. I head lot of negative comment about Pura Beshaikh temple where you will be forced for a donation as high as 50-100 USD to go inside, but at this temple I just donated 20000 IDR (100 INR or 2 USD) without any pressure as such. You have to wear Sarong (like a Lungi) before you go to the temple.
The temple has two main attractions, one is the place to take a photograph where you can see a long queue usually. Your photo will be taken by few local people with your phone and a mirror which gives amazing illusion of a lake. You can donate as much money(2-5USD) you want . Unfortunately it was cloudy day so you cant see the Mount Agung in the background, otherwise its a view worth of every penny on a clear sky :)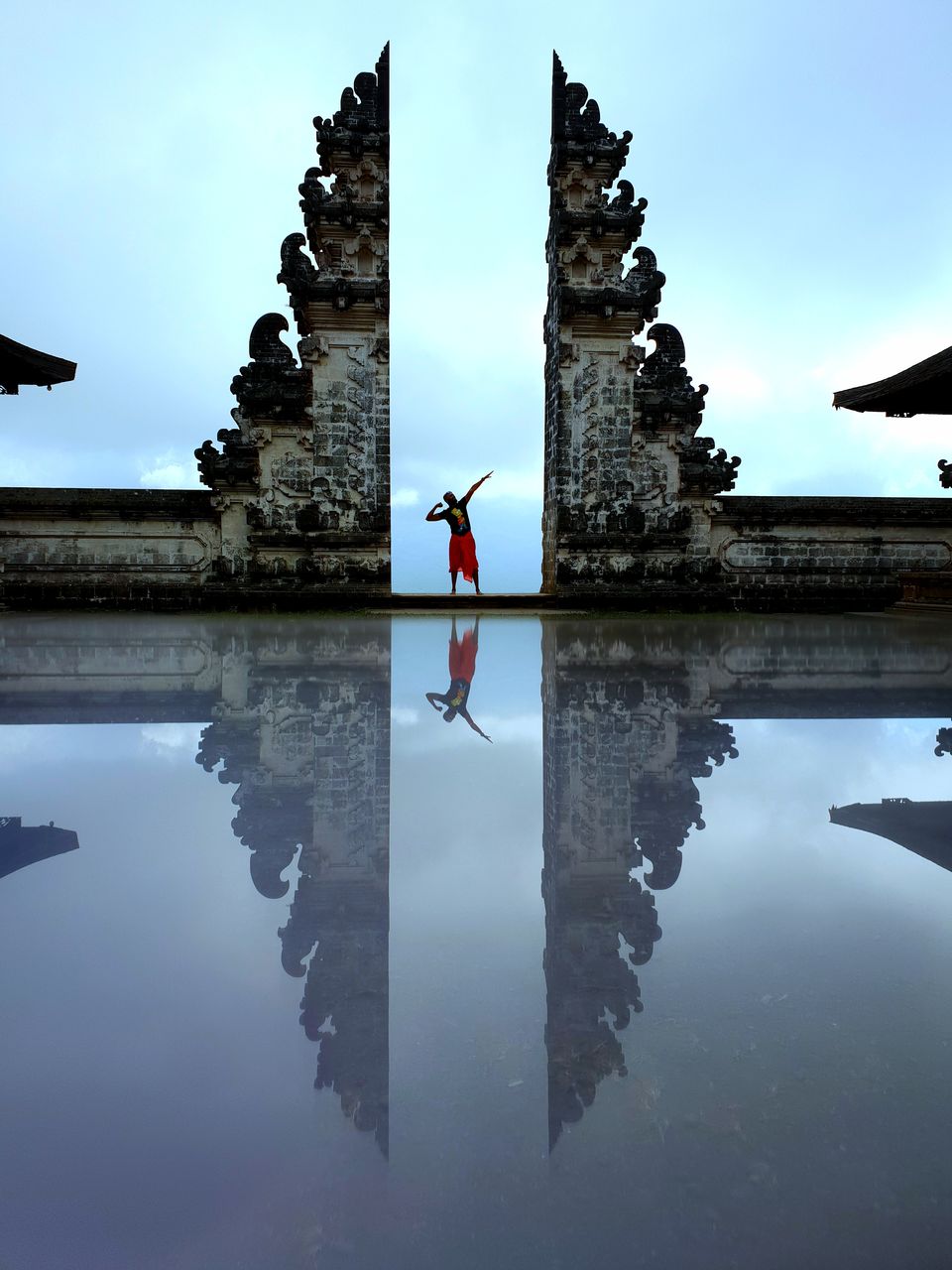 The second attraction is the thee way stair case entrance to the man temple. The middle one is used for ceremonies and you are not allowed to climb up, but you are free to climb up through side ways.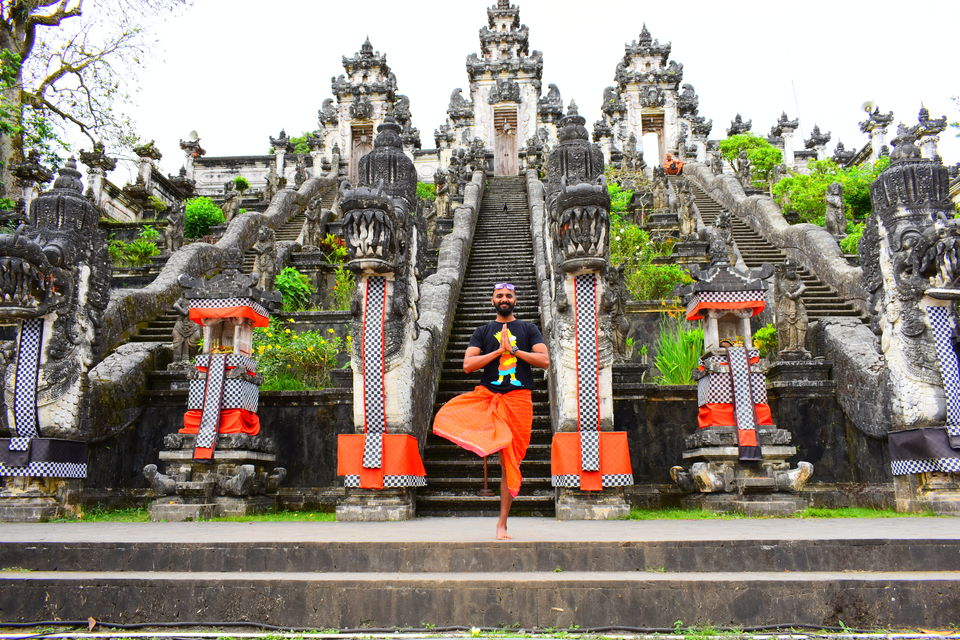 The view from the stairs looks absolute amazing :)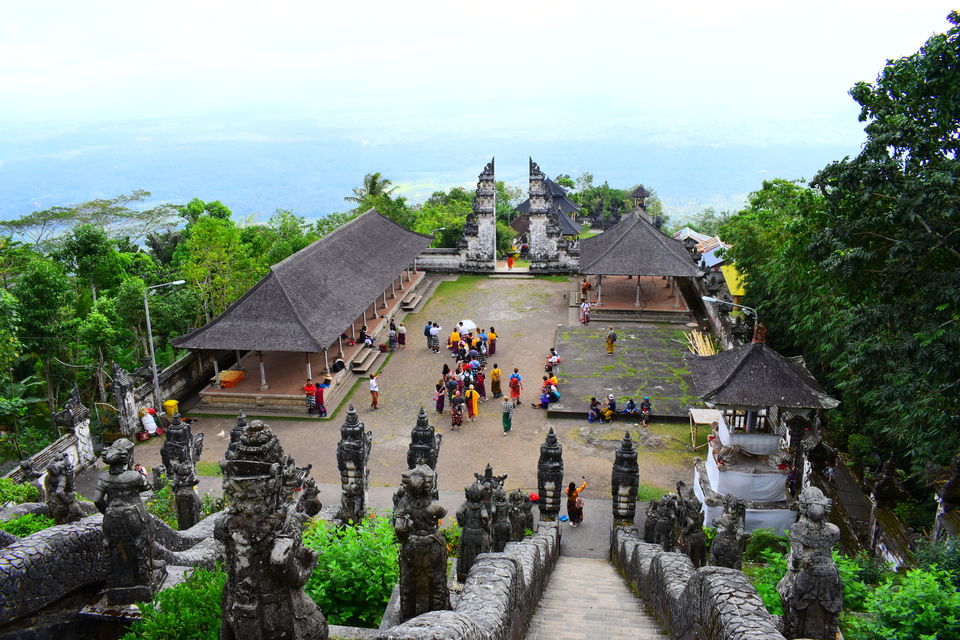 Day 6: 3 Island Cruise : Nusa Lembongan, Nusa Penida and Nusa Ceningan
These 3 islands are known as 'Sister Island' and hardly 1 hour from the Bali's pier area. If you are staying in Ubud, then it will take 45-60 minutes of journey form the city to the Pier which is towards Airport or Sanur beach.
You can book the trip online to save the money as its cheaper as compared to travel agents or hotel tour desks.
https://www.klook.com/invite/Q161Z?c=INR
The tour cost aroound 6700 INR per person, which includes free hotel pickup/drop, Lunch, Snorkeling Gear, Speed boat transfer, Coffee/tea at the resort, Towel etc.
The boat leave the pie at 10:30AM and you will be requested to collect the Snorkeling gears as per your size. It takes around 45-50 minutes from the pier to the first snorkeling stop known as Crystal Bay, maybe because inspired by the crystal clear water :)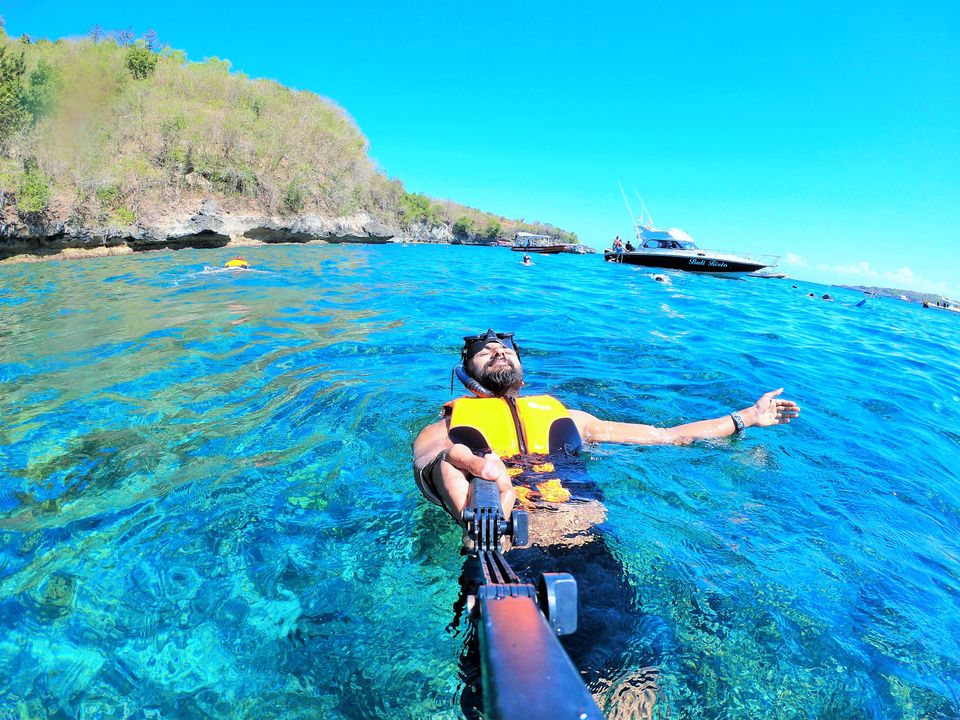 I fell in love with the natural beauty of this bay, but was little disappointed as not much spices of colorful fishes were around.
After spending around 30 minutes, we were back to the bumpy ride (see the video) and after 20 minutes of jumping jacks we reached Nusa Penida. Its a 300 feet high cliff rising out of water, giving a perfect opportunity for thrill seeker to take picture filled of adlerian.
Unfortunately the tour just covered the sight seeing without having a stop over :(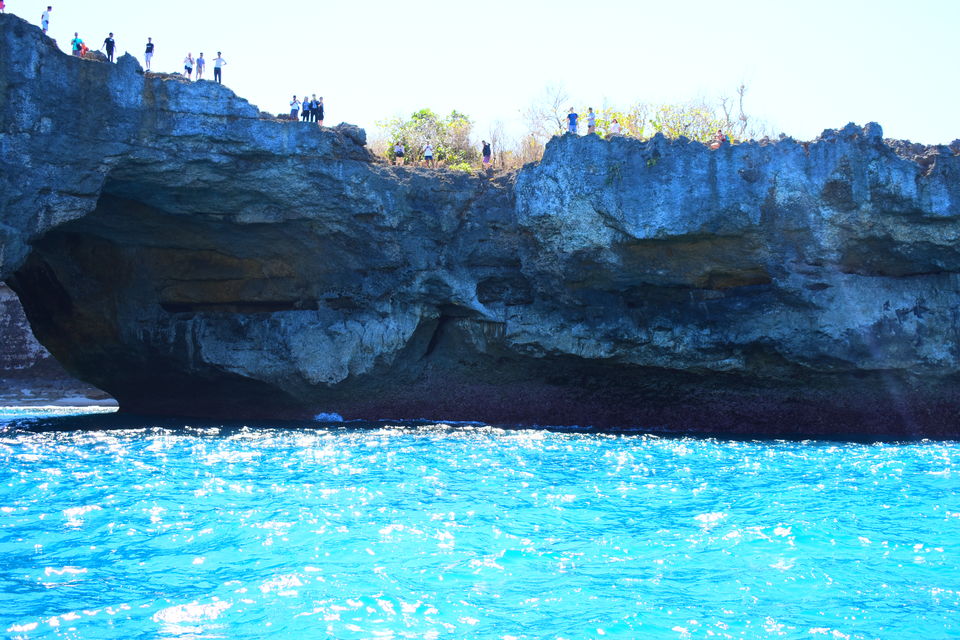 After just 1 5 minutes of stop over, we went ahead to the Ceningan island, but as it was low tide so we couldn't go further. As per the itinerary, we were supposed to go to Nusa Ceningan for a walking tour to explore the local village. We settled down in the Ceningan channel's calm water and had lunch. The lunch menu was good enough for vegetarians as well non-vegetarians, though drinks were charged extra.

After lunch break, we went for the 2nd snorkeling point where water was more blueish and colder :D We were given the towel to dry our self and get cozy after the snorkeling session.
We had fun for around 15 minutes and then taken to the Bali Hai resort at the beach, where Tea/Coffee was served which was not as per my taste. The best part was we got the free access to the Banana Boat ride, Kayaking and Pedal Surf Board :) (may be compensation for missing the walking tour to the village)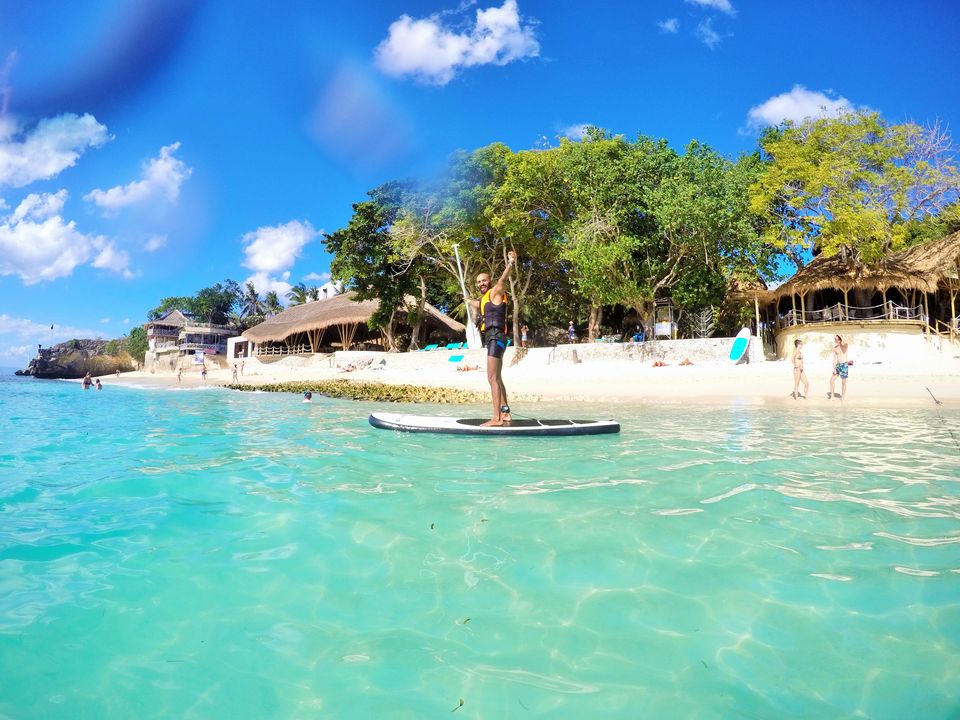 The resort also had swimming pool, shower area, free lockers and beach bed. It turns out to be very relaxing and refreshing.
While coming back to the pier, i seized the opportunity of clicking photograph of mount Agung's Eruption :)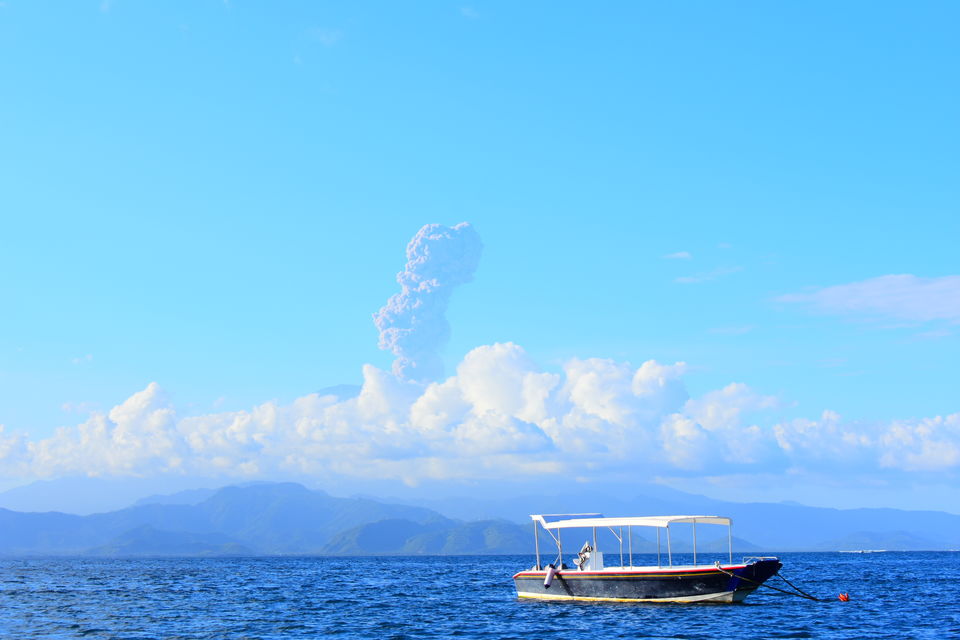 Overall it was a good tour, but I wish it includes some time at Nusa Penida hiking :)
Day 7:
Bali island has many shades to offer for tourists, it could be enchanting temples, heavenly beaches, trending Instagram photos or adventure filled of adrenaline rush. After striking out first three activities from my list, I dedicated my half day for river rafting in Ayung river to feel the rush.
I booked the tour through Klook and found as worth of every penny.
https://www.klook.com/invite/Q161Z?c=INR
The tour costed me around 1700 INR(25 USD) which was Inclusive Of:
-English speaking professional raft guide
-Rafting equipment and safety gear
-Buffet lunch
-Hot showers, changing rooms, and towels
-Air conditioned hotel transfers
-Medical insurance provided by operator for participants aged 7 to 65 (up to IDR 500,000,000)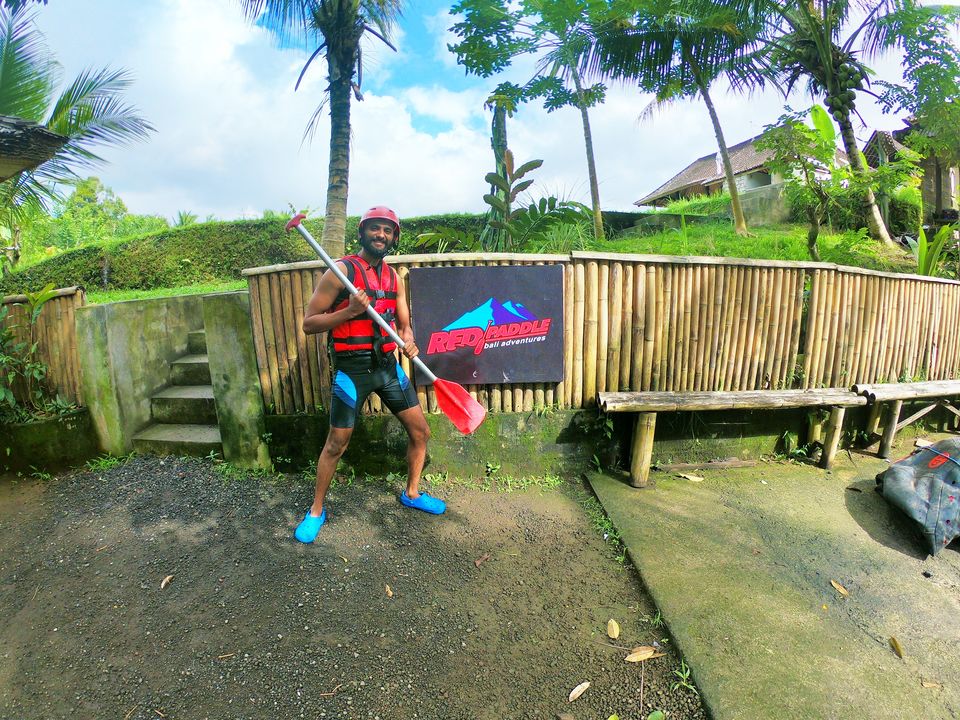 We were picked from our hotels at exact time, it took around 30 minutes drive to the operator site - 'Red Paddel'. We were greeted and offered a welcome drink before we packed our extra stuff and keep in the locker facility (provided for free). We were taken to the starting point of the rafting by the means of AC transportation, it took around 15 minutes or so.
I would not suggest this tour for old age people as you have to walk down from the dropping point to the river bed, which is roughly 15 minutes walk and don't forget to remember the same walk up again once you finished the rafting :)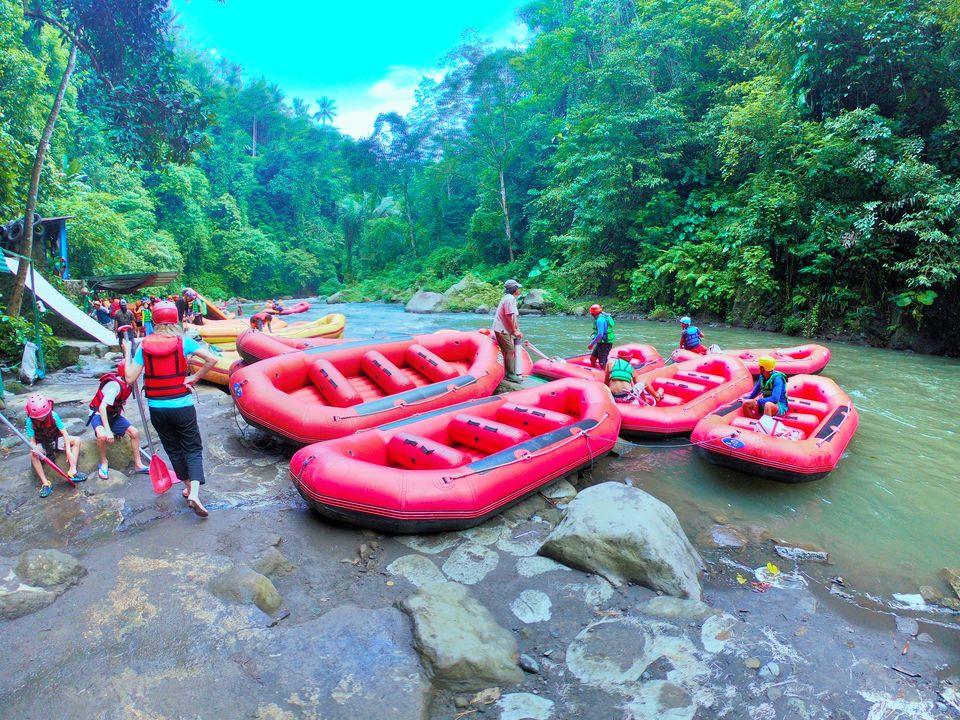 The guide was really funny and helpful and made this trip even more exciting. The difficulty level was quite average, the rapids were not that aggressive. Most of the time, it will be a smooth ride :)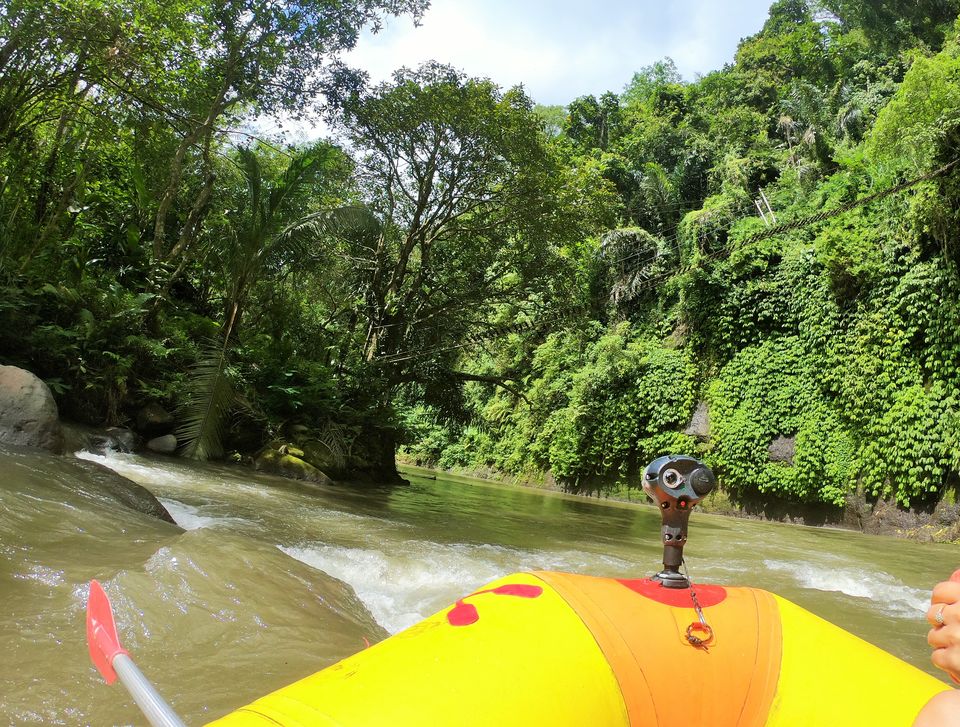 The best part of the whole journey is the waterfall, the brutal force will give you a strong massage removing all the pain and jetleg behind you. The water temperature was perfect so that I could enjoy a bit more.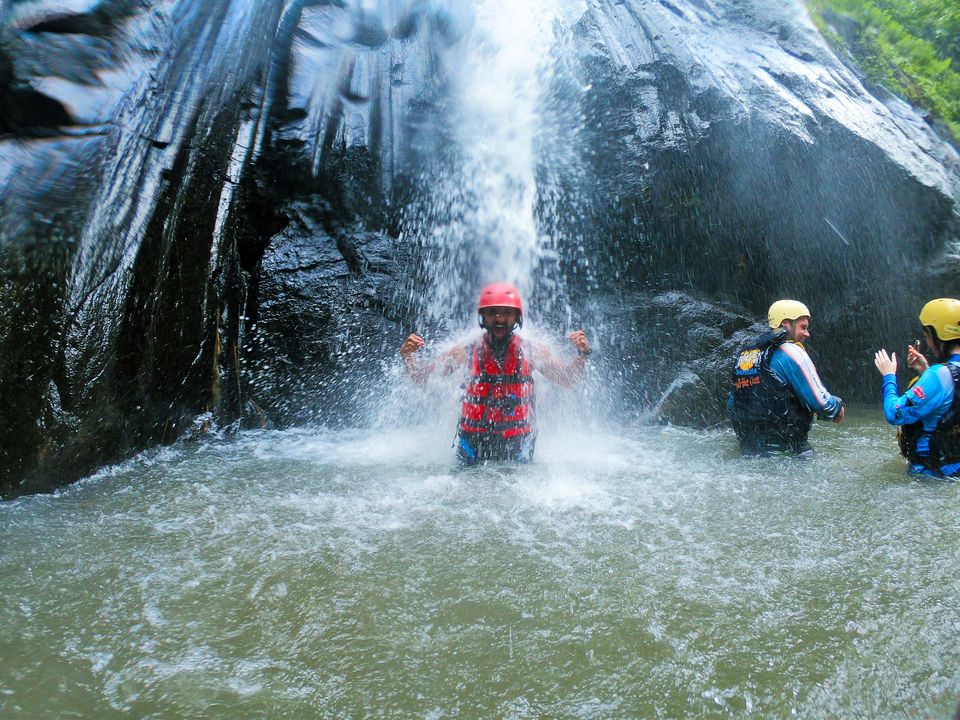 It took around 2 hours+ including 15 minutes break in between to allow your muscles to regain the power. After the rafting, we were served with delicious lunch.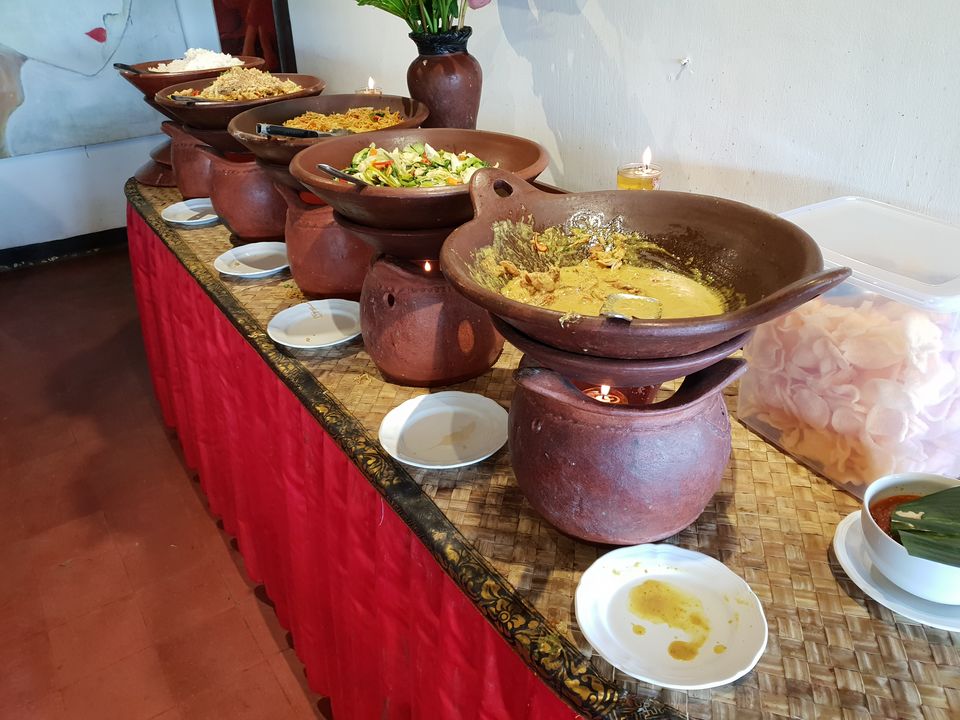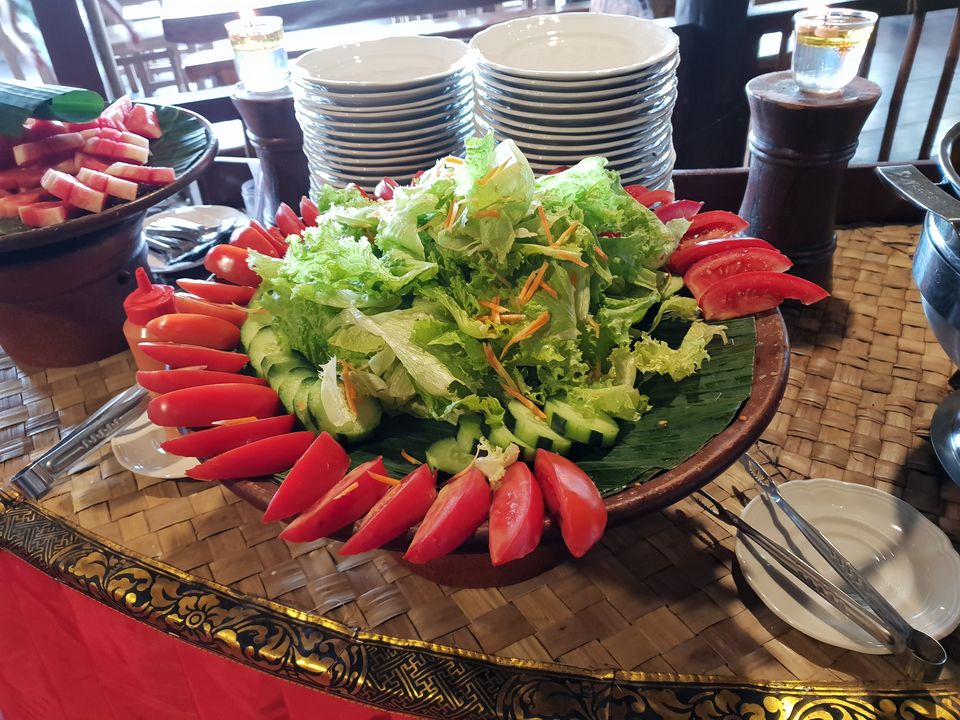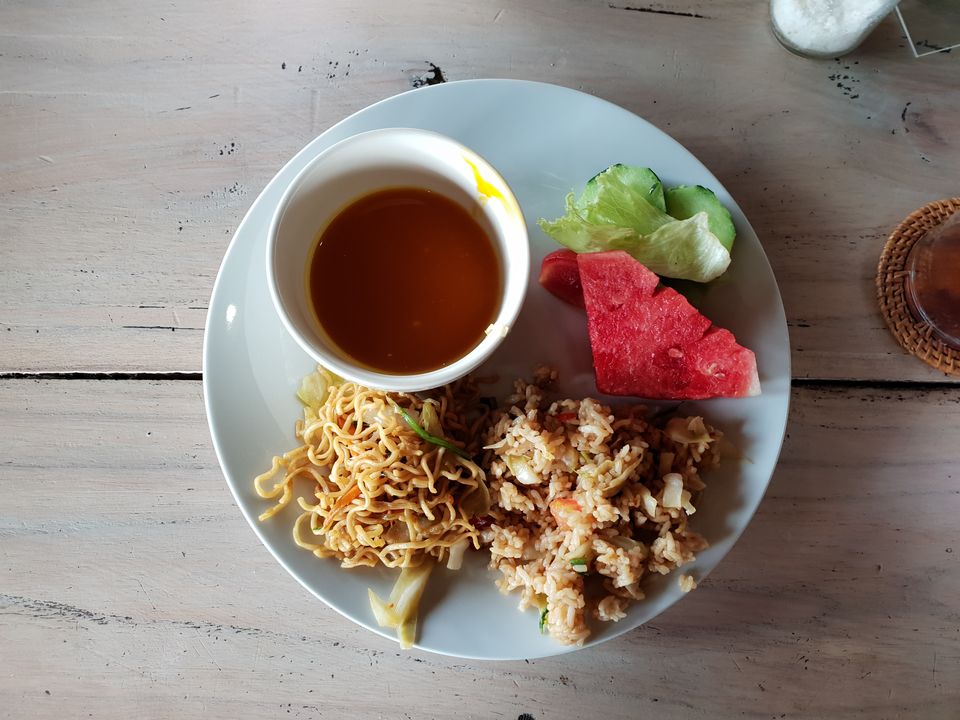 Overall it was a fun day with lot of adventure and good workout all together. Its safe for kids age more than 5+, so dont miss it.