Backpacking to "Maldives", the land for a sea lover with economic budget (may be?)
This review probably is long and comes with a lot of photos. Well, I want to keep it as a memory about my travel experiences to Maldives. If you guys don't want to read it all, you can just look at the photos. I have to mention here that I didn't stay at luxury rooms in the middle of the sea like many people have dreamed of. Instead, I stay at the local island where local people reside in order to truly feel Maldives. Actually, I also wanted to stay at those luxurious hotels like what I have seen in Facebook but they are way too expensive, each night is a 5-digit THB and I just don't have that much budget!!! But if you can afford, of course, you are more than welcome to stay there!!! Ok, now, let's get this review started!
P.S. All high angle photos of Maldives are copied from Google because I flew at night so I didn't get to see from high angle and thus didn't get to take any photos. I feel a bit sad so let's plan the trip again and fly in a daytime :)

The long Songkran holiday is approaching, many people start asking
Are you going home for this long holiday? Or will you go travel elsewhere?
Haha, thank you so much for asking and my answer to the question is
I'm not going home this Songkran but I plan to travel abroad instead, hehe.
As soon as I told them that I will travel abroad, most people would say that, you are so rich, you have money to travel abroad. In fact, we can't blame anyone on this misunderstanding because most people have a mindset that if you can travel abroad, it means that you are rich, but it's not always the case. You have to try once to realize that you don't have to be rich to travel abroad.

Actually, as of now, I still cannot decide where to visit during the Songkran holiday because I want to go to many places like Sapa in Vietnam, Bali and Gili Islands in Indonesia, Vang Vieng in Laos, Palawan in Philippines, Istanbul in Turkey. And after several months of planning, I decided to go for Maldives. But where is this Maldives coming from, right? haha.

Of course, Maldives is a country that I've never thought I would visit. If you asked me 5 years ago, I would just laugh. It's not because of anything but the fact that I didn't think it'd happen to me. And although you asked me 2 years ago when I started to travel, Maldives was still no where in my mind.

Previously, there're only 2 things I know about Maldives:
1. Maldives has expensive resorts located on a private island which I don't think I can afford with my small amount of saving, haha.
2. The cost of accommodations, food, water, airfare, boat fare, and other expenses are extremely expensive.
Oh well, let's start by checking the flight ticket and accommodations out. It turns out that the flight ticket is not that expensive so I started to invite my friends to join, sadly, no one says yes, haha. Oh well, that's alright because I'm also quite used to travel solo.

But even so, it's quite headache planning to travel to Maldives for the first time. I know that most of people want to stay in a resort in the middle of the sea, of course, me too. But this time, I definitely do not want to stay in a luxurious room in the middle of the sea on a private island because the price is too brutal for a salary man like me. So I try to find islands where local people live. But the thing is there're so many islands on Maldives and each of them is spreading out according to the Chain of Maldives. Also, it is not easy to find places on the Google map since Google map only shows names and it has thousands of islands.

My next question is what to do now? I started reading the reviews of people who visited Maldives to study more. Luckily, there're quite a lot of information of Thai people traveling to Maldives.
Now, let's get to know more about Maldives. Malé is the capital city of the Republic of Maldives. It is the world's most populous and smallest capital city, located on the southwestern of India and Sri Lanka. It is a tropical country with a total of 1,192 islands of which only 200 islands with local inhabitants and offering about 80 luxurious resorts on private islands.



How to get to Maldives?
Malé International Airport is the main gate to Maldives. If you travel from Southeast Asia, you can fly with low-cost airlines. Thai people are very lucky to have 2 airline companies offering direct flight to Maldives.
1. Singapore: Scoot (I fly with this airline because a direct flight from Thailand is very expensive.)
2. Malaysia: AirAsia
3. Thailand: Bangkok Airways & AirAsia (direct flight to Maldives)
P.S. I choose to fly with Scoot because a direct flight from Thailand is very expensive but the thing is we must go to Singapore to transit for this flight.
After researching for a while, I found the island I wanted to go which is Maafushi Island. Then a trip of 6 days and 5 nights is begun, it'd be fun for sure!
I travel to Maldives from 13-19 April 2018 which is our long holidays during Songkran festival. I have to say that this is one of the best holiday gataways in my life and from my 2 years travel experiences, Maafushi Island is one of the most interesting destinations to travel to.

Maafushi Island is a small island which is faily easy to explore around. If you stay on one side of the island and unable to see the sunset, you can simply walk to the other side of the beach to see it right away. You just need to walk about 5 minutes to reach the viewpoint and to roam around the island, it'd take you about 30 minutes only. You can also oversee the other side of the island from this side. It is also easy to find restaurants and souvenir while staying on Maafushi Island.

How to get to Maafushi Island from the capital Malé?
Forget about private speed boat or water plane because it is so extremely expensive. In fact, there're other options to travel from Malé here like ferry boat or speed boat. There're 2 types of speed boat, shared and personal. The personal boat is very expensive. I take the shared speed boat at 9.15 a.m. (reservation is recommended). It takes about half an hour to reach Maafushi Island. Traveling by ferry is still much cheaper than otherwise. We can take the ferry from Villingili Ferry Port which only run 1 time per day. It leaves Malé at 3 p.m. and leaves Maafushi Island at 7.30 a.m. daily, except Fridays (you should pay a careful attention before coming to Maldives, there're no boats running on Fridays because it is a holiday in Maldives.)
Day 1: Travel from Bangkok > Singapore> Maldives

Let's start by how we get to Maldives. The first day of travel is a bit long because we have to fly from Bangkok to Singapore before finally flying to Maldives. If you ask why didn't I take a direct flight from Bangkok, the reason is AirAsia didn't fly to Maldives on 13th April and it's too expensive to fly with Bangkok Airways. Thus, I decided to trade-off some of my times by flying to Singapore first in exchange for a cheaper flight (about 10,xxx THB less) despite much longer time.

When the morning comes, I quickly go to Suvarnabhumi Airport to check in. I got two boarding passes and didn't load any luggage. After that, I go wait at the gate. I'm quite early so I find a seat to use and charge my phone battery while waiting.


When the gate opens, I quickly go use restroom again before entering the gate F3. There, we still need to wait a bit. So then I'm thirsty and when I'm about to reach for my water, I find out that I forgot my 58 THB bottled water in the restroom.

Well, regardless, I must go back to take my bottled water because there's no water service on board. So, I asked the staff to go out to get it. The staff then take my transit card and boarding card while I rush to take my water back, haha.

Now that I have my bottled water, I feel relax. Still, we are not called to board yet and again, I just realize that I forgot glasses too. Ohhhhh no, I must go back and get it too, this is a must have item for the island, otherwise, I would have to buy when I reach there and it could be expensive. So again, I ask to go out and leave my two cards with them. Below photo shows how I forgot my sunglasses at the wash basin. How could I forget??!!! This time, I have to run really fast because it's boarding time already, haha. How careless I am!

I remember taking this photo at 8 p.m. Singapore time which is 7 p.m. Thailand time and 5 p.m. Maldives time. Oh well, I feel like I'm going back in time. But I don't know what country I'm now in this photo because there's no small screen to tell us, what a pity, haha.


The currency of Maldives is Rufiyaa. The exchange rate is 1 USD = 15 MVR and 1 MVR = 2 THB approximately. The money can be exchanged at general money exchanging shops and you can also use US dollars throughout the islands including hotels and resorts.

This trip, I exchange for 700 USD and didn't spend all when I end my trip. I have good food and sound sleep, very chill and relax trip. I personally didn't exchange for any Rufiyaa.


This is how Arrival terminal looks like. After the aircraft comes to a stop, do not wish for any sky bridge, there's none here. We must get down from the aircraft and walk to the terminal both inbound and outbound alike. The first thing we need to do upon arrival is to go through the immigration. Before that, we already filled the immigration card given by the cabin crew before landing. When going through the immigration, the officer asked whom I'm traveling with and when I said alone, the officer wishes me a fun and safe trip and I said thank you and continue on.

Then, it's time to buy a SIM card for internet to let my family and friends know that I reach here safe and sound. It's very easy to get a SIM card here. It is located on both side of the exit of the airport with both main operators: Dhiraagu and Ooreedoo. It is the easiest and most convenient location to get one after arrival at Malé International Airport of Maldives.
After waiting in queue for about 5 minutes, I hand in my passport and mobile phone to the staff and fill in the hotel address in a form, choose the package I wanted, pay, and that's it.
I have to say that the internet signal here is very strong and cover everywhere in Maldives. Even on the boat, you still have the signal despite no nearby island is to be seen, haha.

The first night I have to stay at Marble Hotel in Malé, the capital city of Maldives because the flight reaches Maldives at 8 p.m. and can only travel to Maafuchi Island the next morning. Then, I take a 1 USD ferry from the airport to Malé.



While walking to the hotel, I notice environment around me and wonder why there's no other foreign tourists, I'm really curious, haha. From the review I read, it is said that most people do not stay in the capital except the late flight tourists as they can only travel to their designated islands the next day. I feel so relieve that I also didn't plan to stay in Malé. I will only stay here one night and the next days will be on Maafuchi Island. I feel so excited and want to reach the island as soon as possible, I want to feel Maldives already.
I spend the first day on getting here, plan thing, get the SIM card working, buy a ferry ticket to cross to Malé island, go to the hotel and then sleep.
Day 2: Travel from Malé > Maafuchi Island



Today I will take a 9.15 a.m. shared speed boat to Maafuchi Island (25 USD). I asked the hotel on the island to help me book the ticket but the hotel didn't tell me which boat I'm to get on. It's a bit chaotic now. I asked the boatman if any boat is to leave for Maafuchi at 9.15 a.m. and then he asked if I have reserved and asked which hotel I'm to stay on the island. Then, He hands his mobile phone to me and let me talk to the hotel staff about this situation. The staff apologized for didn't inform the boat company about my reservation. Nonetheless, the staff said I can go with this boat, it is also 25 USD fee. So then I board this boat for Maafuchi Island.

*However, please do not be late if you already book the ticket because it's not only you, there're other passengers too. I'm sure that you don't want to be a reason causing the whole trip delayed.


Then, after about 40 minutes ride, we finally reach our destination. Welcome to Maafushi Island!!!!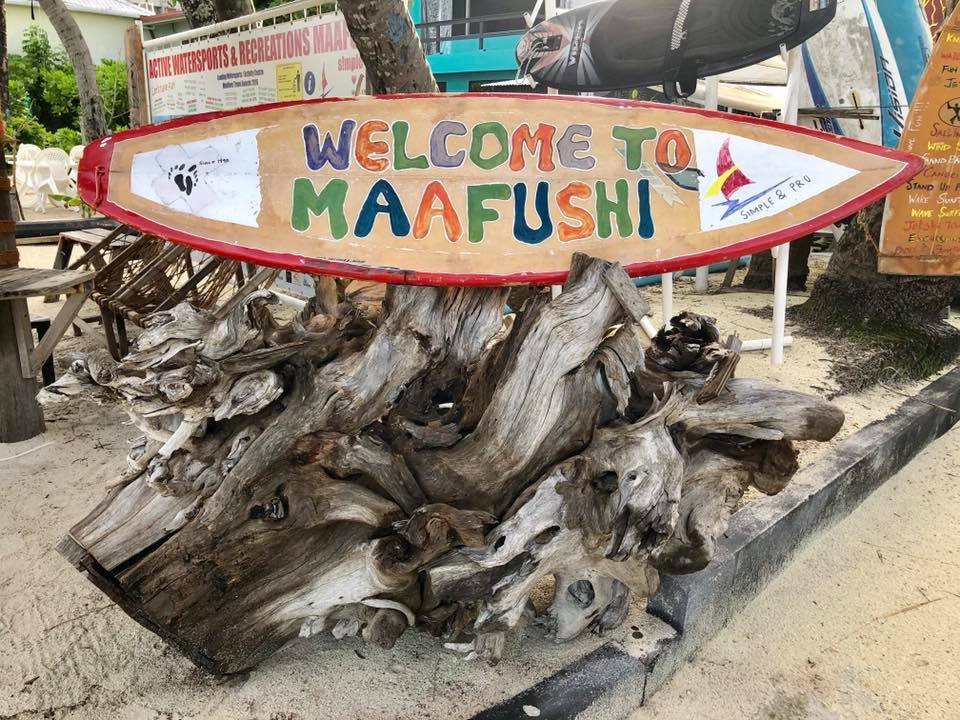 When reaching the port, the hotel staff comes pick us up by showing their hotel name. Also, they have a cart to drag our luggage, which is very nice. Actually, I can take care of it myself but he insists to help me :)

Although I reach Maafuchi Island early morning, I can check in right away. This trip, I'm staying at Holidays Lodge Maldives for 5 days and 4 nights. It is by the sea but with no beach. The staff is very kind, friendly, and greeting the guests all the time. I think this hotel is worth every penny I pay. I'm very impressed with their services and experiences I've got with them. Now, let's go take a look at the room. I really like the room here, it's not luxurious but simple.


I have something to tell you about the plug. I forgot to bring 3 pin plugs but luckily the hotel provides the 2 pin plugs.
・Almost all of the electricity here comes from generators and solar cells.
・Electrical system: 220-240 volts. All Thai electrical devices can be used here but we must have a 3 pin plug too.
・I recommend you to prepare a universal plug although certain place would have a 2 pin plug like what we have in Thailand.

At 4 p.m. I go to the beach where water sports are played. I'm so excited to get to play water sports. I choose to play the paddle board which is 10 USD/hr. And since it's already 4 p.m. the staff said that I can play for as long as I want. I'm so happy hearing that, well, I will play until 6 p.m. in that case, haha.

This is my first time in life playing this stand up paddle boarding which is not difficult. When renting it, we must register in a form, including our hotel and room number too. It looks very chill when the staff takes the boarding to me. He also demonstrates f how to play, how to sit, stand and get up when falling into the water. Then, I start to play. At first, it was difficult to stabilize with the waves. After 3-4 times of falling, I tense my legs and finally know how to control it with these waves. And after that, it's fun time, I can sit, lay down, and stand as much as I wanted. What is quite difficult is to control the direction but it's not that difficult once you try more. For the camera, I leave it at the end of the board and take photos from there. Travelling alone, it's a bit difficult when come to photography but surely, it's not a problem. Playing this board, I get to work on my abs and legs, I really like it.

When the evening comes, I go back to the hotel to bathe and go out for food. There're a lot of options. I choose the open air restaurant so that I can truly enjoy the atmosphere. My dinner is chicken fried rice and egg. That fried snack dish is complementary which I don't know what it is but smell quite good. Unfortunately, it was raining like it has never rained before, haha. So, I have to move to eat at the beer counter of another shop located at the entrance. Oh well, this is also a great feeling with some rain splashing towards us. The food is like what you see here, the taste? It's not that bad but I'd say it cannot compete with Thai taste, haha.

Bad news for those who love to drink alcohol. Maafuchi Island is an alcohol-free island. Due to the Islamic Law, any alcoholic drink is strictly forbidden in Maldives. But if you wish to drink, you can buy a one day tour to a resort on private island which have several resorts to choose from. So, if you plan to stay on local island, you must be aware of this rule. For me, it's not a problem since I'm not addicted to any alcoholic drinks anyway, haha.
Day 2: Snorkeling time
The first morning at Maafuchi Island, I wake up early at 6 a.m., get dressed to run and walk around the island to warm up for the snorkeling trip.



Today I book a half day snorkeling tour to 3 stops with the hotel and get to go with Arena Beach Hotel. This includes a lunch on an island in the middle of the sea called "sandbank" too. But unluckily, we didn't get to see the sand island in the middle of the sea. Oh well, there's still tomorrow, let's hope for it. For today, let's just enjoy our lunch on the boat instead, haha.






Today I'm very lucky to see this old turtle, a local chief here. It actually takes quite a long time before I actually find him. Immediately, I ask the boatman to help me record a video. It is indeed a very impressive moment.



Another impressive thing is I get to make friend with a Filipino friend who also travel here alone. We talk like we have known each other for ages, it's so fun that we forgot to ask each other's name, haha. Anyhow, we get to have our IG accounts exchanged.


One thing that is still long imprinted in my heart is the clean, clear and the blue of Maldives sea. It's so fun but the sun is very strong too. However strong the sun is, it is incomparable to the heart that wants to enjoy the water, haha.


This is how our lunch looks like. It is a fried instant noodle, fried chicken, salad and milk. The taste is quite delicious probably due to the fact that I'm very tired from snorkeling, haha.

Today I'm very lucky to see dolphins swimming along our boat on the way back to Maafuchi Island. And I almost jump to play with them, haha.

Thank you so much, the staff of Arena Beach Hotel for taking such a good care of us in this trip. They are very kind, friendly and nice. Let's say today trip is so good. It's so worth 25 USD.

After the trip, I reach Maafuchi Island at about 4 p.m. and feel really tired by the snorkeling and the sun, haha. Then, I go back to bathe, rest and wake up again when it's time to eat something. But, it's raining so I can go nowhere, let's just have dinner at the hotel. The price would be more expensive than general restaurants. My dinner is a fish steak. That I'm on the island, let's try their seafood dish. I think it's quite yummy.

Well, the menu here is presented in English and sometimes without photos. It will be quite difficult for people who are less skillful in English like me. I know the simple menu but I have absolutely no idea for some menu. Like the hotdog menu below is my mistake, I thought it's some kind of traditional dish, haha.

And a bottled water is 2 USD which is so expensive. At the shop, it is only 8 THB but here, it is 62 THB T_T.
Day 4: Snorkeling, again
I go for a snorkeling tour again but today I go with our hotel. There are 5 people today, two are staff, two are Hungarian and me. It seems very personal. I feel much better going with our own hotel than joining with other hotels.



Our first stop is to snorkel with a whale shark. Well, I have such a big imagination prior to the trip. I expected to see gigantic and several of them. But I only see a small whale shark here. It is so different from what I saw in Philippines. I can't help but feel a bit disappointed.

This is a very close up shot already. It really is small, oh well, it's still cute. Some people might wonder that shark doesn't bike? Oh well, this is a whale shark.




After that, it's time for snorkeling with dolphins. I got so excited for it but when it actually comes, I'm again disappointed. This is because they swim so fast and run away from us. I try to follow them for 15-20 minutes but fail. Let's imagine that I have no life jacket and breathing tube, all I have is a mask and a fin. So it's really tiring swimming like this. At the end, I have no photo with dolphins.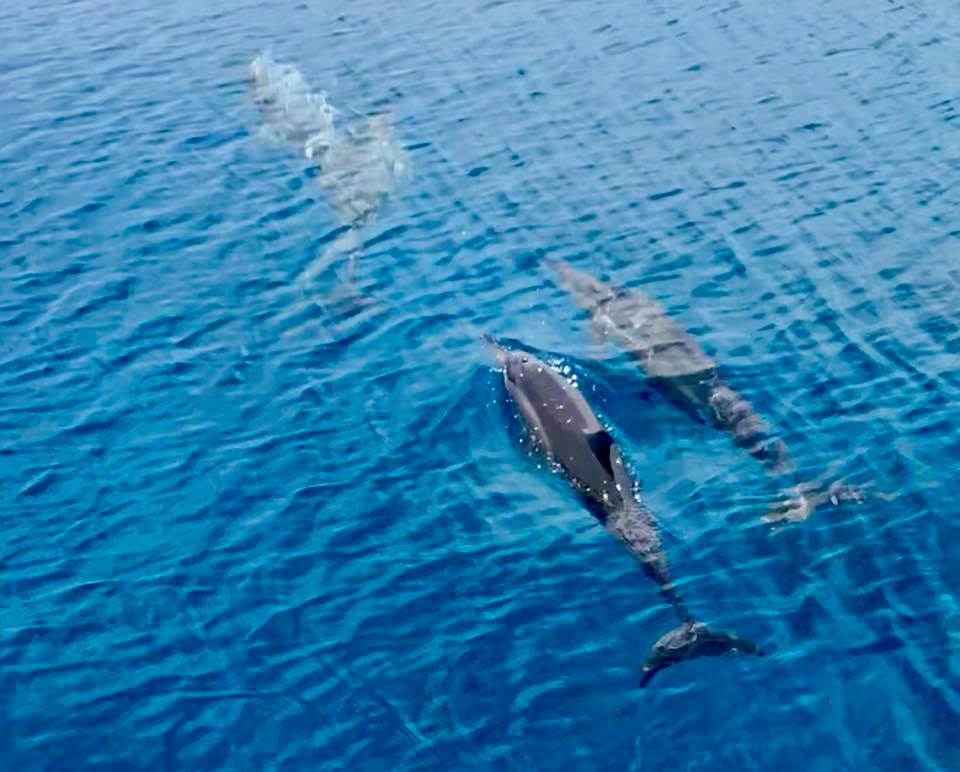 And another disappointing thing is the sandbank which didn't appear again. This is my second day miss, what a bad luck. I still have one more trip tomorrow and hope that I can see it tomorrow. Do I really have to wait and wish for until the last day? haha.
Since there's no sand island for us to stop for lunch, we have to change the plan and go to another local island instead. My apology for not remember the name of this island. We simply reach this island, swim and enjoy the island for about an hour before the staff call us for lunch. Here is how our food looks like.

Our lunch comes with a chicken sandwich, milk, water and papaya which is just enough to make us full. After the food, we get to enjoy the island a big while longer.






This local island is not considered so beautiful but it's good to have a chill time in the water and since there's very few people here, I really like it, haha.

I can't help but climb when seeing coconut trees, just like a monkey, haha. To have a cool photo, I set up the camera and start to climb when it's the right moment. Soon enough, a western aunt start to look at me and call her husband to take a look as well. So I stop here, otherwise they could think that I'm going out of my mind, haha. But I'm quite content with this photo already, hehe.
On the way back to Maafuchi Island, we must go pass the sandbank again. The staff now stop and allow us to enjoy the clear water. I quickly jump into it, haha. Oh well, it's really clear and good for our heart. I think the photo cannot do it justice, you must come and feel with your own hearts and eyes, it's really breathtakingly beautiful.



After the trip, I go back to the hotel, bathe and take some rest. And at 4 p.m. ish, I go to enjoy the stand up paddle boarding for 10 USD again. Like yesterday, it's quite cloudy although we are still able to play the boarding.




I come to play the stand up paddle boarding with the same owner because it save some me time for I don't have to register again. I really like their shop decoration style, it gives you a chill feeling. It's also colorful and they play very good rhythm music, I'm loving it so much.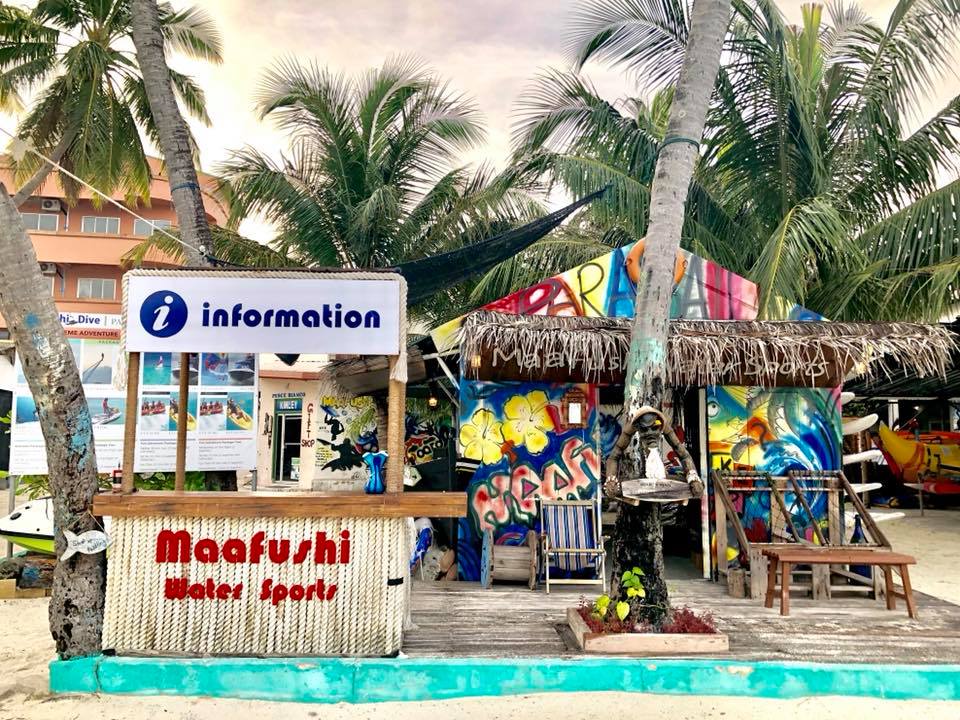 For tonight dinner, I have this fish curry. I didn't know beforehand of how it supposes to taste but just want to try it. Oh well, I finish it although the taste is not that strong. After that, I have a strawberry ice cream and go back to sleep.



Day 5: Snorkeling, like usual
This morning, I also wake up early to exercise. But since it was raining heavily yesterday, the road is full of water. Jogging here is so fun and not boring at all, it's so peaceful and you can simply take your time to enjoy your surrounding too.


There's also a prison on Maafushi Island. From what I talked with the villagers, they told me that this prison is for Maldives' prisoners that are sent here. There are roughly about 900 prisoners here. I'm sorry if this information is incorrect as this is what local people told me. And every morning, you would see them in orange shirts coming out for cleaning job.

After the morning exercise, bathing and breakfast, it's time for snorkeling. But this time I didn't go with speed boat but a boat that looks like a passenger boat. Before leaving the port, I see fishermen sorting their fish.

A new experience for today is to drive the boat. The staff let me drive which actually is quite easy. The staff explain to me how to control for the direction and avoid a shallow sand dunes as the boat must be driven in a deep water. I think I'm quite a good driver, haha. That they also play local music, the entire atmosphere has a very islandy feeling. I dance and drive for about 20 minutes. I'm very happy right now. Thank you the staff so much for allowing me this new experience.

Today I have a chance to see the old turtle swimming again. I wonder if they also have a gang of turtle just like fish, if so, it'd be great and so beautiful. Anyhow, I think seeing one is better than none.


Snorkeling without a life jacket and a breathing tube is very tiring. You have to be very strong. The wave may seem light but it comes quietly and without us noticing it, we have been blown to quite far away. While snorkeling, you won't feel it, you will feel it when you have to swim back to the boat which is a very exhausted swim.

Today lunch also was planned for a sand island in the middle of the sea. Still, the luck is not yet on my side, the water gets too low that it didn't appear. Again, we have to eat it on the boat. But luckily enough, on the way back, we stop for a sandbank but this one comes with trees and grass which is different than that only sand island. Oh well, it's not my tun yet! Let's come back again next time.

But this sandbank island is also very beautiful with fewer people. The water is so clear that I just want to jump and have a cool click along it. But I feel considerate for other, so that was only my thought, haha.

The staff stop here and told us that we have about 40 minutes. Oh no, 40 minutes is not enough, I will have to swim and spare some time for photo taking session. But I have to follow the rule since I didn't come alone so I must follow the group.

The highlight of this island is lush green trees and grass which are so cute in bushes. But I didn't get to take photos with them as I'm busy swimming. This photo also was taken on the way back to the boat when I learnt that our time is up.

Did you see that there's almost no one here? You know whey there's not many people here? It is because most of them are either out there swimming or taking photos on the beach with a clear water.


If the boat wont' continue on, I would take a jumping photo here. The water here is so clear and I can't forgot the scene I'm seeing now.

Did you see that crystal clear water? When the sea meets with strong sunshine, the water will be extremely clear and beautiful. It's not as clear when it's cloudy. I'm loving it so much.


How can you resist not to swim in this crystal clear water? At this moment, I'm not afraid of any strong sunshine. Well, actually, if you are afraid, you'd better not come, haha. That we are already here, we must enjoy to the utmost. It's a once in a while thing, let's enjoy!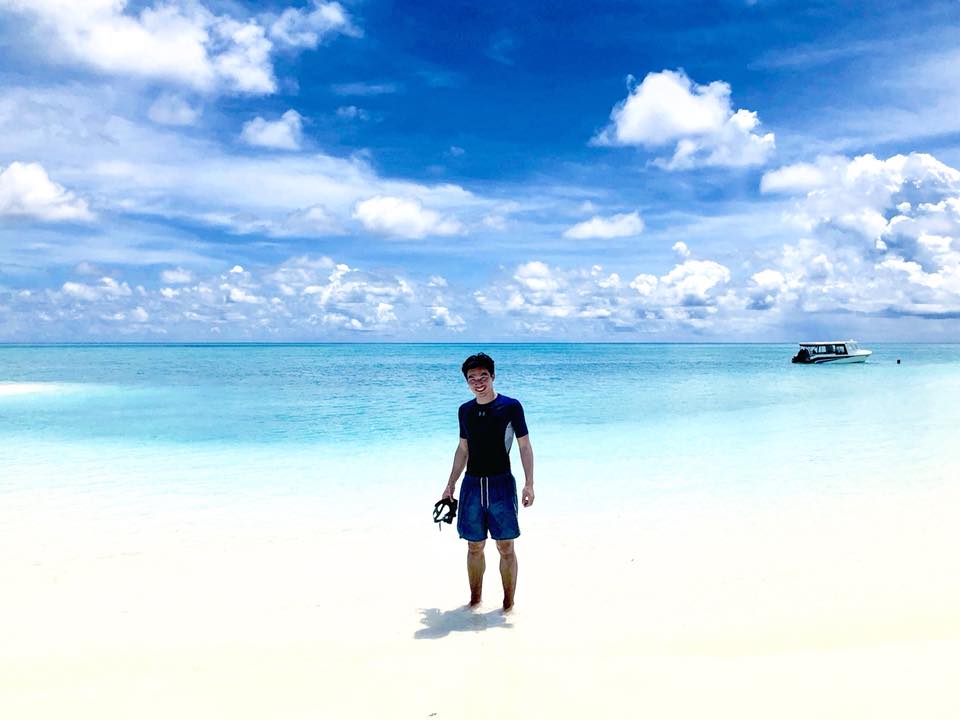 Many people are asking and wondering if I really travel alone. If I travel solo then who take these photos for me? Let me give you a brief explanation, traveling solo doesn't mean that you cannot take photos for yourself although you need to ask for help sometimes. Let's say 98% of these photos, I take them myself.

Before the end of today trip, let's have a photo for a memory with the staff who take great care of us today. Thank you so much.

This evening comes the most beautiful sunset since I arrive in Maldives. This is because the previous days were all raining. Today, there's no wind, rain, and it's just so beautiful. This photo was taken at the pier of the island.


Tourists are all out for the sunset at the beach. The sky color is very beautiful, I like it so much.

And here is the 2 sisters I met on the snorkeling trip. This evening we meet again for dinner.

This photo has a story. While walking to find a restaurant and passing this pier, I see a Maldivian man sitting and bending down to take photo. He is bending so low that I wonder what he is capturing so I go ask him. Once I saw his photo, I realize it's the photo of water reflection which is so beautiful. Then, I ask him to take one for me too, thank you so much my have-to-be photographer, haha.

And here is the shop selling things like snack, juices, fruits, etc. I think it looks uniquely cute and I see several of them all around.

My last dinner on Maafuchi Island is a local food of Maafuchi. At first, we planned to have a buffet food at Arena Beach Hotel but change our mind in the last minute, haha.

I don't know what this snack is called. It looks like curry puff but it's not what you think it is, it's not the taste we are familiar with and I seriously cannot eat it, haha.

And here is a fried rice with egg. Doesn't it look yummy? I think the taste is alright although the rice is too dry. I finish it nevertheless, may be I'm starving?

This last dish is a tuna salad. The taste is also quite nice. I can eat and finish it too, hehe.
After the dinner, we wander around the island again before going back to hotel.
Day 6: Return home
I still wake up early to walk and jog around the island like usual on my last morning in Maldives. But this morning, it's very cloudy and soon it rains so I didn't get to run very far. Anyhow, the rain didn't last long.

When running to the beach, I was stunned to see how he does the fishing, can it be done like this? I've never seen anyone fishing on the beach like this so I take a photo as a memory. Then, I go back to the hotel, eat breakfast, pack and get ready to go back to the capital city.

But wait.... my ferry ticket is at 2.30 p.m. and now it's only 9 a.m. I just forgot all about the timing, haha. Then, I go ask for the late check out which they have no problem. However, the rain now falls heavily again so I cannot go anywhere but stay in my room and watch TV. Before the rain could stop, it is already 1 p.m.

2.30 p.m. and the ferry leaves for the capital city, Malé. The first thing I'm doing when reaching the capital city is finding something to eat because I'm starving. I stop for a sandwich right in front of the pier. I think the atmosphere of the shop is very pleasant. It has 2 floors but offers limited food choices.

And of course, I choose to sit on the second floor as the view is quite nice and not crowded.

They also ride scooters here. Well, the island is very small, but with a lot of people, scooters, buildings and houses.


And here is my food. The watermelon juice is quite delicious but the rest is so not delicious, it is so plain but I have to eat to survive.


After the food, it's time to explore the city to find out what it has to offer. Like I mentioned earlier, there're a lot of scooters, you would see them anywhere you go.

While wandering around Malé, I feel several eyes are watching at me. I understand that it's quite strange for a person to drag a luggage while walking around to see the city. It's true that almost no tourists are here, where is everyone? And why am I walking alone in the city? haha, quite a puzzle in another puzzle, haha.

When walking into a shopping mall, I could see some tourists. But outside is none, where is everybody? I'm so puzzled, haha.

While walking through this market, I'm very stunned to see this fruit panel selling mangoes alike with the same price, the only difference is the seller.

Since the weather is very hot, I don't feel like walking anymore. It's really tiring and I'm all sweated by now. Even though it's only 5 p.m. but I can walk no longer, let's go for a rest.

Then, I decided to rest and wait at the air conditioning airport so I take a one USD ferry to the airport.

But when I reach the airport, I find out that.....the air condition room that I've been dreaming about was not there. It's all fans. If you want to be sitting in the air conditioning, you have to go inside. The thing is I cannot go in yet since the check in counter is yet to open. My flight is at 9.10 p.m. and now it's only 5.20 p.m. All I can do is to wait for another 2 hours for the counter to open. Meanwhile, it's raining and the roof is leaking so we have to move here and there, haha. What an experience, haha.

When the counter opens, I rush to check in and go inside. There're only few people inside and in deed, the air conditioning is very cool.

And then I got 2 boarding passes and I'm so ready to transit at Singapore. Before reaching the gate, we go through 3 times of security checkpoints. At the gate, I meet with Thai friends whom I met on the island too, what a coincident, haha. Our flying time is about the same, yet, we have to wait for another hour.

While waiting inside the gate, I go buy an ice-cream and a bottled water. The impressive experience happens at Daily Queen. The ice-cream is 5 USD but I only have 4.5 USD. I feel reluctant to use my bigger bills and don't want to spend my Rufiyaa bill too as I want to keep it as a souvenir. Then, the staff said, it's fine for 50 cent, I don't have to pay, please keep the Rufiyaa bill as a souvenir from Maldives. Oh my, I'm so thrilled. I gave him a big smile and said thank you, I'm so happy.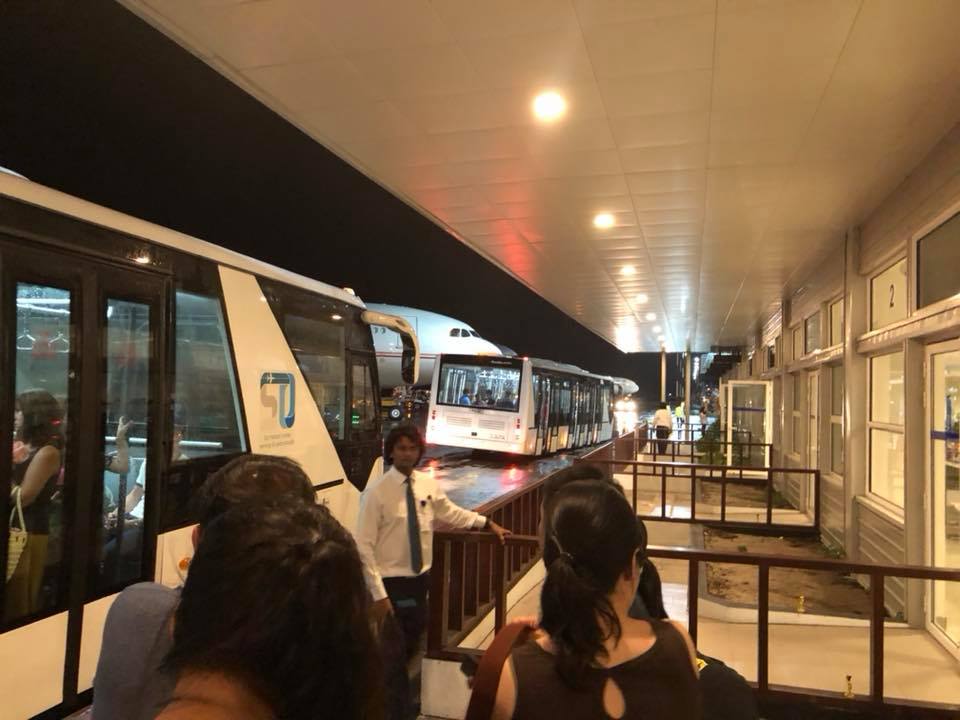 When it's boarding time, we wait in line inside the gate and go out to take a shuttle bus to the aircraft. The rain is yet to stop.

Like I mentioned earlier, Maldives airport is really small so there's no sky bridge. We need to take a shuttle bus to board the aircraft.

When I get my seat, I sleep immediately because I'm really tired. When I'm awake again, I'm already at Singapore, haha.

Here, I also have to wait really long to transit to Thailand. Thinking about it now, I spend a lot of time for waiting in transit.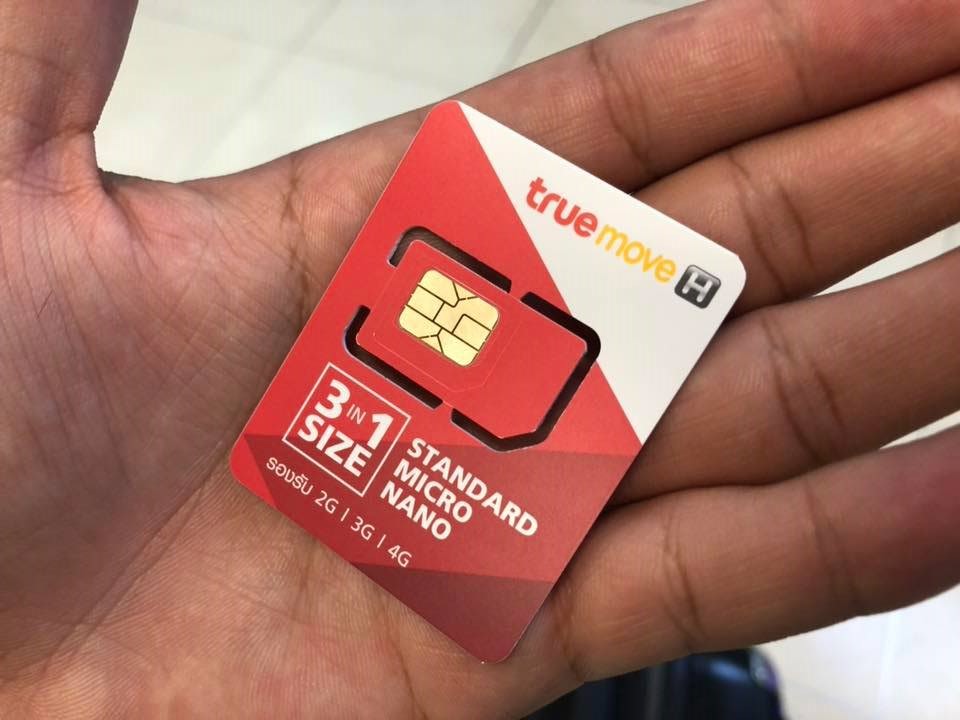 Upon reaching Suvarnabhumi airport, I immediately search for my TrueMove SIM card. When I took it out at Maldives, I think I had it keep well. But I tried to find everywhere but still couldn't find it now. Without this SIM card, I have no internet connection, what to do now? Then I realize that there's a True shop inside the airport, may be they can issue me a new card? Like I expected, they really can give me a new SIM card, I'm so super happy.

Thank you so much to the new experiences, people I have met along the way and Maldives for all the beautiful things I have come across. If chances allow, I would definitely go back again but this time, I won't go alone (may be?)!!

And this photo has nothing to do with the trip because it is a dinner I have after returning from Maldives and it is the most delicious meal. And thus concludes the Maldives trip.
Expenses:
1. Hotel is 7,800 THB.
2. Flight ticket is 14,700 THB.
3. A round trip speed boat is 1,500 THB.
4. 3 days of snorkeling trip is 3,560 THB.
5. SUP Paddle boarding is 620 THB.
6. A new SIM card of 22 GB internet is 680 THB.
7. Food is 4,600 THB and other expenses.
The budget for this trip is about 34,000 THB including everything.