Trat, The Dream Island Chapter 2 >>> 9 Attractions, Koh Chang Turn Left


Trat, The Dream Island ...Chapter 1
Meet us again with Trat, The Dream Island ... Chapter 2. The review in first part is mostly story about Trat on the land in order to show that Trat doesn't have only dream island. The land side also has places to dream of.
Now we are going to island. Our team try to utilize limited time of this short trip going to Koh Chang for bringing stories to you. What we have learned before the journey is ...
Mots of people go to Trat for visiting Koh Chang and stay at only western side of the island. In other words, get off from ferry and turn right. So, we intend to explore another part of Koh Chang which is ...
The east area, Koh Chang turn left and 9 interesting sites along the side.
9 Attractions
Koh Chang Turn Left
With the 30 km. distance, let's see what's on Koh Chang Turn Left.

After departure from Baan Nam Chiew, we continue to Laem Ngop towards the nearest pier which is Center Piont Ferry. Most of tourists going to Koh Chang without passing through the city will reach to Express Ferry first.
According to the map, distance is slightly farther. It takes around 50 minutes on ferry. Sitting leisurely and absorbing the atmosphere with my favorite drink selling on the ferry.

Attraction no.1
See "Seeraman Tree" (Korlan) aged over 200 years at Wat Klong Nonthaburi
Why locals call it "Seeraman"? I'm also curious, so I read from the board. Seeraman is original species of lychee from the south of China. It spreads to various countries including Thailand. Assume that it comes with junk. Chinese merchants travel to Thailand via junk in order to do business since former times. They may stay on Koh Chang to avoid storm, eat Korlan and leave the seeds. Korlan trees grow all over the island. //Easy to grow like rabbits, haha.
Why locals call it "Seeraman".
And Wat Klong Nonthaburi preserves the trees mentioned earlier. There are 7 of them in total with a sign stating its age of 200 years. Turn left and don't miss a chance to see the Korlan for your experience.
Scroll up to photo above the map. That's the green shade of Seeraman.

Wat Klong Nonthaburi is the oldest temple on Koh Chang where preserves Seeraman trees inside its space. The temple is very peaceful. The battlements look mystic.
Besides temple and Seeraman trees, you can learn livelihood of Daan Mai villagers if you have time. There is a museum collecting old books of Uncle Dang who has history of Miss Thailand from the first to present one.
There is Koh Chang shrine where locals strictly worship.

This is a huge banyan tree in front of temple. We are about to leave but suddenly see the tree. I hurriedly tell driver to park and grab the camera. Okay, continue with Koh Chang Turn Left.

Attraction no.2
Ao Salak Kok
The most attractive activity of this place at the moment is to experience Ao Salak Kok closely by "Mard Boat" (also known as Gondola of Siam). Booking the boat at Salak Kok Seafood Restaurant.
Unfortunately the flood tide is too low to sail but the worse thing is the view right now isn't quite nice. It is because water runs dry till becoming small channel. We cannot sail to the highlight part of the route. Therefore, if you intend to ride Mard boat, please check with Salak Kok Seafood for recommended period. What we can do today is only gathering information and go further inside to the port of Ao Salak Kok. Watching the water with Mard boat is such a worthwhile scenery to visit for.
If you don't know how Mard Boat look like, click the following link google image

Attraction no.3
Scenery Point for Ao Karang
The route into Ao Salak Kok it separated from main street of Koh Chang Turn Left. Returned trip to main street, there is crossroad to Ao Salak Petch ...
The largest bay on Koh Chang. It is also a road to Baan Chek Bae. We plan to go to end of the island but, due to limited gasoline, the farthest we can go is scenery point for Ao Karang. The view is worthwhile.
Have to say "wow!!" to bird's-eye view of coconut trees with the bay as background, plus high mountain at the end, as shown in the photo. This area is easy to park cars and equipped with rest-house.

Attraction no.4
Baan Rak Kala
Hand Made Coconut Shell
Another stop is no need to turn anywhere since it is on passage way. Just pay attention on sideways. If you are afraid of missing it, you can note down the location and add it in your mobile. It is high-tech age now. This place is a learning center ...
To practice and create occupation to villagers. The expertise is shared with free of charge. Coconut shells are used to create decorative items such as souvenirs, various appliances ...
Fashionable accessories, mobile and others based on creative ideas. Besides being learning center, Baan Rak Kala also buy handmade products back from villagers in order to boost sales and revenue.
This community earns the living from selling items made by coconut shells for more than 10 years. I am not a shopper but can't resist to grab a chic bangle which I'm still wearing until today. Don't forget to drop by.

Backyard is a work shop and small production line. Inside the house is made as showroom for displaying products.

Attraction no.5
Wat Salak Petch
Continue to Salak Petch village. Wat Salak Petch is another charming temple especially its outstanding great Naga hedge surrounding temple. Once looking inside, you will find gorgeous murals.
There is a museum of Wat Salak Petch located in front of the temple where displays plenty of valuable artistic works. It is an attractive site to visit on the route Koh Chang Turn Left.

Attraction no.6
Baan Na Nai Mangroves
The next highlight is Baan Na Nai mangrove with its diverse beauty from other mangroves. It is not far from Wat Salak Petch. You can ask direction from locals, easy to find.
It is one of the most interesting places to appreciate mangrove. The nature here is different from other locations. Sideways are full with shore trees. The distance of walk way is suitable with 1 km. for round trip ...
Not getting tired yet. At the end of walk way is a must visit site as photo shown below. Scenery view of Ao Salak Petch.

We lie down to appreciate cold breeze and watch the cloud moving pass treetop, very joyful. At first, flood tide dries up to the mud. As we lie down for a while, the tide already increases. Very fast!!

Attraction no.7
Baan Salak Petch Port
Destination of the route Koh Chang Turn Left is at the end of main street. From the mangrove, passing Wat Salak Petch again, continue to the south. One stop before terminal point is this place ...
Baan Salak Petch Port is built beautifully. This pier bridge is not only used for mooring but it is also a multipurpose bridge for walking and jogging as well.

After watching the port, we continue for another kilometer to the end of this road. It is a parking lot of Salak Petch Seafood Restaurant. Further to this point is a small lane which is full of home stays along sideways. As we are now in front of seafood restaurant and we are at the sea, let's go.
Salak Petch Seafood N11° 58.916' E102° 22.609'


View of Baan Salak Petch port from Salak Petch Seafood.

After that we check in at our accommodation.
Our car is parked at Salak Petch restaurant. We call our home stay to pick up. A staff shows up with wheelbarrow for carrying our luggage.
Follow him quietly.
This is the entrance way.

Here we are. Looking from outside, it seems like entrance into a community. Though the hanging sign states resort, with current condition, it should rather be called home stay. Back in 20 years ago, when they firstly registered the business, there was no definition for home stay. But home stay trend is currently booming. Krua Saeng Aroon has many compositions counting as home stay. Another reason is we search for accommodation in Google Map by focusing on home stay. For this trip, we plan to spend at least one night at home stay. According to Google Map, accommodations in this area call themselves home stay.

However, let's see if it is more like resort or home stay.
Krua Saeng Aroon Home Stay

Before going deeper in details of home stay, may I introduce the next stop. Krua Saeng Aroon provides package of 2 days 1 night plus island tour at the rate of 1500THB per person. Or 2600THB per person for 3 days 2 nights package. If you are not interested in the tour, it is 500THB per room (with air condition). The tour package includes diving and sailing at Mu Koh Lao Ya. It may go further to Koh Wai and Koh Rang which is a beautiful diving spot and not far. Krua Saeng Aroon has its own port and boat. From the room, you can go straight to the port.
Attraction no.8
Koh Lao Ya Nai
Charming Diamond of Eastern Sea
Location N11° 56.624' E102° 24.445'
Distance from Saeng Aroon Home Stay is 6 km., around 20 minutes. Though the weather is nice, the wave is moderately high in this season.
Our boat need to make a detour to Koh Prow and due to strong wind, we can visit only Koh Lao Ya Nai. Can't go any further.

There is a famous resort located on the island called "Lao Ya Resort". We have heard about it for long time. It has very nice atmosphere but it is quiet today, no tourists at all. Could be because it is in low season and also on weekdays.
In photo is resort's port.

Very joyful.
Gorgeous beach and beautiful coconut trees. The scenery of skyline plentiful with mountain range of Koh Chang and other islands looks more charming than basic skyline.

Return to home stay. Turn the boat back to coast. View from the boat while mooring.

The resort or home stay catches crab and fish in floating basket for guests' dinner.

I hurriedly grab my camera and watch fishing activity.

Satisfy with seafood dinner and fresh fish & crab from floating basket. We are extremely full. We cannot finish the left over crab due to no space in stomach, haha.

The ambiance of Ao Salak Petch in the rainy morning from the eaves of Saeng Aroon Home Stay. If you are interested in Saeng Aroon Home Stay and other accommodations in the whole trip, please click on the link at bottom. Information provided by N'Rin, our accommodation specialist.

Is there anyone counting on 9 attractions? We still miss one more stop. Actually it's not a normal stop because it requires time and energy.
Attraction no.9
Yod Khao Laem
Location 12.007557, 102.354751
This attraction is to please adventurous tourists who like going though forest and has conquering heart. Our team TTBN09 has hiking lover as a team leader, also known as "Dome Saphipae of Saphaipae.com". This person cannot sleep on bed. He sleeps tight in forest, haha.
Our team leader separates to conquer Yod Khao Laem by himself which is the 2nd high mountain of Koh Chang, inferior from Yod Khao Yai. Carry bags for round trip of 6-7 hours. He stays one night on the hill with his fingers crossed for fine weather. He has collected nice photos in the dusk and dawn time including story. How much fun is the story? Is it worthwhile for his effort? Let our leader describe the whole experience in his own review.
(During this period, these round brackets are reserved for the link)
The atmosphere when we drop team leader at the beginning of hiking.

This the end of story under my responsibility.
Find further details of Trat, The Dream Island in review from other team members at
หยิบเงิน 3065 บาท ไปเที่ยว ตราด ต่อ เกาะช้าง กินนอนพักสบาย เที่ยวเต็มอิ่ม 4วัน3 คืน คุ้มยิ่งกว่าคุ้ม by N'Kong ... Grab camera and travel around the world
ตราด เมืองต้องห้ามพลาด!! ตระเวนเที่ยว 3 วัน 3 คืน กับที่พัก 3 สไตล์ by N'Rin Rinsa Yoyolive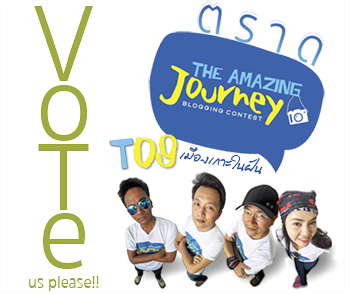 Support team T09 by voting at this link . Thank you so much ;)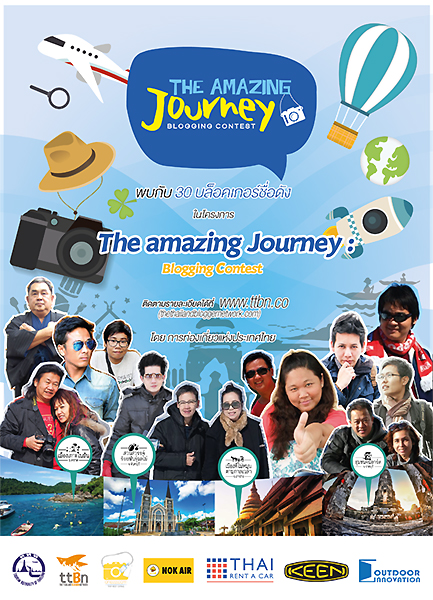 Thank you following sponsors;
The Thailand Authority of Tourism
ttBn TheThailandBloggerNetwork.com
NOK AIR
Thai Rent a Car
KEEN
Outdoor Innovation