Hi all readme.me friends!
Today I, Nai Fahsai will take you to one of the 12-must visit cities in Thailand, Nakhon 2 Thams.

Nakhon 2 Thams, 2 Thams are Thamma (Dharma) and Thammachart (Nature). Nakhon Si Thammarat is a place where these 2 Thams blend so well together and has become the signature of the city and cannot be taken apart.
This trip's program is including paying homage to Phra That Muang Nakhon, Chilling at afish spa,

exploring the coastline and offshore tourist spots, watching pink dolphins, enjoying local shadow puppet

museum, eating freshly made Thai Pasta, and tasting fresh seafood at romantic Pak Nakhon.

If you are all ready, let's go to Nakhon Si Thammarat, Nakhon 2 Thams together!

I would like to thanks to all your kind supports, comments, and votes. If you like the review please do not hesitate to share it to your friends and family. This review is a part of travel campaign of The Tourism Authority of Thailand that would like you all to get to know more about 12-must visit cities in Thailand.
The Amazing Journey: Blogging Contest, I have formed the team with Mae Pranorm. You can find their review through this link [Spoil] Please click to see the hidden message http://pantip.com/topic/34084687. Nakhon 2 Thams as my mission destination is Nakhon Si Thammarat.

Credit: Mae Pranorm
Brief information about Nakhon Si Thammarat

Nakhon Si Thammarat is the 2nd largest province in the southern Thailand and the 16th largest province in Thailand.

The word Nakhon Si Thammarat means "The city of Beauty and Dharma King".

Tambralinga Kingdom has been known since 5th century B.E. because of its great location in the middle of 2 oceans and as a major seaport.
11th - 17th century B.E., Mahayana Buddhism had spread from Srivijaya Kingdom through the city.
17th - 18th century B.E., Phra Chao Si Thamma Sokkara successfully ruled 12 cities around Nakorn Si Thammarat. This was when the city was the most prosperous.
It was also considered as the center of Buddhism in South East Asia.
100 years later, the city went down after invading Lanka while the Java robbers came and robbed the city for 3 times. It was the same time that the bad flu spread throughout the city so people left the city.

It was in Ayutthaya period that people started to come back and live here and the city had become a main southern city under the control of Ayutthaya Kingdom.
The administration was changed to Nakhon Si Thammarat Precinct during the reign of King Rama V.

And it has been changed to Nakhon Si Thammarat Province in 1932 until now.



Seals of Nakhon Si Thammarat Province is Phra Borommathat Muang Nakhon surrounded by 12 Chinese zodiac.
To get there
Car

Take Highway number 35, Thonburi - PakTor

Take Highway number 4 through Phetchaburi and Prachuap Khiri Khan

From Chumphon take Highway number 41 through Thung Song District and Ron Phibun District
Train
From Hua Lamphong

Train number 173 Departure at 5.35 PM Arrival at 09.55 AM

Train number 85 Departure at 7.30 PM Arrival at 10.55 AM

For more information please contact State Railway of Thailand, telephone number 1690
Flight

Daily Direct Flight from Bangkok to Nakhon Si Thammarat

It takes around 1 hou.
My journey gets started here.
I fly with Nok Air Flight DD7810 with B737-800. Nok Air operates 6 direct flight to Nakhon Si Thammarat per day.

It takes about 1 hour and 10 minutes
** Tips **
I recommend you to check in online through your mobile phone so you do not need to queue up for checking in at the airport.

If you have checked baggage, you can go to Baggage Drop-Off Counter directly.

Nowadays, you can even show your boarding pass from your mobile phone. It is no need to print it out anymore.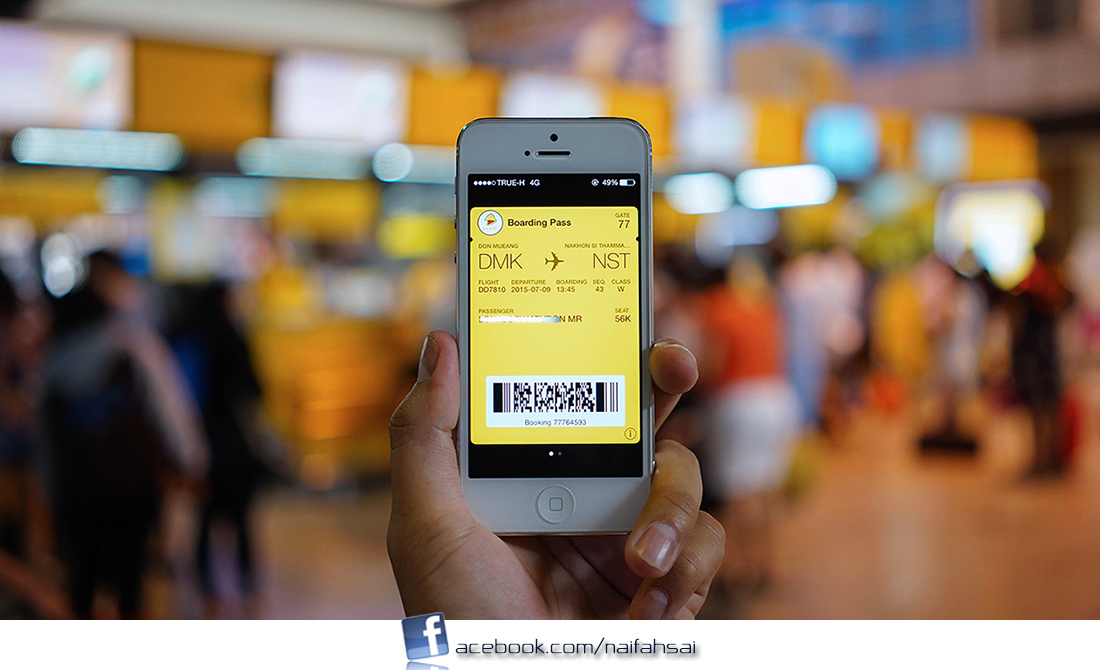 There is quite a lot of people going to Nakhon Si Thammarat on this flight.
Some bakery and drinking water are served on board.

There is complementary free Wi-Fi on board on this flight. There will be a staff walking toward you asking if you can connect to the Wi-Fi and if the Wi-Fi is working properly or not from time to time.
But unfortunately I have left my mobile phone in my bag in overhead storage bin so I do not have a chance to use it. Not long after the flight start to prepare for the landing.



I have arrived safe and sound at Nakhon Si Thammarat and I am ready to get my car from Thai Rent A Car.
I will be driving Eco Car on this journey.

Everything is settled well so let's go to my first stop at Khanom District right away!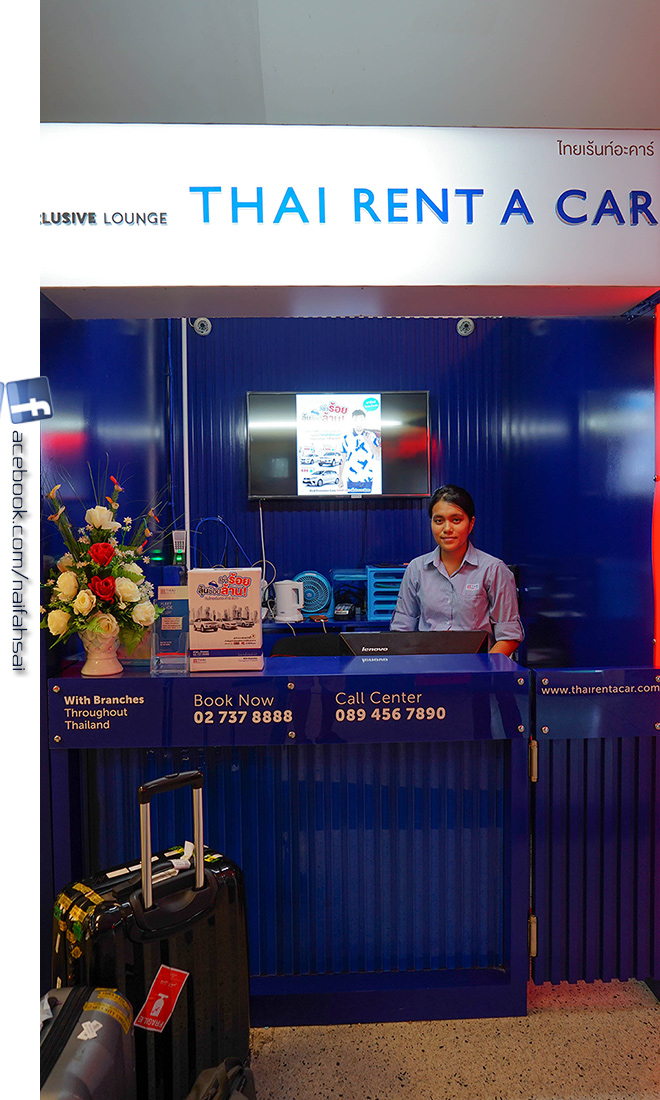 The accommodation for tonight is Talkoo Beach Resort.
It is around 1,000 THB per night with breakfast included.
The resort is by the beach and it is very calm and quiet.

This is totally good for a true relaxation.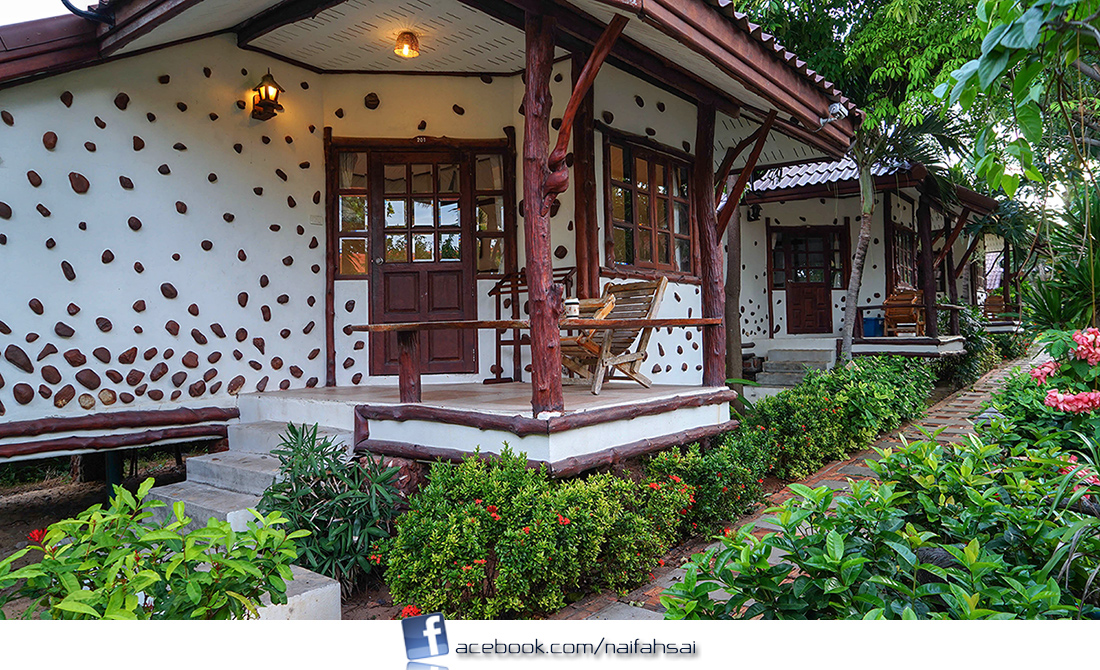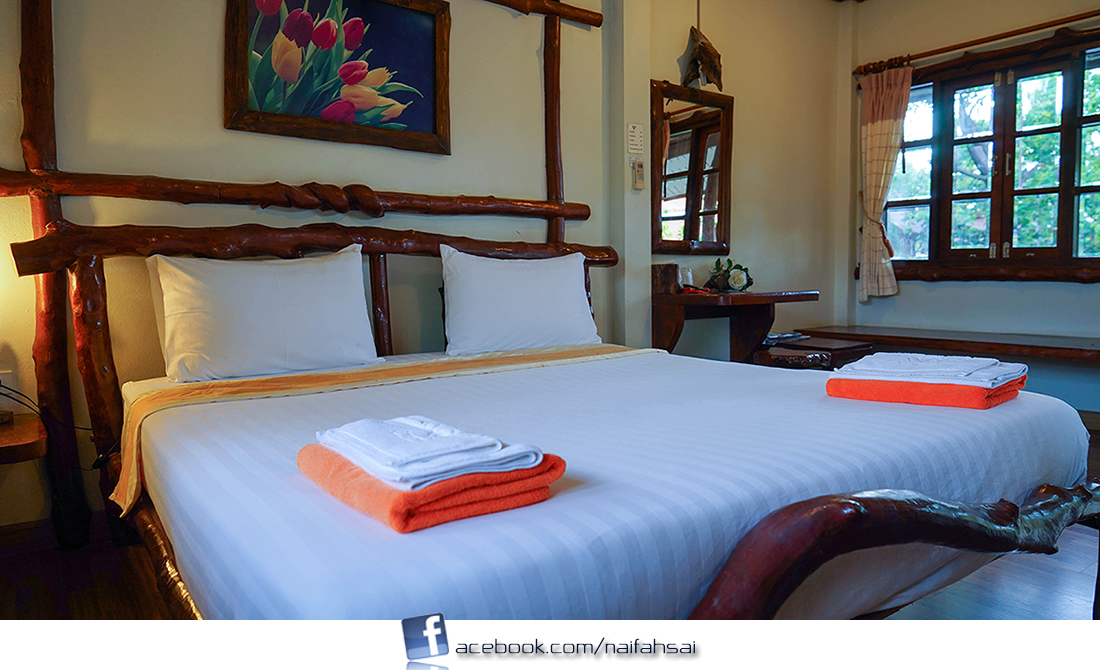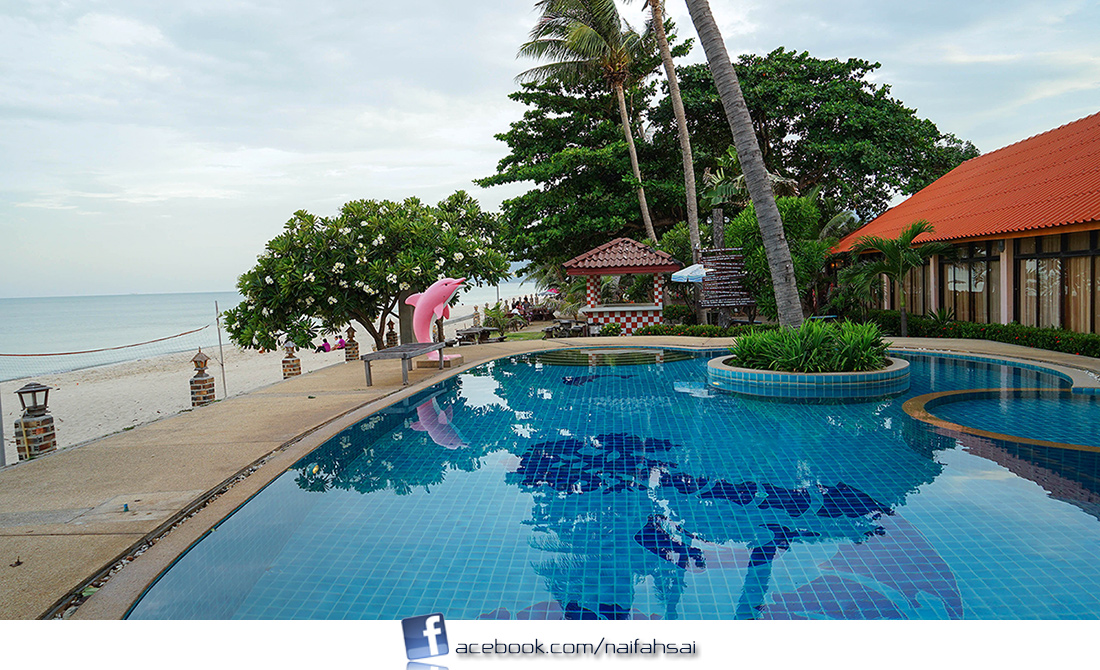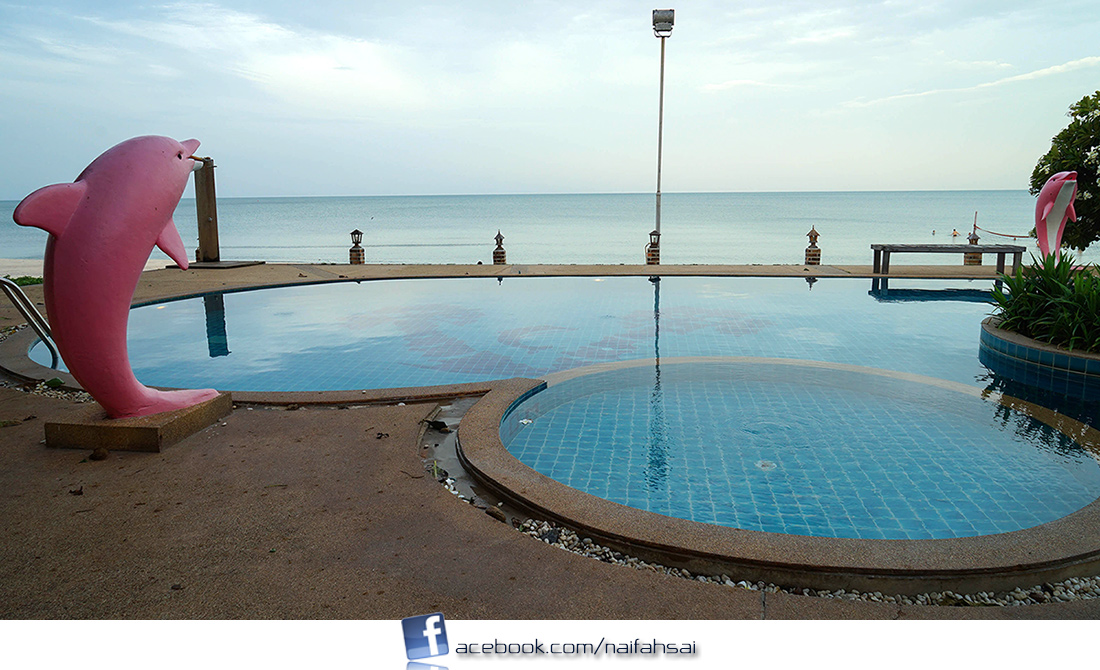 Then I do not hesitate to go to Tontarn Resort and Spa straight ahead.
Tontarn Resort and Spa is famous for its fish spa but this place is like no others. The fish are actually in the natural steam not in the fish tank. It is only 150 THB.
It is pretty ticklish.

It takes me around 20 minutes to get used to it and I have spent time here for about 40 minutes.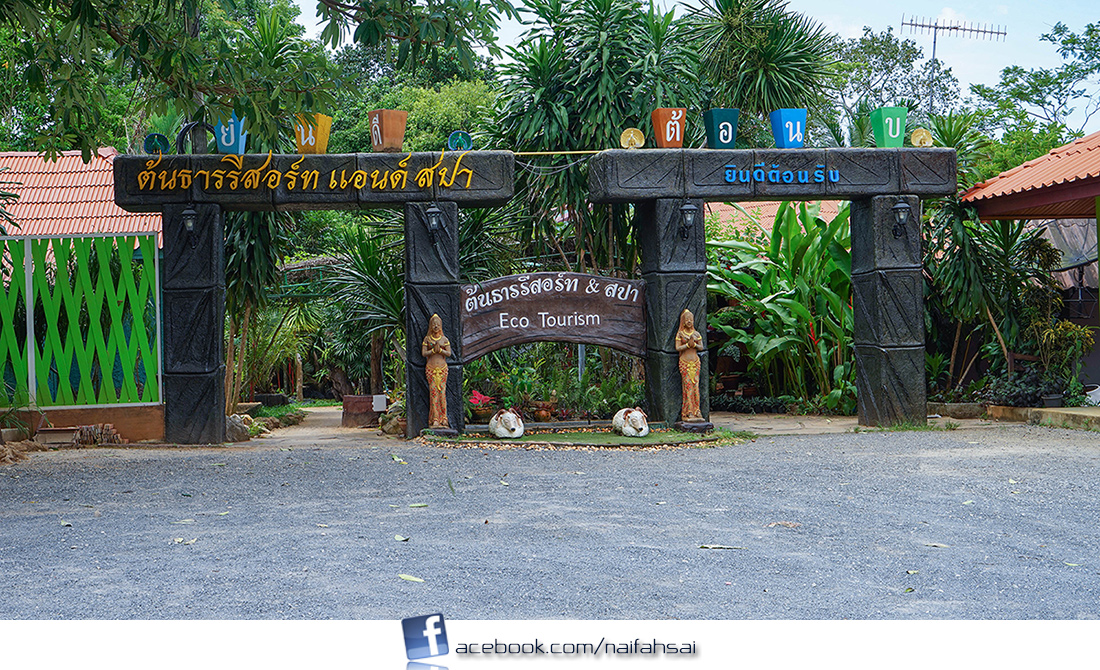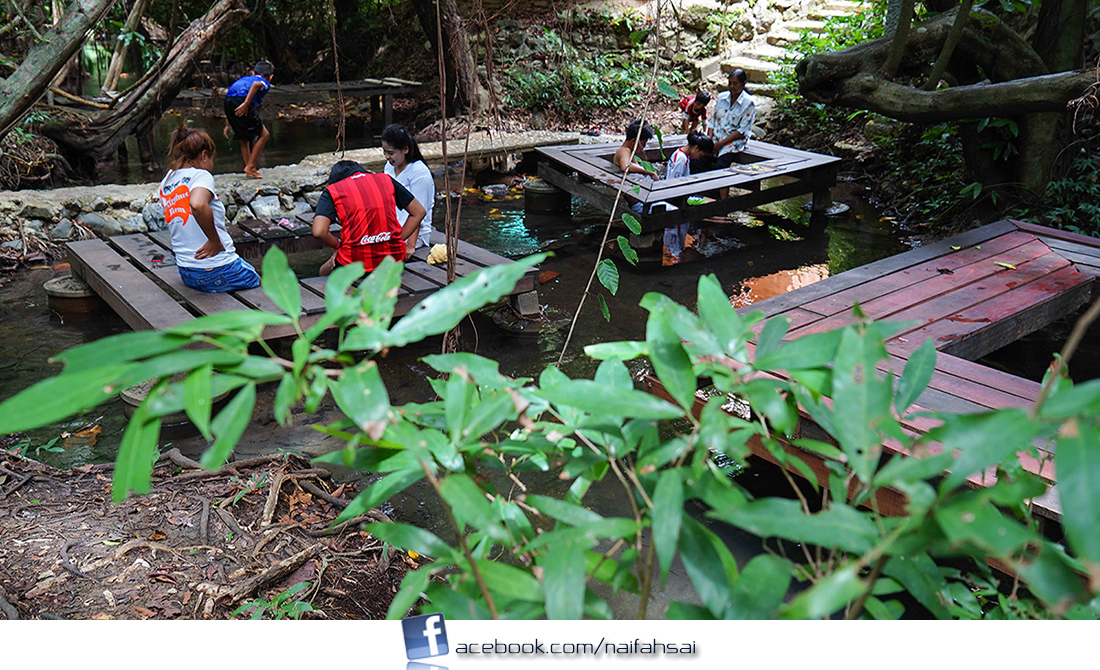 The new day is here. I hurry to go for breakfast because I am about to go to watch pink dolphins today.
To go to watch pink dolphins, we need to go to take the boat at Laem Prathap Pier.
Please keep in mind that pink dolphins cannot be seen everyday. It really depends on how lucky you are.

The high possibility to see them would be in the early morning on a clear sky day with clear water.


It is about 20 minutes to get to the pier from my hotel.
It is 1,000 THB for a boat which can accommodate up to 8 people.



The rough program of the boat tour today is as follows.
Visitting Khao Phap Pha (Pancake Rock),
Paying homage to Luang Poo Tuad at Koh Nui Nok,

And the main highlight, watching pink dolphins (let's see if I will be lucky enough to see them)



Khao Phap Pha (Pancake Rock)
The beauty of geology which has been formed for over two hundred and sixty million years is spectacular and it look like a pancake or crepe cake.

It is a must-to visit unseen tourist spot.


We do not forget to stop and pay homage to Luang Poo Tuad as well as to prove if there is a real fresh water well in the middle of the ocean at Koh Nui Nok.
We have arrived and have tasted the water. We have got to say it is totally a fresh water. The great reputation of supernatural power of Luang Poh Thuad in turning seawater into fresh water by soaking his leg in the sea has been the story talked about by everyone ever since until the present day.
According to the folklore, when Luang Poh Thuad was on a ship to go to Ayutthaya the ship ran out of fresh water and food. The captain then planned to leave him behind on this island.

Luang Poh Thuad knew what the captain is thinking and at least would like to pay him back since he let him to board on this ship. Luang Poh Thuad used his power to turn salt water into fresh water by stepping on it.

Then he told captain that this water well is a fresh water so we can use it on our ship. People did not believe him until they had tried. After that they had invited Luang Poh Thuad back on the ship.

After that Luang Poh Thuad's image was built here on Koh Nui Nok.

Therefore, this place always attracts people to come and pay homage to Luang Poh Thuad.





Ao Taled is a tourist attraction in Khanom District where people come to watch pink dolphins.
It is believed to have less than 50 pink dolphins left here. Auntie who is like a tour guide on this boat trip told me that pink dolphins like to stay together in a group. Their main food is little fish. Finally, I am very lucky to see them today. There are about 15 of them but I am not sure if the ones that I have seen are the same ones I have seen just before.
I have noticed that once we have seen the dolphins, the driver will stop the boat engine as well as lift the paddle up.

What we have to do is just look where they will appear.




Actually we almost go back to the shore because we can see none of them but finally they have showed up. I feel very lucky.








We have arrived back to the shore. It is the same time that there is an activity to conserve the rare and endangered sea animals by Marine Coastal Resources Center 4 and Baan Laem Pratap Eco-tourism Club.

Marine and Coastal Resources Restoration project for sustainability in food and tourism under the development plan of the group of southern provinces on shoreline in the Gulf of Thailand 2015.

Today's activity is to free baby shrimp into the ocean at Laem Prathap Pier in Khanom District.
I am invited by one local photographer to join the activity while I am wandering around taking photos.

I do not hesitate to say yes and I feel very lucky to be part of this event.




We are ready for lunch now and going to Krua Tangke Restaurant.
We have ordered 4 dishes as follows for 3 people. It is only around 800 THB in total. This is reasonable and the food is good.








Then we are heading to Downtown Nakhon Si Thammarat in order to get more information at Tourism Authority of Thailand, Nakhon Si Thammarat Office.
We have arrived and found many brochures and tourism documents about Nakhon Si Thammarat. You are also able to ask the staff if you have any questions.

P' Nong is very kind and helpful. She is more than happy to help you out.


Once we are at the downtown, we do not forget to come and pay homage to Phra That Muang Nakhon at Wat Phra Mahathat Woramahawihan.
Wat Phra Mahathat Woramahawihan or known as Wat Phra Borommathat in the past.

It is a first-class royal temple, Woramahawihan. Phra That Muang Nakhon is in Lanka style. The top part of the pagoda is entirely covered by pure gold.
If you come here, do not forget to stop by at the souvenir shop.

Super yummy Khanom La is available all year round and during mangosteen season, you will be able to find the mangosteen skewers here.





Old city wall is believed to be built in Phra Chao Si Thamma Sokkara period.
Fine Arts Department has come to restore some parts of the wall in the northern part.

Therefore, you still can see the almost completed old city wall from this part.
On the other hand, other parts have crumbled down. So you can only see the ruins.

Then we head directly to our next stop.
The shrine of Nakhon Si Thammarat houses the city pillar.
The city pillar shrine was inspired by the Srivijaya architectural style.

The shrine complex consists of one main central building where the city pillar is and encircled by four smaller ones. These 4 minor pavilions serve as "satellite buildings" of the four directions called "Chatulokathep Shrine," comprising of Phra Suea Muang Shrine, Phra Song Muang Shrine, Phra Phrom Muang Shrine and Phorn Bundan Muang Shrine.

Tonight we are staying at a new hotel, The Terrace Hotel.
The hotel was just opened. The room is spacious and it is around 1,000 THB per night with breakfast included.




The buffet breakfast line is basic.
There are fried rice, boiled rice, coffee, tea, and seasonal fruits. The food tastes not bad.




Breakfast is done and we are ready to go to Suchart Subsin Shadow Puppetry Museum.
Suchart Subsin Shadow Puppetry Museum is not just a puppet house but a place full of wisdom and philosophy.

Suchart Subsin is a shadow puppetry master of Nakhon Si Thammarat and a well-loved Thai National Artist.

His daughter is the one who explains how does the production work from the first step until the very end.










Our lunch is at Bai Tong Restaurant.
The recommended dish would be Rice with Roasted Pork. It is very tasty and at reasonable price.


Our journey continues to Pak Phanang. Once we have arrived, we park our car and take the ferry to the town.
The ferry cost only 1 THB per person.
In the town, you will be able to see the local way of living, and fisherman life.

There are both fresh and dried seafood for sell as well.

You can even see how they do the dried seafood.











Then it is time for dinner. We are at Pak Mae Nam Restaurant where the ambiance is totally relaxing and romantic.
I would recommend you to reserve a table in advance in order to get a good spot. We did not book a table before so our table is not as good as it should be.

Yummy menu is Fried Rice with Egged Crab. The taste is simple but the crab meat and its eggs totally blow our minds.





Lastly, if you are in Nakhon Si Thammarat but do not eat Khanom Jeen Muang Nakhon or Thai Pasta, it is like you are not here at all.
Khanom Jeen Muang Nakhon is a very interesting traditional way of eating.

There are many famous restaurants that offer good Khanom Jeen Muang Nakhon such as

Khanom Jeen Muang Khon, Panyom Rd.

Khanom Jeen Sen Sod Mae Add

Khanom Jeen P' Nee, Saphan Yao Rd.
We stop by here at Khanom Jeen Sen Sod Mae Add before going back to Bangkok. We choose to eat here because we drive pass by accidently.



Do not miss Shrimp Cake when you are at this restaurant, it is so good. I have ordered 4 of them.

And I end this meal with this local dessert, Khanom Kuan Kao. It is recommended by the staff at Tourism Authority of Thailand, Nakhon Si Thammarat Office.


It is finally time to head back to Bangkok.



Last but not least, I would like to thanks to Tourism Authority of Thailand,
Khun Nong at Tourism Authority of Thailand, Nakhon Si Thammarat Office,

Nokair, Thai Rent A Car, KEEN THAILAND, OUTDOOR INNOVATION who have sponsored this trip.

Thanks to Readme.me for giving a space for us to share great stories and useful information and you all who have read through this review.