When you finish reading this review, you might be able to decide whether "I will definitely travel to stand on the peak of the Mt.Fuji" or "The peak of Mt. Fuji…Hmm!!Bye.." It is good to know and be prepared before because what you think might be just the opposite of the reality you will face. Well, for those who are done reading this review, and decide to pack your bag to Mt.Fuji, there is summary of how to travel from Thailand to Tokyo and from Tokyo to the starting point to climbing Mt.Fuji at the end of this review.
Conquering Mt. Fuji's peak
There would be both threatening and consoling in this review, I would explain every details, like you have not seen before in other reviews. As I did not prepare any information and not even ready before go climbing, therefore, I have a lot of stories to tell you all. Hahaha. Now, I am ready, so let's get start with it.

Mt. Fuji is like a world-class super star, it's like our favorite celebrity that we are familiar through all the media for so long, and then all the sudden in one day, there is a situation brings us to came across this super star outside the screen, then there would be only two things that we will think whether it's look more terrible than what we have seen on the media or on the other hand the real one looks pretty better.

Well, for Mt. Fuji, the highest mountain in Japan, at 3,776 meters high above sea level, it is a leading mountain, Global star actually. When I have faced with the Mt.Fuji, it was like….Oh my goodness..ohhhh!!! My heart is pounding very hard. It stands eminently in the middle of the clouds. It's more excited when I realize that today, I will have to walk up and sleep in the middle of somewhere on it. Then in the morning, I will stand at the top of Mt. Fuji, waiting for the sunrise and watching the crater of the volcano that is still active. There is none of the photo from the media that could express the feeling better than looking by your own eyes, many people who have come to Japan and see Mt. Fuji will know that those words are not exaggerated. And for anyone who's been up on Mt.Fuji before, do you have the special feeling like I am after coming down from Mt.Fuji? Before and after hiking would change your feeling forever right?

// Mt. Fuji at 3,776 meters, view from the Chuo Expressway (Toll road) 600 meters from the sea level, the main road heading towards trail route.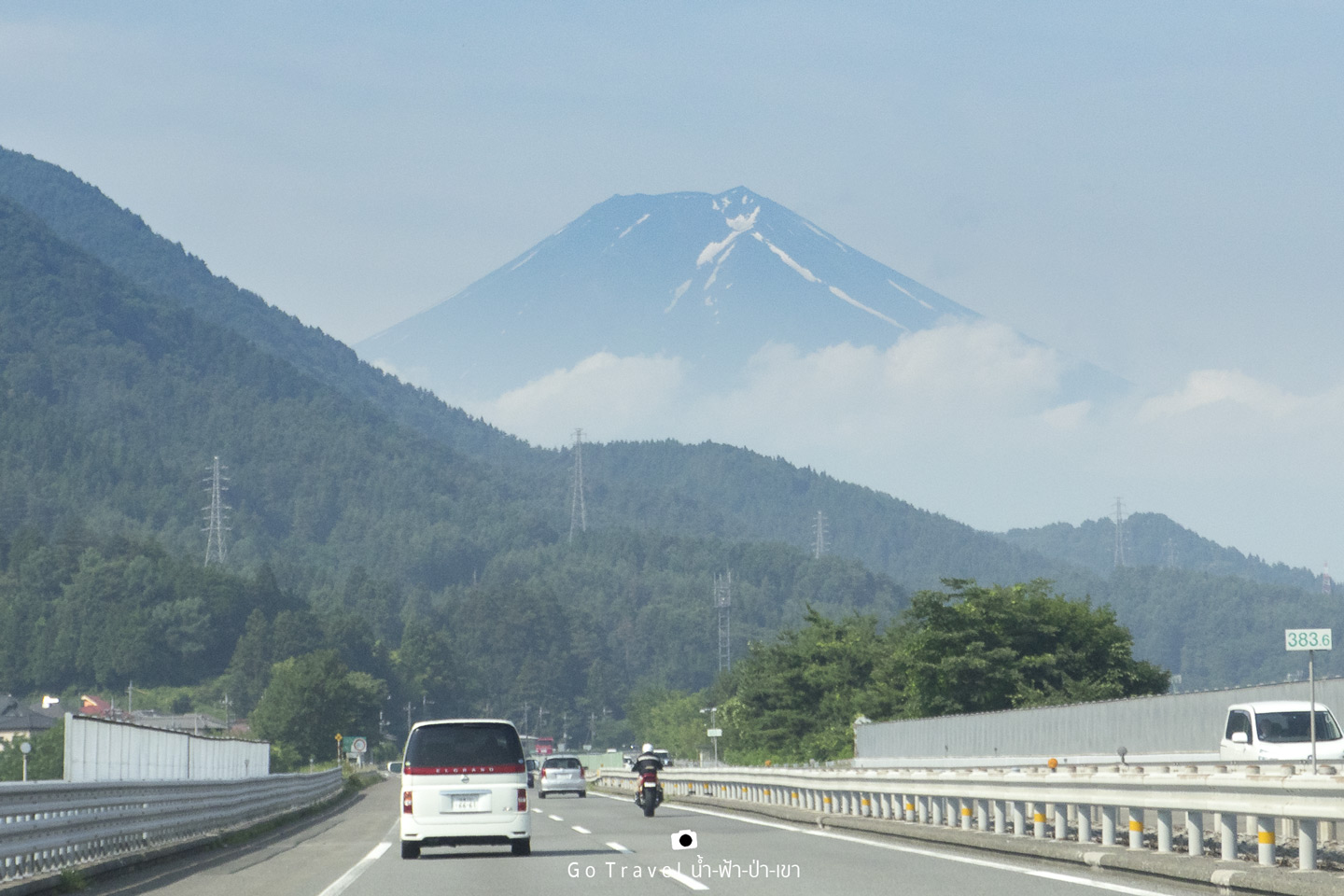 There are 4 routes used to get to Mt. Fuji which come from different directions. For this review, we will talk about the most popular route that suits perfectly for people who come to Mt. Fuji for the first time as the route is pretty convenience with many accommodations, lots of facilities and very easy to walk. The ascending way is on the northern side. In each year, the hiking period of Mt. Fuji is slightly different, however, it will be in the same duration which is the beginning of July till the middle of September, a total of about two months period. Additional to that we have to wait to the official opening announcement which depends on the snow situation on the mountain. For 2017, the official opening is 1st of July – 10th of September. The last climbing day is going to be on September 10th, and going down on the 11th.

As the hiking season of Mt. Fuji is opened, a great number of people are heading toward this place which make the traffic crowded that the national park has announced to suggest people to better use the public bus instead. Because there would be so crowded that there are no parking spot on the mountain. We travel at the beginning of the season (early July) and this time we are pretty lucky as there are still not much visitors yet. Nonetheless, we travel on Sunday which there will be a little more people than usual as there are some people who travel just for half day trip, they will drive around the base of the mountain and head back.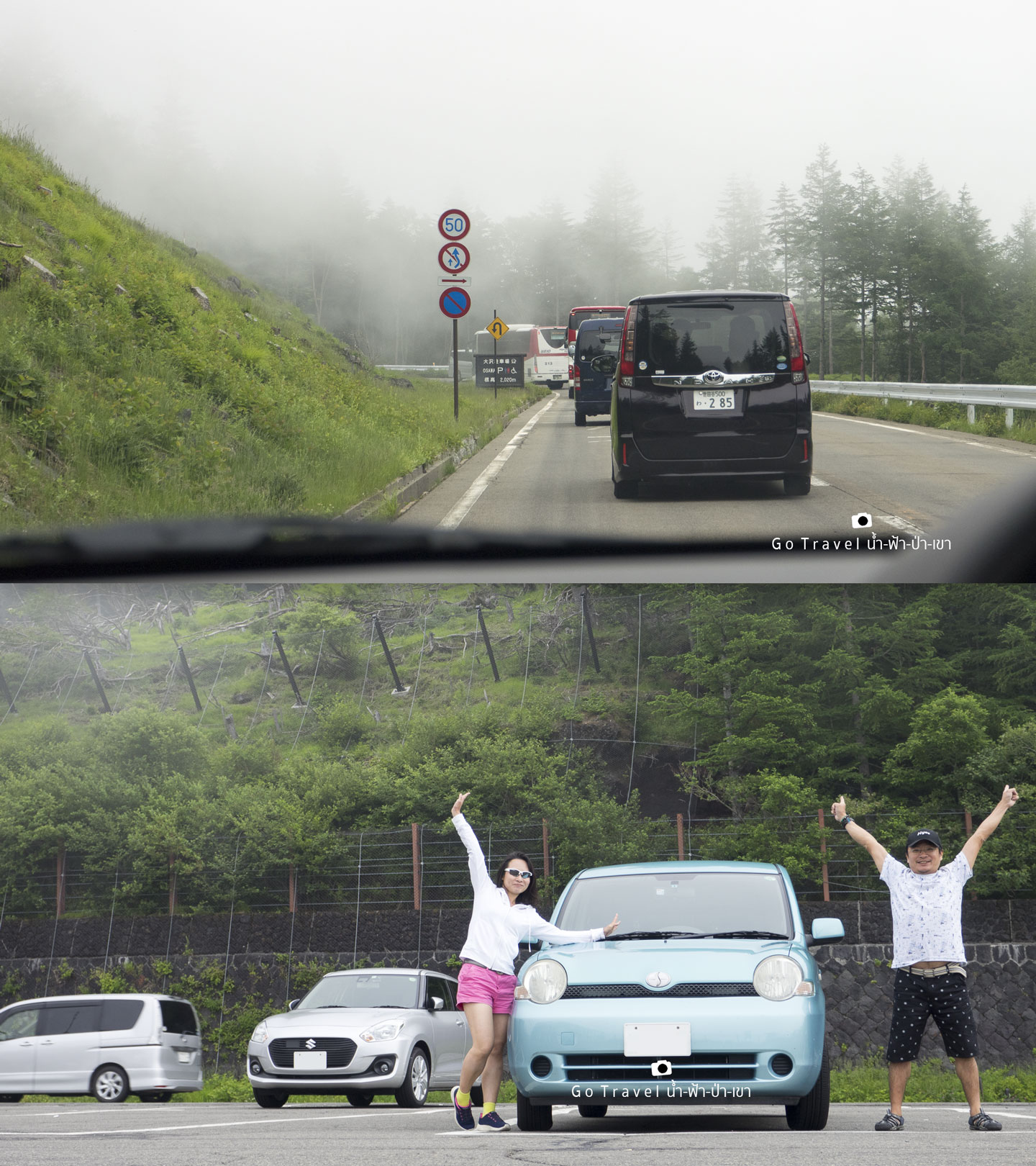 Let me introduce myself, the guy right there is me. And the slim girl with pink pants on the left is my sister who lives at Uzunomiya. I came to Japan for the first time according to the invitation of my sister actually to hike at Mt. Fuji.

The traffic line at the entrance fee is very long and the officer also announces that the upper level is so traffic jam right now. There are many people who change their mind and turn back so they won't upset and waste their money. On the other hand, the people like us would never give up so we continue our journey. Finally, we have been told to stop and park the car on the side of the road 2 kilometers away from the entrance which the national park provides free shuttle bus to Mt. Fuji 5th Station Subaru Line.
Now, it is time to arrange our stuff and change some clothes right here. I changed from sneakers to canvas because it is a stony ground here; it feels very hard so my foot might hurt from that small stones that will be slipping inside the shoes for sure. But this is a terrible mistake as sneakers is not suitable for hiking at all; during walking down, it hurts my toenails like they will remove. Hence, hiking shoes is recommended for this matter. Additional to that you should have drinking water and food to eat on the way as well. It may be high energy snack like the chocolate. Raincoat because there is the chance of rain and it's bad if you get wet on the way which will make your body too cold that altitude sickness will easily attacks you. Sweater, try using Heat-tech as the temperature is around 0 degrees up there. Winter gloves is also useful for warming and grabbing rope and chain to climb up. In addition, hat, wet paper, toothbrush, toothpaste and a set of underwear, pants and shirt should be enough as we do not need a change because we only stay for one night on the mountain. Well, sunblock is a must because you could get a strong UV burn even though it is very cold. More than that one important thing>> There is no porter to help you.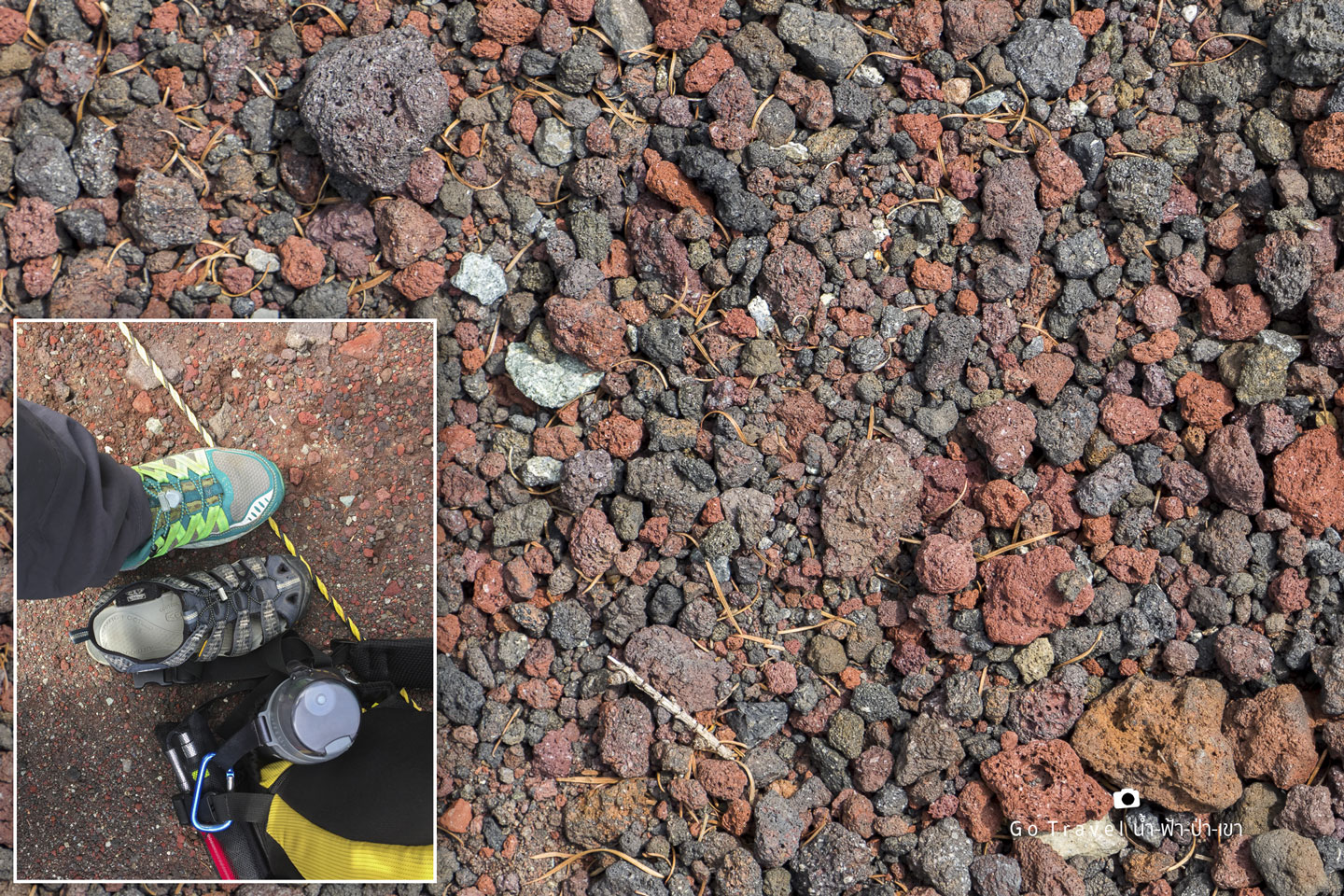 Parking by the road and waiting for the shuttle bus to drop us off at the 5th Station Subaru Line. The one that seems like a tunnel was made to protect the hillside to pile up on the road, there would be these items along the way periodically.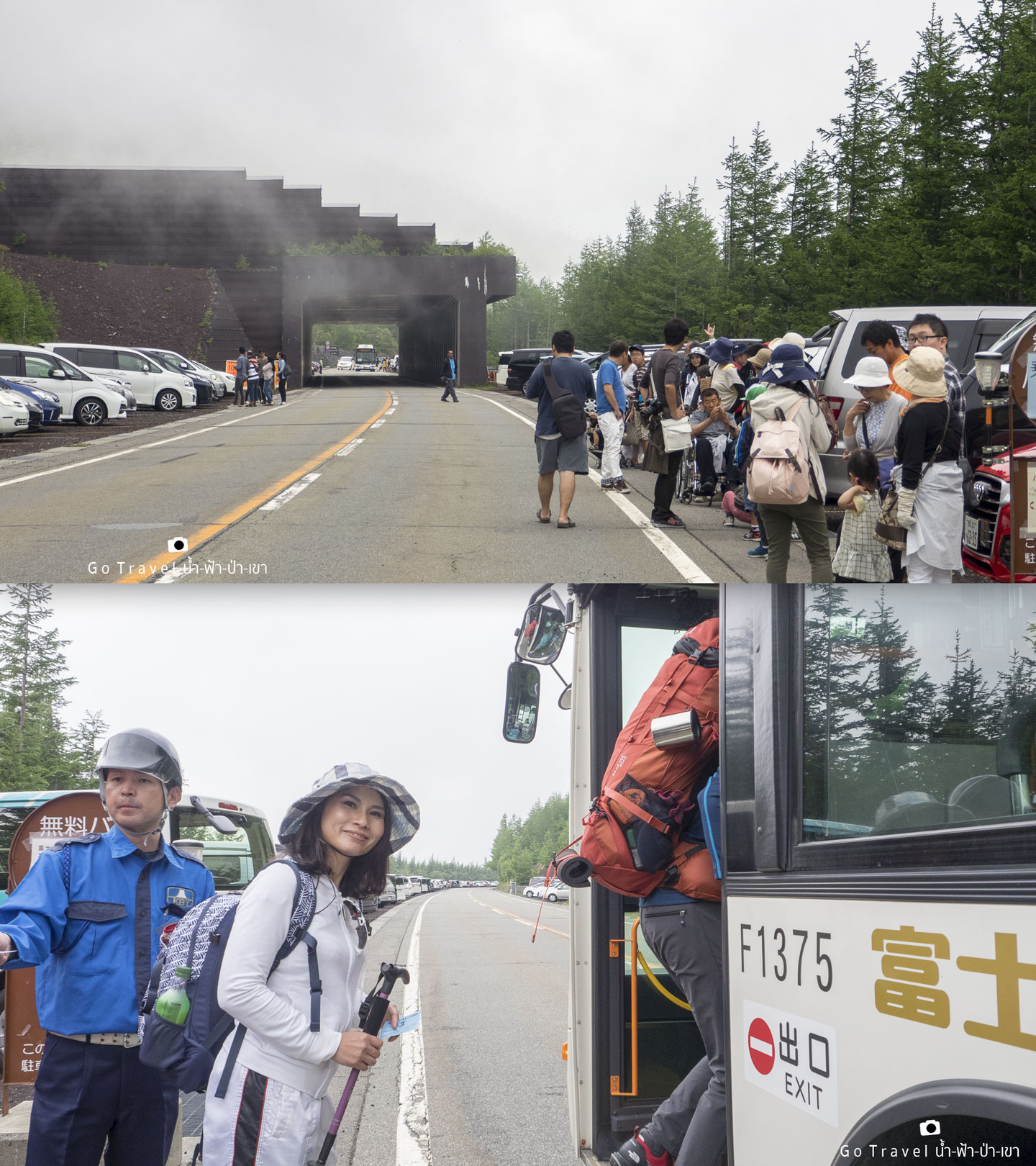 Behind my sister, you would see the long line of the parking car. I would like to spoil the end of this review to you guys a bit that even though the officer prepares free shutter bus for us, however, the bus is in service until 2pm only and they didn't inform us. Therefore, on the day back from Mt.Fuji I couldn't catch the 2pm bus on time and I have to walk down almost 2km which make me feel very exhausted and I end up asking my sister to drive back instead. T T

Mount Fuji

5th Station SUBARU LIINE
At 2,300 meters high above the sea level.

The bottom cloud base level high.
The pro and kindness of Mount Fuji route is that we do not have to start walking from the base of the mountain. They built a road and cut the way up to the middle of the mountain which is at level 5. They divide Mt.Fuji into 10 levels or 10 stations, and the fifth level is considered the same level as the bottom cloud base. No matter routes where you plan to start climbing, all four routes will start at the fifth level of each Trail.

A stick or hiking pole that visitors prefer to buy for hiking and could be stamped for memento. There would be a stamp service point at the huts along the way up to the mountain and if you could stamp all of them, your pole would be full of spots which could be shown as your memorable experience, especially the last stamp on the peak is considered the greatest. However, every stamp would cost money so if you want to safe some cost then I recommend that you should choose to stamp only at the summit.

Energy is all you needed. Food is quite expensive but this spot is the least expensive here. From now on, it will be more expensive according to the height, thus, the higher the level the more expensive the food. Therefore, let's stock up some food here, we choose to buy the protein first so we buy 5 sticks of the yakitori chicken. Actually, we have to get some carbohydrate, but we did take some bun and Obanyaki as to gain carbohydrate as well.


And another important food is an energy food. I already bought some from supermarket next to my sister home. There are many brands and many price ranges. I picked the most expensive one, I am not rich, but I do not want to be stingy in this matter. I think the idea of expensive brand is the best would apply to this as I feel that my strength is getting weaker and I never do any workout. Super Energy costs 248 yen comparing to 75 baht per pack, I get about three to four packs stuffed in my backpack.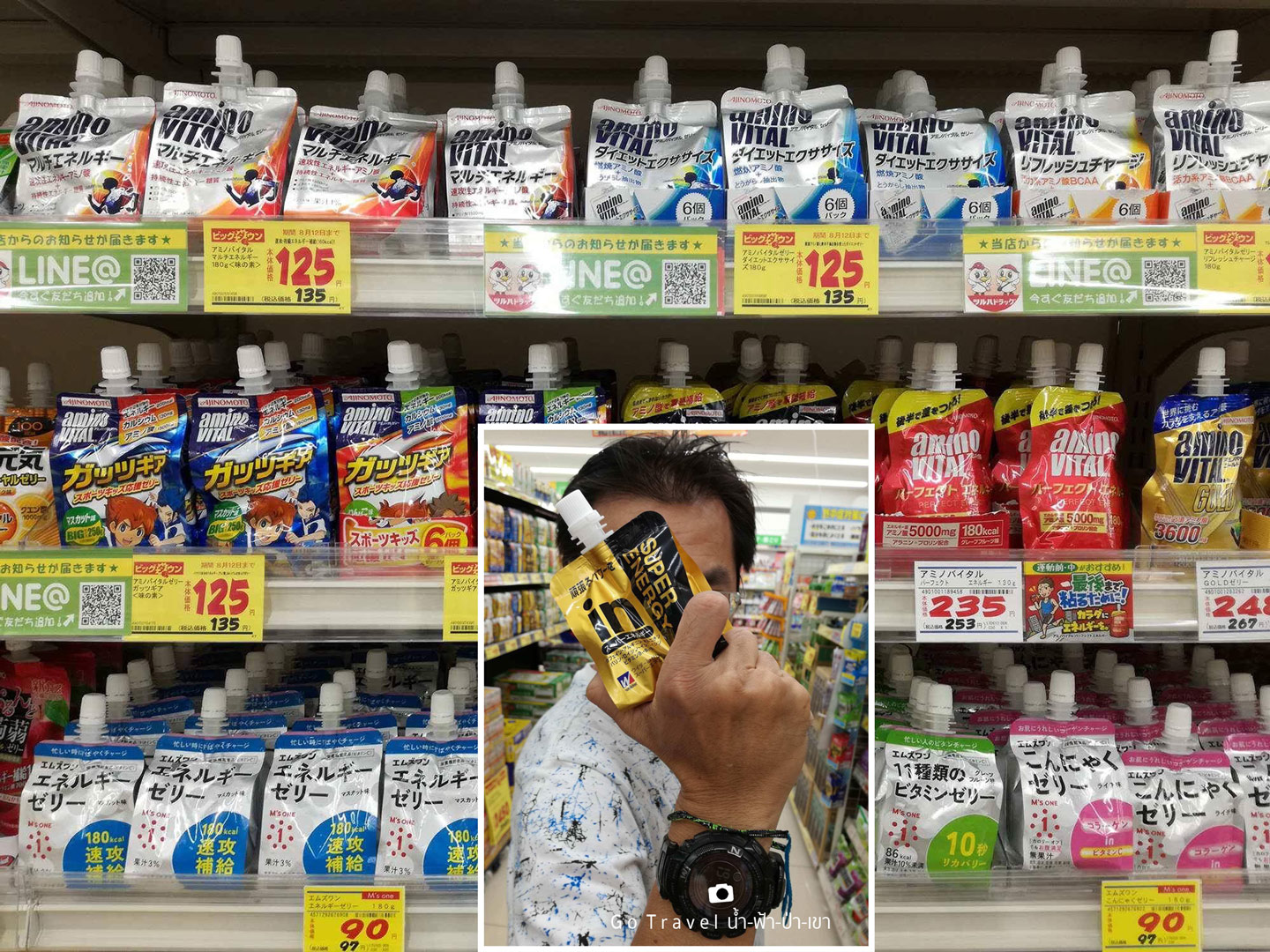 Internet signal is a must in the social world, walking and facebooking. This trip I use True SIM card Travel Sim Asia 399 Baht capacity of 4GB.I spent 6 days in Japan and use facebook live many times which take less than 2GB, is considered very worth it. For the path to conquer the Mt.Fuji, the signal is really good all along the way and I could use google map all the time as well. From the picture, I tried to navigate from the starting point to the accommodation booked on the 8th station, Taishi-Kan Hut, it shows the distance of 4.1km and hiking time would be around one and a half hour. Hahaha. It's so easy , Mt.Fuji. Lol
But it's not that simple, the hell is waiting for me…I'm still scared while doing this review.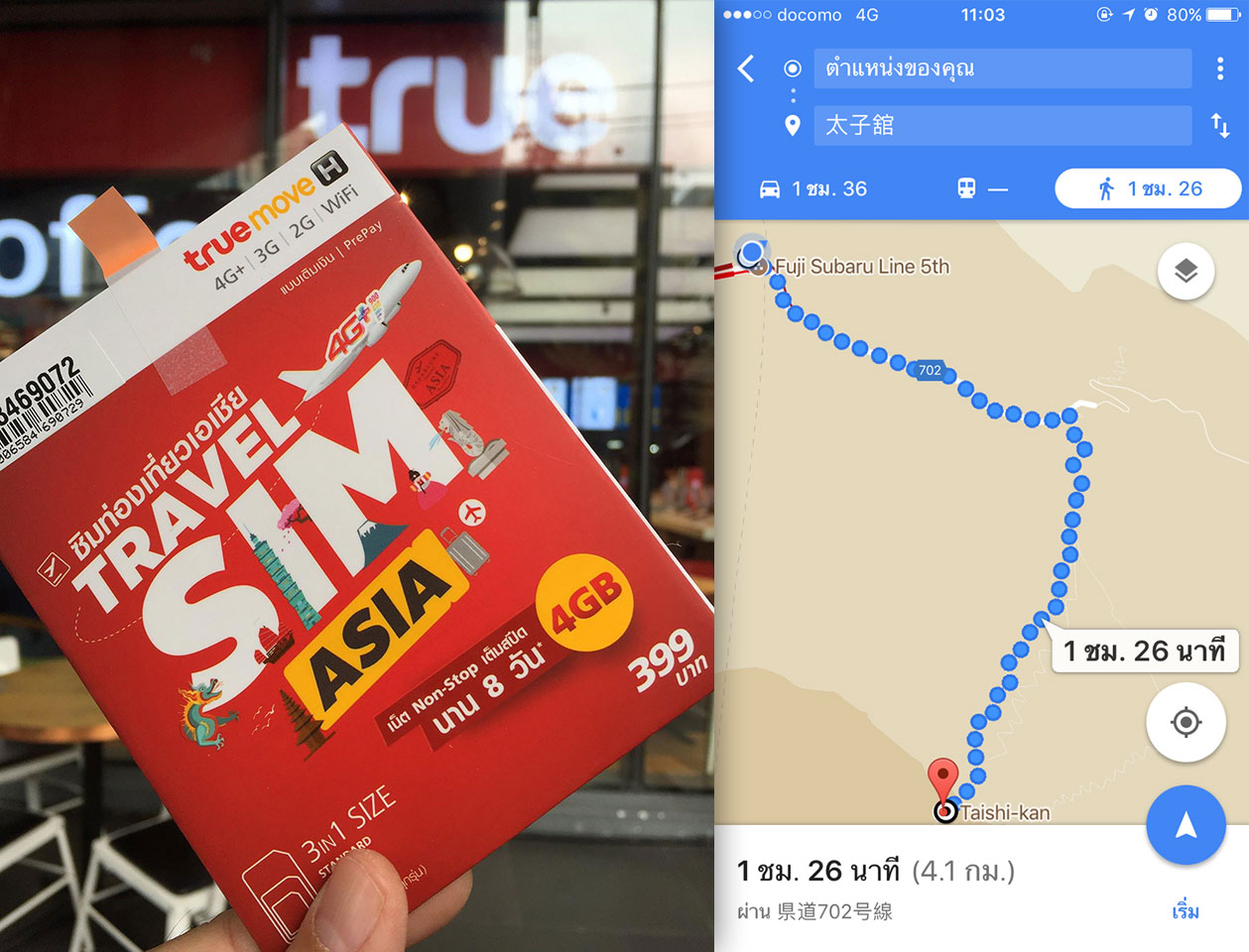 Here's the map, there would be a lot of maps in this review (more than ten) and the route would be track by GPS in real time. The Yoshida trail would separate the way between going up and down which starts from the same way to reach Station 6th, then it will split to the orange line up to the ascent route with 7.4 km walking to the summit. The way down is the yellow descent route and the distance from the top to the 5th station is 7.7 km or you can go down the same way if there aren't many people but it is not suitable to use the way down to go up. Apart from that on the way down, there is no accommodation, therefore, everyone must use the orange route. Some people who are pretty tough might get there in one round, mostly around late evening to watch the sun rise in time before everyone at the summit. However, every suggestion tells you to stay and rest one night before to adjust your physical condition as there would be a lower level of oxygen. I have once experience in Leh Ladakh that I didn't take a rest so I take three big tanks of oxygen which I wouldn't dare this time. I have to prepare my best this time.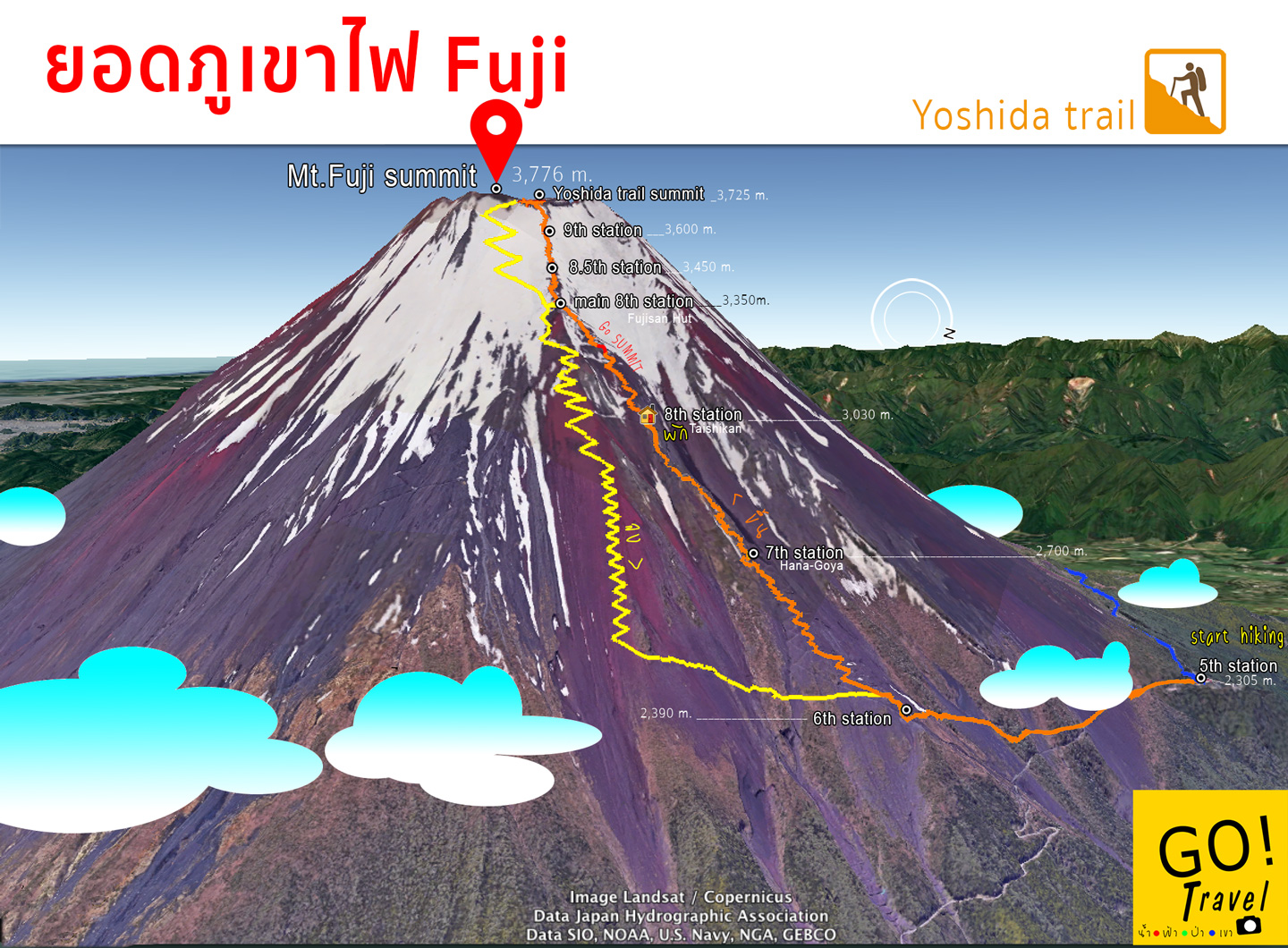 Start Hiking

11:25 am start hiking– They also provide a horse service from the starting point which would ride to the station 6 with a distance about 1.7 km away. I did not ask about the price but I might need to use this service on the way down.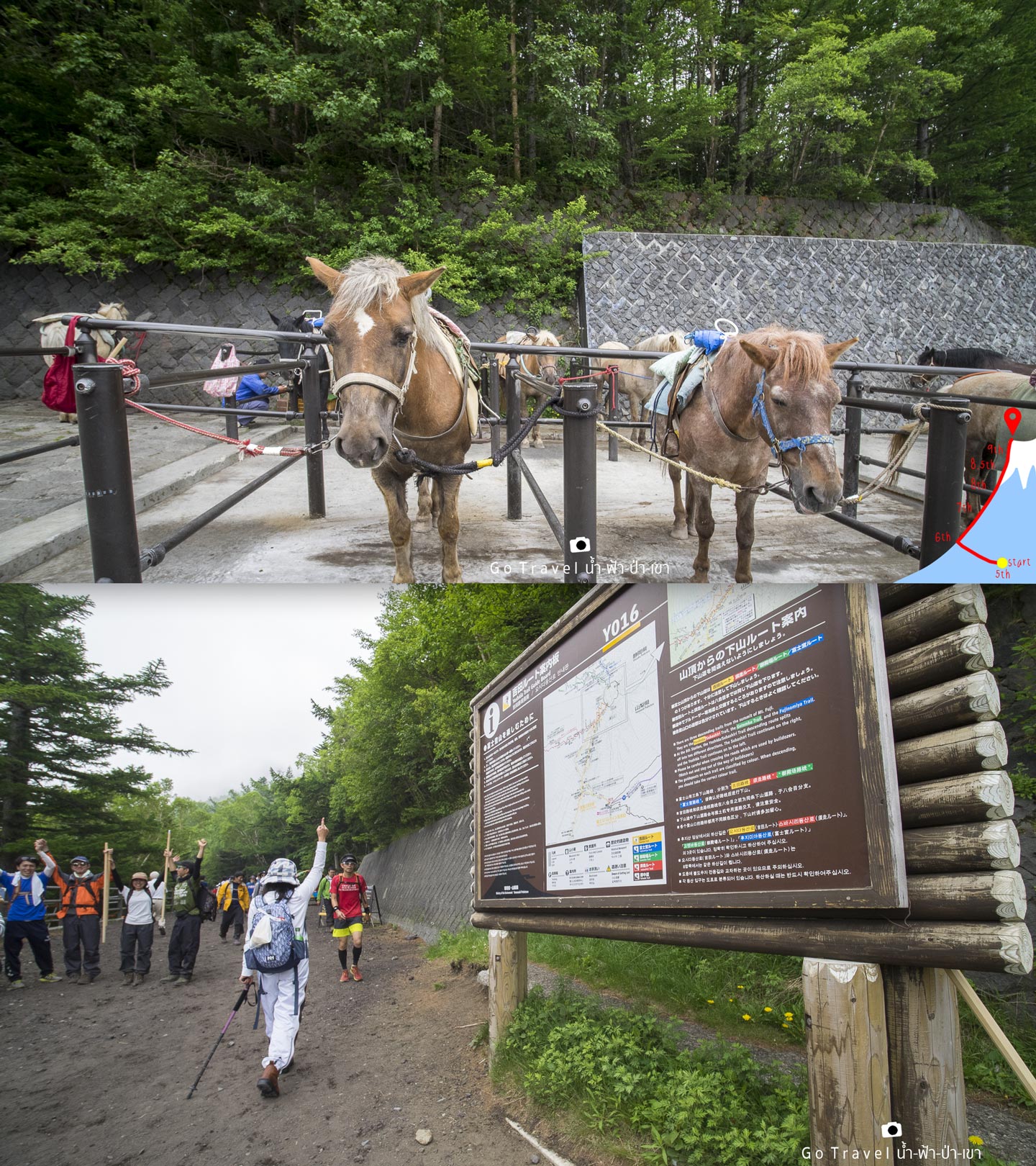 From the starting point, I yell to my sister to post a hand posture for a good start. Lift a hand higher…Yeahhhh., and other visitors start to do the same. Lol
At Zero Km.

The path starts with a good walkway, a little long slope down route, shady and cool breeze, clouds along the sky which is really a cloud not a mist as we are in the same level as the clouds right now. The atmosphere is brilliant, except the expression of the people that return back down, those who already conquered Mt. Fuji in the morning. I think they were pretty fast, however, the condition for each of them is really bad. As you could see this slope route is obviously tough for all the hiker on the way back.

900 meters down the altitude from 2,300 to 2,290meters. Now, we came across a crossroad that we could go on both ways, but as I google streetview and find that turn right up the hill looks better. And at this point could count as the start point up to the steep way but the route is still easy to walk as we could walk along while playing the Facebook.

The volcano rocks, the good flat route is gone and now I am quite exhausted. I take times watching trees and bird, along with picking stones to test the weight. Ohh Oops! It is so light like a fake stone made of foam and sprayed with airbrush...Soooo lightweight!! My baggage weight is about 5 kilograms, what about my sister?? Of course, it's lighter as she does not carry any camera > <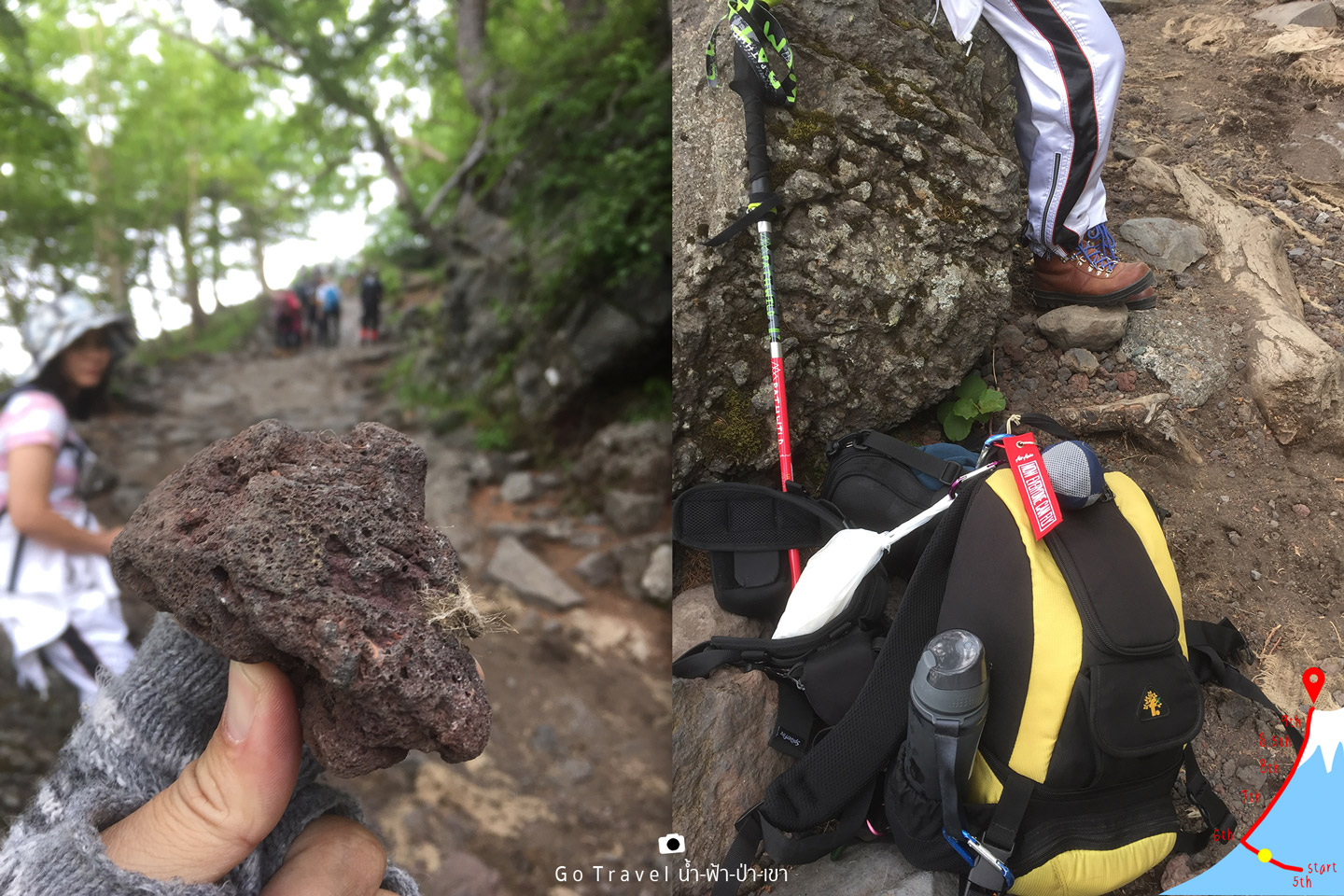 Looking down to the floor, I find some small plants that grow up along the volcano stones with some white fluff that look like a moist wind.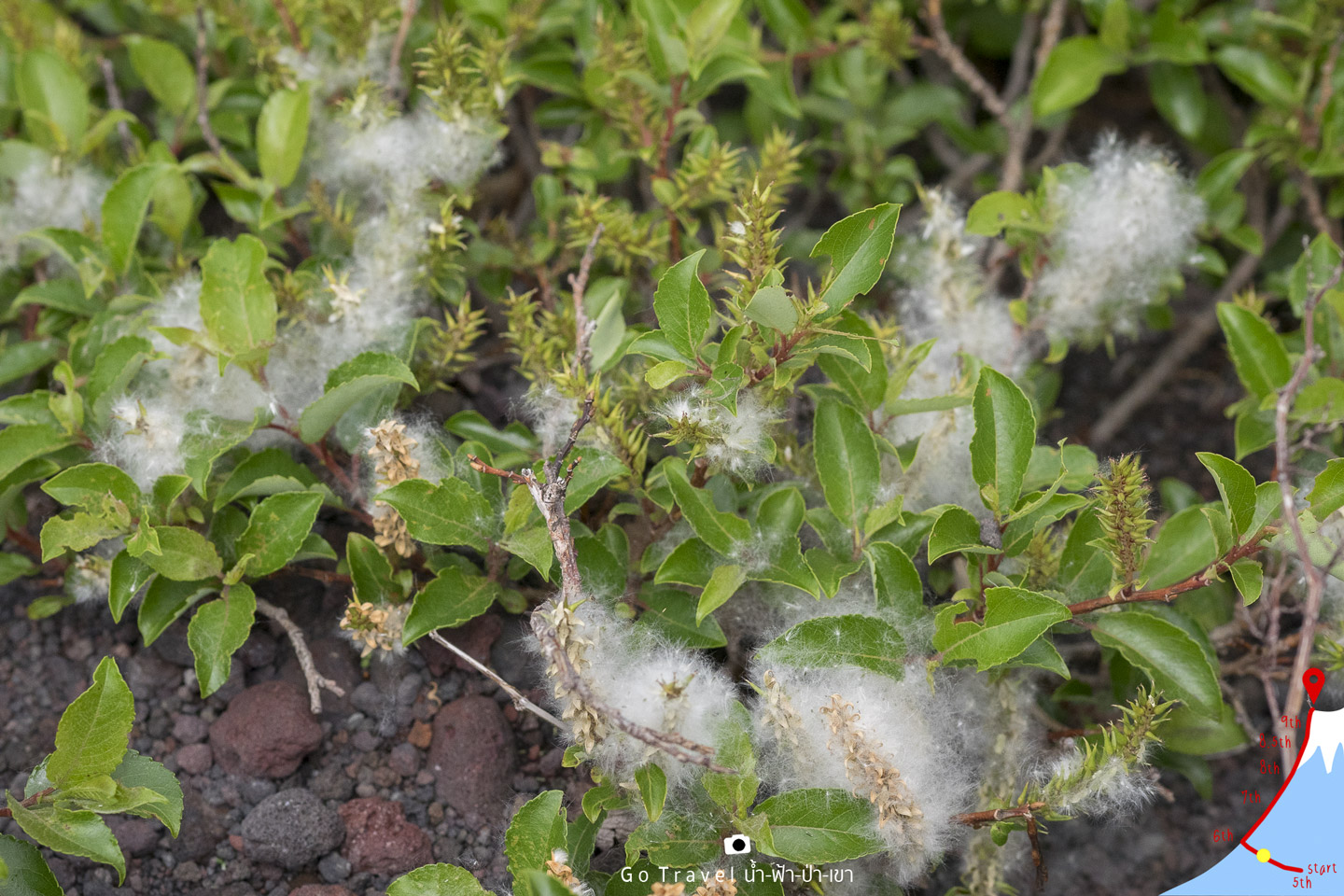 1 kilo of the forest route

It's a strangely beautiful forest, their trunks are all slope as if they were hit by a huge force of something. Ehhh, or it was like this when an earthquake or a volcanic eruption. Just guessing around and this route will cut through the forest approximately one kilometer.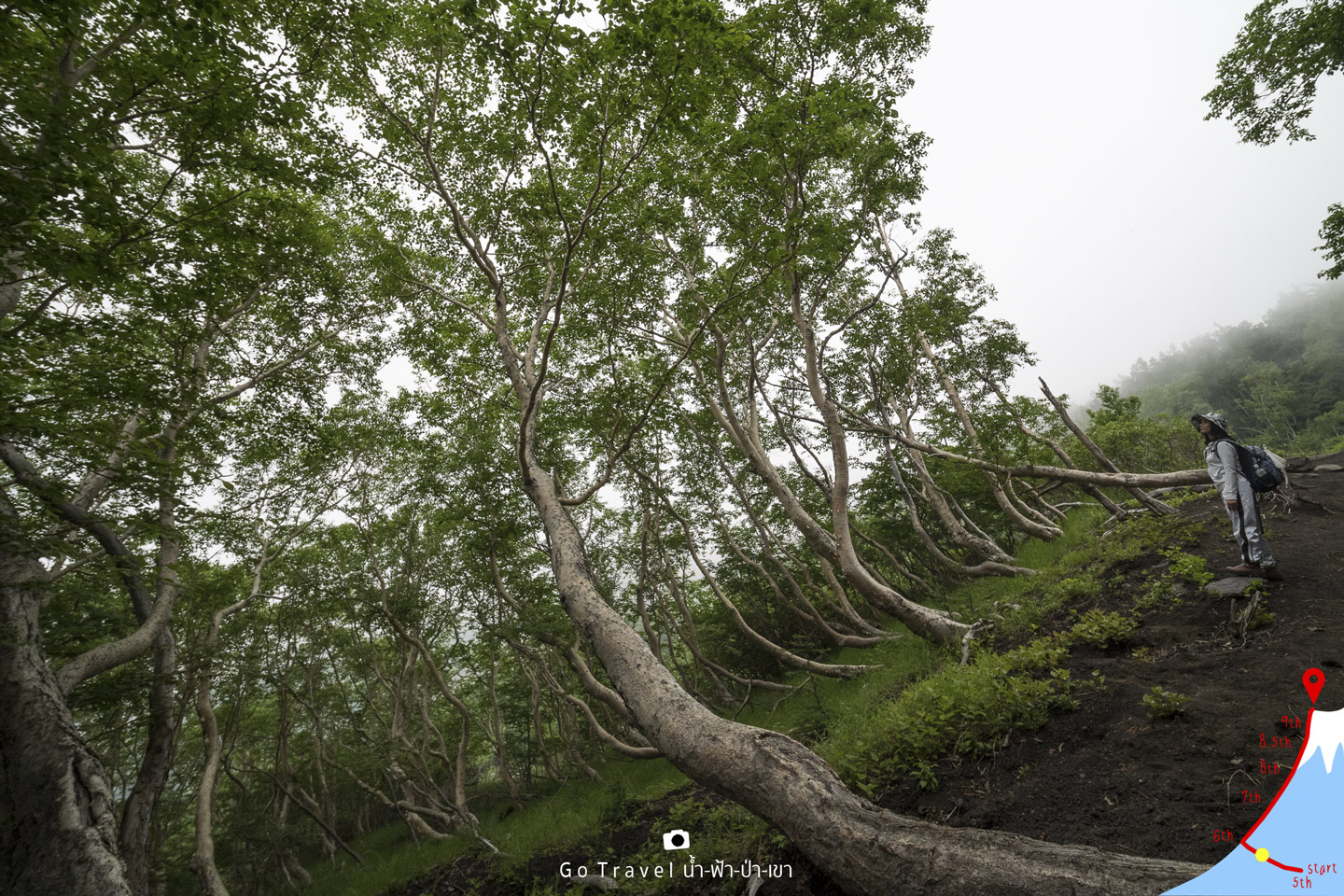 This is a wonderful time to admire the forest as we reach Station 6th, we will not find anything like this ever again. In addition, the beautiful world would be turning into Mars immediately. Hence, I have to appreciate every second of the time right now and it's like warming-up my body as well.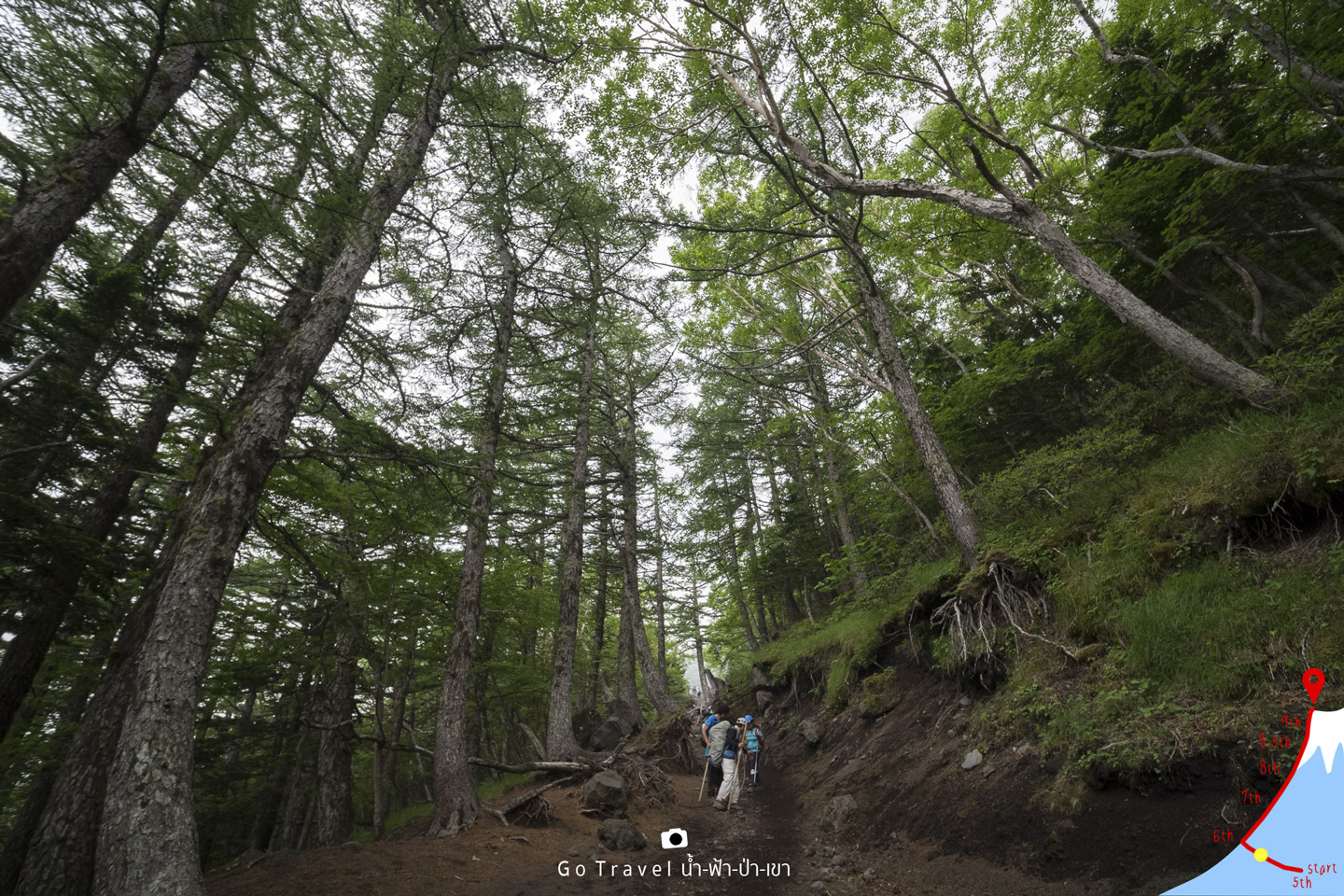 The less people, the more awesome it is. It is a little rare that this route would have less people, maybe it is because the students are not on a vacation yet. My sister said that the children will be off the semester around end of July. Luckily, we come at the beginning of the July, early of Mt.Fuji season. When the kids are off school, a lot of them would come to hike at Mt.Fuji. According to statistic, Yoshida route every year would have around five hundred thousand to seven hundred thousand visitors during 2 months or 70 days which is around two thousand people average per day. Moreover, if try to sort this number line up to to the summit of Mt. Fuji will be about 1 person every three meters !!!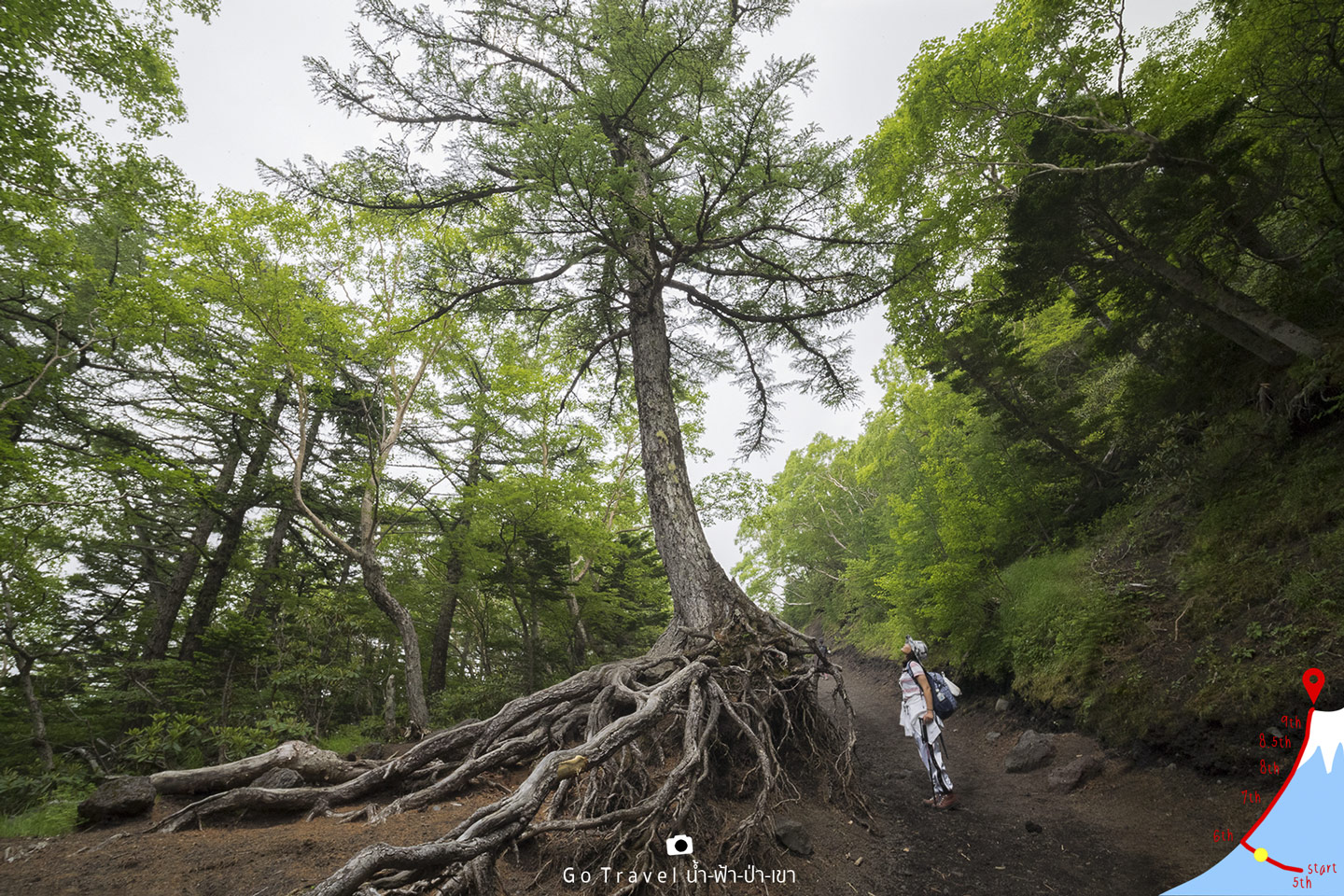 The big trees look beautiful, clean and calm. The atmosphere gives me Zen feeling, just the feeling thought because we are in the land of Japanese Zen. Anyway, time up for wandering. Get ready!!!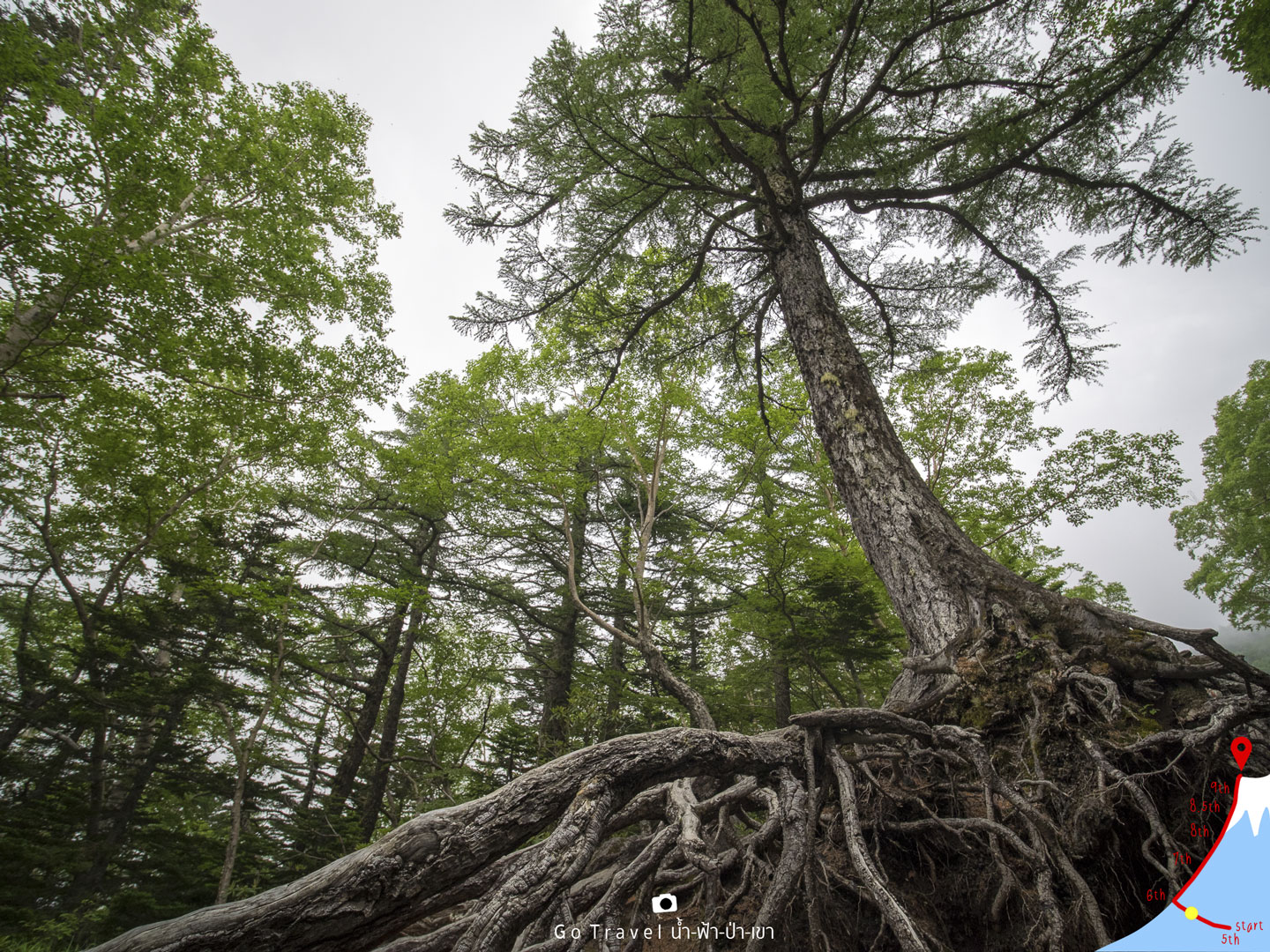 Out of the woods, we would face with a tunnel to block a sliding stone once again. Besides, this is end of the wildlife entertainment, and then be prepared to enter Mars mode.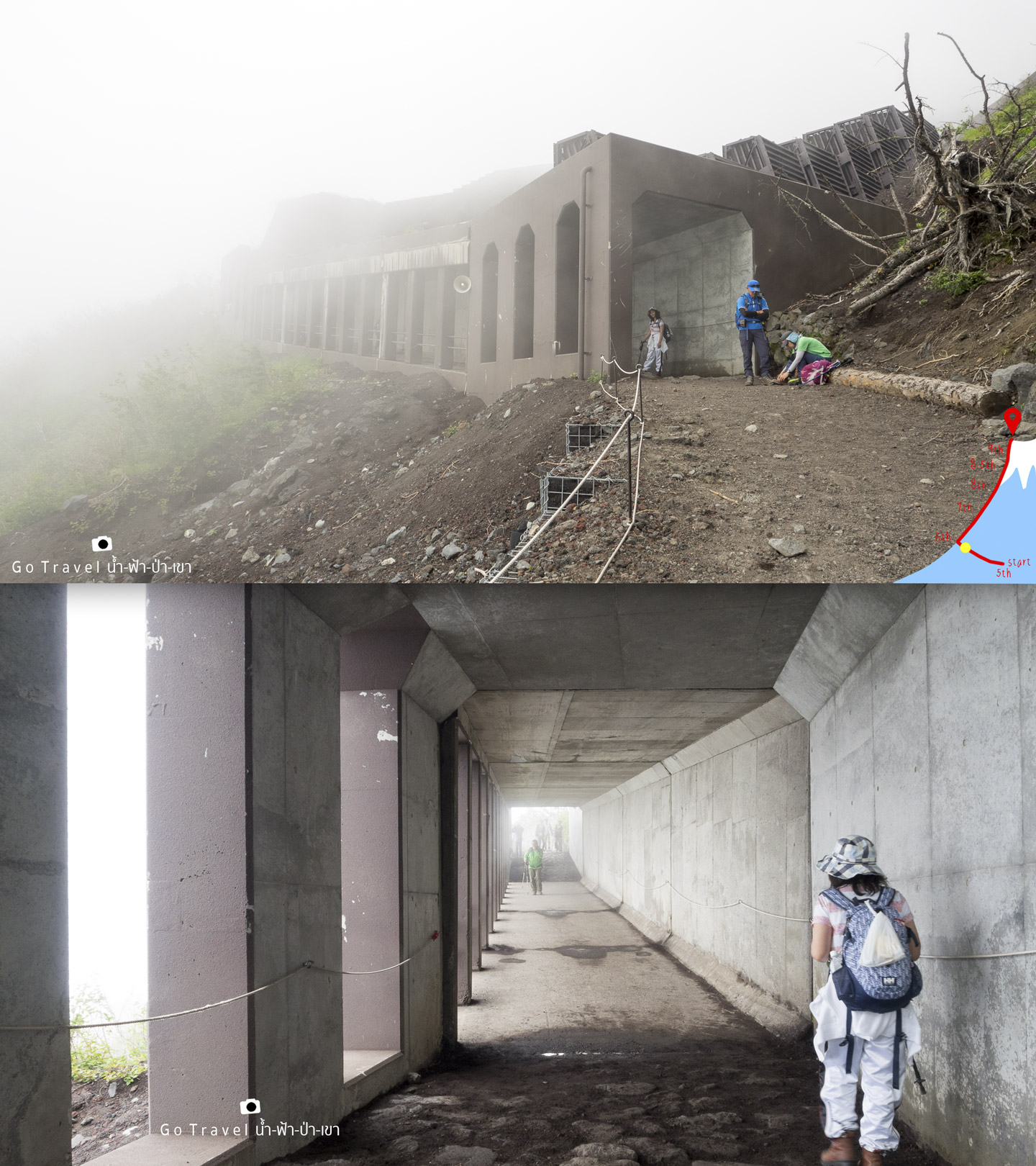 KM 1.7

elevator: 2,390 m.
6th Station

This is the point where a national park's first aid service center is located. Moreover, there are leaflets and maps available, and there are also helmets for rent, in case the volcanic stone falls on your head. It would be possible but very little chance, I believed. Just a small deposit for about 5,000 yen.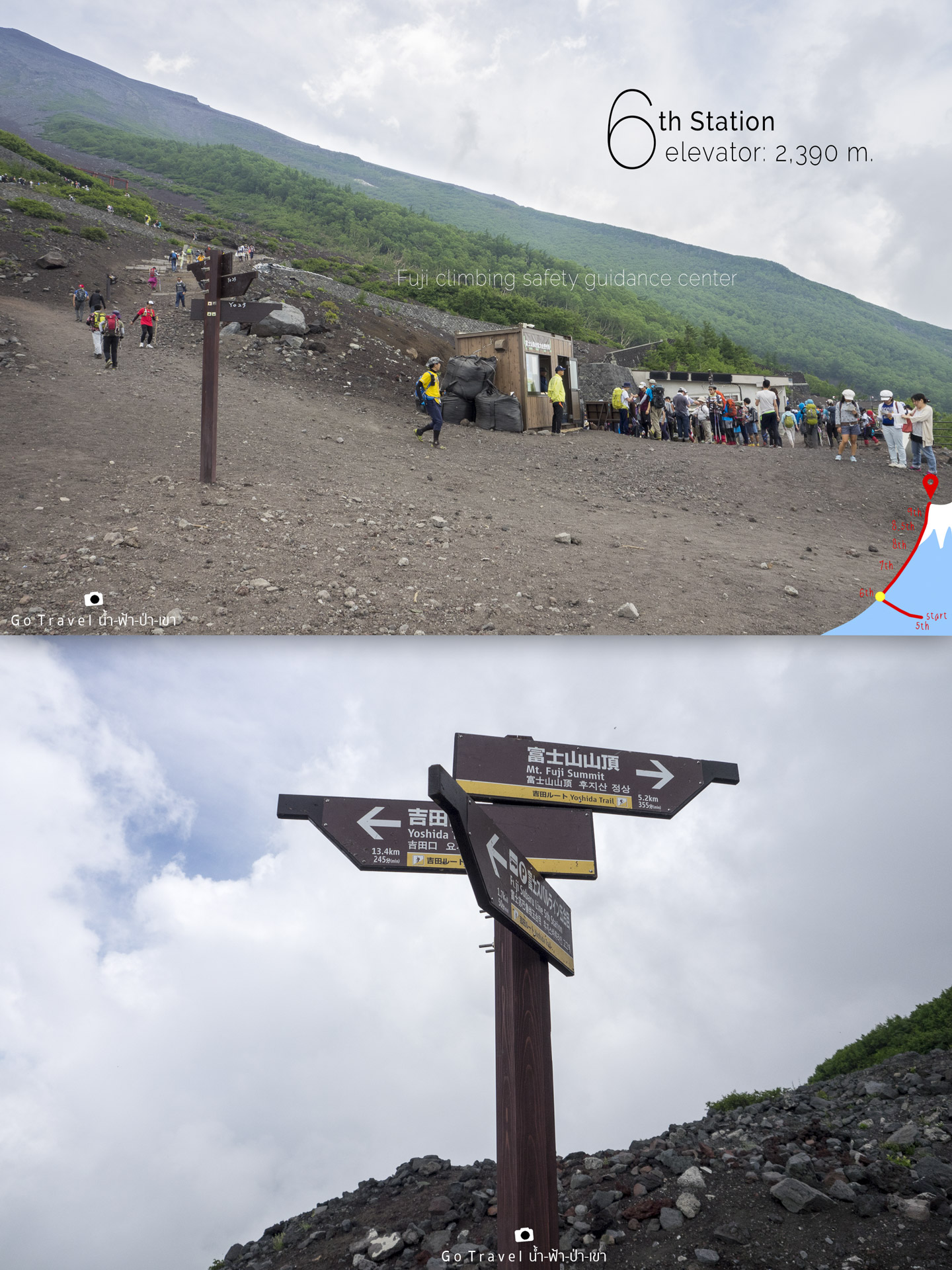 This map is the first route that we hike.

5th station - 6th station
Distance 1.7 km through the forest.
The first 900 meters is a slope down the hill as we have to walk round to another side to move our position to the ridge position and start climbing Mt.Fuji.
The last 800 meters is counted from the left junction. Cut through the hill up to the 6th station and we will start hiking at this point.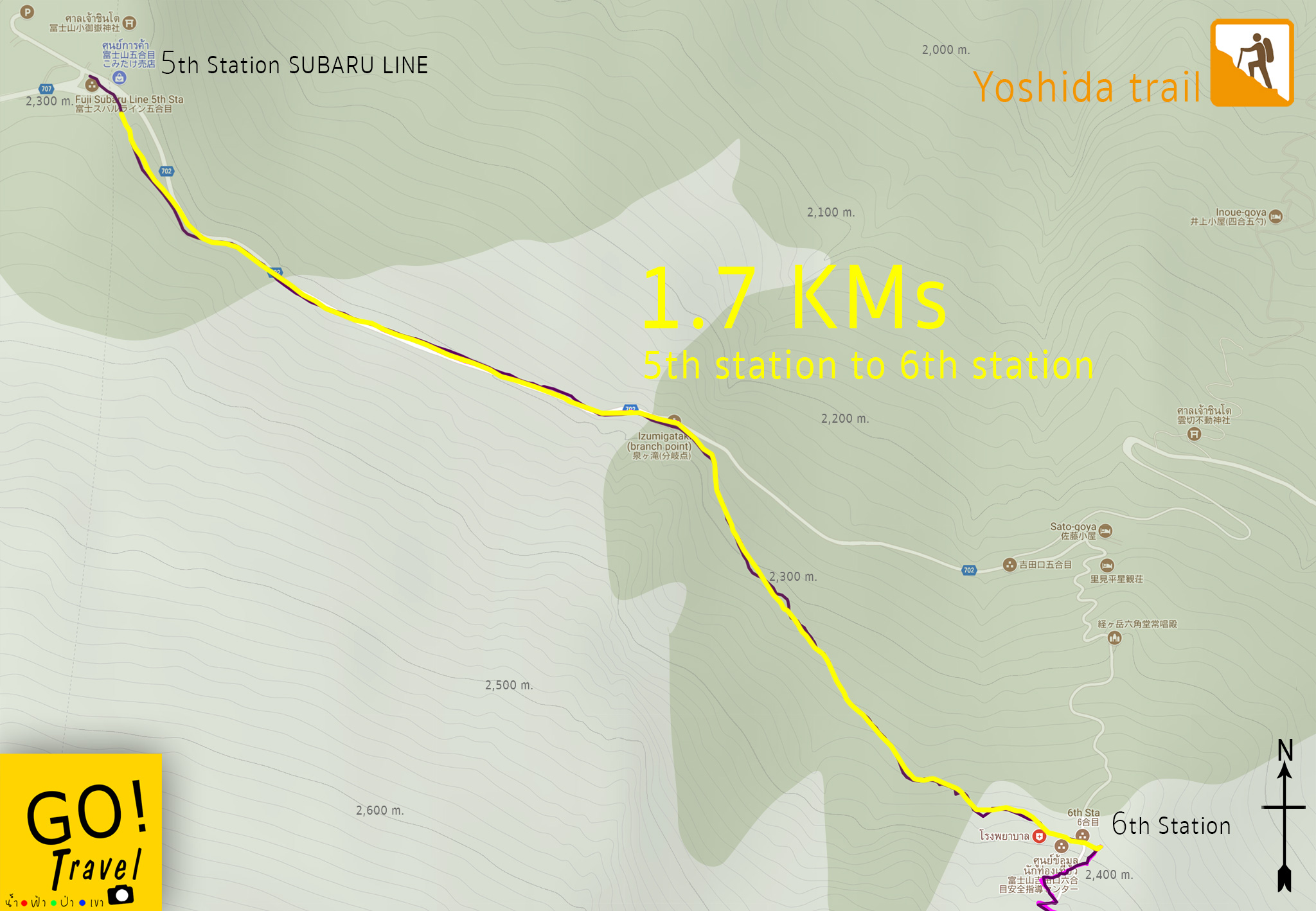 Try to imagine this along with me as Mt. Fuji is like a round clock dial and the position of the 5th station subaru line is at 12 o'clock. The path to the 6th station is a walk in a circular line to move to the starting point, walk along up to the level 2,300 meters which is quite slope in the first 900 meters route, and then turn right through the beautiful jungle. Climbing up little by little to the position of 1o'clock of clock dial which is the 6th station. Then the route would cut to the right up the ridge to the top of the volcano, passing through the 7th station at 2,700 meters height. There would be many huts or accommodations around 7 places here. Then entering 8th station at the altitude of 3,000 meters which has another 7 accommodations as well. After that will reach the level 8.5 which would have only one last accommodation before reaching the crater. Then going through to the level 9th at 3,600 m up to the summit at a height of over 3,7xx m which would be the end of the trail (There is another accommodation at the end of this trail as well).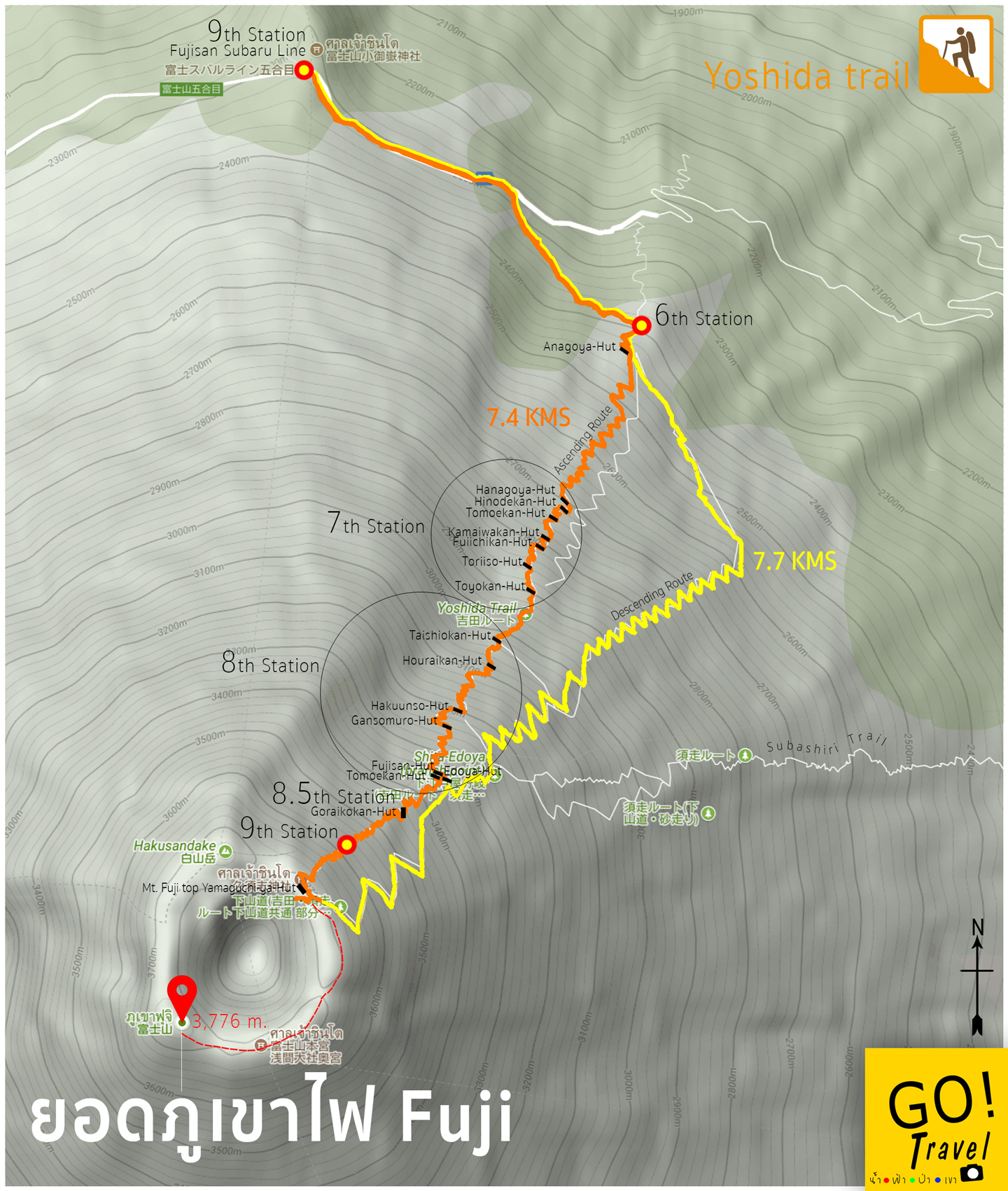 Oh there we are, Welcome to Mars!!. For most people who come for a half day trip for short trail would just end at this station and walk back. However, for all the hikers who plan to conquer Mt. Fuji would have to reserve a hotel in advance as there would be no walk in accepted. At the end of this review, I will post a link of accommodation for reservation as well. For us, we reserve Taishi-kan which is located at 8th station. The total distance from the starting point is 4.4 km. Oh!!! It's just 4.4m only, at first I am thinking that it is pretty easy as we spend just one hour walking 1.7 kilometers already, we only have 2.7kilos left so we would definitely reach in a short while. Morevoer, it's only past noon at that time. Therefore, we continue our hike while checking facebook along the way. The destination of Day1 is located at the 8th Station at Taishi-kan accomodation above the 3,030 meters height.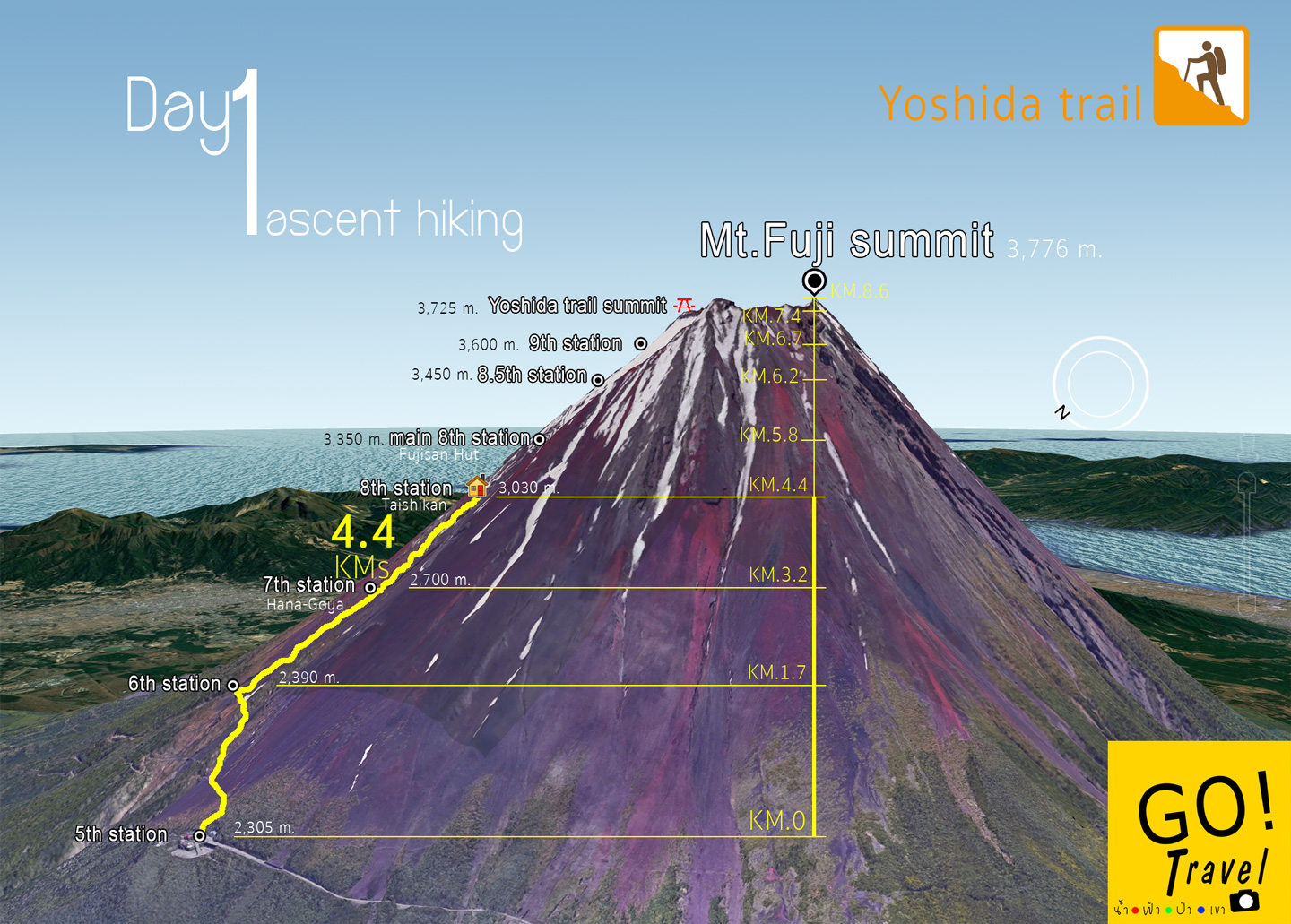 The way is getting steeper are steeper and all of them are stairs. The stairs are big but it is still easy to get over step by step. It is not sunny and the weather is great. Slowly step by step and our first meal is already be taken out to decrease the weight of our baggage even though it is only a few gram reduce. The atmosphere is like walking on a giant pebble and the human is just a little ant.


As continue walking, it is not fun anymore. The way is long and steep along the route. The steep ways force us to bend our knee a lot, mix with the slope ways which cut down our energy. My sister posts an I love you act right there, seems that she looks very comfortable and sometimes she even runs as well. It might be because she works out running 10km every day and it really pays off, I guess.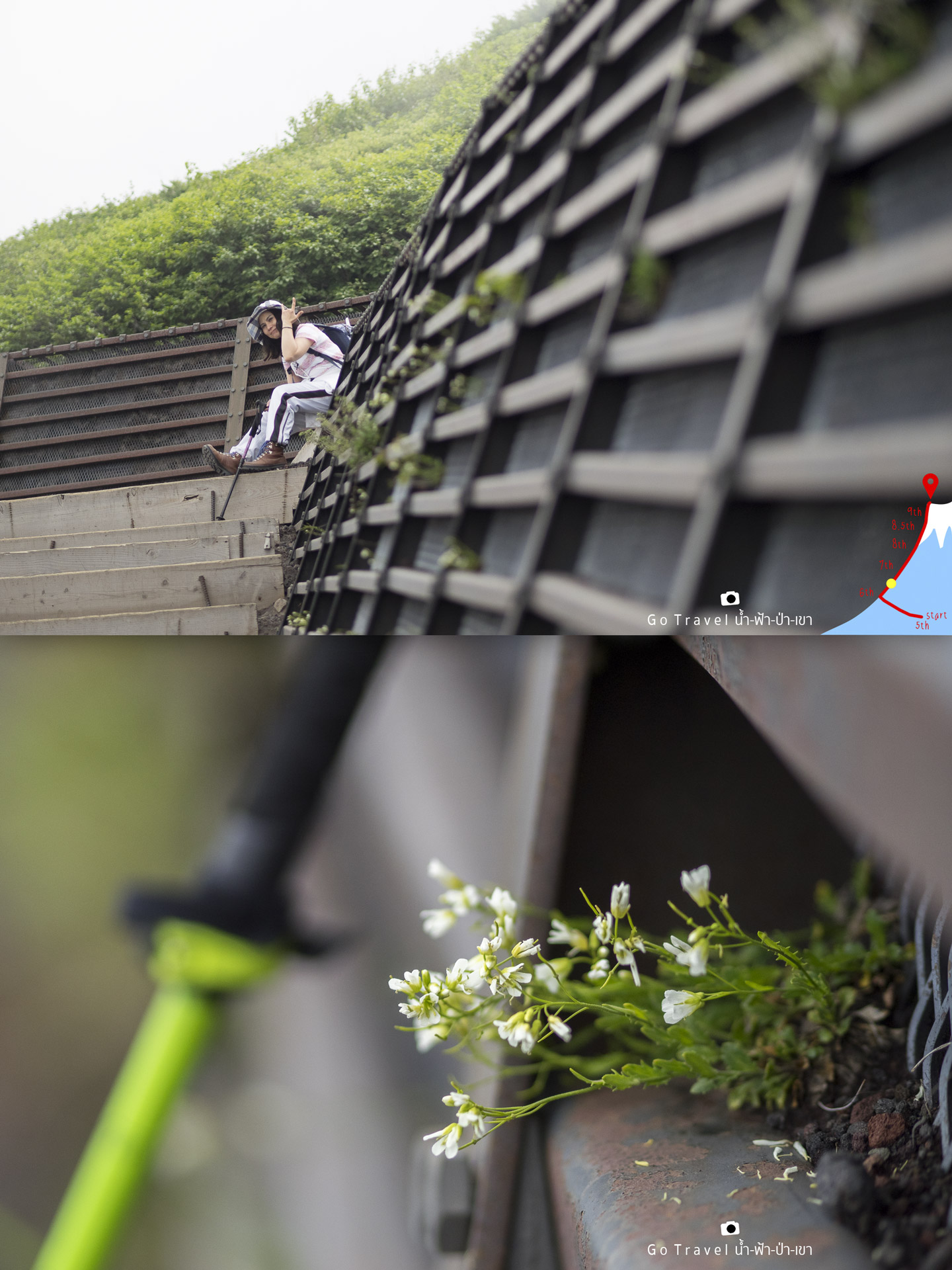 How about me, ohhhh….extremely exhausted right now. Throw away the pole, take a rest and better look around at the flowers then.

The route as you see, very zigzag. As I climb up, I could count that there are 13 zigzag until we reach 7th station. Actually I didn't really count, it's from the GPS that I have saved.


In this trail, the hiking pole is really necessity. There must be at least one to help the energy of the legs.

1.5km from 6-7th Station

And finally we already reached at 7th station with the 1.5km distance from 6th station.
7th Station
Elevator: 2,700 m
Is that really a route??? Omg…I am going to die, all my legs are shaking right now. Station 7th with 7 accommodations line up from 2,700 m to 2,900 m. From this point, we see the summit of Mt.Fuji far behind with traces of snow along the way.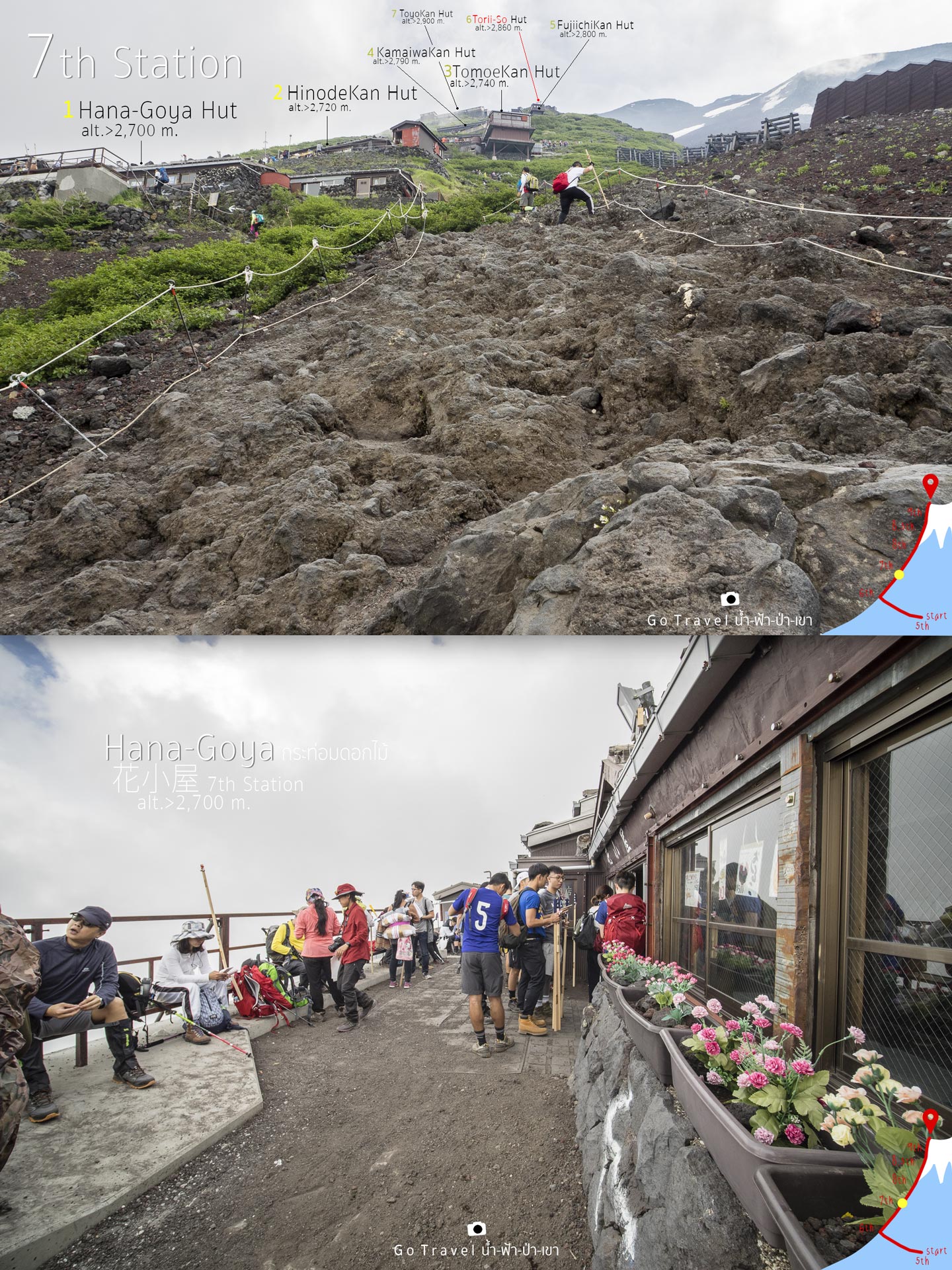 First accommodation of 7th station and the first one of the route is Hana-Goya Hut which means a flower cottage. At this point, I am so tired, we have walked a total of 1.7 + 1.5 = 3.2 km, takes about 3 hours and 40 minutes!! meaning that we climb from 6th station with a distance just only 1.5 km, but we spend 2 and a half hours….OMG!!! and now it's almost 3 o'clock. - -"

Route Map

6th station - 7 th station
Distance 1.5 km
Climbing up from 2,400 to 2,700 meters, total of 13 zigzags. If we walk straight up, we are going to die for sure so they make the zigzag to reduce the slope condition. However, during the end of the route, the way starts to be a volcano rock, thus they provide the rope to grab and climb up while the zigzag ways are lesser and lesser.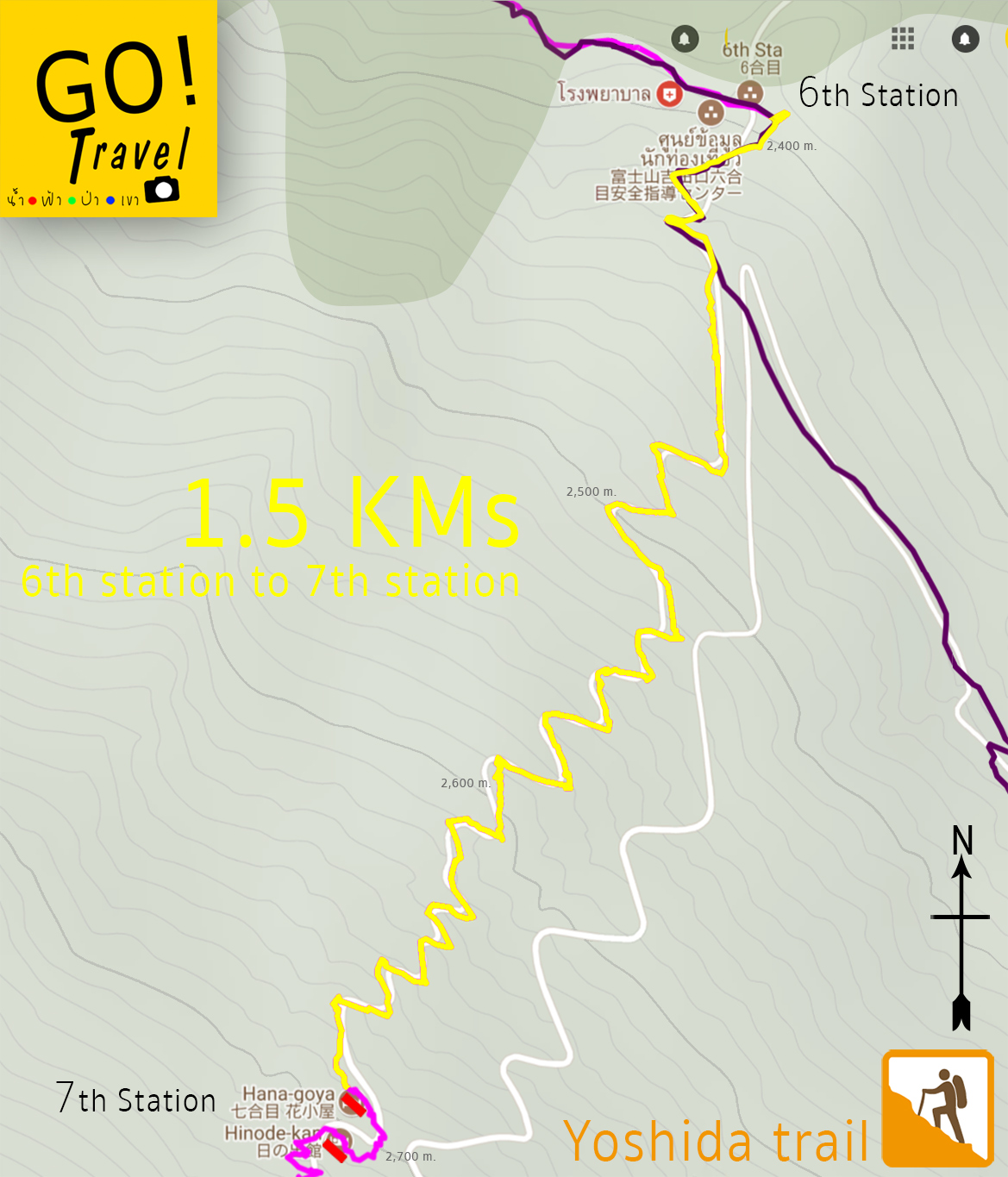 This is a stamp service point for stamping on the hiking pole. There will be the stamp point along the way at the accommodations. (Total of 16 accommodations along the route)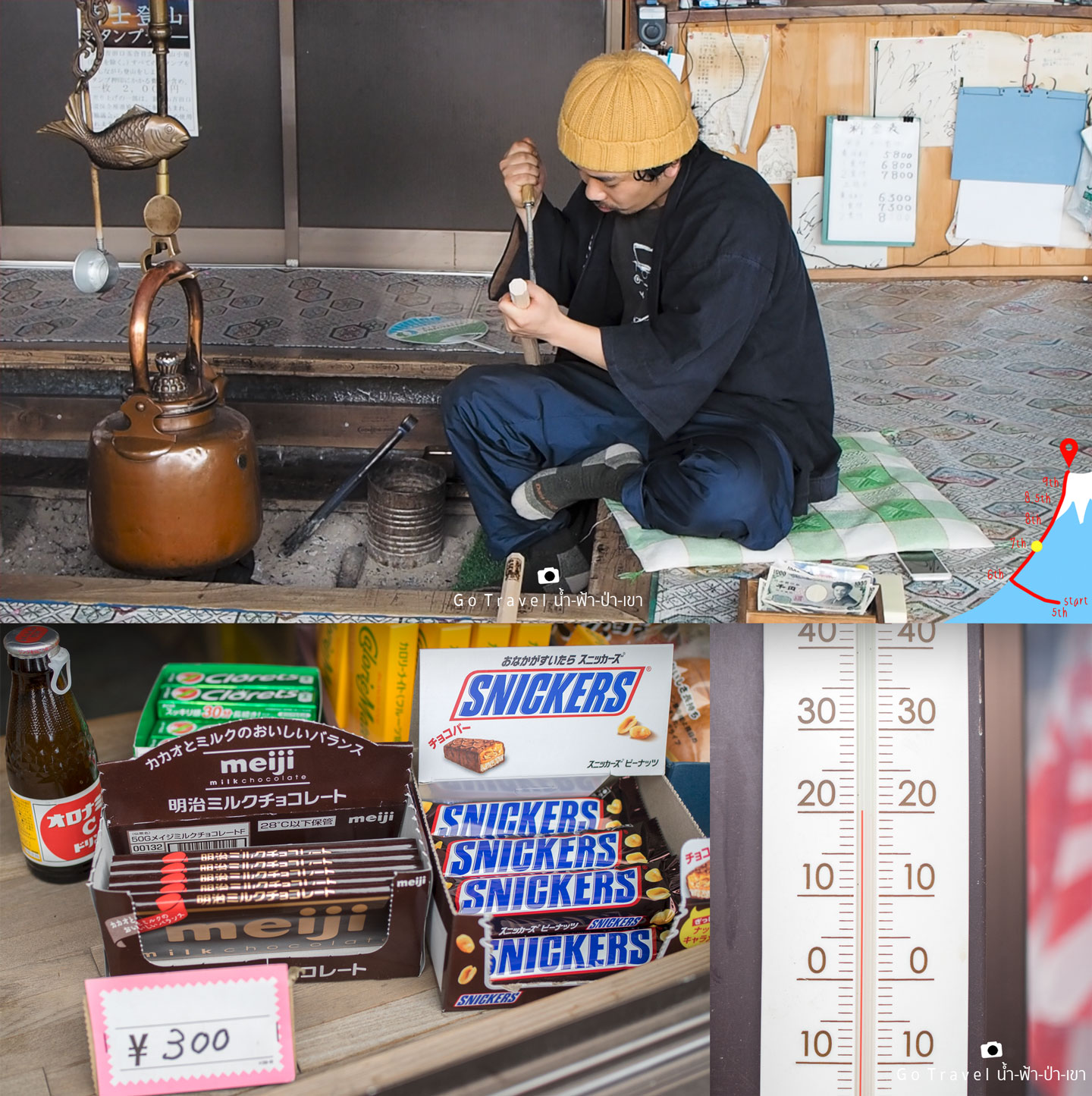 The energy snacks are also sold here like chocolates which are obviously more expensive than the one I bought from the supermarket last night.

Well, look at the temperature right now, it's 20 degrees which is just awesome and it also could help alleviate fatigue.

Overall atmosphere of the first accommodation.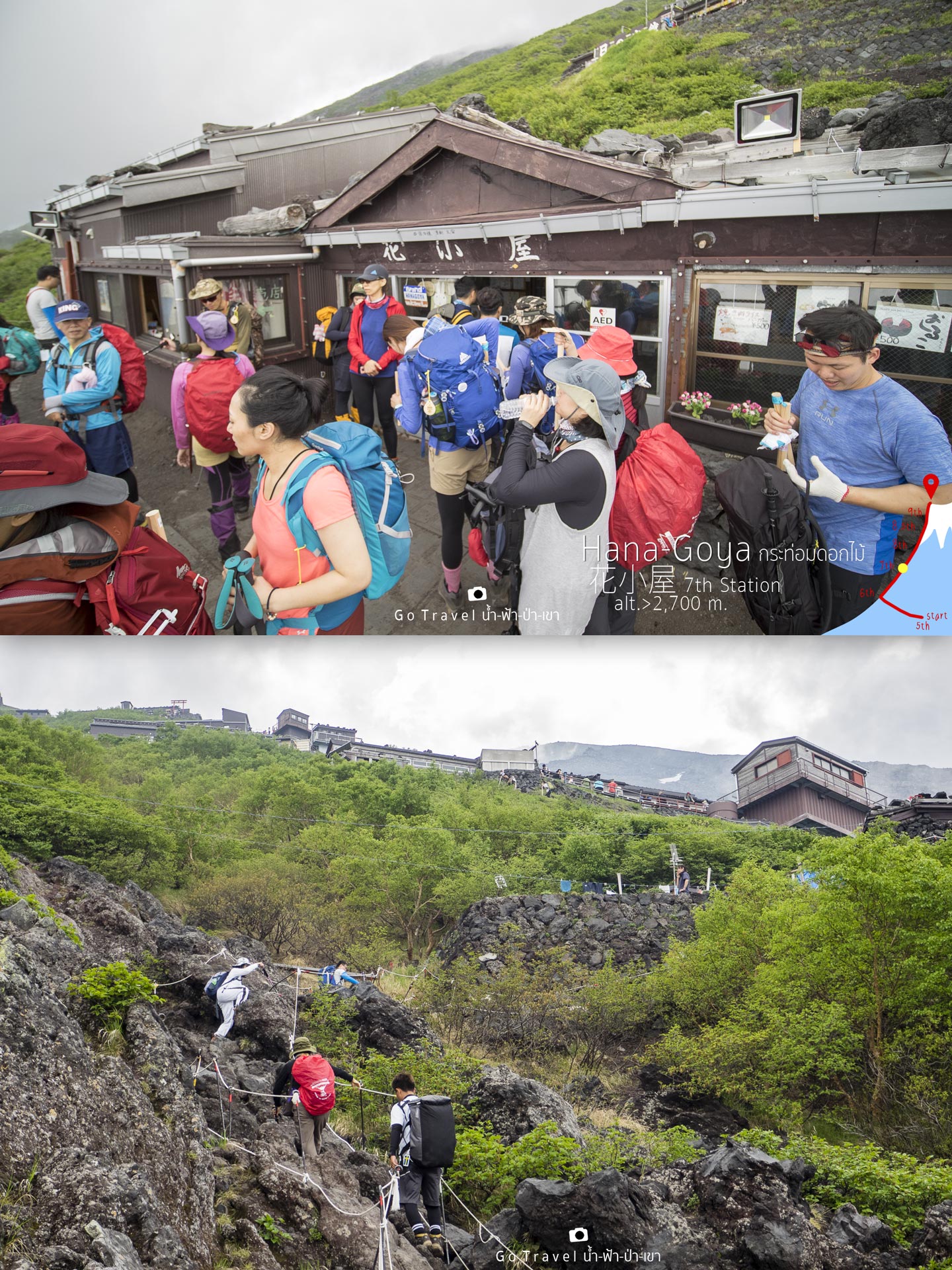 Let's continue climbing! As soon as the first accommodation is out of the sight, the next route appears and it's very steep.

Climbing up anointed 100 meters and now I am standing at 2,720 meters where second accommodation located - The Hinode-Kan Hut.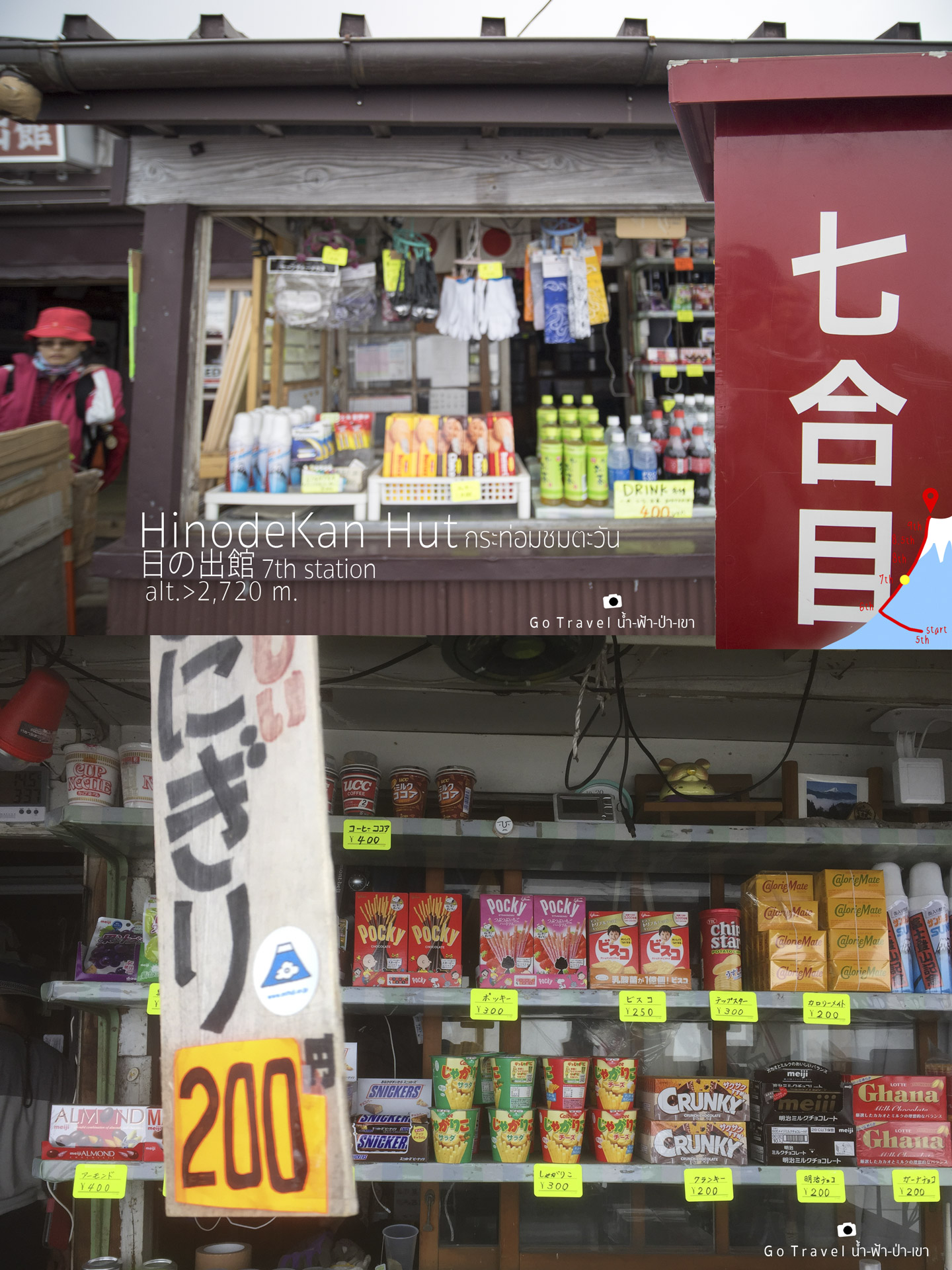 Various foods and prices.

Trail over the clouds, it is good to see the clouds floating next to us or below us like a paradise trail.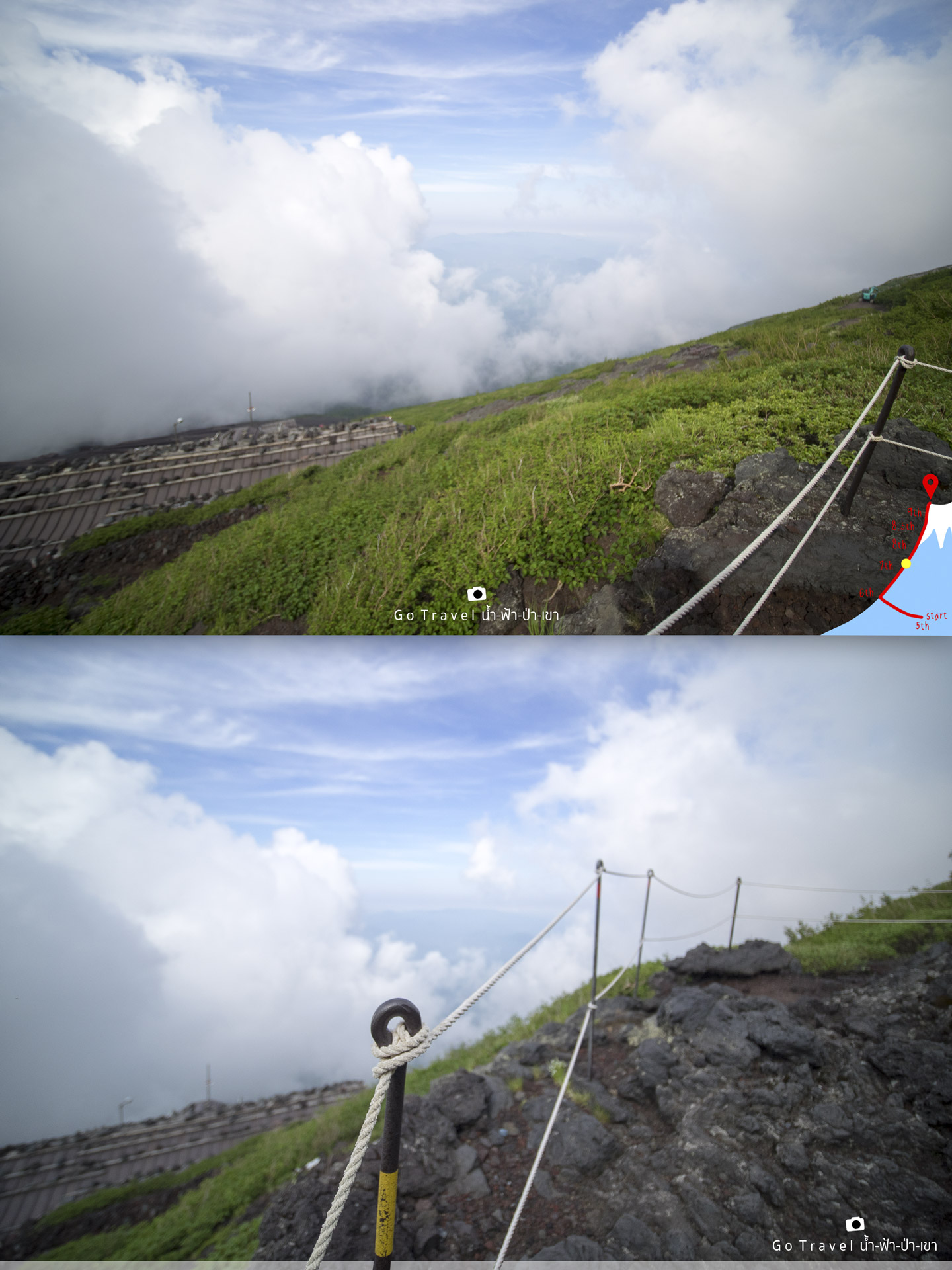 Move on with confident, fight your body and the gravity of the world.


Leaving the second accommodation only 150 meters, and we will reach the next accommodation and the next next one.

Tomoe-Kan Hut at 7th station

The height now is 2,740m and it's only 1,000 meters left till we reach the level of the crater. Nonetheless, from 5th station, we just walk through 400 meters distance, spending 4.5 hours. Omgg! I don't want to think about it.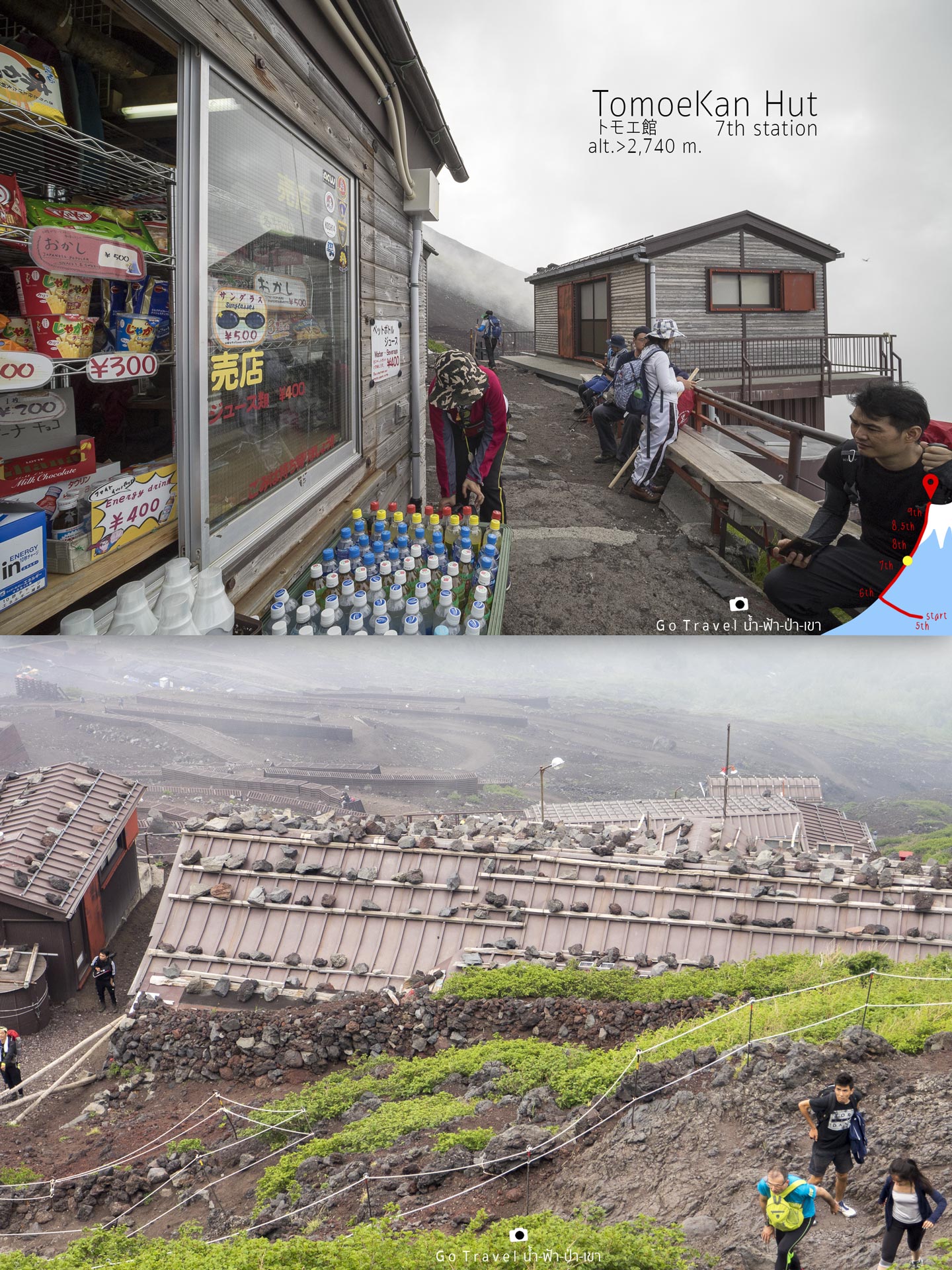 The view below is the first and the second hut that we went through with the 13 zigzag ways as a backdrop.

Look at those mother and child hiking, I surrender!!!! The child would walk better and faster than the adult as their bodies would face less gravity than the adult right?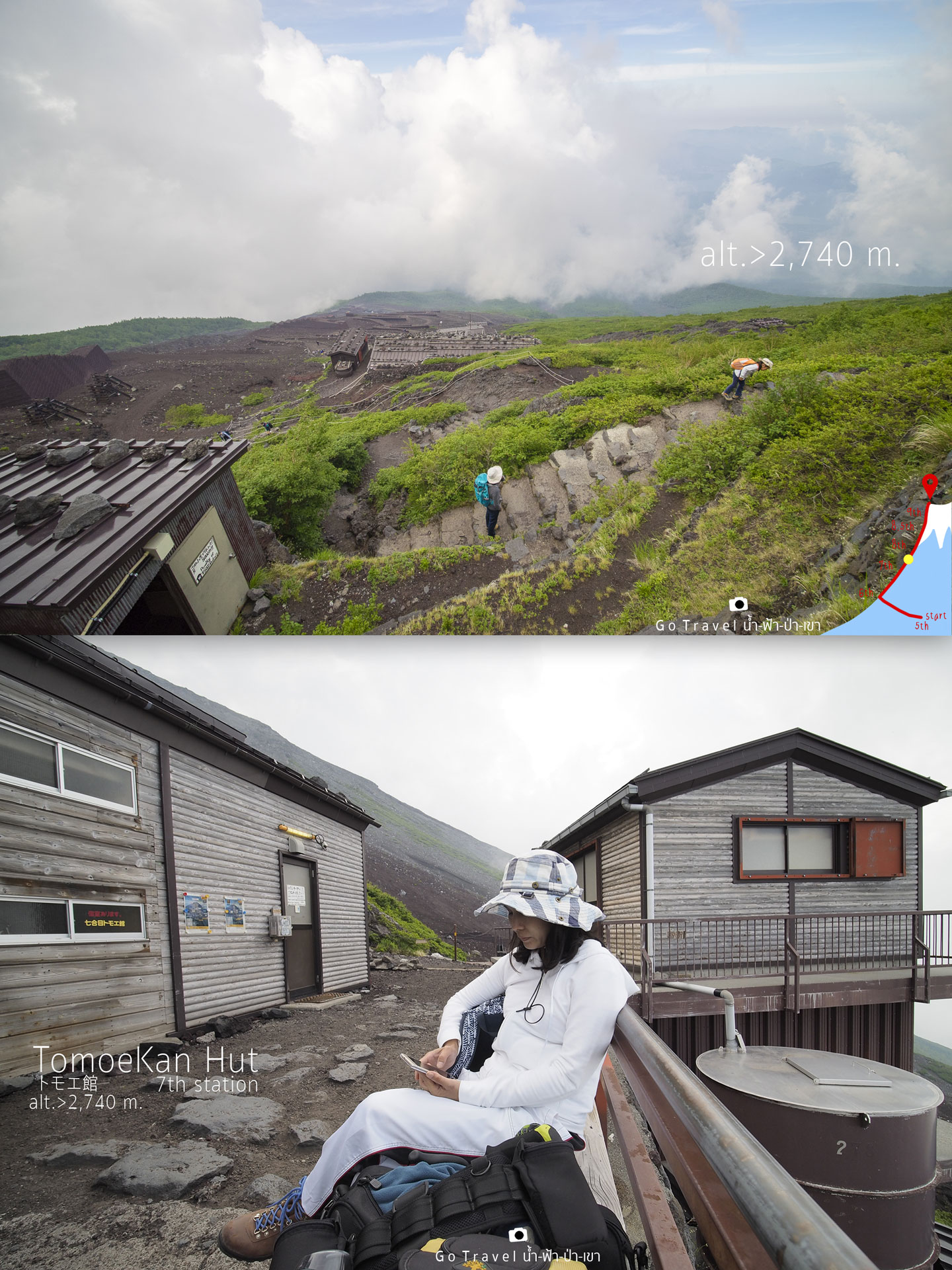 My sister, she is sitting and playing facebook waiting for me right here. Ohhh.. how great!

Walking on the trail here is like a game as each accommodation is like a game level that we pass. When we walk pass through one of the accommodation, they will reveal the path to the next checkpoint, where the higher levels will appear.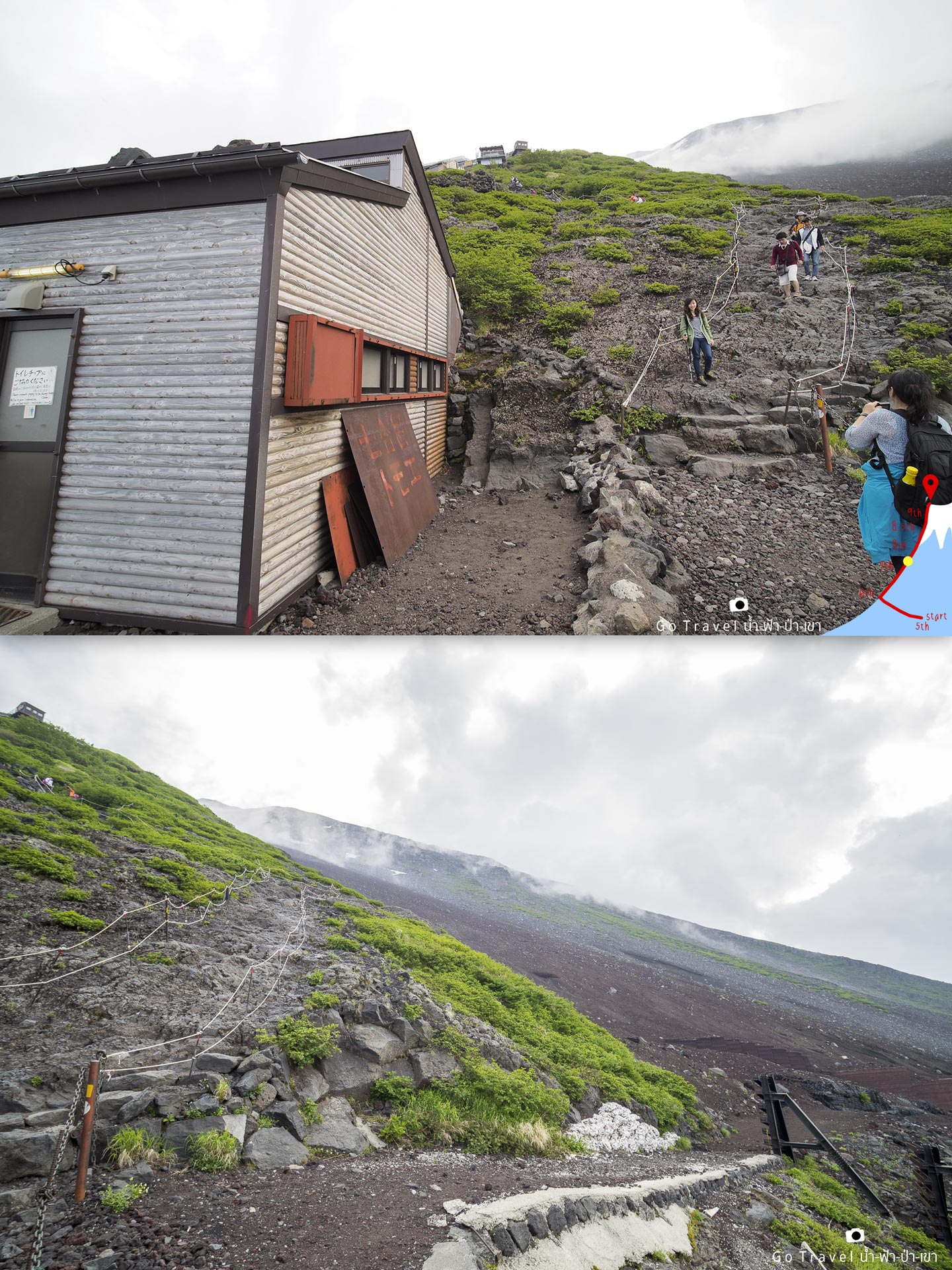 Let's go!!! I want to pass 7th station and reach the accommodation right now.

Oh! The higher it is, the steeper the way is. It is pretty hard to place our feet on the ground as it doesn't look like a route anymore.

This is the accommodation point for the 4th place – The Kamaiwa-Kan Hut at 2,790 meters height. Why haven't we passed the 2,7XXm? This place is only 180 meters away from previous accommodation, only 180m away and I have been climbing up to 40 minutes. Oh my, it's almost five o'clock right now.

Toilets are in service in every accommodation and the price costs 200 yen all the same. Ohhh! one time costs 60 baht!!! This toilet is located at the 5th accommodation; Fuji-ichi-kan Hut next to the 4th accommodation only a hundred meters away. This is the point where we touch the 2,800m height for the first time.

She looks really chill. Let's see and continue to follow her then.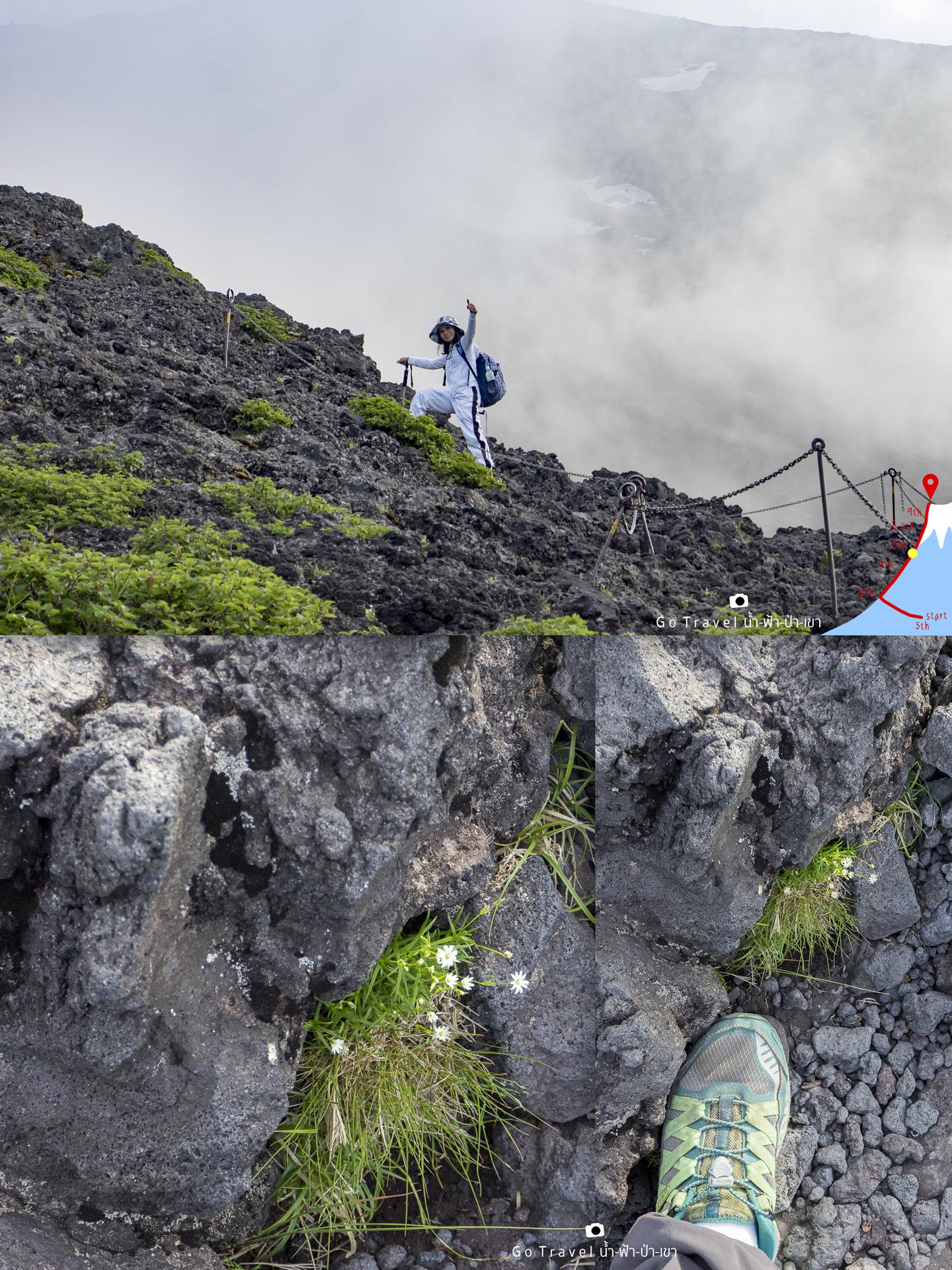 Walking two steps and then stop to rest and look around at the atmosphere and flowers. The sneakers seem to work really fine for hiking up the trail but it would be really awful on the day back.

The red Torii, a symbol indicates that there is a hut with the same name as the gate.

Torii-So Hut 7th Station
elevator: 2,860
180 meters away from the 5th accommodation.


The view, it will have a cloud along the way.
The view would be just like this, all the same but there would be more clouds floating by.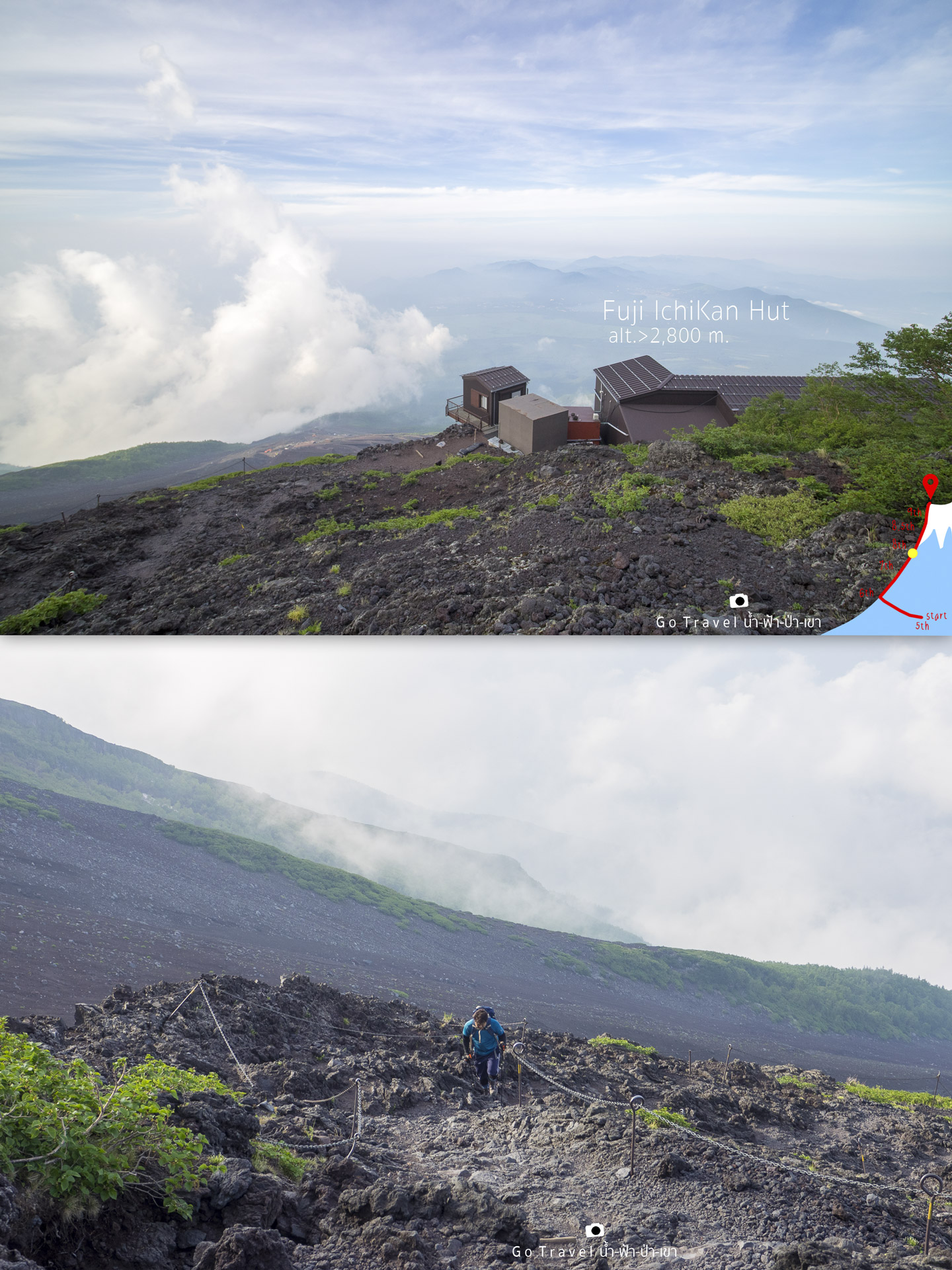 The condition of the route that we climb up, it's volcanic rock or lava ash, I'm not sure.

From this height level, there are some green color to look at too, this view is so stunning that I couldn't help to take out my camera. We could see Lake Yamanaka from far distance.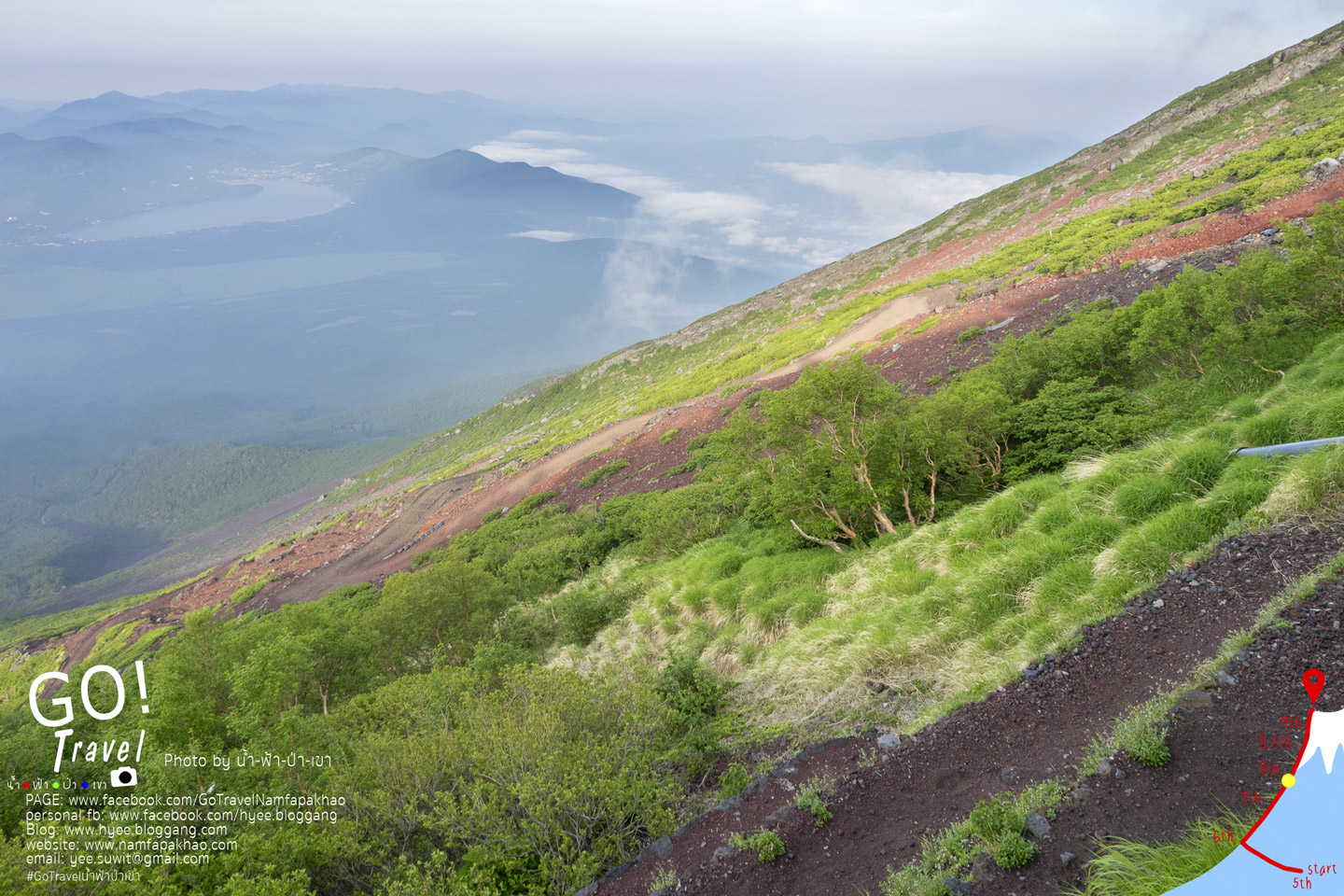 Zoom the camera to watch the grass waving.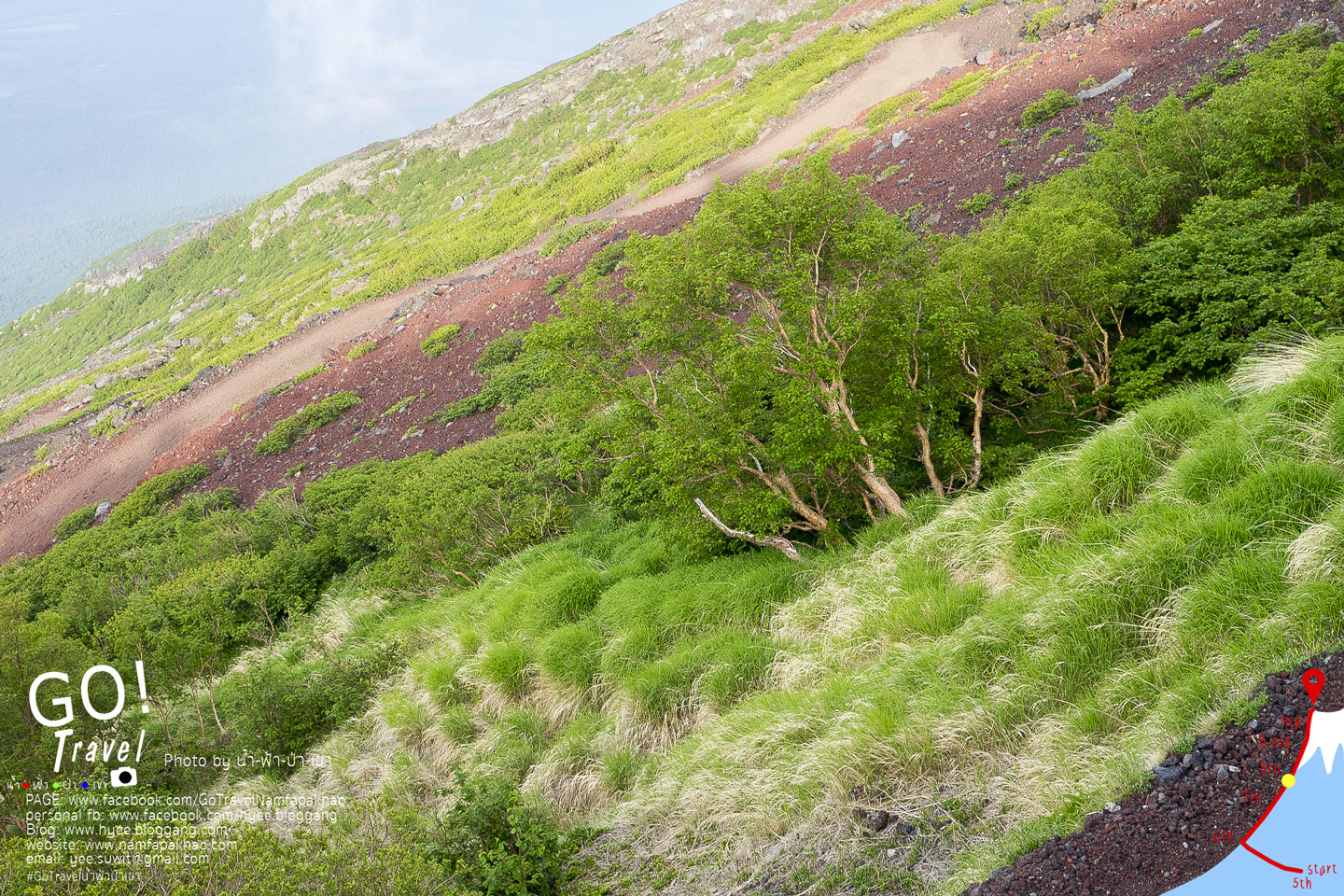 I was climbing through the accommodation that has red Torii but didn't even take a glance on it and forgot to take a picture as I was gathering all my strength and energy of the legs and knees to scramble up. I almost want to give up but too embarrass to. At last, I reach at Toyo-kan Hut, the last accommodation of 7th station at the height of 2,900 meters. Look at the route, it's getting steeper and steeper - -"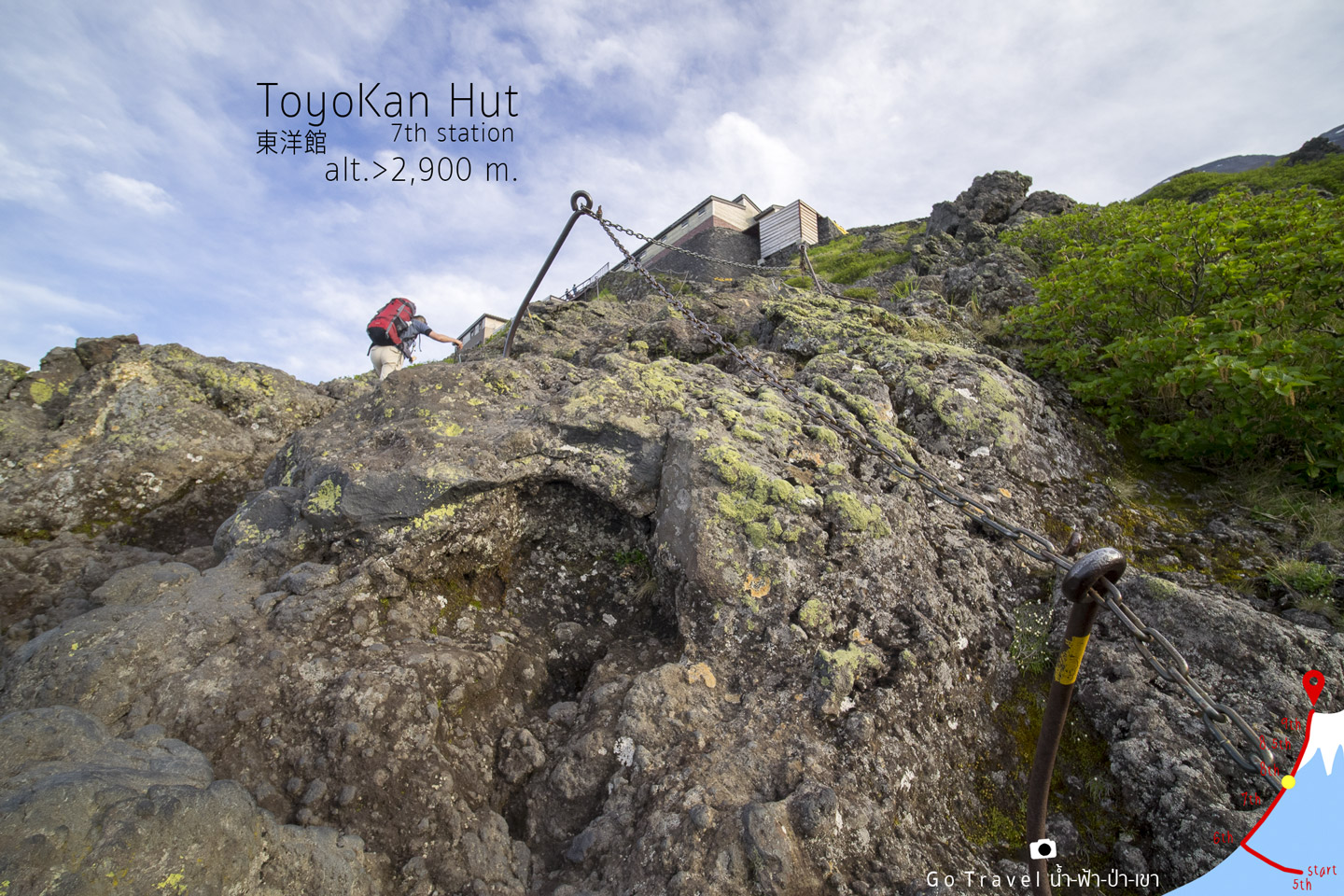 Take a rest once again at the last accommodation point of 7th station, look at my sister, still smiling while I am so exhausted.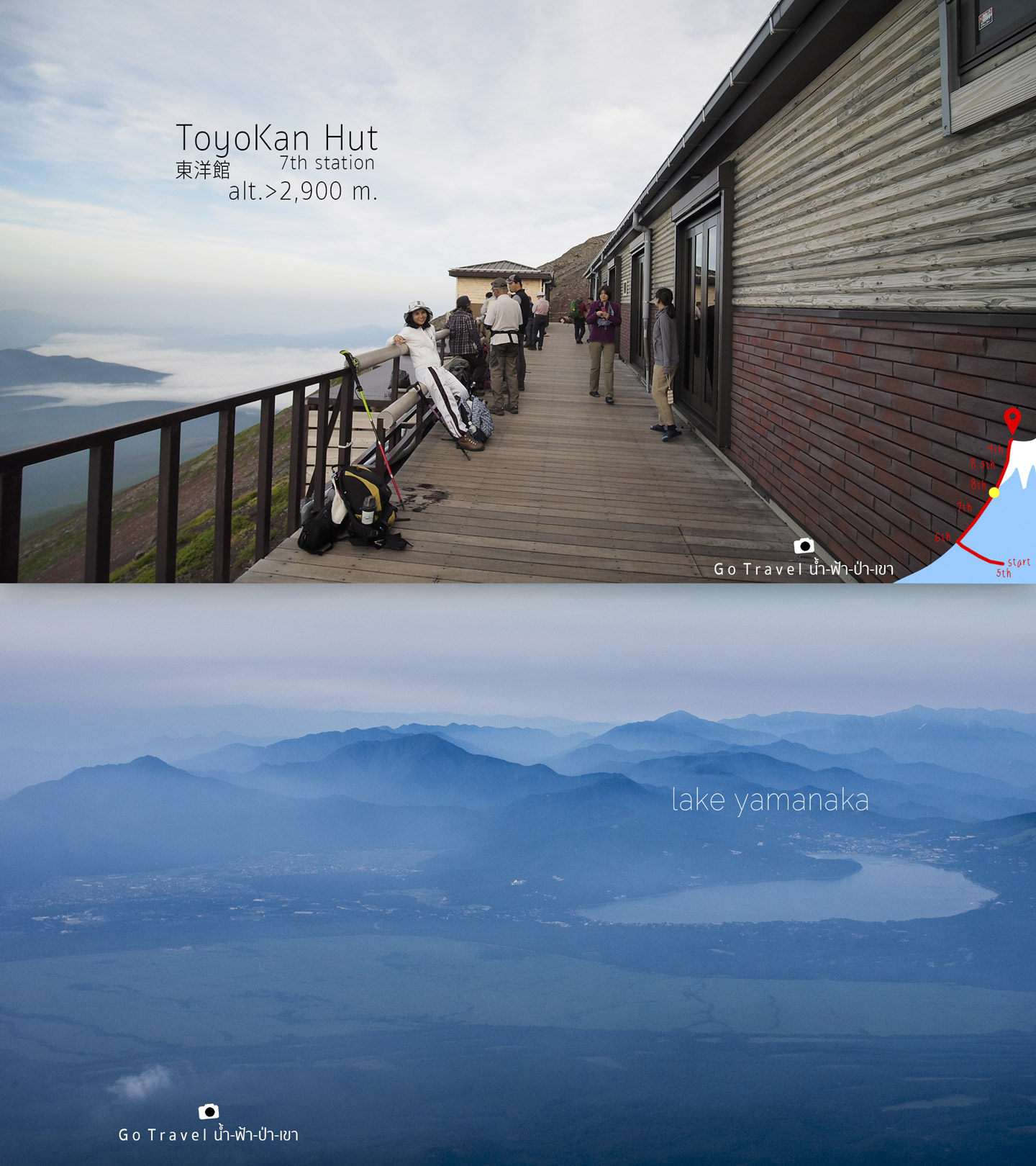 An evening atmosphere of Lake Yamanaka before the sunset. Let's take a long break as now it's 05.40pm almost 06.00pm. It's twilight time as during summer period, the day is longer than the night. From my GPS, the sunset is at 07.00pm which mean the daytime is 14 hours and 25 minutes long.

The map from 7th station - 8th station
The total distance is 1.3 kilometers, but if we calculate the distance from the first stop of 7th station, Hana-goya to the final stop, Toyakan, then the distance would be only 860 meters. However, I spent my time up to 2 hours 20 minutes. Sooo bad!!!!

From the map, it will be 440 meters left to the accommodation we booked. Nevertheless at that time I did not know when I could get out from 7th station. Moreover, I did not know before whether how each level will look like or how the accommodations situated, as the detailed information I have gathered afterwards. The real situation I have to face is that I suffer in every steps I walk and it is very tired. The cruelest thing is that when I look up the route, it's all the same. The same vision that just keep repeating is a steep way with a hut at the end, just that. When we reach the hut, we take a rest and continue walking, then the same vision of steep way and a hut at the end of the way again and again. That's really depressing and it's already late evening now.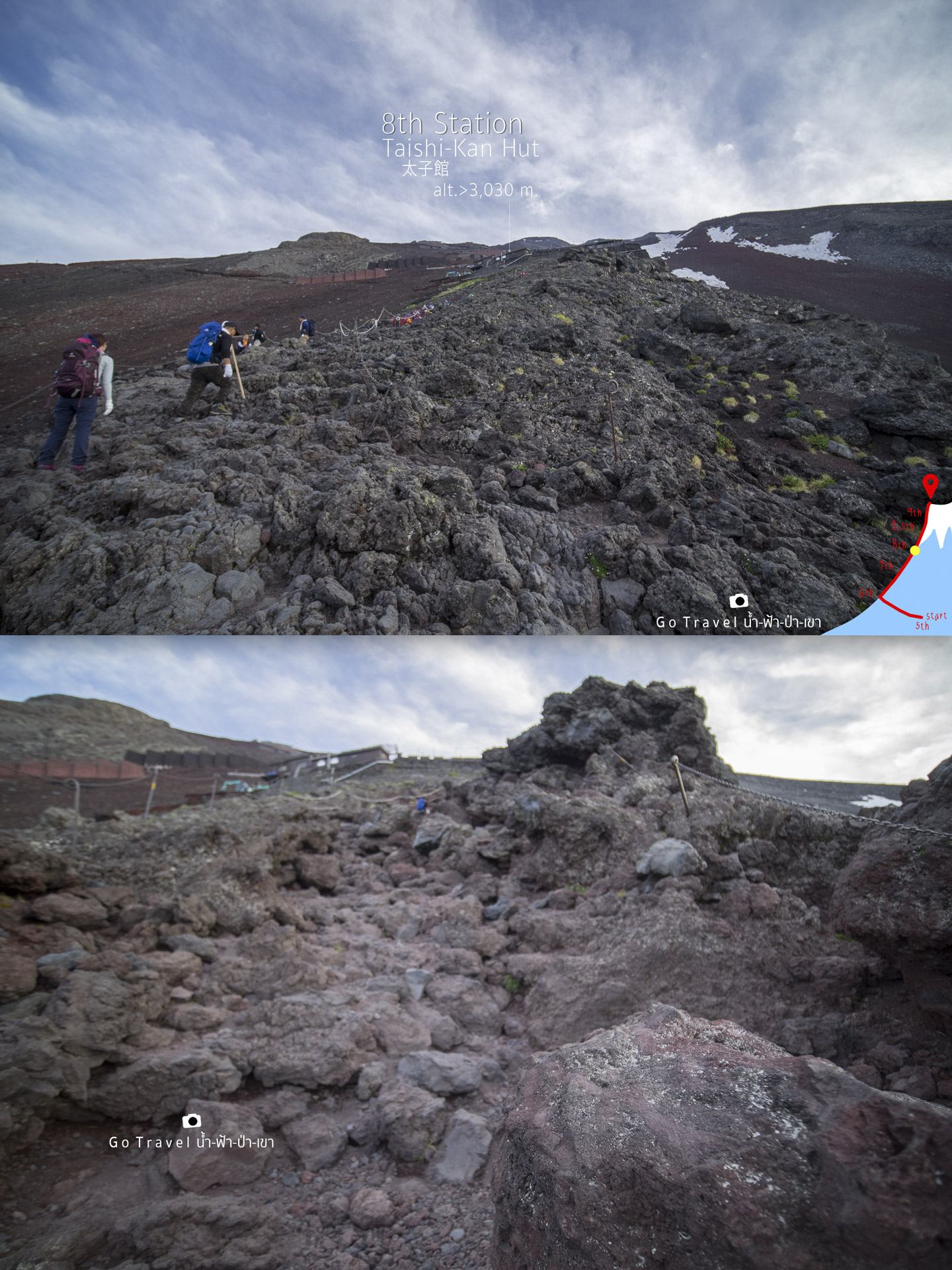 Take a rest to appreciate the rocks as there is no flower to look at anymore.

And as always, with 440 meters distance from the last point of 7th station to this point, I spent around an hour climbing, so tired!

Finally, I have reached 8th station. The total time up to this point is 7 and a half hours from a total distance of 4.4 kilometers. From a high level of 2,300meters, then walk further for another 700 meters, now I have stood above 3,000meters high level.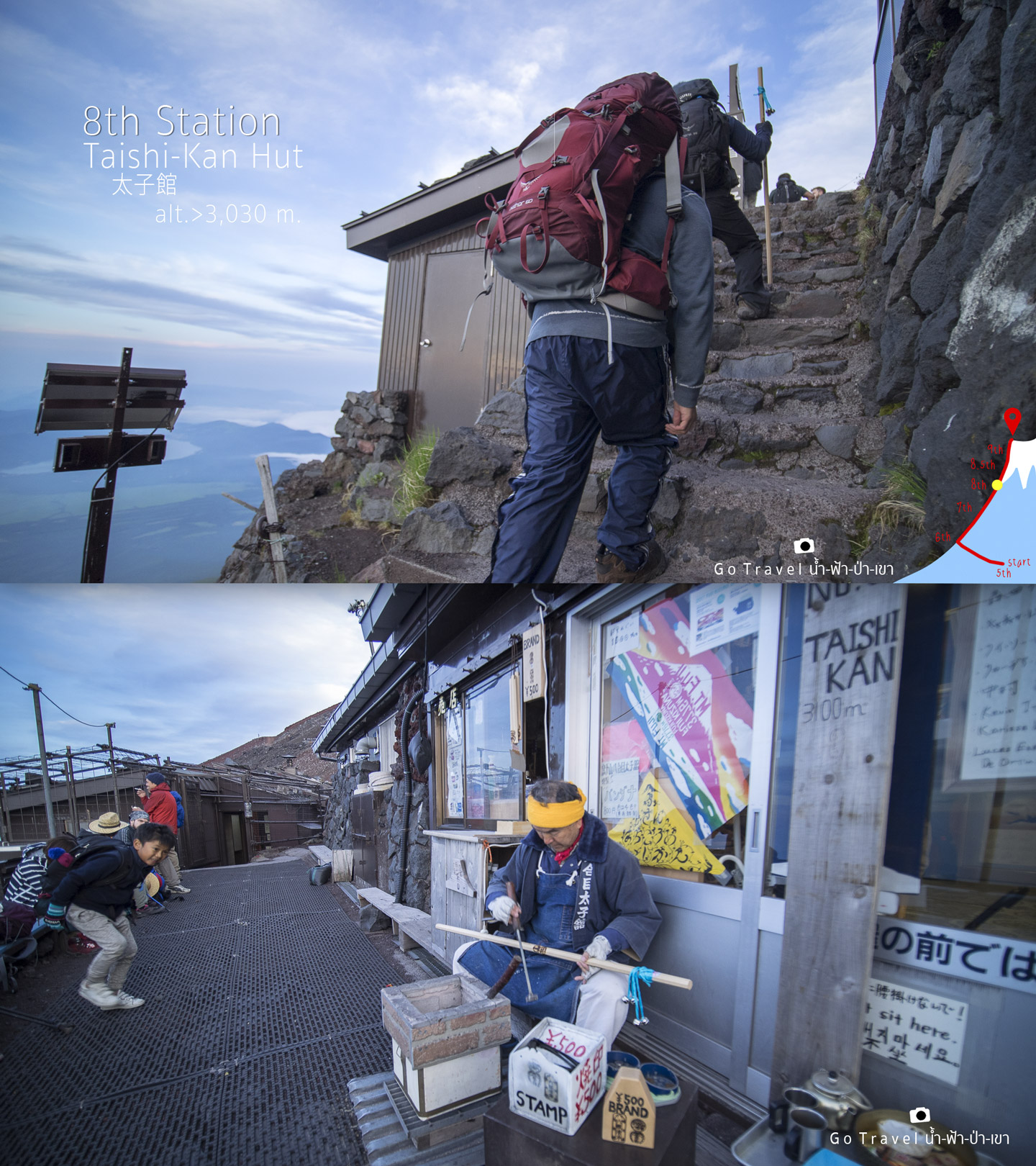 Taishi-kan Hut 8th Station
Elevator: 3,030 m. Yet they wrote 3,100meters at the front of the store. The number is more perfect and easier for remember.

And then, as I am extremely blurred and since I complained a lot, it's just like God has punished me and make me walk pass my accommodation!!!! I keep walking until I feel strange, then I open navigator map and find out that I already passed my accommodation!!! I text to ask my sister who have already reached the accommodation and just realized that I somehow just waste my energy walking all the way up here. Furthermore, the way down is so steep and my legs are all shaking. On the way back, I just stand admiring the full moon on Buddhist Lent day, the sun just set 5 minutes ago.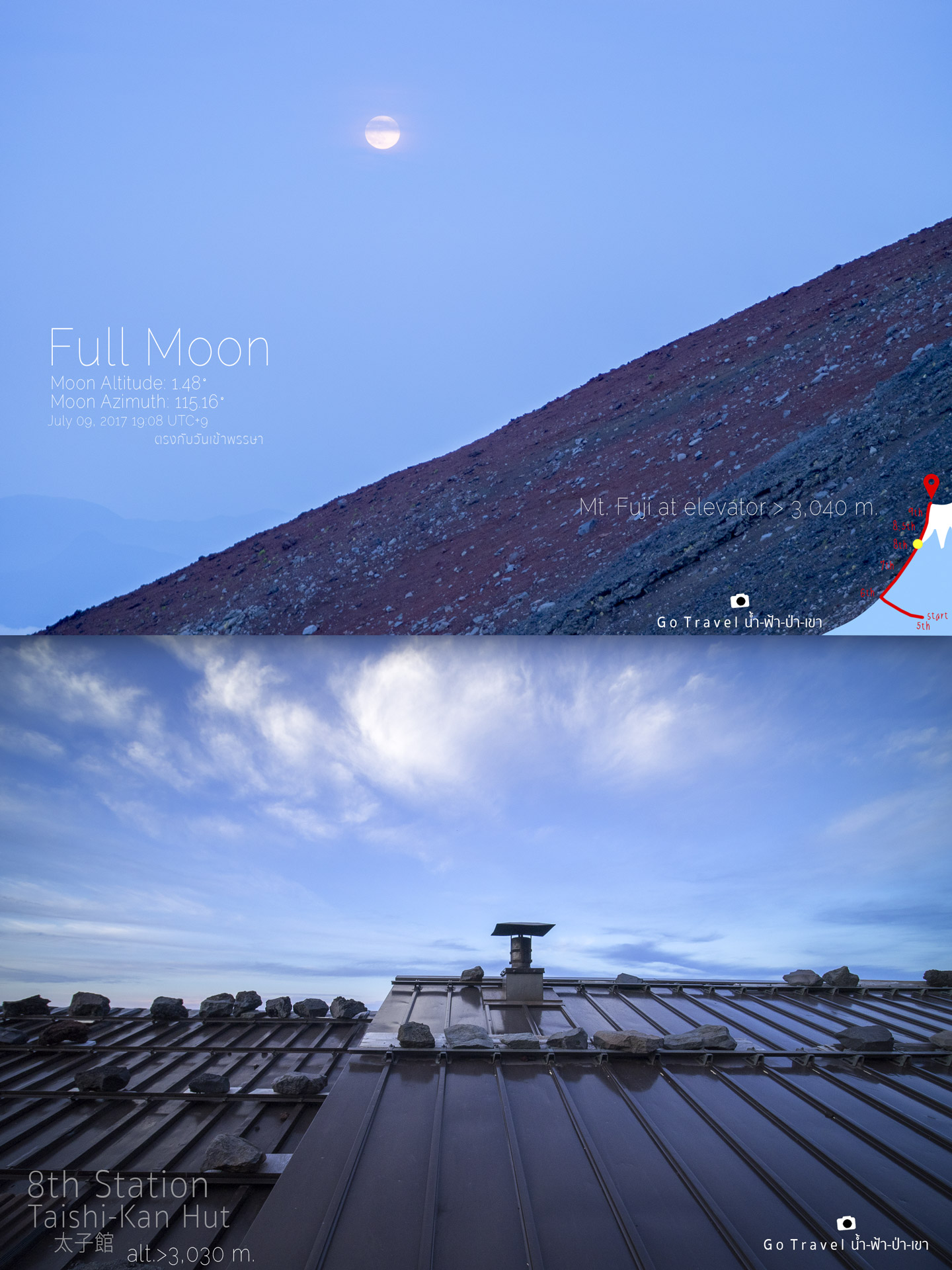 Then I could take a picture of the roof. (As I walked pass so I could see the roof.Lol)

I think I am the last one to check-in. Even though you already booked the accommodation ahead but you need to pay at the accommodation which costs 8500yen per person. We have to sleep in a space like a box as you could see in the picture, and the worst part is I got the top bunk bed which it is almost impossible to climb up as my legs is so exhausted.


Then I go to sit back and have a meal that the accommodation has prepared for us and they have also prepared the meal for going to the summit in this small rectangular box which has a bottle of water, bread and a meal that already heated up for us. Why they bother heating it as it would be cold once again. That night I went to bed around 08.00pm, only brush my teeth and no need to take a shower, just used the wet tissue paper to rub my body. Ohh…before going to bed, I need to go number one as other place would cost me 60 baht and here is free of charge. Hahaha.

I set my alarm at 01.00am to get ready to climbing to the summit.
Day2 NIGHT TRAIL

Time to conquer Mt. Fuji SUMMIT
At 01.00am, people are bustling and busy preparing for the summit at Yoshida trail. Since the way up and down are in different directions, thus after we already conquer Mt.Fuji, we have to go down on the other way. Therefore, it is quite bad that we also need to check out and carry all of the baggage with us as we will not pass the accommodation anymore. Looking up at the peak but I could not see the peak, I just could see only the full moon floating in the sky. The moon that came up yesterday evening is now going to set.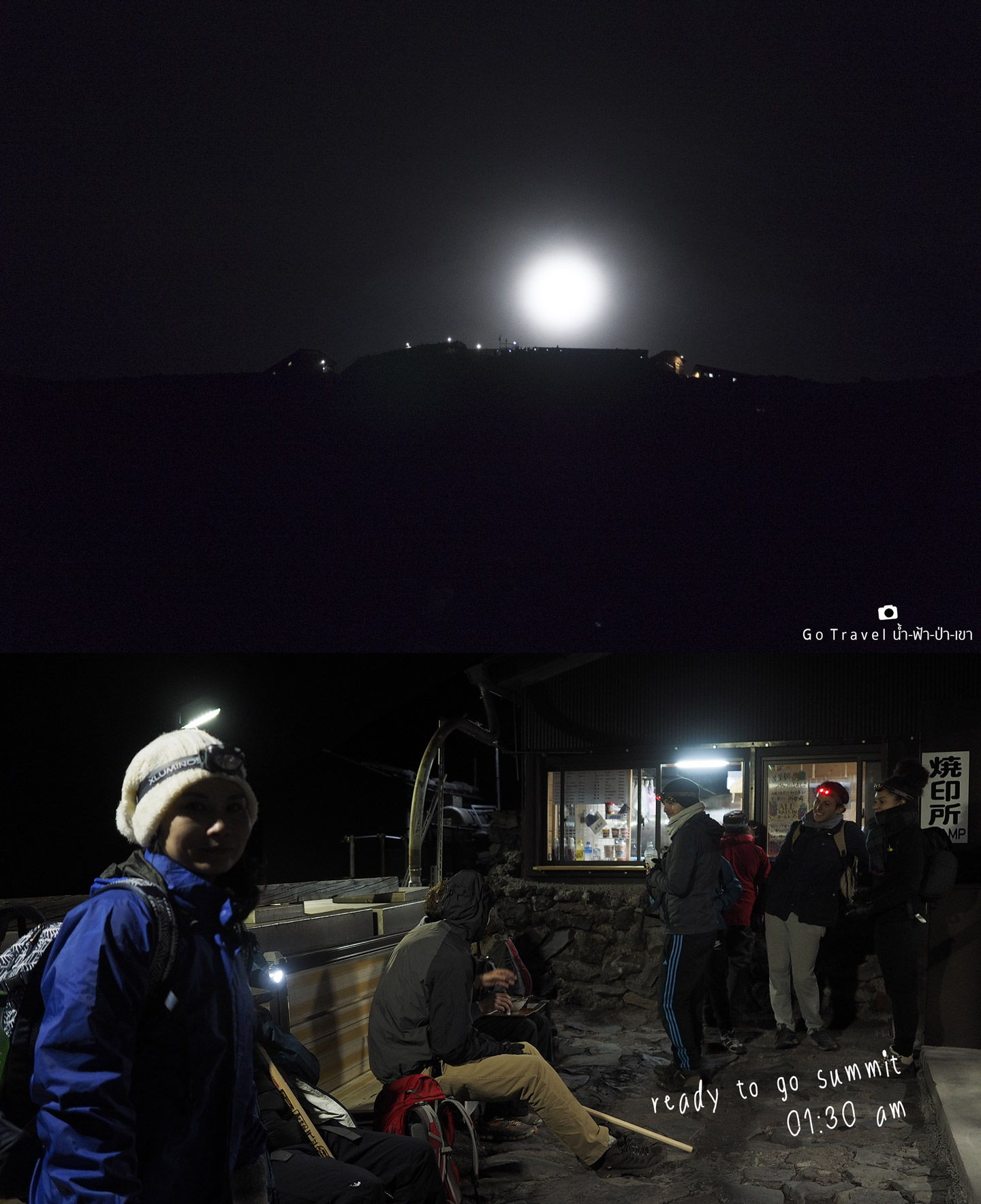 01:30 am and we are ready to hike. I am ready, the baggage is ready, clothing is ready and the headlight is ... ready!!!

Map - Day2 night trail go summit with a 3 km distance from the accommodation. What is waiting for us ahead? I just didn't know anything at that time, just walking along the route.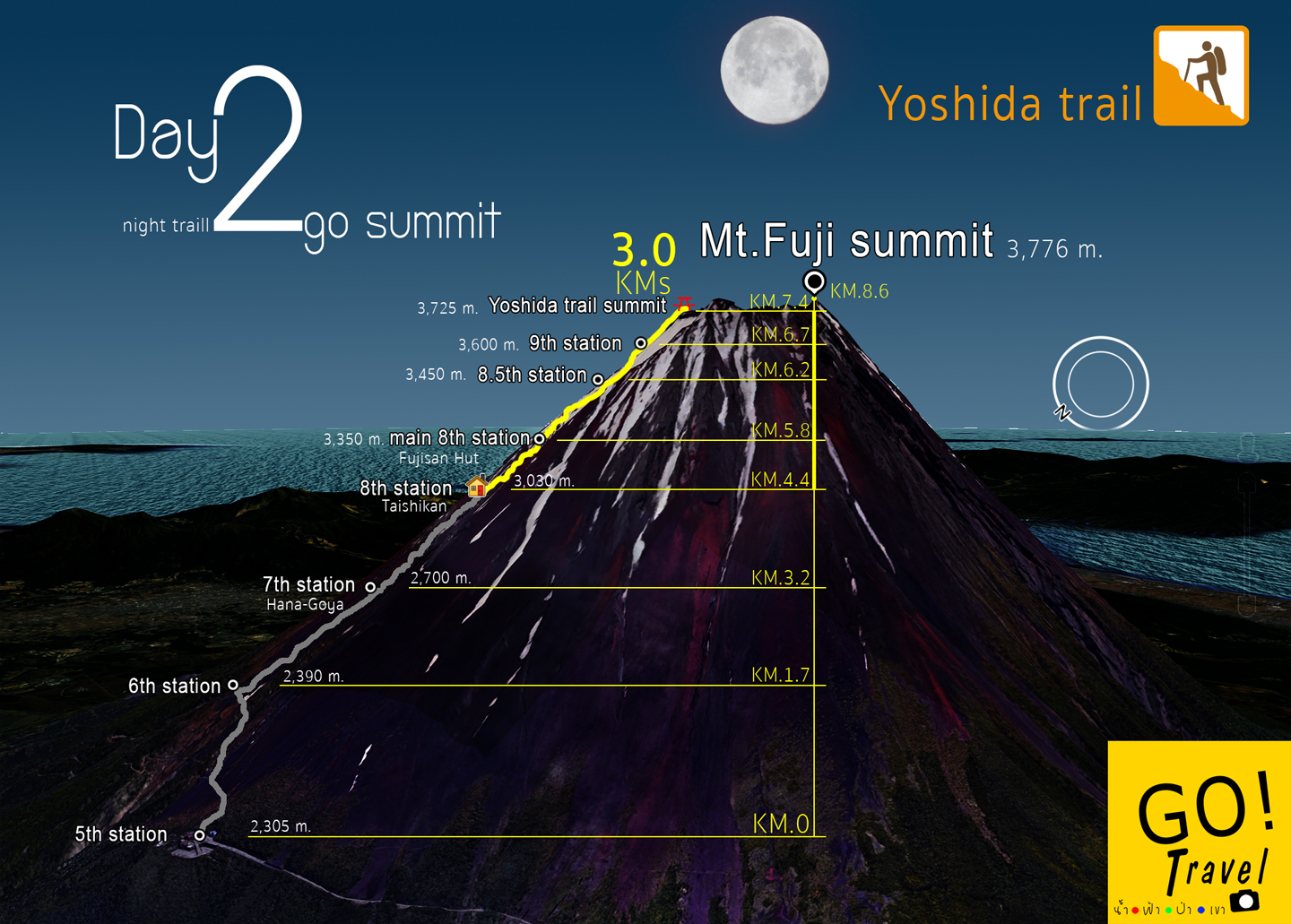 The moon is gone and everything around us is dark, except the light from the flashlight on our head, the city's lights from a far distance and the light from eastern horizon. The flashlight to use I would recommend that you should use a flashlight that could put on head only, the flashlight form mobile phone would not work because we have to use hand to hold the pole and grab the rope.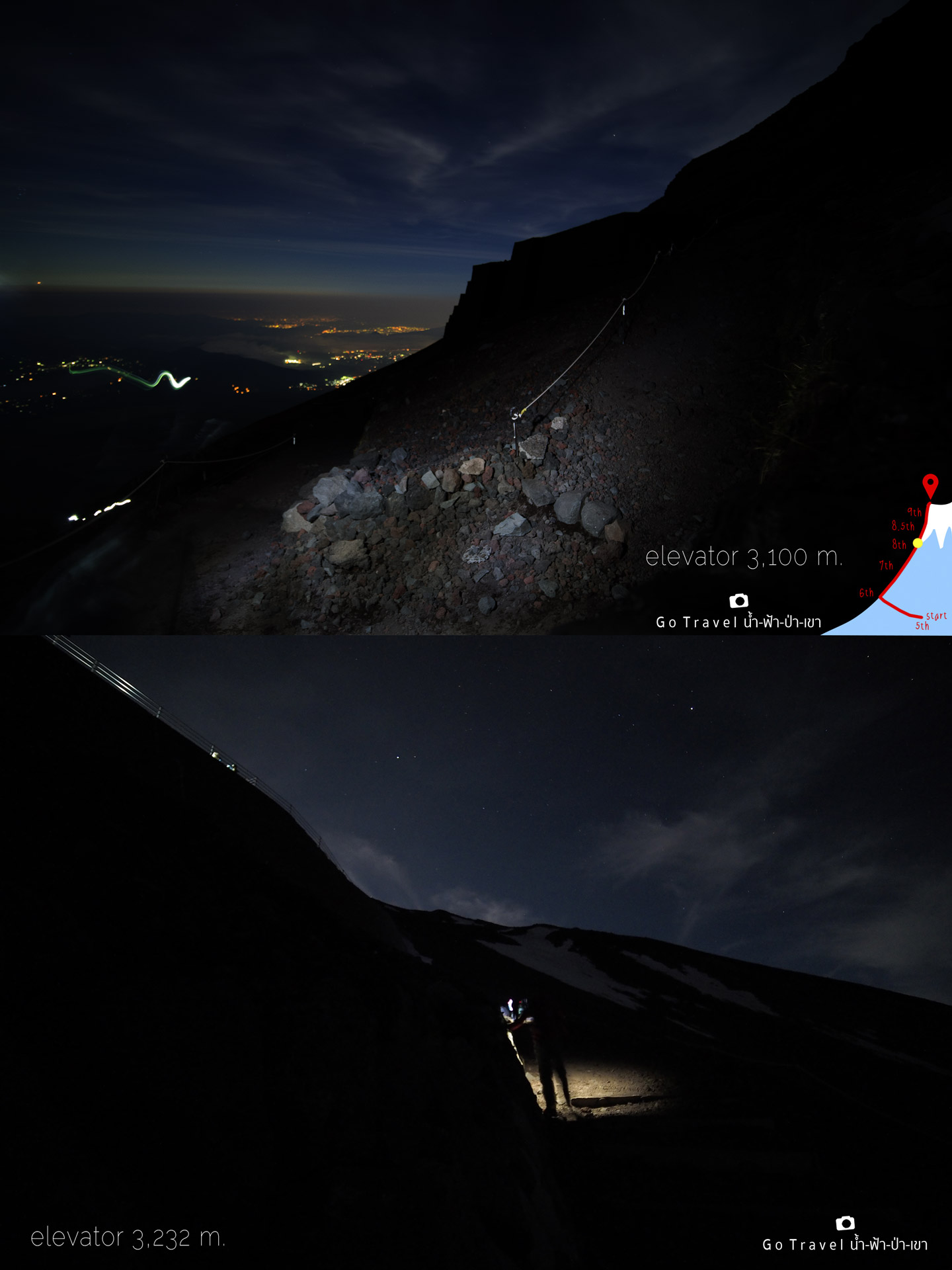 Ohh…another light right now is also from the stars above the sky, if I could return to this place I wouldn't miss taking a picture for sure.

For two hours in the dark, I have walked just only 1.1 km distance, passing through the other three accommodations. Look at the time, now it is already 03.30am. The sky on the east side is already getting bright. The data we have for today is that the sun will rise up at 04.30am which at this moment I am still at 8th station with 3,285meters high, there is a direction sign showing the way down which is a connecting point to the descending route.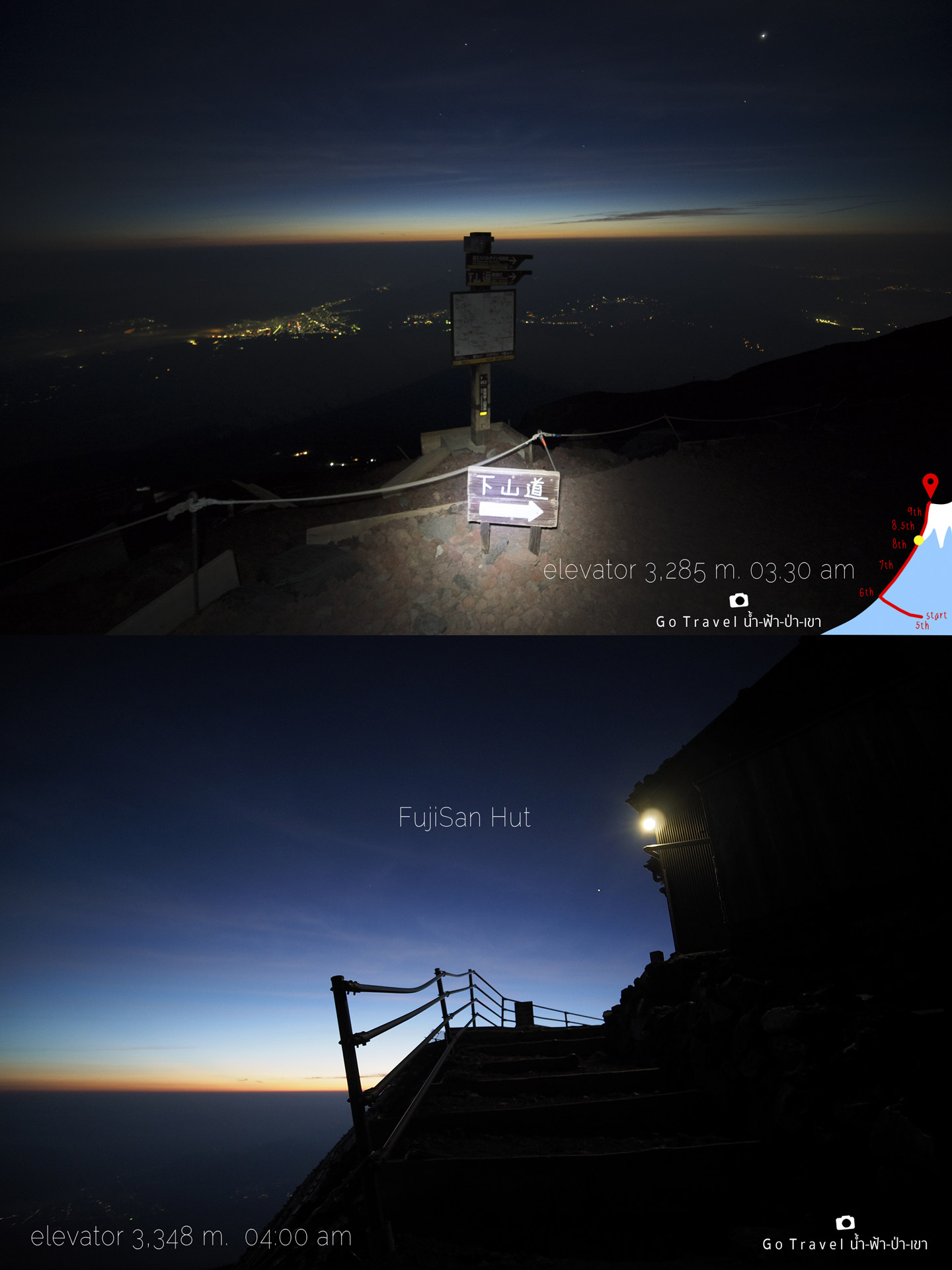 Fujisan Hut, one of the large accommodations of Yoshida Trail. It's 04.00am now and the sky is getting brighter and brighter.

We have reached at this point which is Main 8th station.

Main 8th Station
Fujisan Hut
elevator: 3,350 m.
I am away from the starting point almost 1.5 kilometers, spending around 3 hours climbing.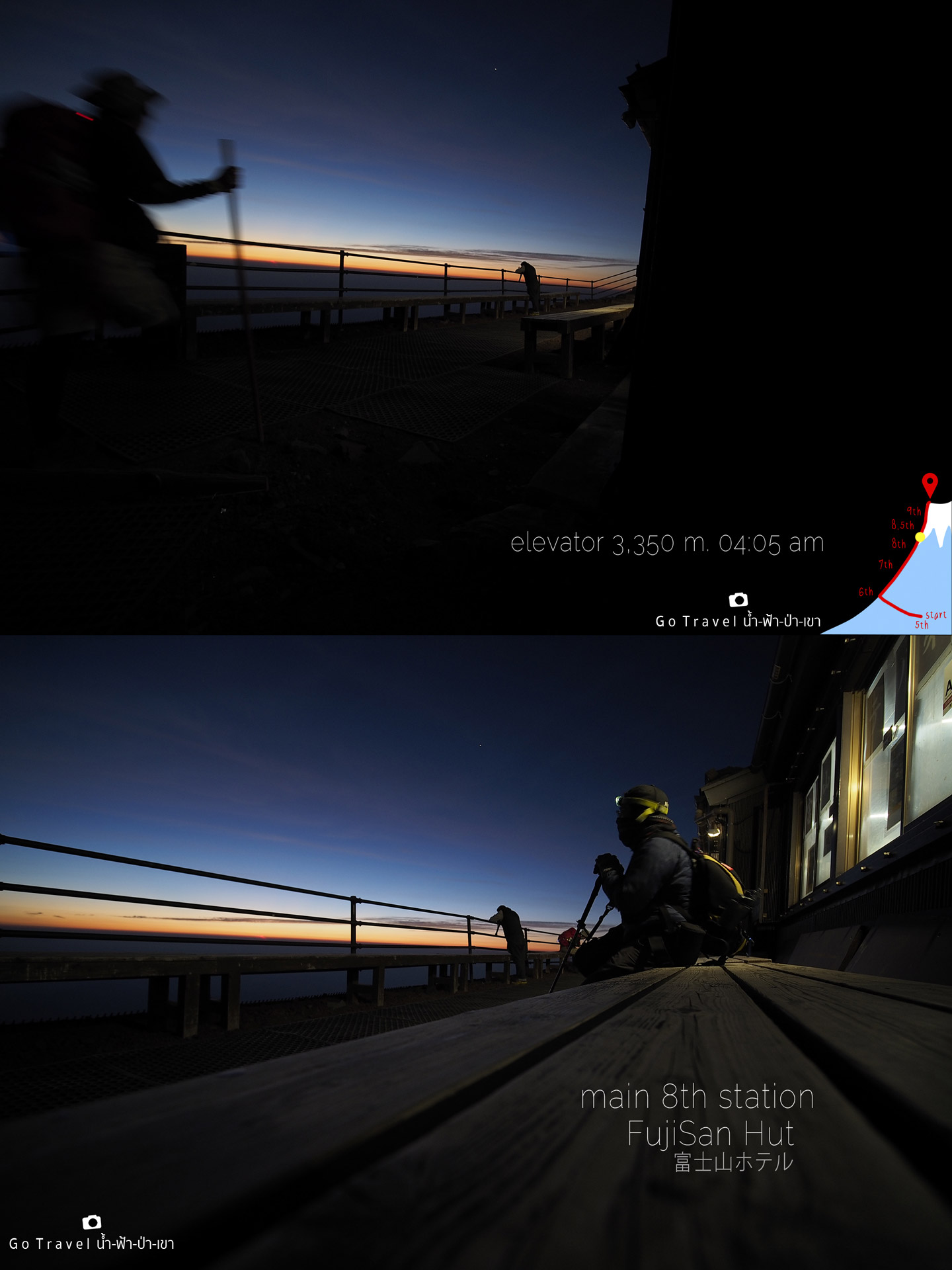 I am both tired and exhausted, I let my sister walk ahead, no need to wait for me, so I could take a rest for a bit longer, I think I cannot make it and wanna give up, I just would like to watch the sunrise here. In fact, at that time I don't have a feeling of conquering Mt.Fuji at all, I just wanna go home. Yet, my mind is fighting as I have boasted a lot on Facebook and if I give up, I will feel pretty ashamed of myself.

The sky starts to brighter and brighter, it is pretty nice. At this moment, people who are at the summit might feel overwhelmed wit the nice scenery and wait for the sun to emerge above the horizon in not more than 15 minutes. As for me, I could only stand at this point and take a rest, then make a few steps further and rest again.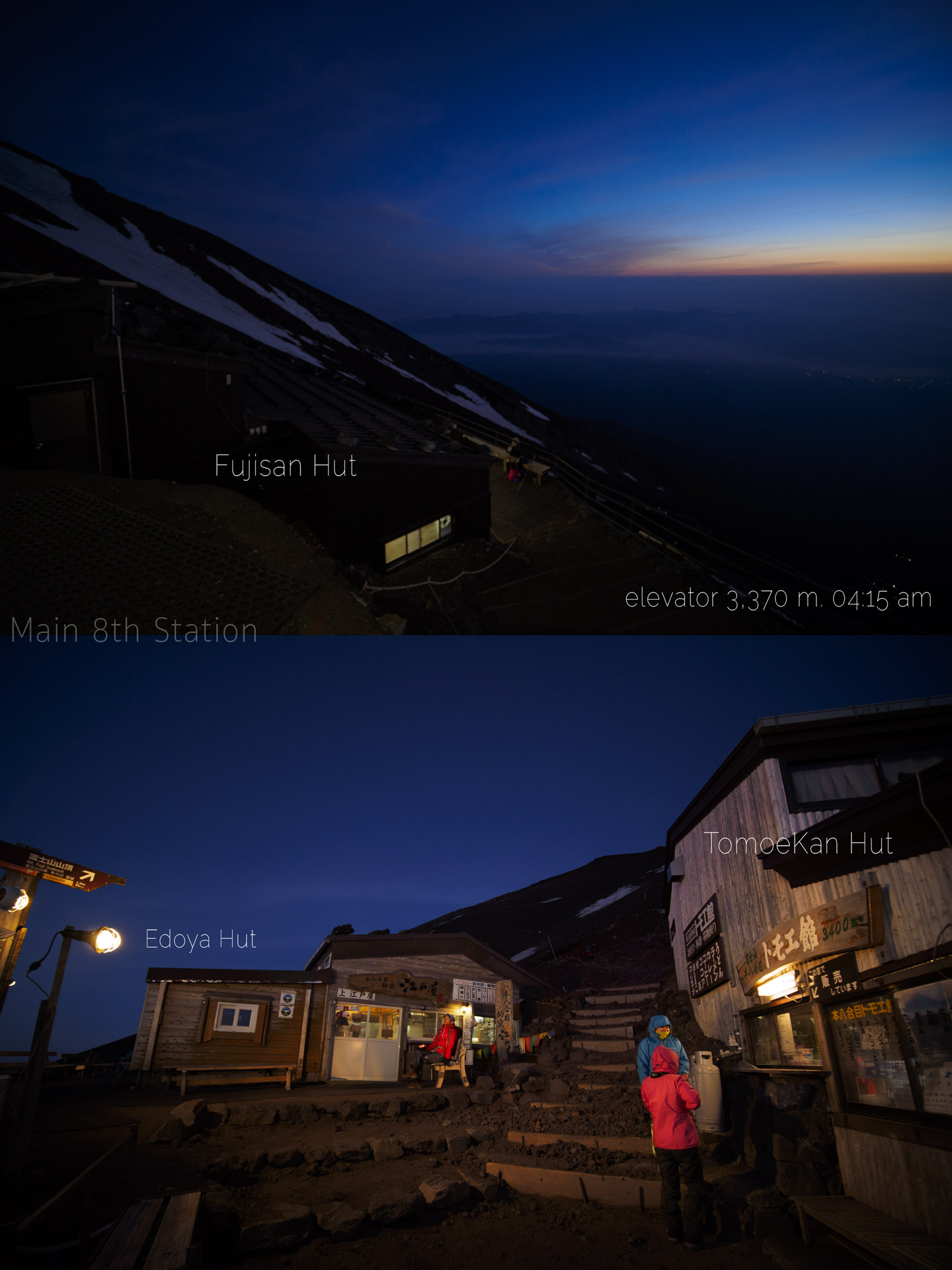 Above Fujisan accommodation, there are 2 more accommodations that located next to each other which are Tomoe-Kan, which has the same name as the accommodation at 7th station, because there are 2 branches of this hotel on Mt.Fuji. Another one on the left is Edoya Hut. This area is a big community that could accommodate tourists around 500 people, that's why this area was called Main 8th station. Badly, I stay at the entrance area of 8th station, thus I need to walk pretty far, for those who are staying at this main 8th station area, they all might have already walked half of the route by now.

Moreover, this area is an important connecting point of another trail route which is Subashiri Trail which will be connected at this area and from this point, it will use the same route leading to the summit. Hence, there would be a lot of people here. Furthermore, this area is used for toilet stopover during we walk down on another route as the route will come close to this point, because the descending route would have the toilet only at this point and another one at the area near to downstairs.
In front of Tomoe-kan hut which is located above Fujisan hut, the sign shows high level of 3,400 meters, actual measure is 3,370 meters.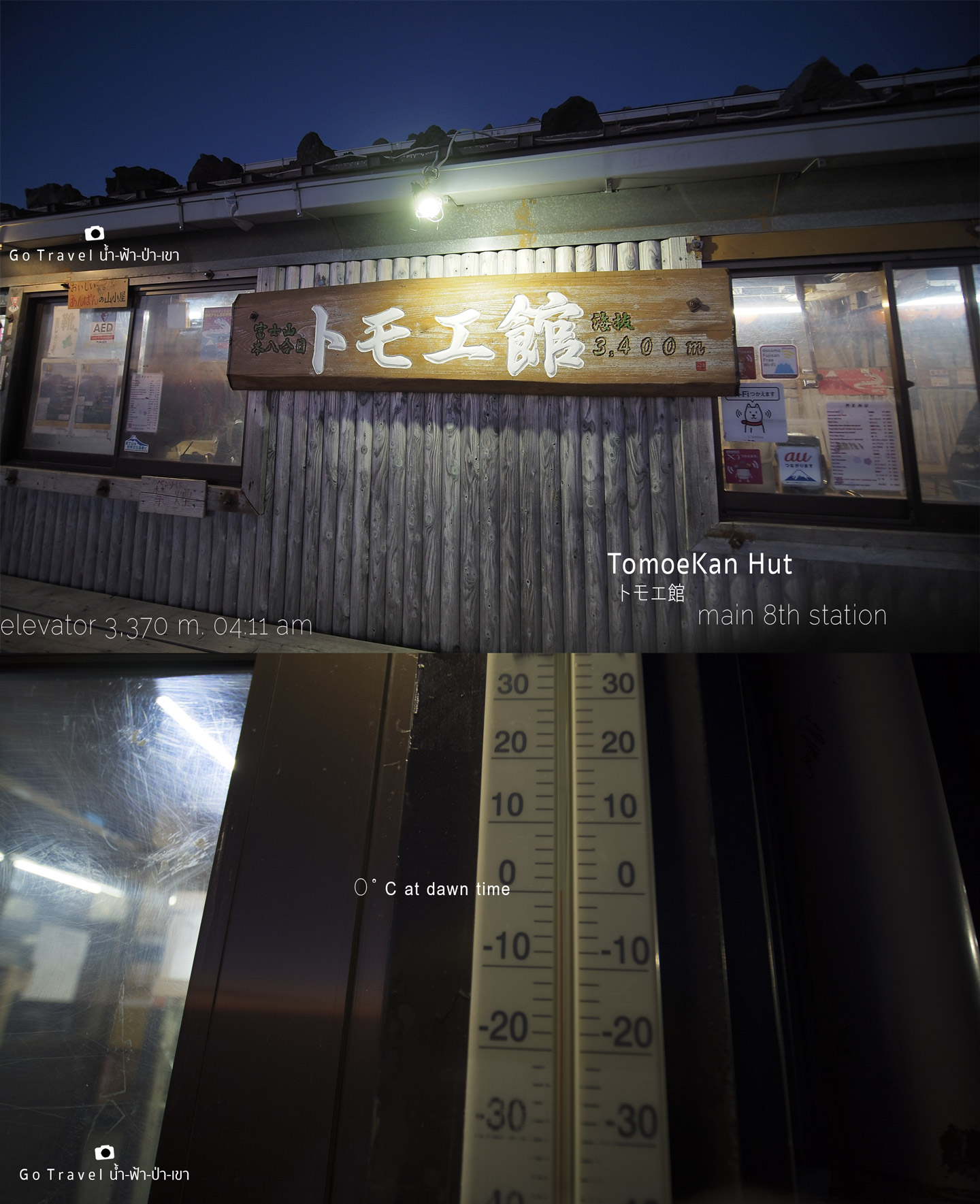 While I am walking, I see a nearby Thermometer indicates that the temperature is at 0 Celsius.

As we keep walking further, the sign shows that there is only 1.2 kilometers distance left to the summit of Mt.Fuji with the estimate climbing time around 50 minutes. Oh! it can't be that short, I was just thinking if I would reach here in 100 minutes or not.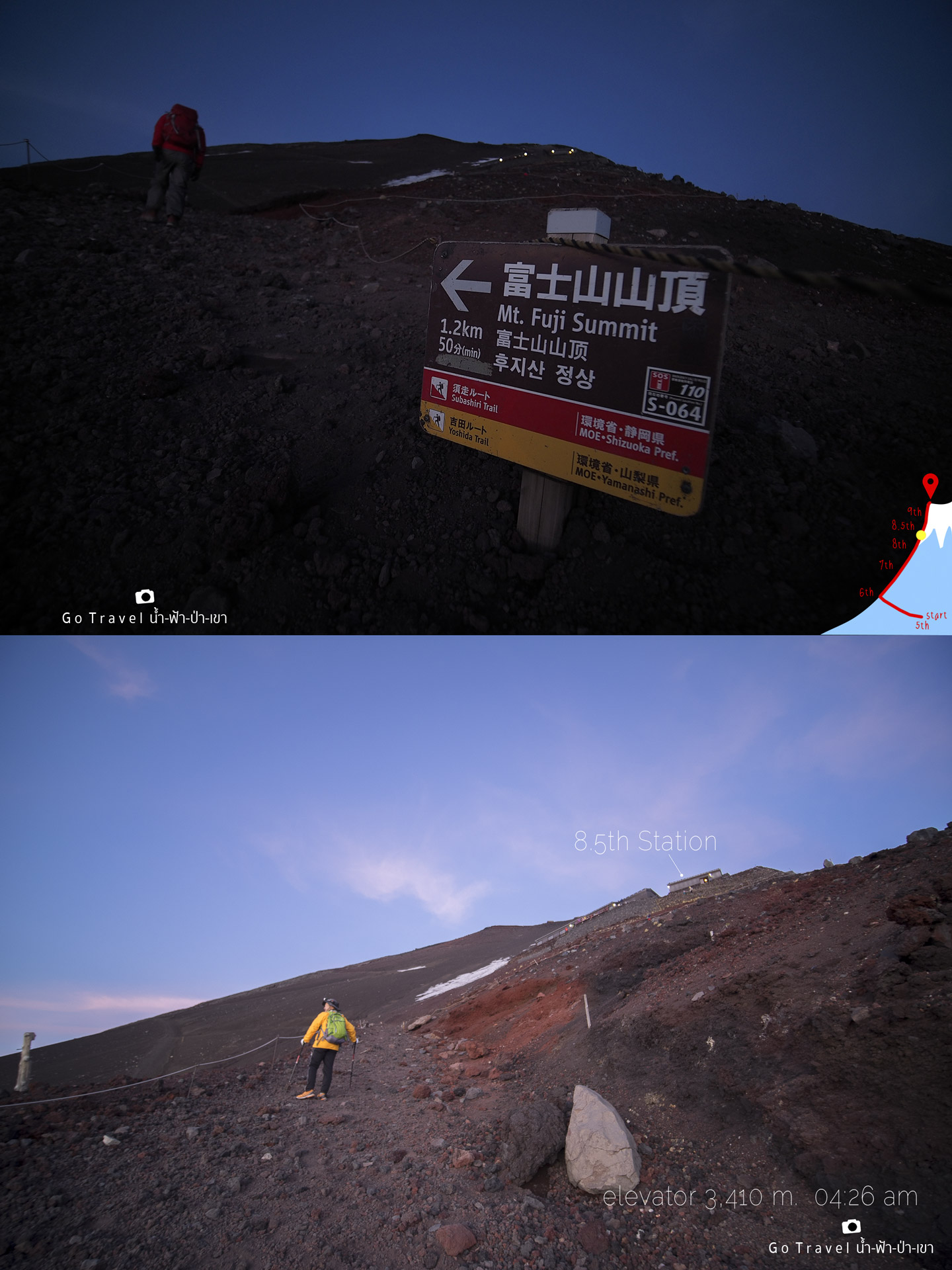 The sky is bright right now that I don't need to care whether I will make it in time to see the sunrise at the summit or not. Hence, wherever the sun rises up, I will stop and watch it right where I am. And after that, just carry my fatigue body up to the summit is just good enough.

And then, the sun is rising up while I was still in the middle of the way. It emerges from the horizon in the Northeast direction above Yamanaka Lake. Right now, I am at 3,420 meters high level, meaning that I am away from the accommodation just only 400 meters! Omg! I have already spent about 3 hours just for a short distance.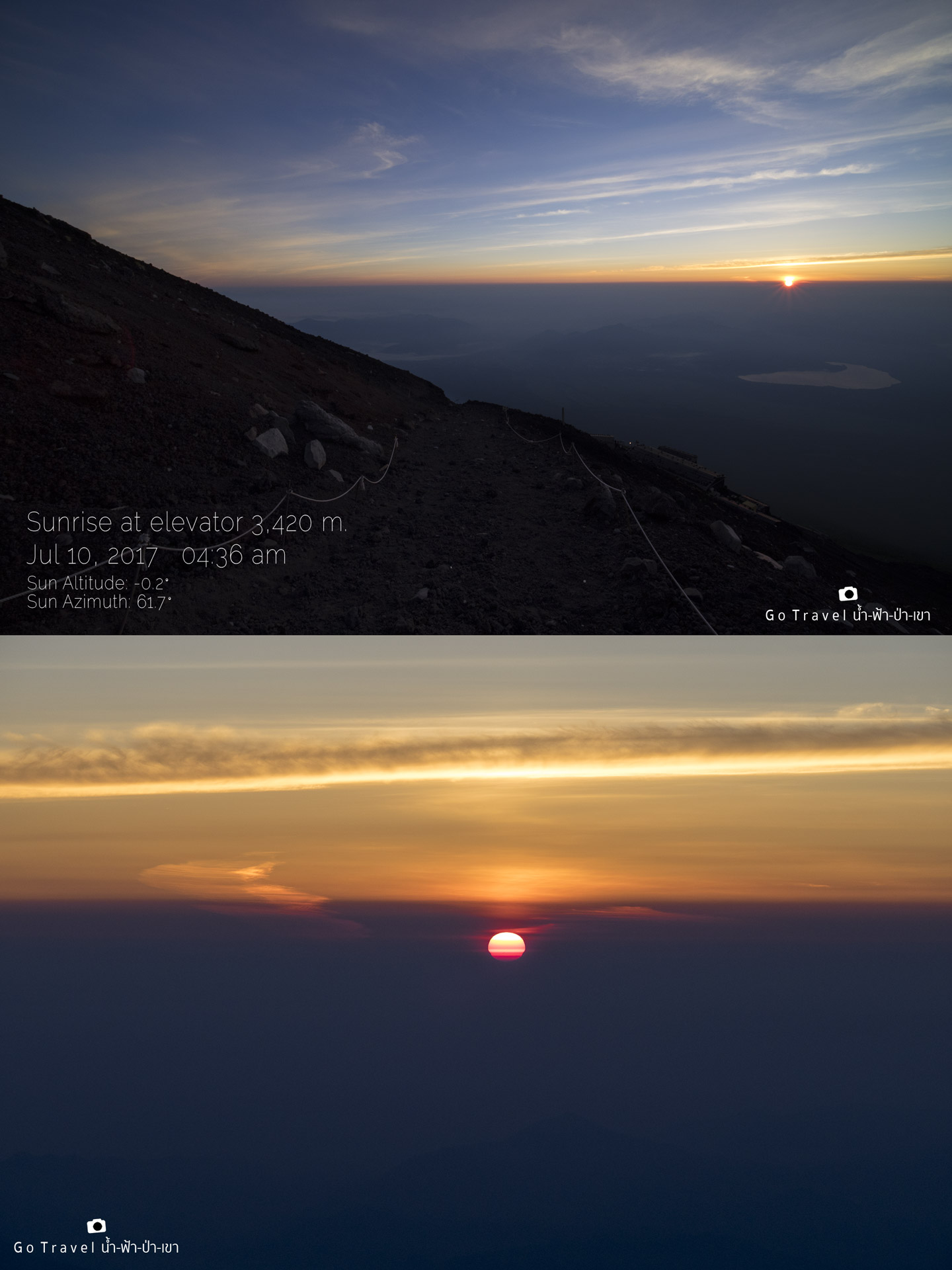 I just came to notice that when we are at the high level like this, we would see the sunrise before the time that GPS has indicated around 1-2 minutes.

As I told you guys, wherever I am, when the sun rises, I would just stop and watch it right there. I try to think positive that watching the sunrise scenery here is also pretty nice, as I don't have to face the crowd.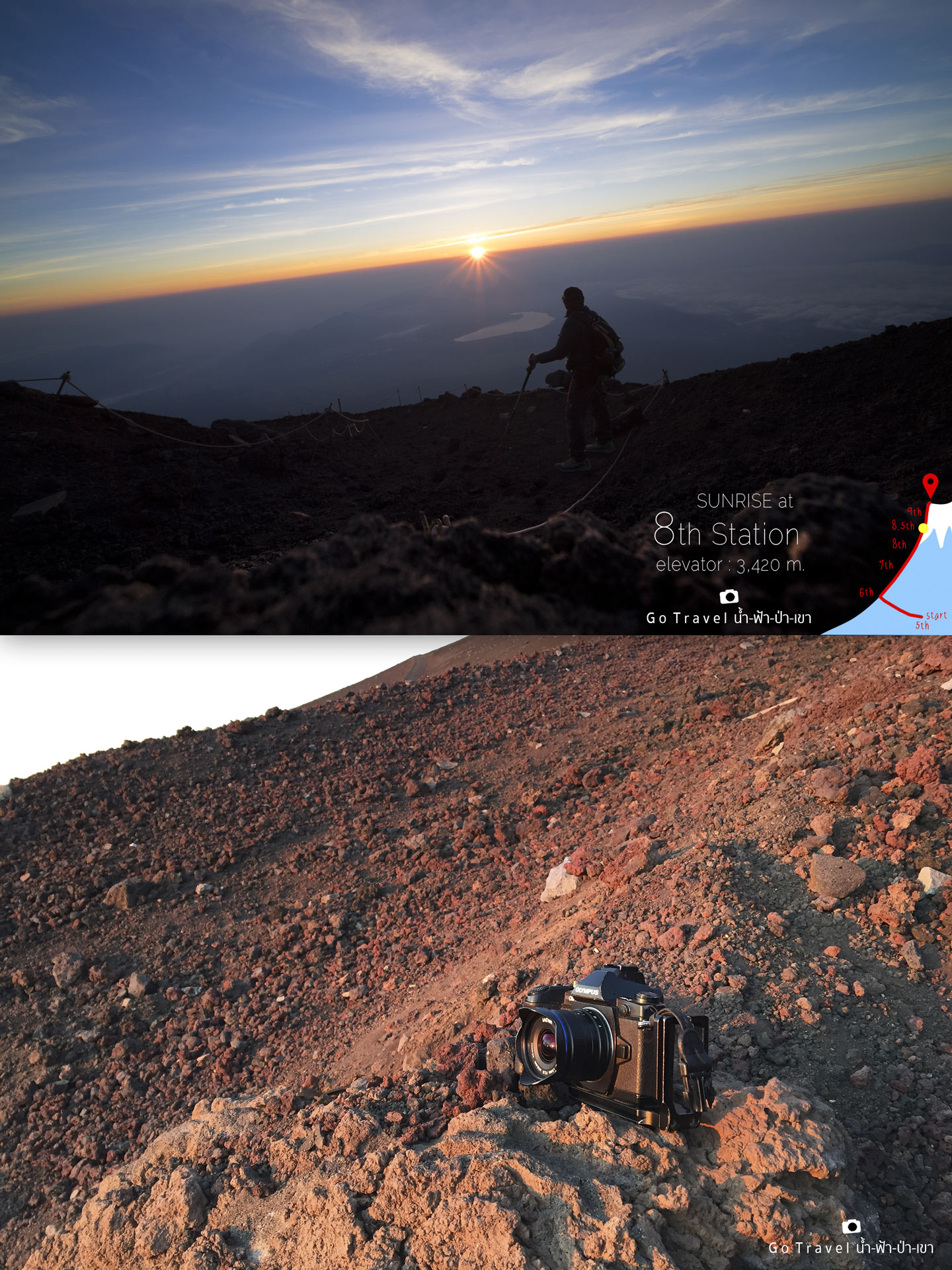 I did not carried tripod with me, but it's alright, just place it on the rock just like this.

The sunlight starts to shine brightly which make a shadow seems darker. There are only me and my shadow right now, as others might have already reached the summit by now.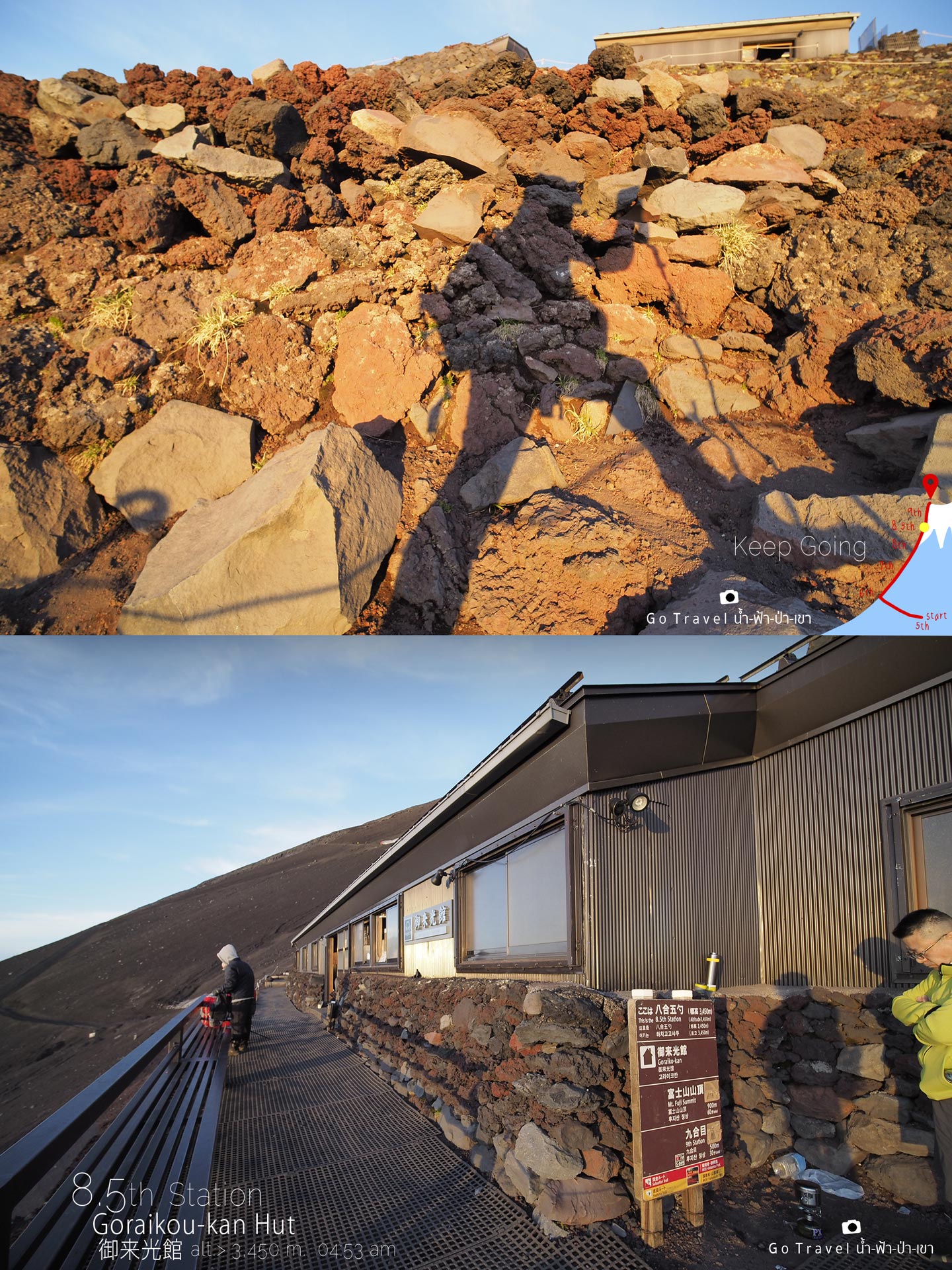 Finally, I have reached 9th station. Wait! Hold on! Noooo! this is actually 8.5th station!!! Where does this station come from? Are you kidding me? All of 3.5 hours with 1.8 kilometers distance (very short distance) that I have walked is just only half a level!!! At this moment, I am pretty moody and would like to throw hiking pole away.
8.5th station, a disheartened level

With the anger, downheartedness and tiredness, at this time I would like to give up the mission and text to tell my sister who might be at the summit right now that I will go down and wait for her downstair. Nonetheless, a manliness forces me not to lose by a woman, hence, I need to pull myself up and go on. Then, after I walked pass 8.5th station, my spirit has come back once again as I have seen the summit of Mt. Fuji within eye distance and that is kind of waken my power to keep walking further on Mt. Fuji trail which I think it is the trail of mind testing above body testing.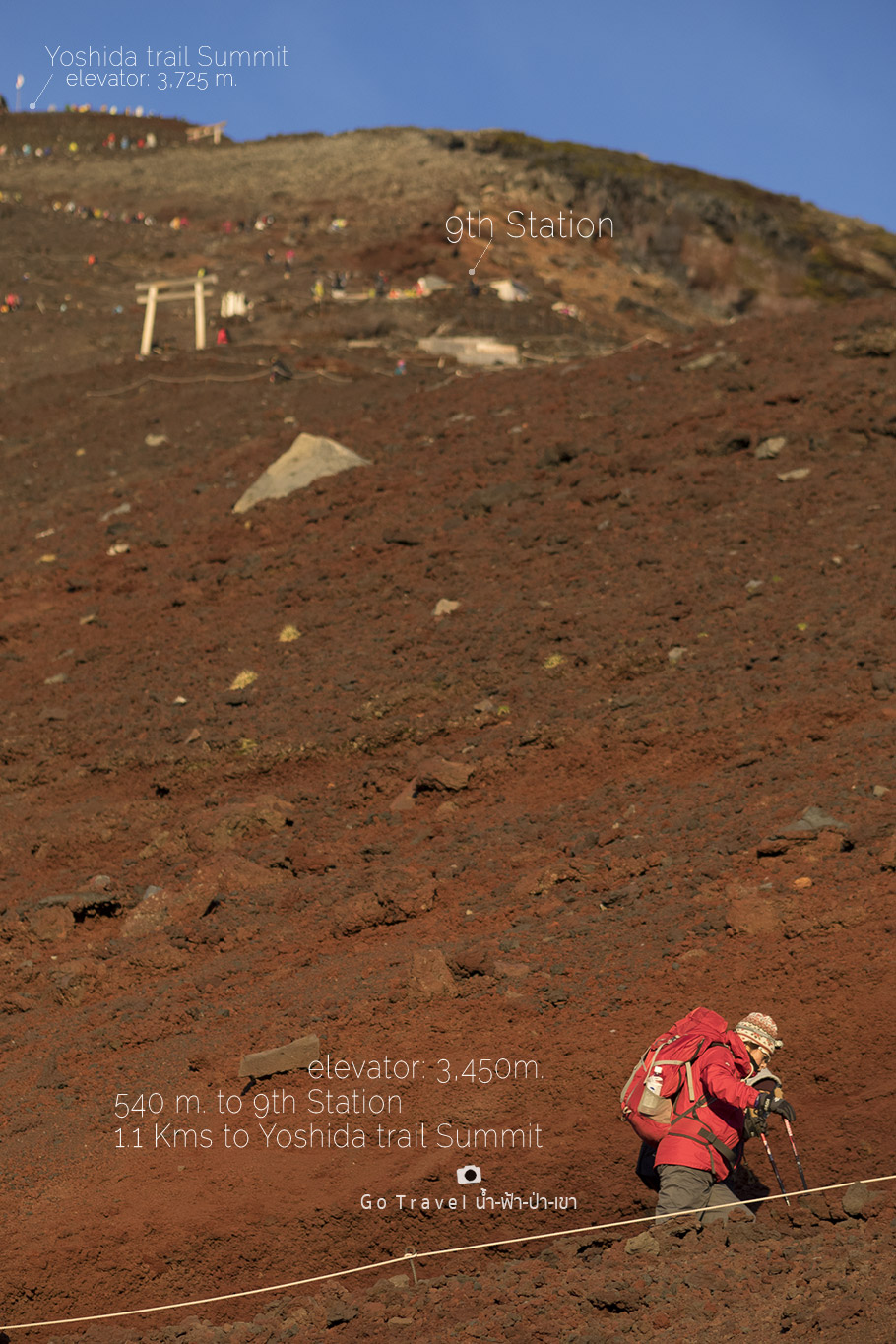 Let's check the route in other map, for go summit route, we leave Taishi-kan hotel which is located at 8th station, then walk to the end of 8th station at Fujisun where there are 3 red bars indicated in the map. Each red bars represents each accommodation which there are 3 red bars, thus there would be 3 accommodations. Furthermore, this point is also connected with the purple route that we are going to use it to walk down from the summit and during walking down, we could use the toilet at this area. For the ascending route, it was dawn before I reach 8.5th station, I don't know what the criteria they use to indicate the level, I am pretty confused and really want to know. Luckily that 8.5th station is only a short distance with only one accommodation. Half kilometer after 8.5th station, it will start to enter 9th station, then walk further for half kilometer, you will reach the summit. All the route has totally 3 kilometers distance long. Anyway, the trail distance would depend on the accommodation you choose to stay.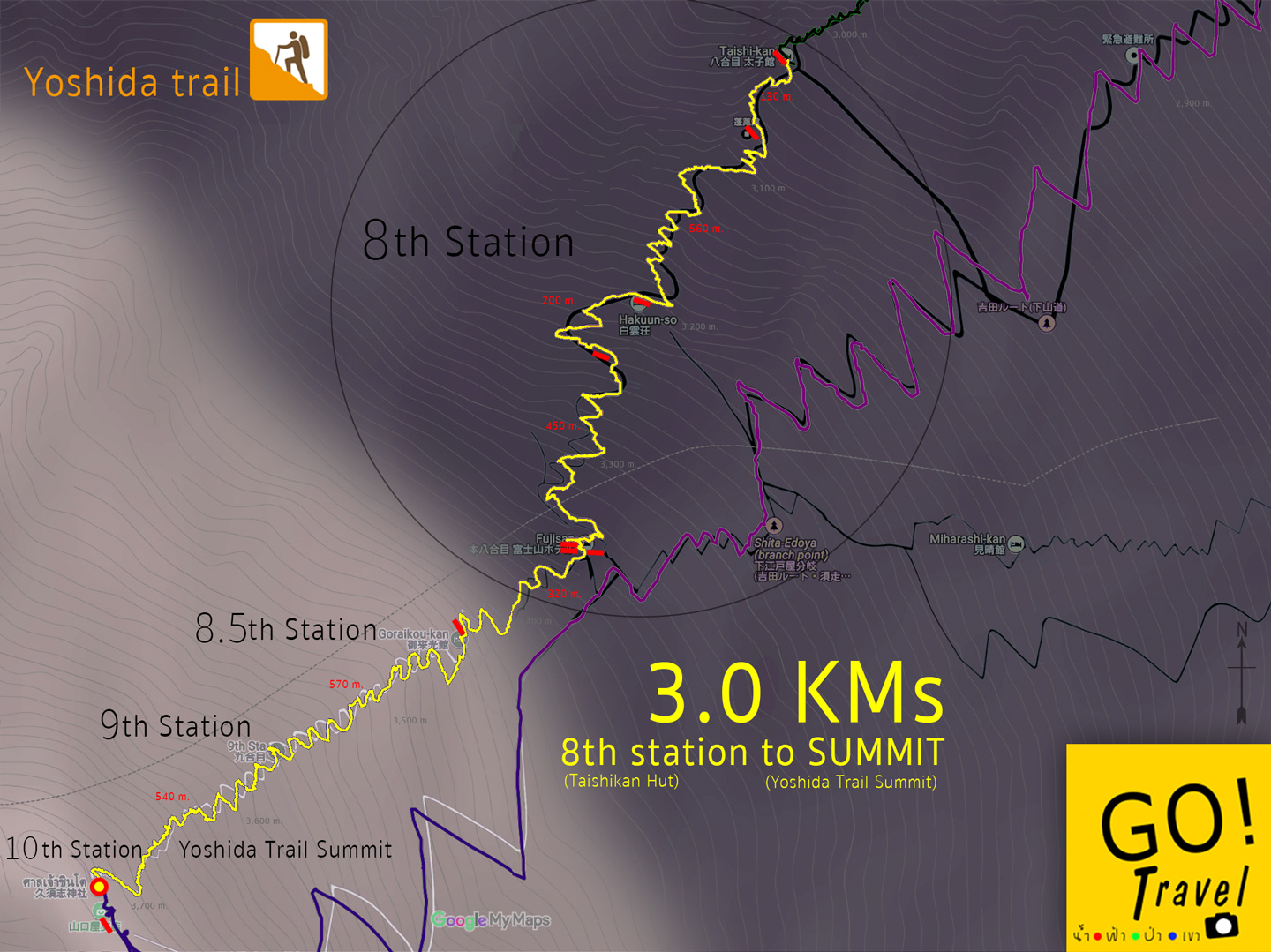 Well, now, let's keep on fighting, the sky is so bright and here comes a new hope. At least I could see the summit in eye distance, even though the steep way is destroying my spirit a bit but still I have a fighting mood.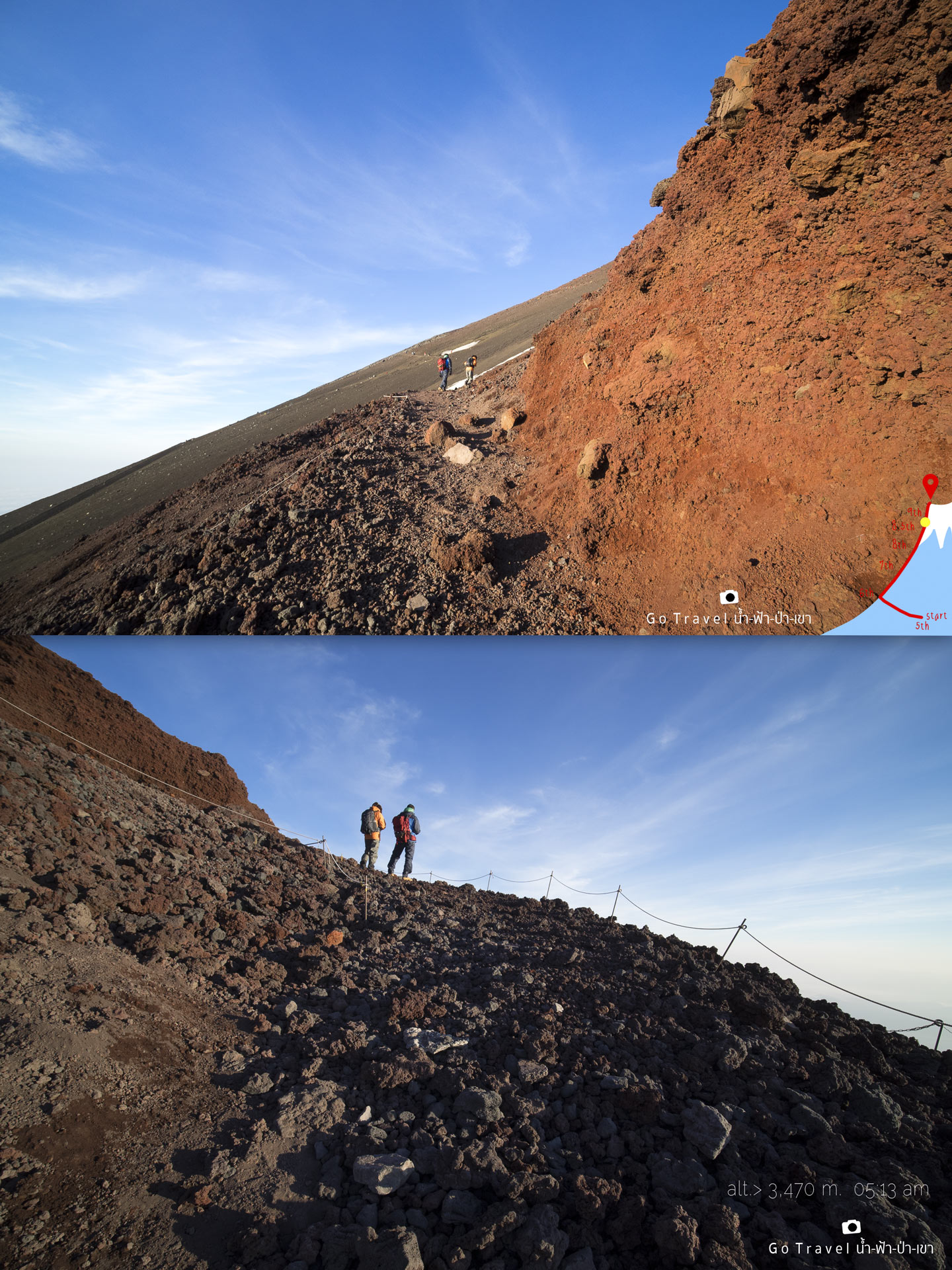 Especially, when I have seen that there are people walking right behind me, they also still have not reached at the summit too so it is kind of console me, better than I walk alone while others already reached the summit. Hold on! Wait! do not get ahead of me. I am the last person of the group as always.

Snow that still left on Mt. Fuji's summit during the beginning of summer. This picture is captured during 05.00am.


These tourists are people who already conquered the summit of Mt. Fuji and they are walking down on descending route. The amazing background of the cloud like that could be seen only at this point, while for those who are at the ground level right now may not be able to see Mt. Fuji as it is being hidden under a curtain of cloud and fog.

Trekking pole from a shop called pathwild costs around 1000 bath and it is the right decision to buy it. When I buy it at the shop, the vendor came to know that I will go climbing Mt. Fuji, he says there's nothing over there which make me want to return the trekking pole and give up. However, I have already booked the air ticket thus I have no choice but to travel here. Another vendor tells me that I should come to build a record for myself. That's right, record is rather important Hahaha. Actually, I fully know that Mt. Fuji is beautiful if we watch it from far distance, but when climbing up here, the view at above area is so so, as you guys could see in the pictures.

I put the trekking pole on the snow a bit, as I am glad to see the snow.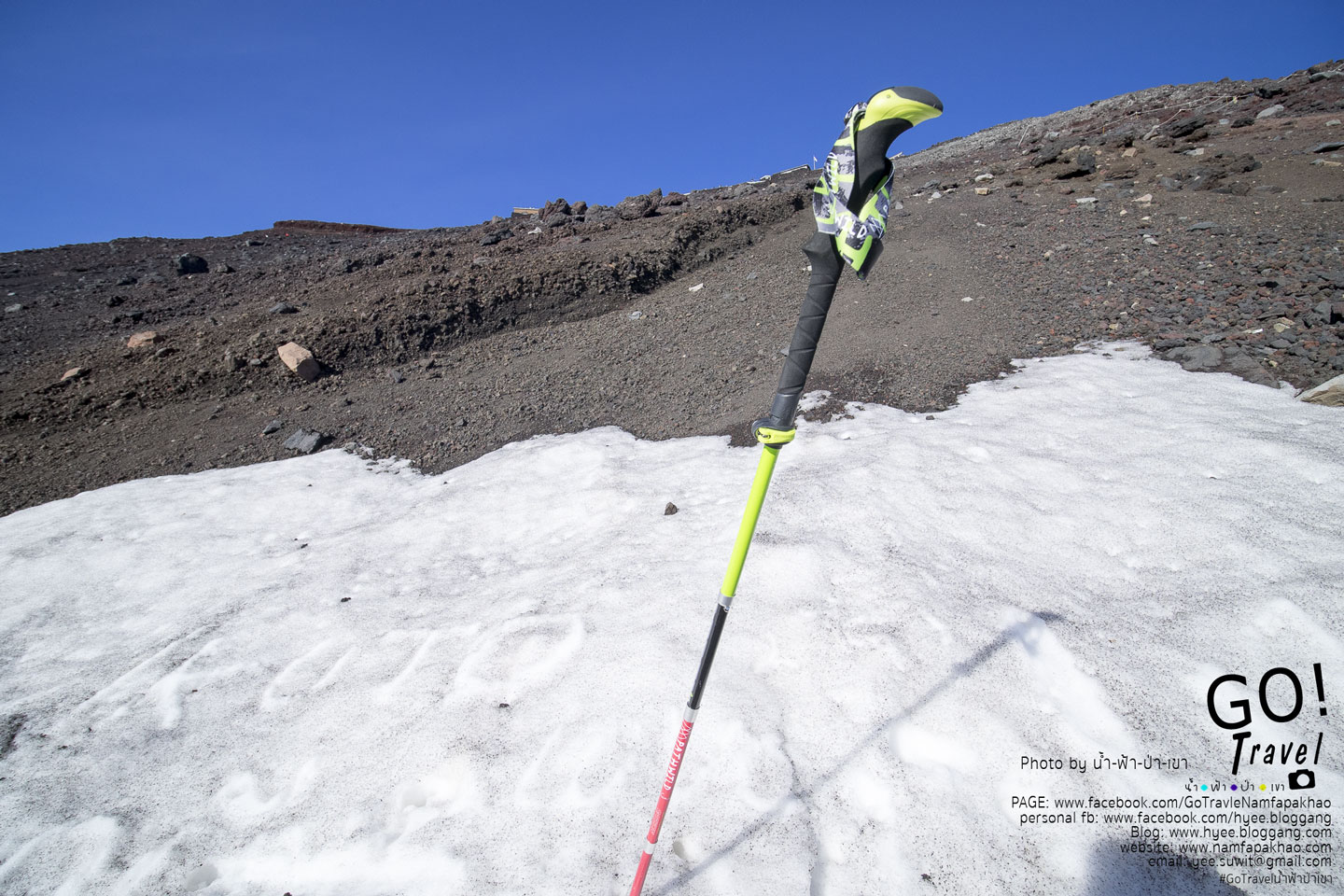 Once you see double lion statues, it means that you have surely reached the summit of Mt. Fuji.

Double Lion Torii Gate with stairs leading up to the gate of the volcano mouth of Mt. Fuji.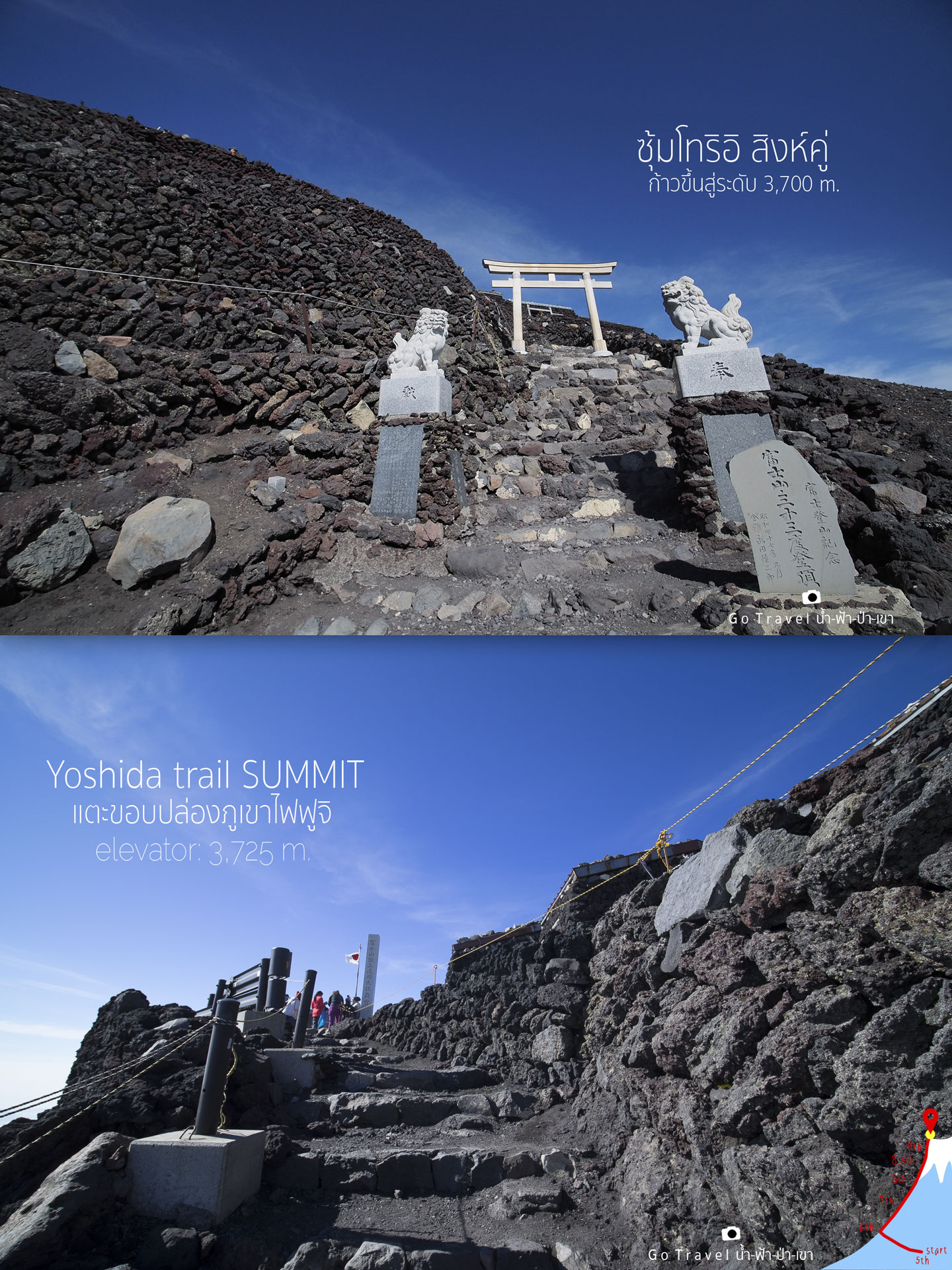 This should be the last hill left as I have seen the Japanese flag waving over there, I feel pretty overwhelmed and would like to cry. I think in my mind just only I could stand over there, it will be enough, assuming that at that point I have already conquered Mt. Fuji, leave alone the volcano mount, no need to walk there and see it.

05.45am, finally I have reached the end of Yoshida Trail
At the summit of Mt. Fuji with the high level of 3,725 meters.
I start walking around 01.00am, meaning that I have spent time totally around 4 hours with 3 kilometers distance. Well! the time is not that bad, a kilometer per an hour. Anyway, at this moment I think my sister might be climbing down as there are only a few people around. What I have learned from the travel review is that it should be crowded over here, yet it is late morning right now, most of people come here to admire the sunrise view and they already climbed down. Well, it's good as I don't like the crowded.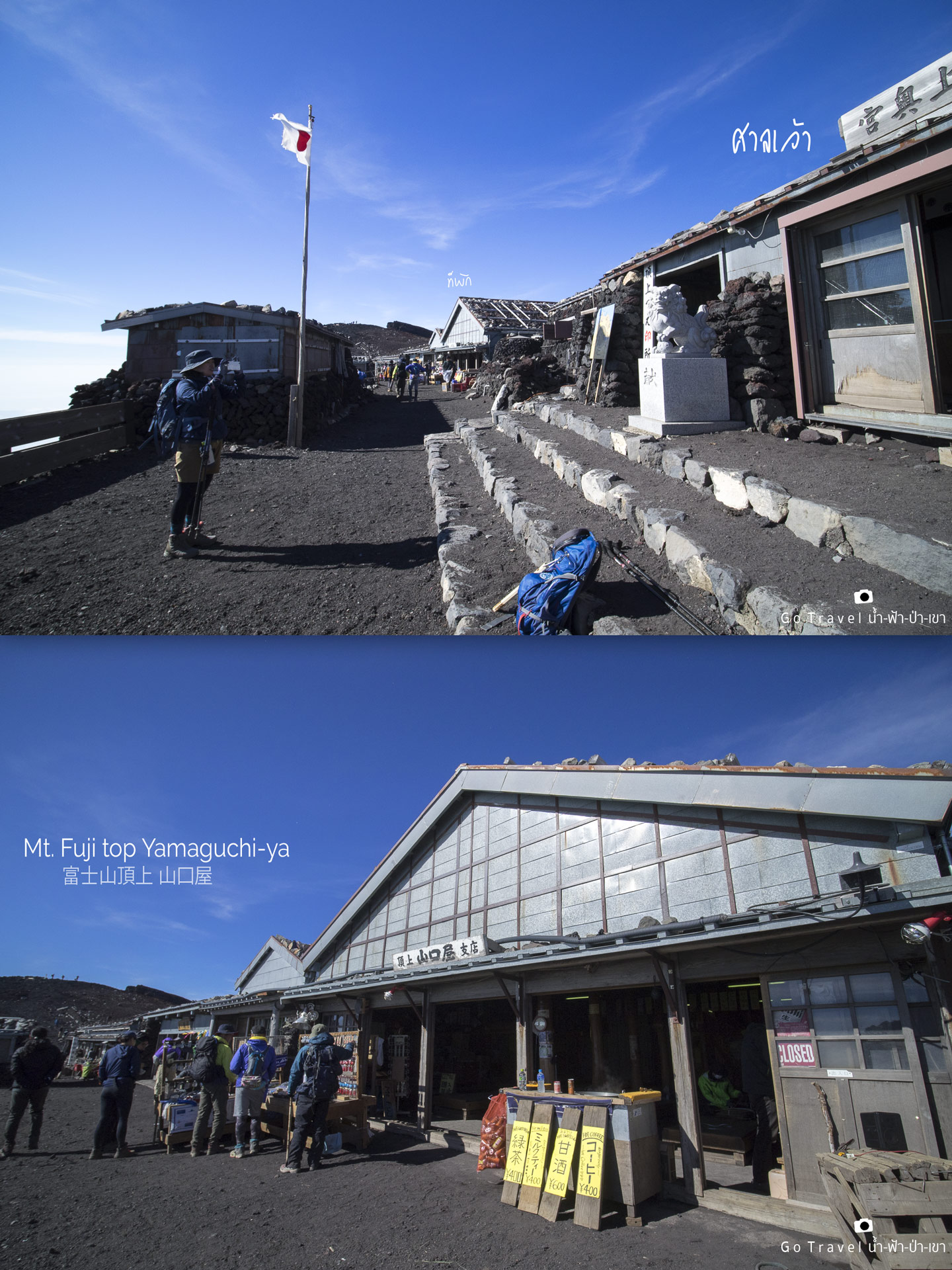 At this area, there is one accommodation (Other ascending routes like Fujinomiya Trail also has an accommodation for service). This accommodation called Yamaguchi-Ya Hut, there are boiled drinks selling in front of the shop. In our country, we like to refrigerate the drink, on the other hand, here they put the drink in the pot and boiling it.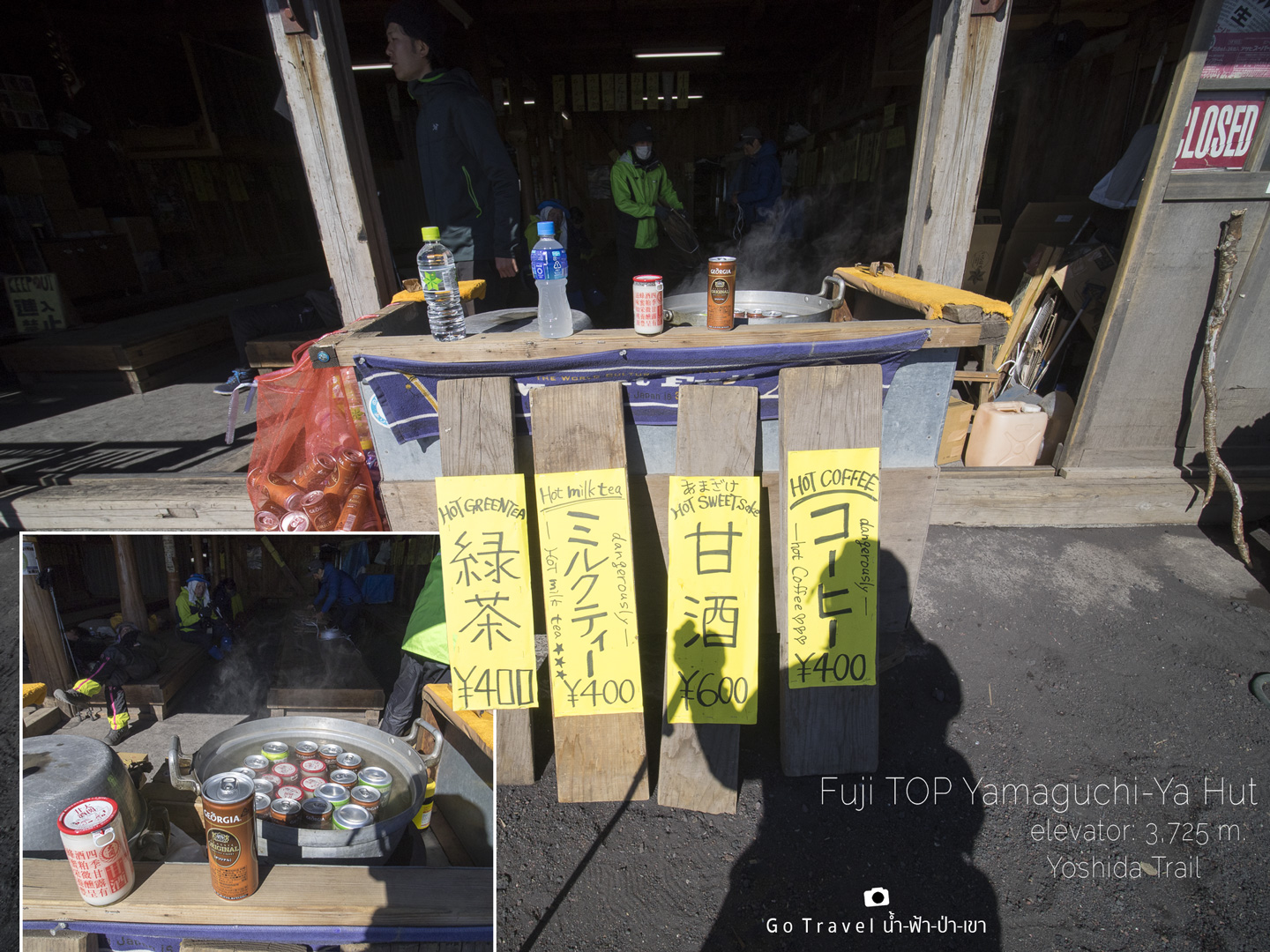 There are many souvenirs of conquering Mt. Fuji selling, but as I look, I don't feel like I want any of them, thus I have't bought any back.


Indeed, there surely has a place for stamping the seal on the stick. Nonetheless, I don't see where it is, I just see this place where they are doing some handmade stuff, yet I could not stand there and see them anymore as my legs are pretty stiffed and I better go to find a place to sit back.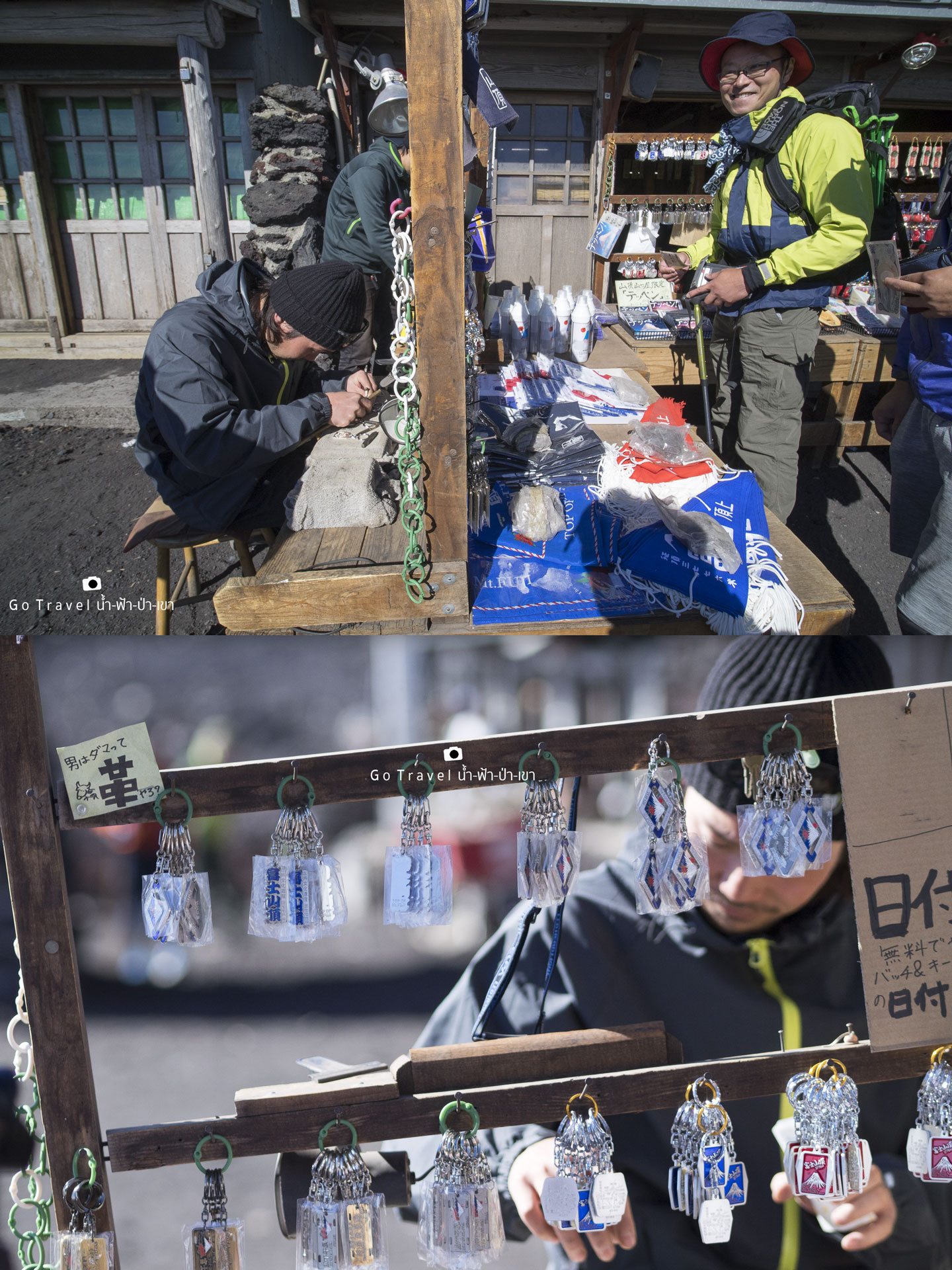 Sitting under the sun to relive the cold and grab out Obanyaki to eat, I am a bit hungry now.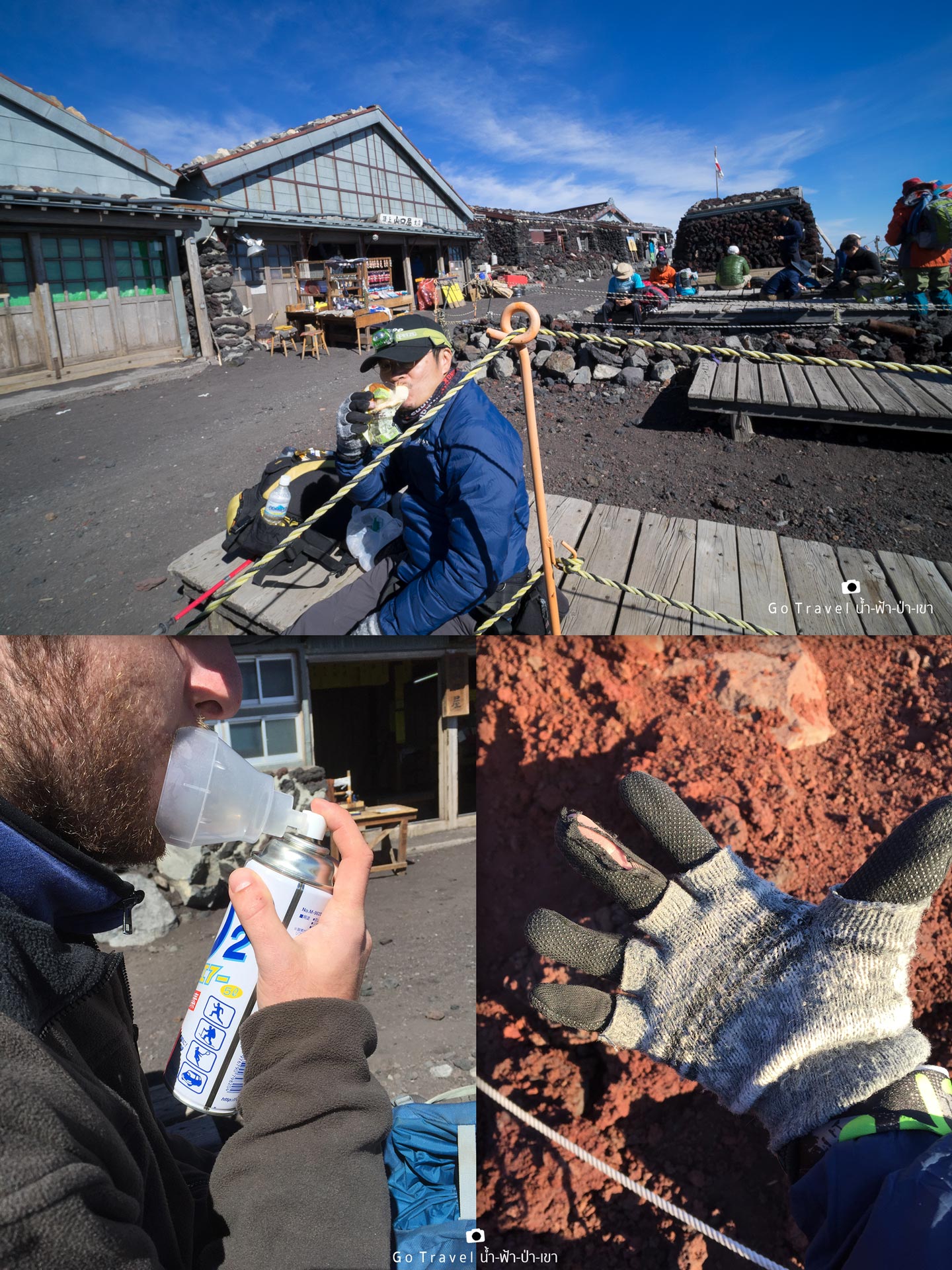 Shortly, there is a foreigner sits beside me and brings up his oxygen can, then breathes, thus I ask him to take a photo to show that there is a few oxygen at this area. I don't wonder why I hardly step out my feet as there is not enough oxygen. When we face the high level area which has a few oxygen, people who come from plain area like us will do things slowly because we will be tired very quickly. I am still lucky that I have not been attacked by altitude sickness like the time that I traveled to Leh.

At last, I have carried my fatigue body to stand at the summit of Mt. Fuji around the volcano mouth. As for the peak, it is located over there, at the opposite side, I ask people around that area how far is it to reach there, they say it might spend around 2 hours for round trip. Oh! I cannot make it for sure, just reaching at this point is enough.

Summit of Mount FUJI .... I am here
At this moment, when I knew that I don't have to walk further as I am at the summit right now, everything is like shutting down suddenly. I came to know when I am at home and see the picture that the pictures at the summit are pretty little, I just have got only these pictures. Well, I feel surprised myself, I think it maybe because of I am in the condition of people who are really out of energy ;(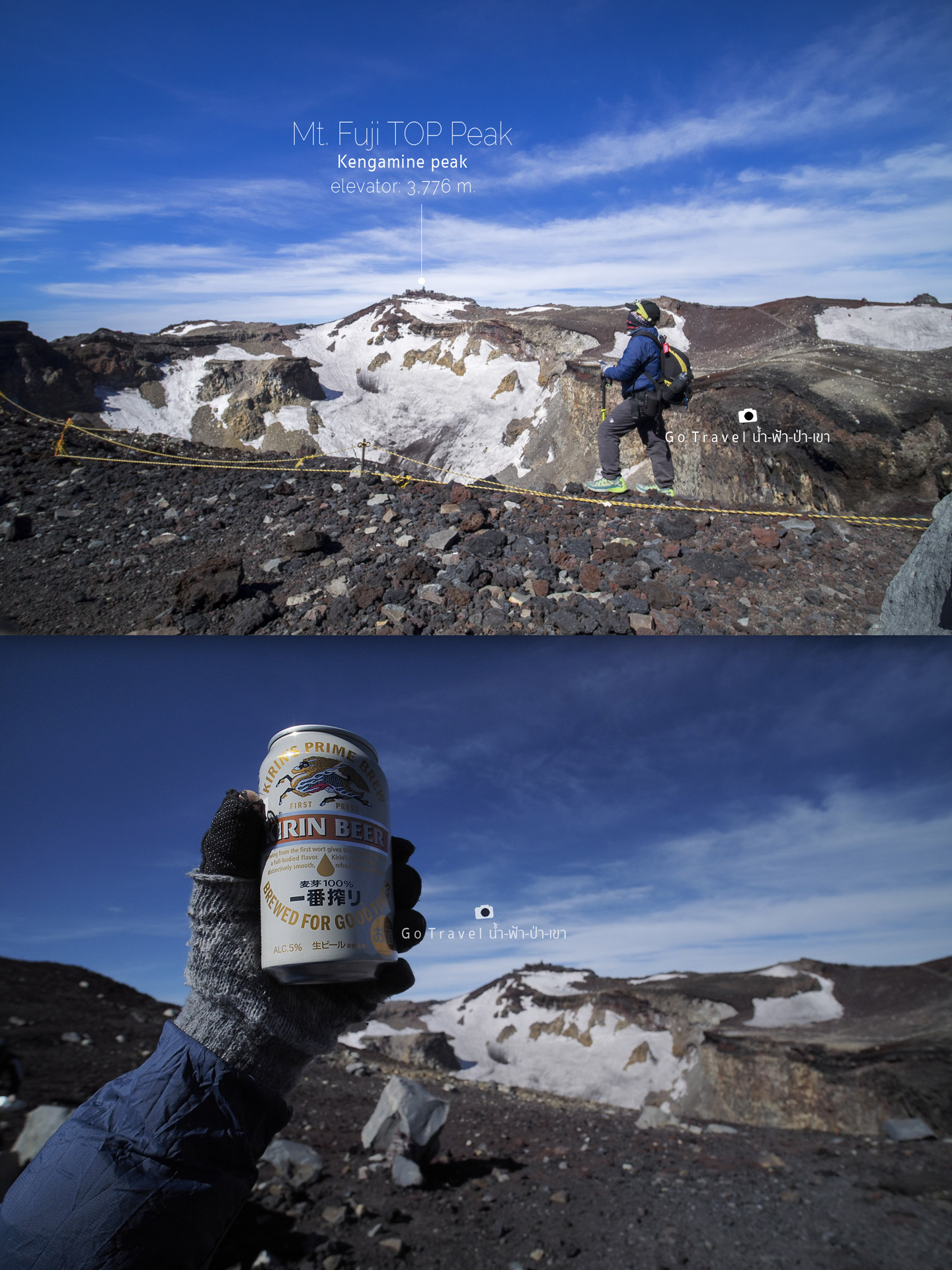 A celebrating beer, instead of wine, I grab it from in front of the accommodation a moment ago. It costs 600 yen per can (90 baht). Now, I could sip the drink, do not have to concern about AMS (altitude sickness) attacking me as in a minute we will climb down and gradually lower the altitude. Cheers!!!

The route to the peak of Mt. Fuji, in case anyone who want to keep climbing, there are around 9 peaks at this area which is located around the volcano mount. Each peaks has its own name and the high level indicated. The highest peak named Kengamine Peak, the actual high level is 3,776.24 meters from average sea level and it is the location of weather station.

I have spotted those 5 peaks in the picture for your guys to see.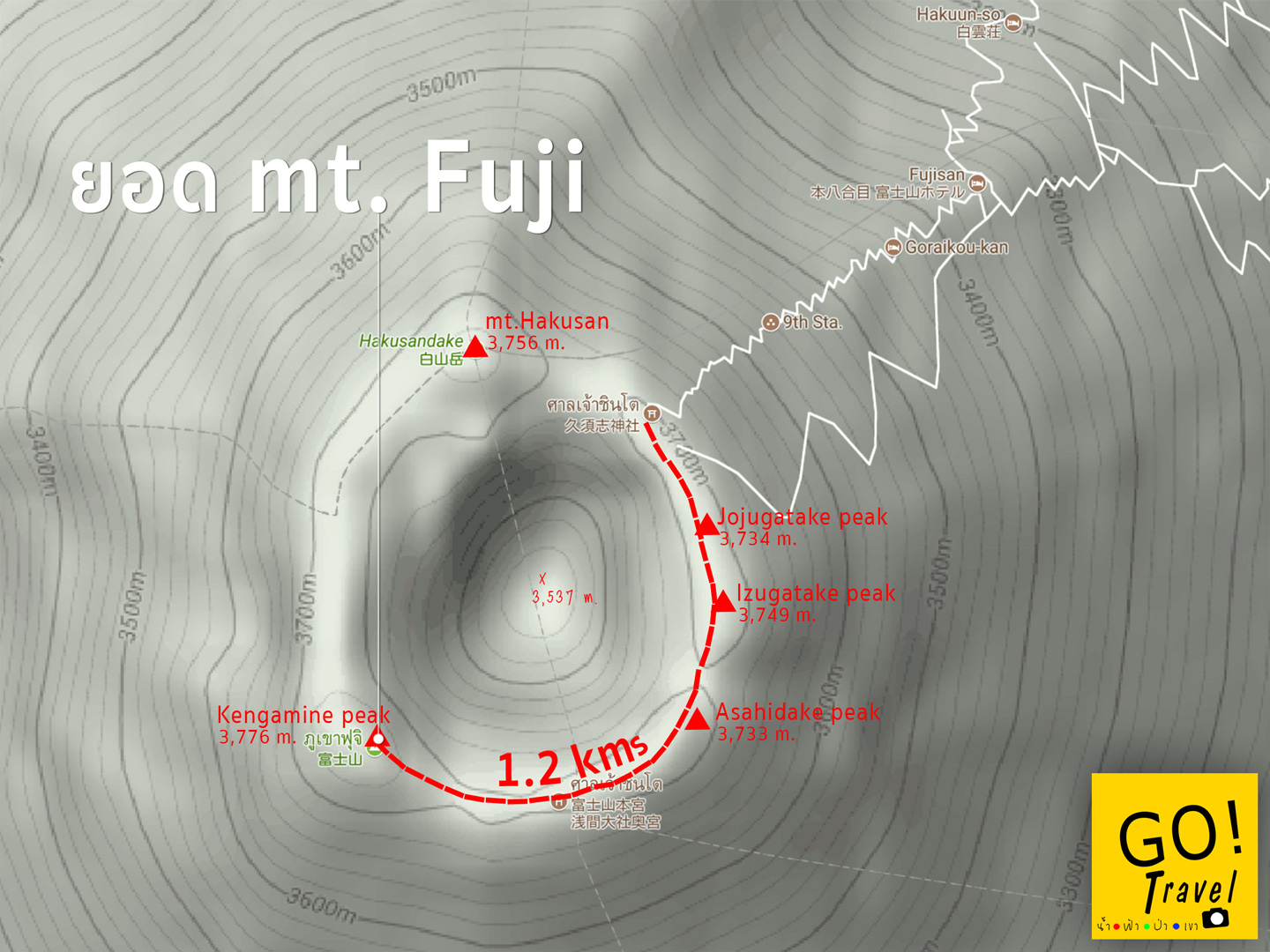 I stay at this area only for a while and it is the time for me to walk down as the rest of the distance is still pretty long. At this moment, I don't know how many kilometers that I have to walk down, just know that climbing down is pretty easy. Perhaps, with my speedy walk, I could proceed ahead my sister who is walking in somewhere on the descending route right now. I am pretty confident of my speed when climbing down Hahaha.

As for the descending trail, we will use another route as I have mentioned earlier. They built this route for reducing amount of people on yellow route, as usually there will be a lot of people cramped along yellow trail route.
Now, let's keep walking! (I don't know that climbing down is harder than climbing up)
**There are toilets located at 3 points as the map illustrated.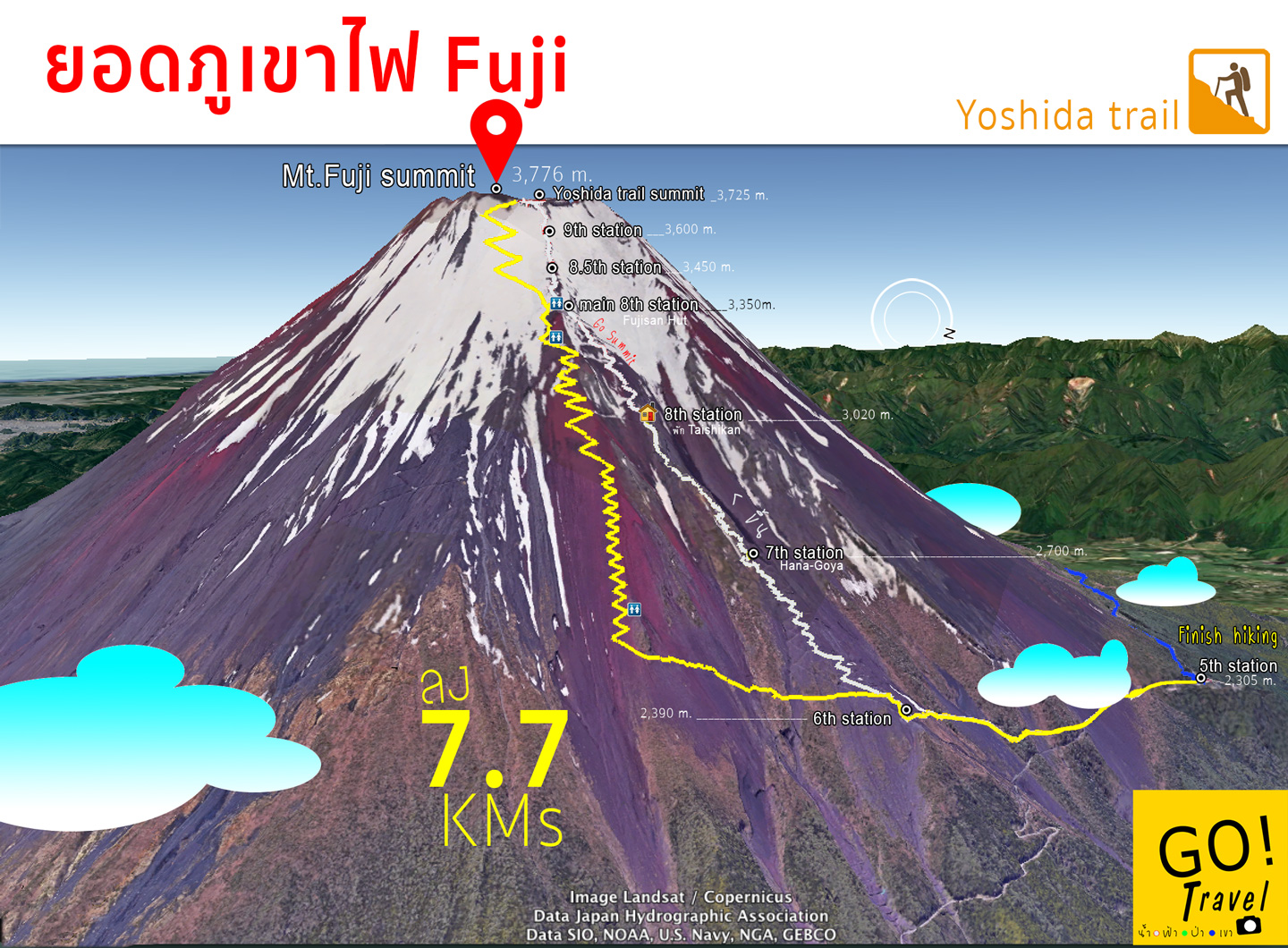 Wait! that is a car!! Wow, there is a road coming at this area. Well, there should be a service taking people to above area too. Then again, if I do so, my attempt to climb up here will be meaningless. These caterpillar tractors maybe use to transfer food and stuff to the shop and carry the construction materials for maintenance of buildings over here. Moreover, the route that caterpillar tractor rides on will be the Yoshida trail, a descending trail of Mt. Fuji.


Along the rocks, there are snow sticks that gradually dissolve into drops.

Perhaps, only a cloud could show that this is the trail above the sky. Yet, the view of Mt. Fuji itself has only rocks that I don't know what I am doing right here. Anyone who like to admire the beauty of Mt. Fuji, please step back and watch Mt. Fuji from far distance only, and it is only way you could see the beauty of Mt. Fuji. As for the above area here, there is nothing like nice view to be seen, there is only one other thing and it is the important thing that you need to come and grab it by yourselves which during that time when I was at the above area, I still don't know that I have already grabbed and carried it back with me!!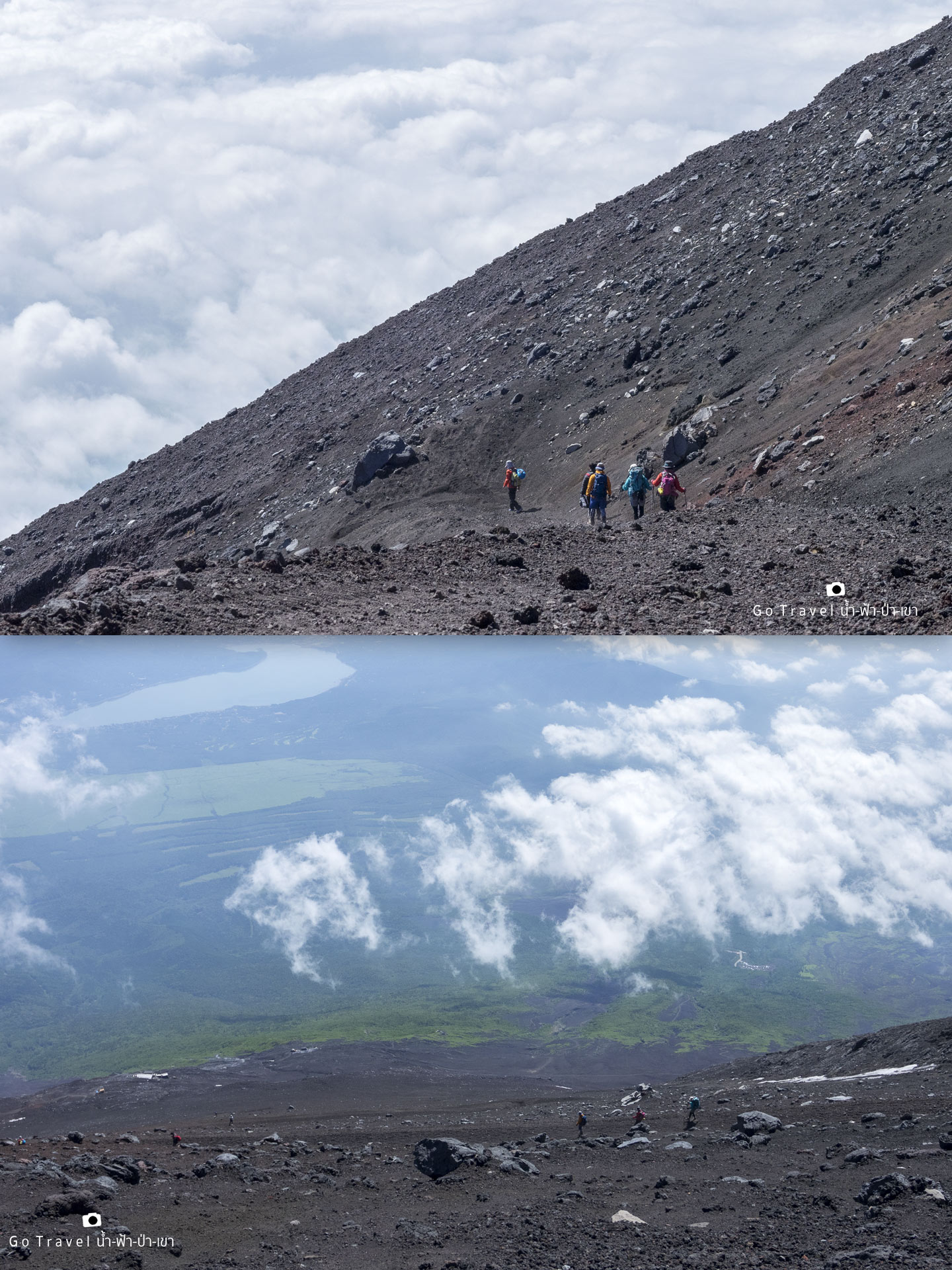 Descending route is kind like a roadway especially for a caterpillar tractor as it is a loose road which is pretty slippery that I need to stop pretty often.

At this moment, a can of Kiren beer that I have drunk earlier make me feel like going to number one. Actually, I would like to go toilet since I was at the summit, but I just hold on! because using toilet at the summit would cost me 300 yen, OMG! a can of beer costs 180 baht, add up the toilet fee of 90 baht, I just cannot stand it.
Thus, I hang on to find some suitable place to do the business later. Nonetheless, it is such a bad luck as there are people keep climbing up and there is no suitable corner at all. Hence, I decide to speed up to find a toilet. Actually, I clearly know that there is hardly no toilet on the descending route. Argh! where is the toilet! I walk further for about a kilometer until the route connects to the main 8th station where the accommodations of Edoya, Tomoe, Fujisan are located and it is the area that I have mentioned earlier that we could use the toilet here during we walk down. Well, after finished doing my business, I feel rather relive.
Actually the toilet at this point is not the toilet that located on the route as if I walk down a bit further, there is toilet for service at another branch of Edoya hut which is located at the junction (Between Yoshida Trail, a yellow route and Subachiri Trail, a red route). Yet, the toilet that I use has to walk up the stairs and it quite tortures both my toenails and legs.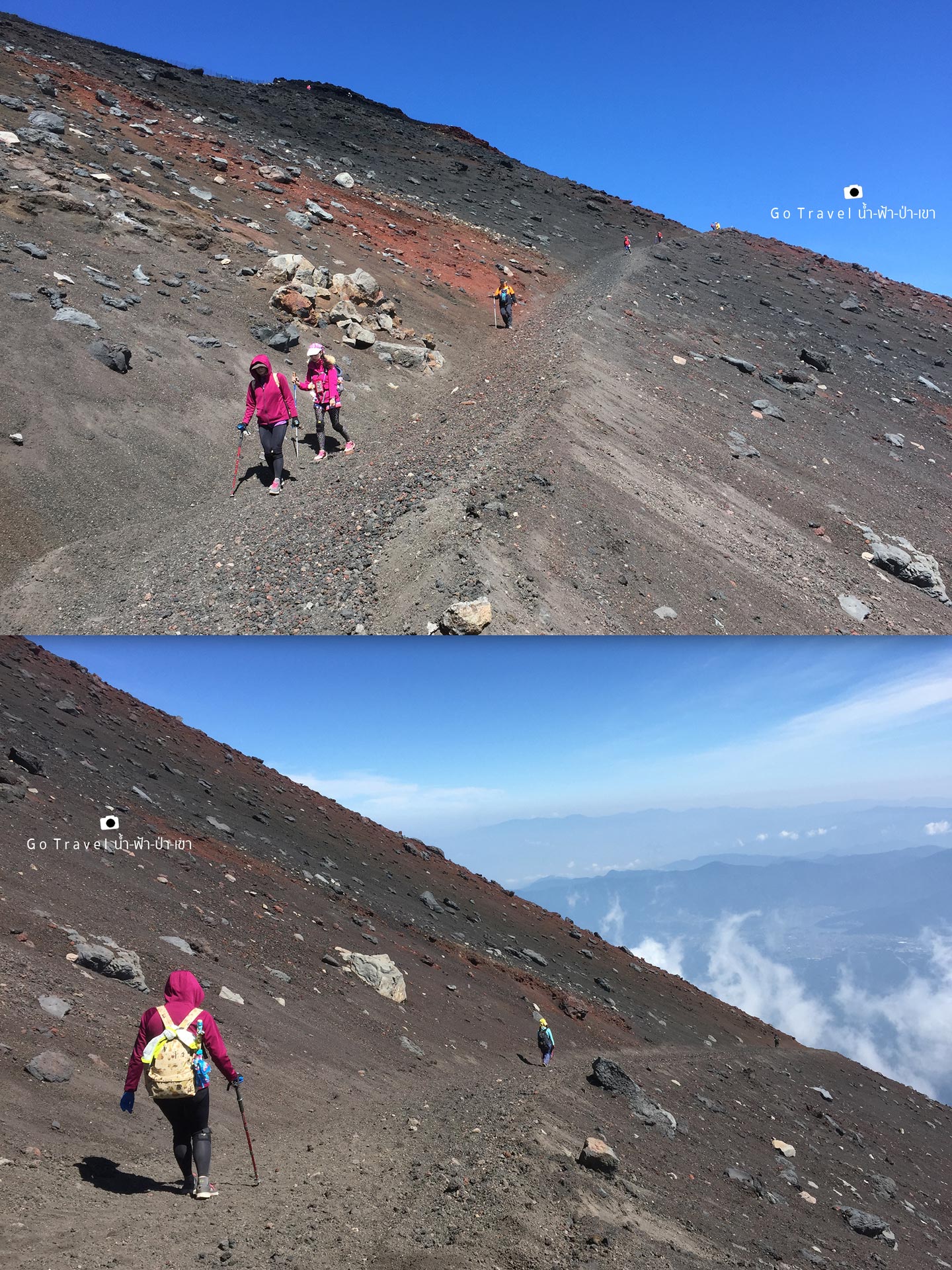 After I done doing my business, suddenly a big problem that I have not expected is occurred as I continually hasten walking down, my toes are starting hurt that I could hardly walk. My toenails are getting hurt in every steps I walk, it's like they are going to remove! My ordinary pair of sneakers is useless, I feel that a pair of hiking shoes is really needed for this trail.

A short clip video of the descending route's condition. It is a normal thing if your legs get cross while walking as the route surface is loose, slippery and steep which it need to use up the great deal of legs' energy.

When we have already walked down 1.7 kilometers or far from the toilet stop point around 350 meters, this point is an important point that we need to be careful as it is a junction. Thus, if you keep walking and do not see the sign, you will keep walking further and entering the Subashiri trail route or Red Trail which it will lead us to walk down to another side of Mt. Fuji. Well, we need two turn left to Yellow trail to walk on Yoshida trail, thus please be careful for those who plan to come. And once turning left at the junction, you will see Shita-Edoya hut which is only one accommodation of this route.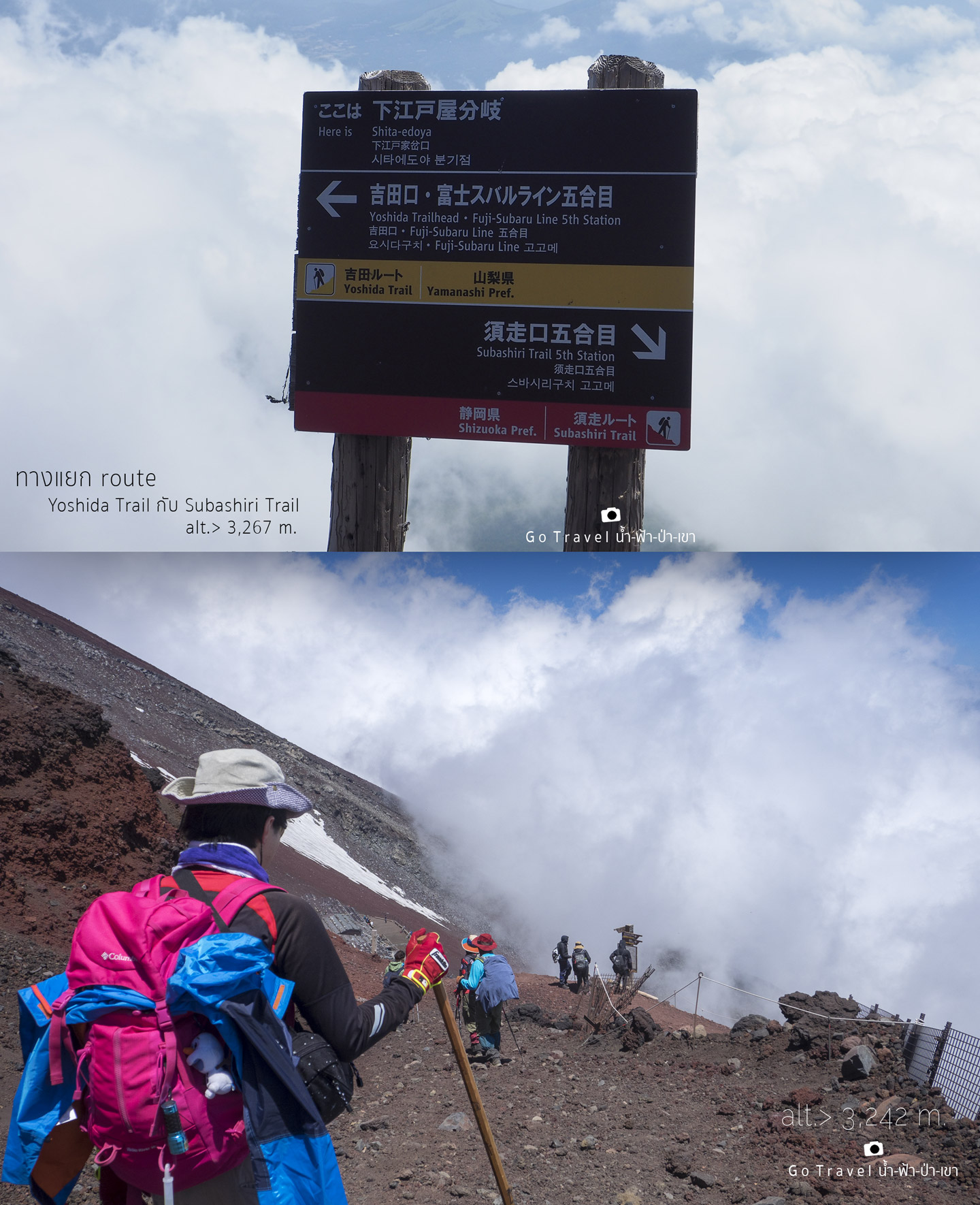 The cloud indicates that we are still at the very high level, as long as we still walk above the cloud like this, it means that we need to keep walking as the destination is still far away.

A pleasure short clip video of a cloud trail, nonetheless, me during that time do not have any fun, my legs are in pain, yet the cruelest thing is that all the toes are getting hurt. At that moment, I don't dare to put off the sock to see as I'm scared that three toenails from each side of the feet will stick and come out with the sock.

The descending route would have a map to show from time to time along the route, hence, it is not difficult, just walk according to the map. The important point is that the junction that I have mentioned above, just don't turn to wrong route to walk on the red route. Additionally, there is another option which is walking down on the same ascending route where you are climbing up (Use only when there are only a few members in your group as you need to walk in different direction with people who are climbing up and it is not fun at all) and that point I have mentioned is located at the restroom point before reaching at the junction sign. I prefer to walk down on ascending route as the route is not slippery that you don't need to grip the ground while walking and that your toenails would not get hurt. Nonetheless, I miss it, since that time my legs are still fine, thus I chose to walk on this route. Moreover, using this route apart from the more slippery way that pretty consume the legs' power, it is also farther than the ascending route. Nonetheless, if choosing to walk down on the ascending route, my knees might get much more hurt.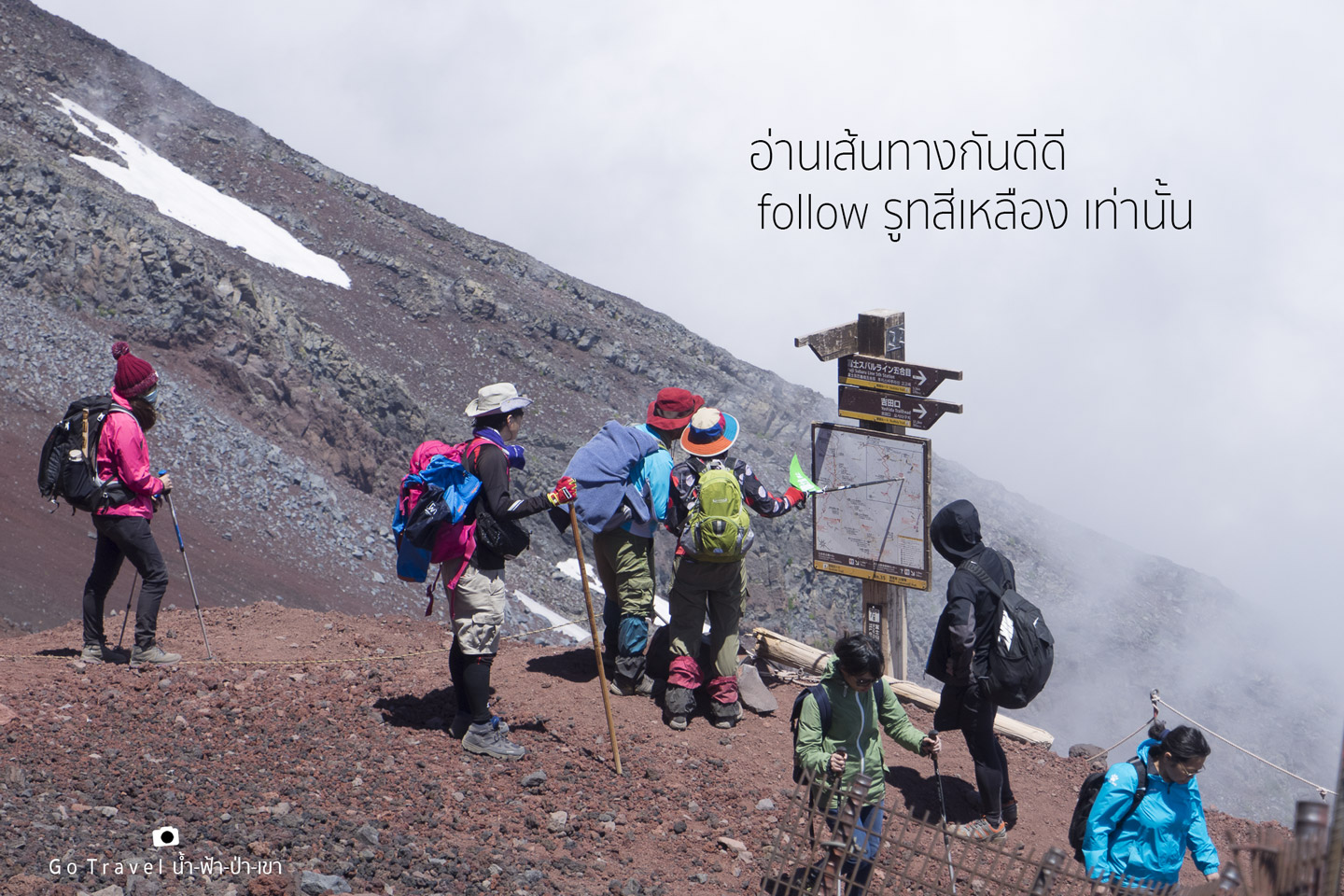 We walk on the same kind of route again and again, it is mountain rocks, gravel descending routes alternate with zigzag routes with the cloud that drifts below. My toes are getting more and more hurt, no matter how far we have walked, it is still like we are still at the same place as we already have walked on the zigzag routes like this for more than half hundred turns (I did count and there is also the number written on the post which was put at the corners for hikers to count. Yet! it is count up number not count down, do not have any clue for us to know how many posts are actually left, which at last the route will be ended at 52th or 53th post. It is pretty tough as it is not easy to walk, it's like above clip video that I have recorded for you guys.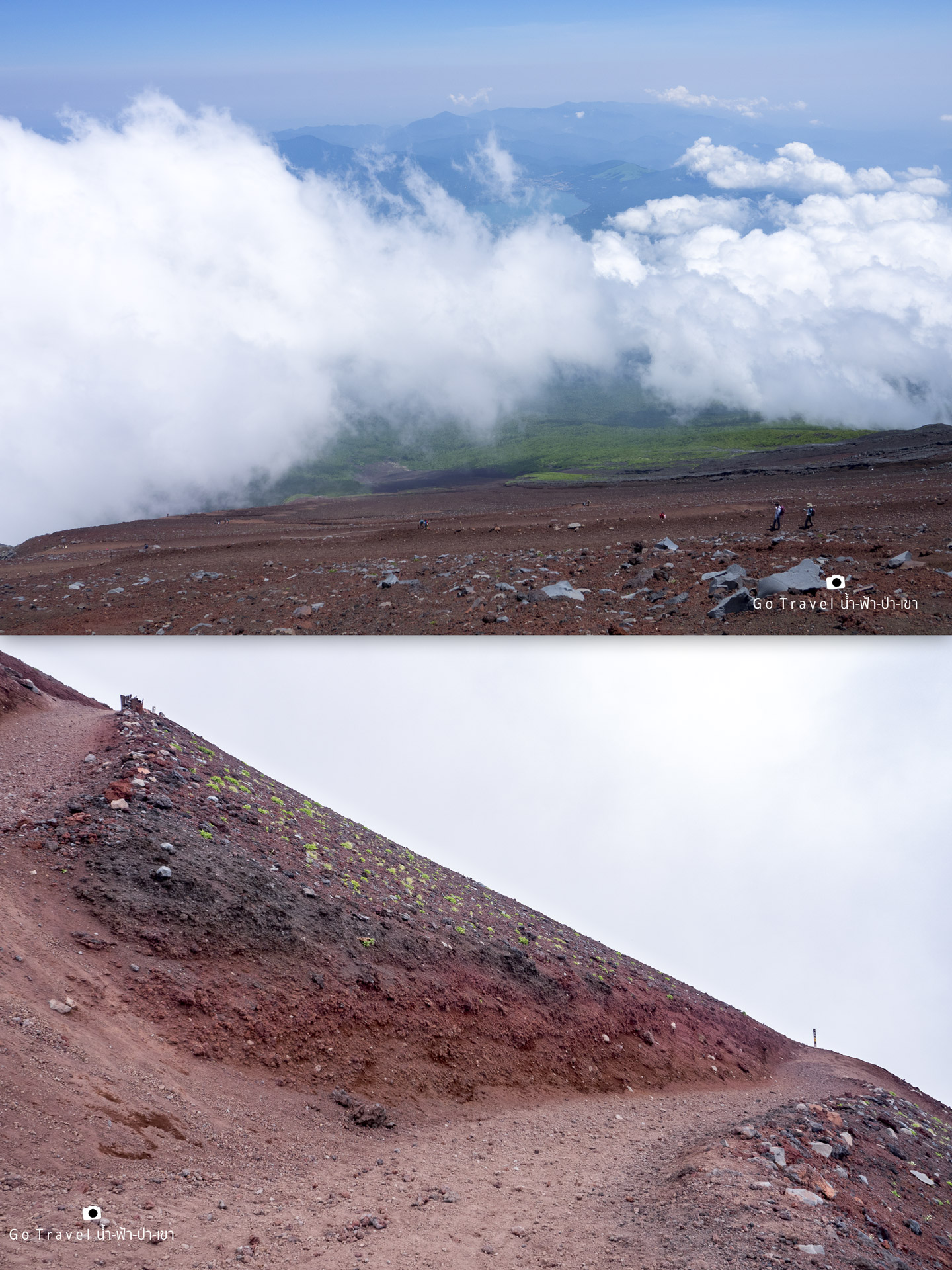 My whole feet are in pain, I need to take a rest more frequently for taking off shoes to relive the pain.T T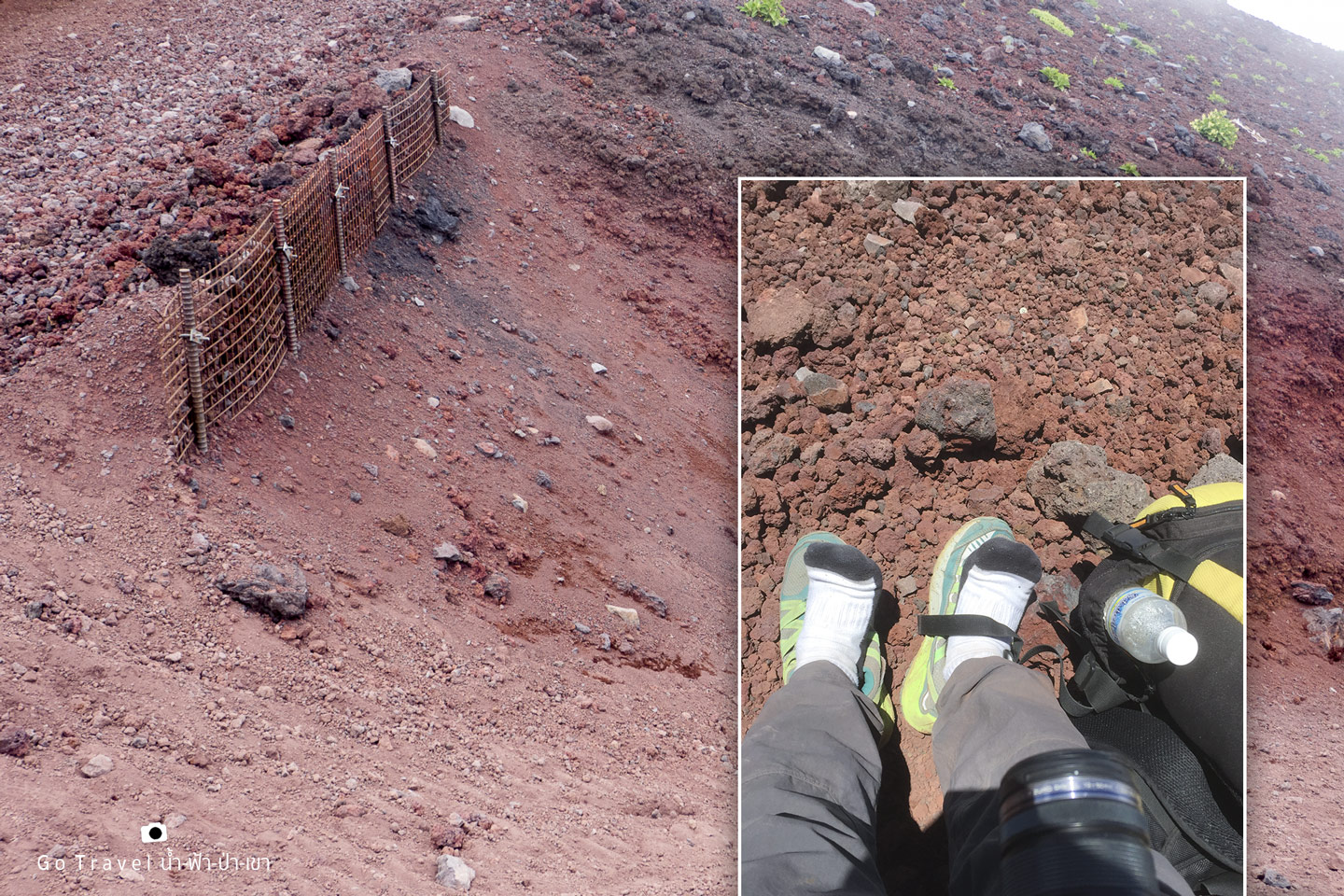 And this is the post at the corner indicates the number telling how many zigzag way you have passed. In fact, I don't want to know how many I have walked pass, on the other hand, I prefer to know how many posts left, could I request them to count down the number instead?.

In the end, the last post that I have counted is No.53 before entering to the straight way heading to 6th station. Pretty tough!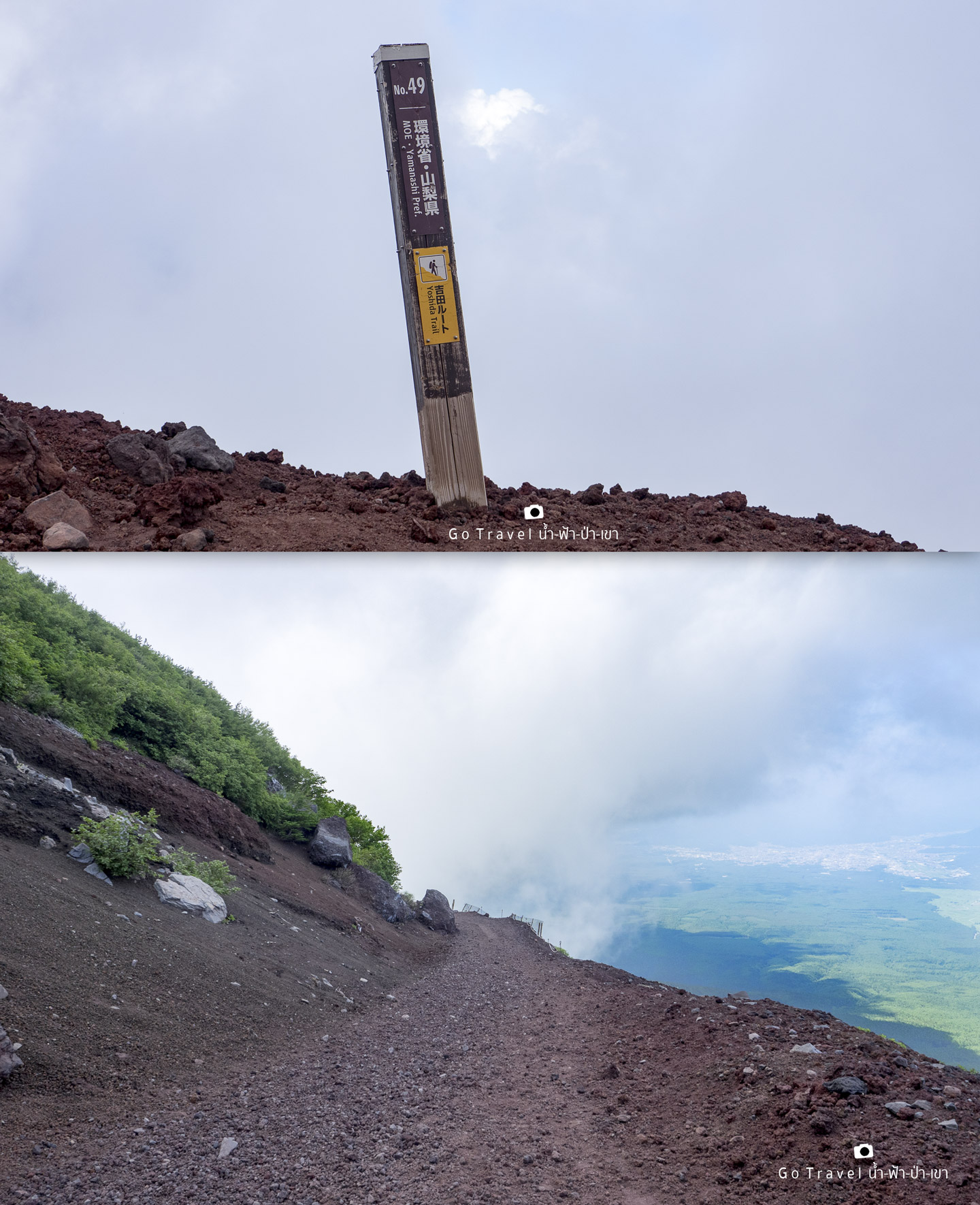 At last, we begin to walk under the cloud which mean that we are descending to the below level near to 5th station which is the finishing point of the trail, yet from this point we need to walk further for about 3 kilometers.

The route starts to be more flat and less steep, it is the path that leads to 6th station, which is a straight way that gradually descends around 1.1 kilometers, then connects with the ascending route above 6th station, before going down towards 6th station for another 200 meters. We are out of the way pretty far, thus please see the map above for illustration.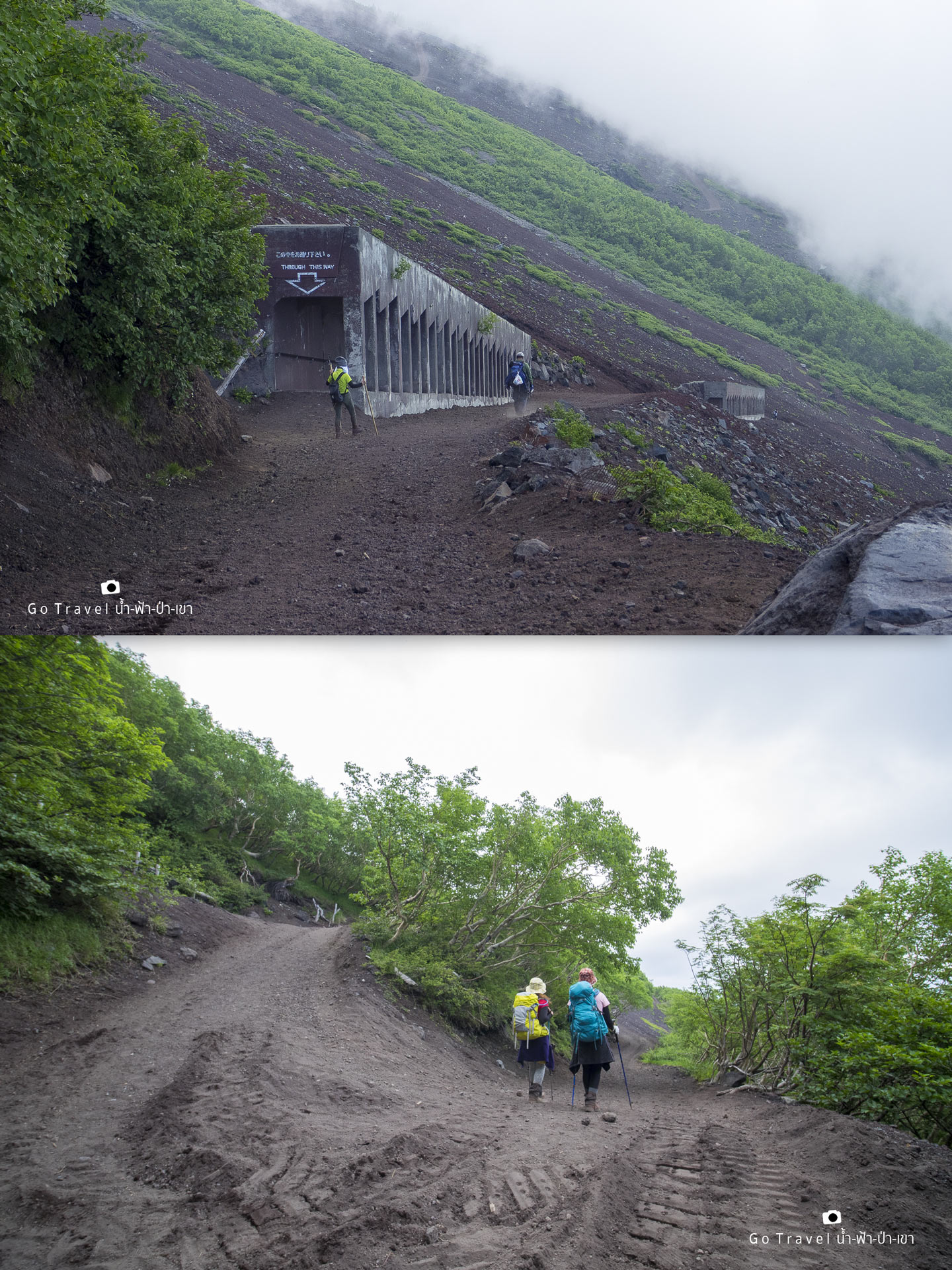 Well, there are always zigzag ways along the route, I suppose that there won't be this kind of route anymore. Aw! let's just take some rest.

Finally, we reach at the ascending route above station 6th and I gradually almost reach my destination, at this moment the last drop of the water that I have carried is all gone, I feel pretty dry, think of a cold Coke drink that my sister takes photo and send it to me on the chat, she already waited at the destination. ;(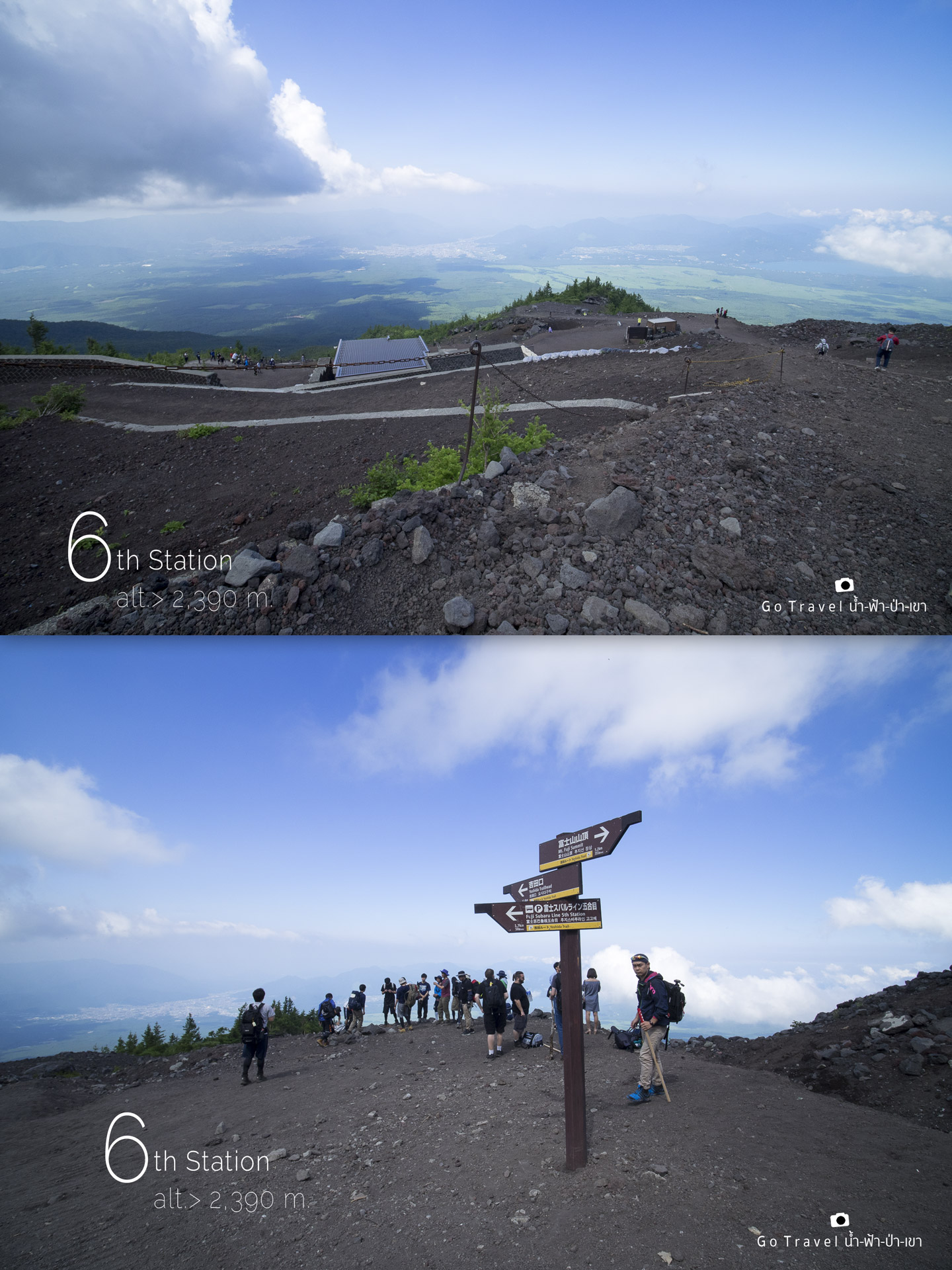 Get back to the forest trail route again for another one kilometer.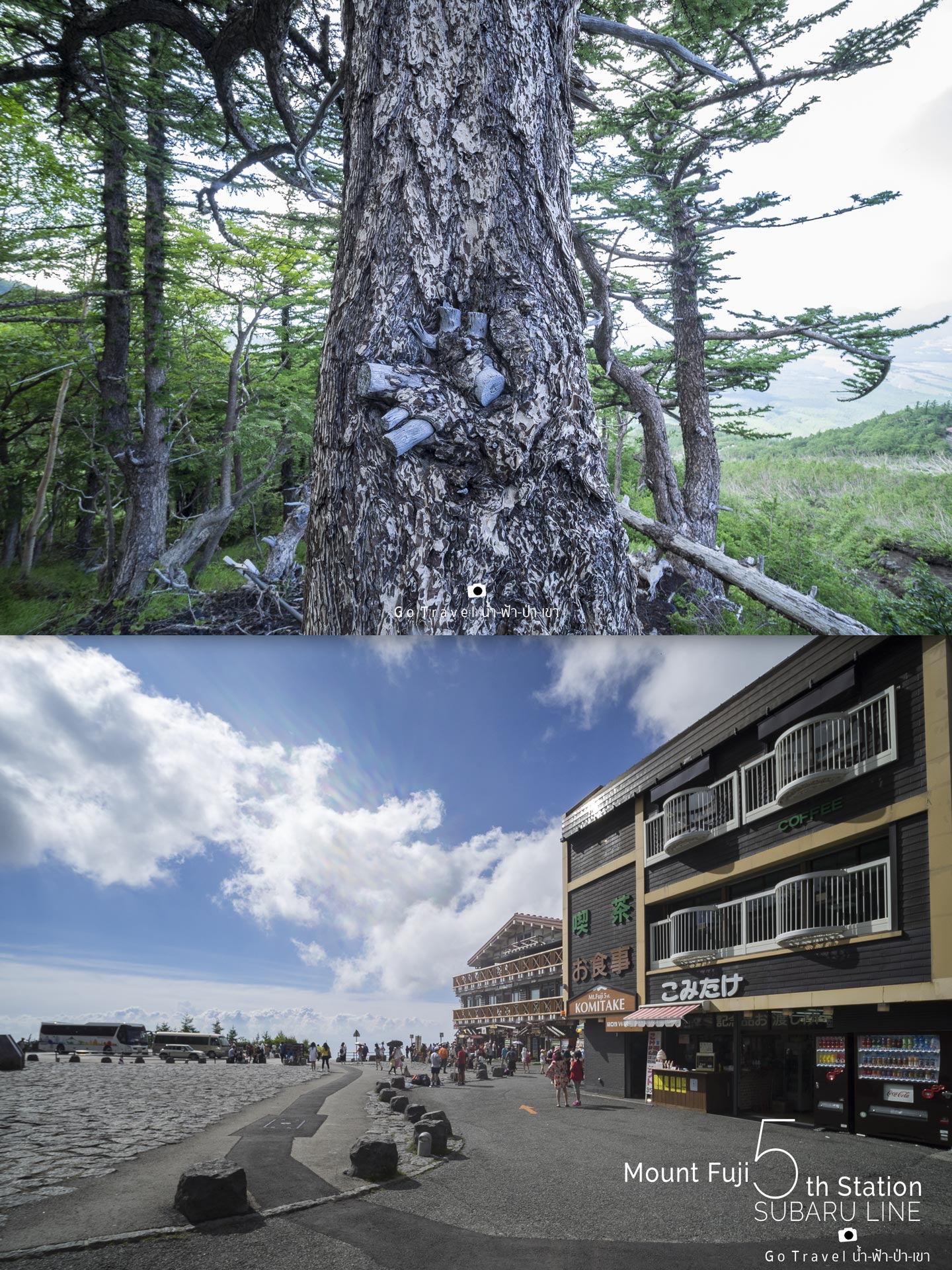 And this is the end of 7.7 kilometers route with a total of 6.5 hours spending for walking down!!! I guess that I might break the record of spending the longest walking down time since they open Mt. Fuji.

At Mt. Fuji 5th Station Subaru Line

I get back and stand at the starting point and look back at the peak, I will definitely not forget this 2 days 1 night that I have spent here. Bye bye forever, Mt. Fuji, I am kind of afraid right now. I end up this trekking journey by missing the shutter bus as the last shutter bus has already departed since 02.00pm, but it is already 04.30pm now which means that I have spent time trekking from 01.30am till 04.30pm, totally 15 hours. Well, now I don't feel surprised why my whole body is fatigued, and what a bad thing is that I must walk back to the parking lot beside the road which is away from here for another 2 kilometers.


That evening we head to Fujiyoshida city which has the same name with an ascending trail. The city is located near to Kawaguchi city and the accommodation that we have reserved called Fujisan Station Hotel located not far away from Fujisan station and Fuji Q Highland Theme Park, the hotel is nice and not expensive which costs only 7000yen per person.

An astonished thing happens in the next morning.

It is a new feeling that occurs in my mind when I watch Mt. Fuji through the window, there is something that comes with me from up above and it already engraved in my permanent memory. Mt.Fuji which is like the world-class star that we have seen through the medias and the one that I have seen during the first few days I have been here is changed, it now adds up with a memory that I once used to stand on it. I feel pretty proud, it's like I used to go dating with this popular star. From now on, whenever I see the peak of Mt. Fuji no matter through whichever media or the real one, I would feel surprisingly delighted.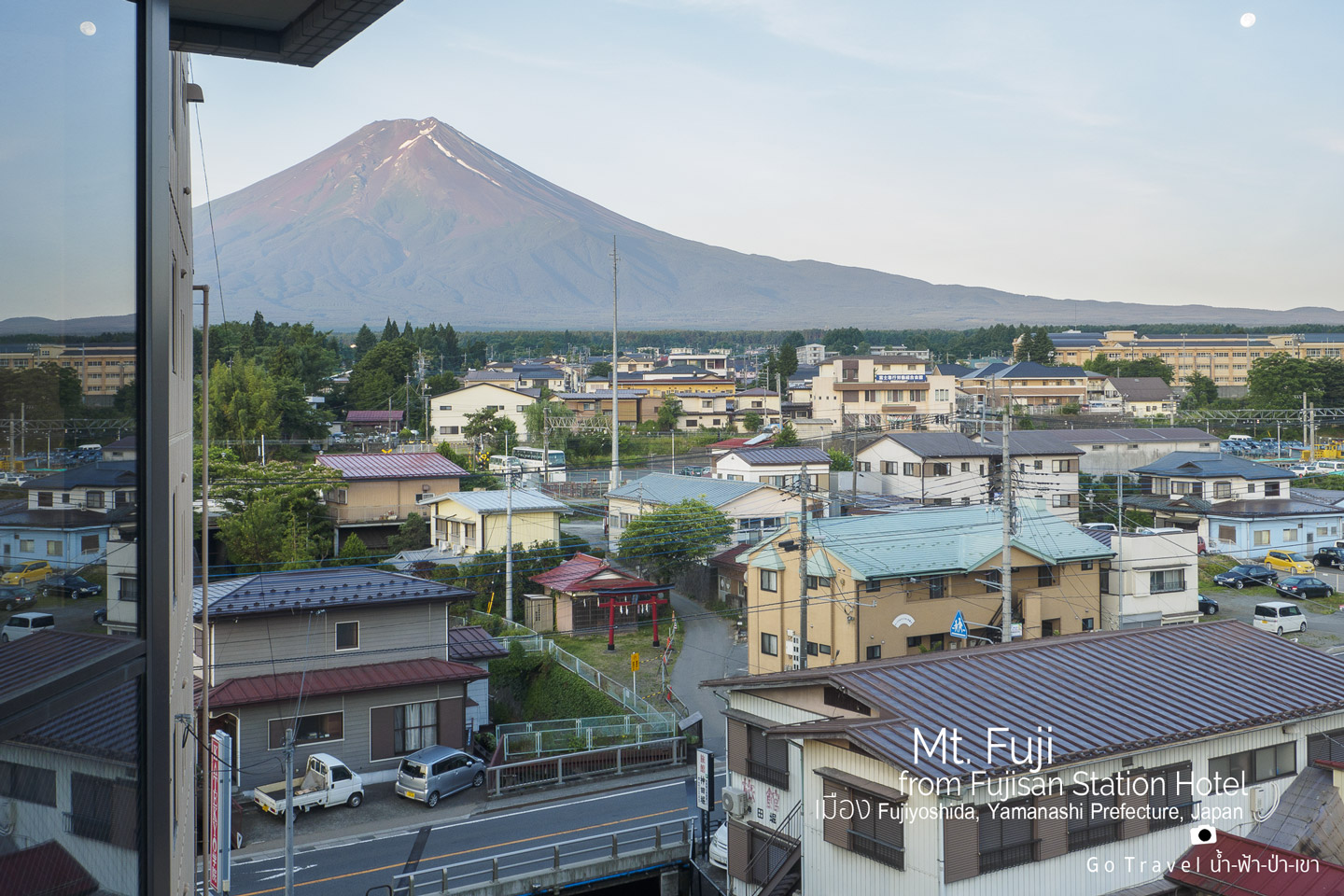 Well, after I soak in a warm water last night in my room, all the fatigue is completely disappeared that I fell a bit surprised and I am lucky that all my toenails are still there, not broken nor get too much bruised. Therefore, my next important mission in another 11 days doesn't have to be canceled which is to conquer Mt. Kinabalu of Borneo Island with the height of 4,095 meters and I will make a review for you guys to see how is it going to be, I think it would be much harder than Mt. Fuji. Hahaha. How could my fatigue body put up with this!
Next part will be traveling information.

Traveling information, to go conquering Mt. Fuji.
From Thai to Tokyo
I use a service of Thai Airasia X, which has two flights round trip per day.

Bangkok (Don Mueang) - Tokyo (Narita) - DMK-NRT, takes 6 hours.
For more details: http://www.airasia.com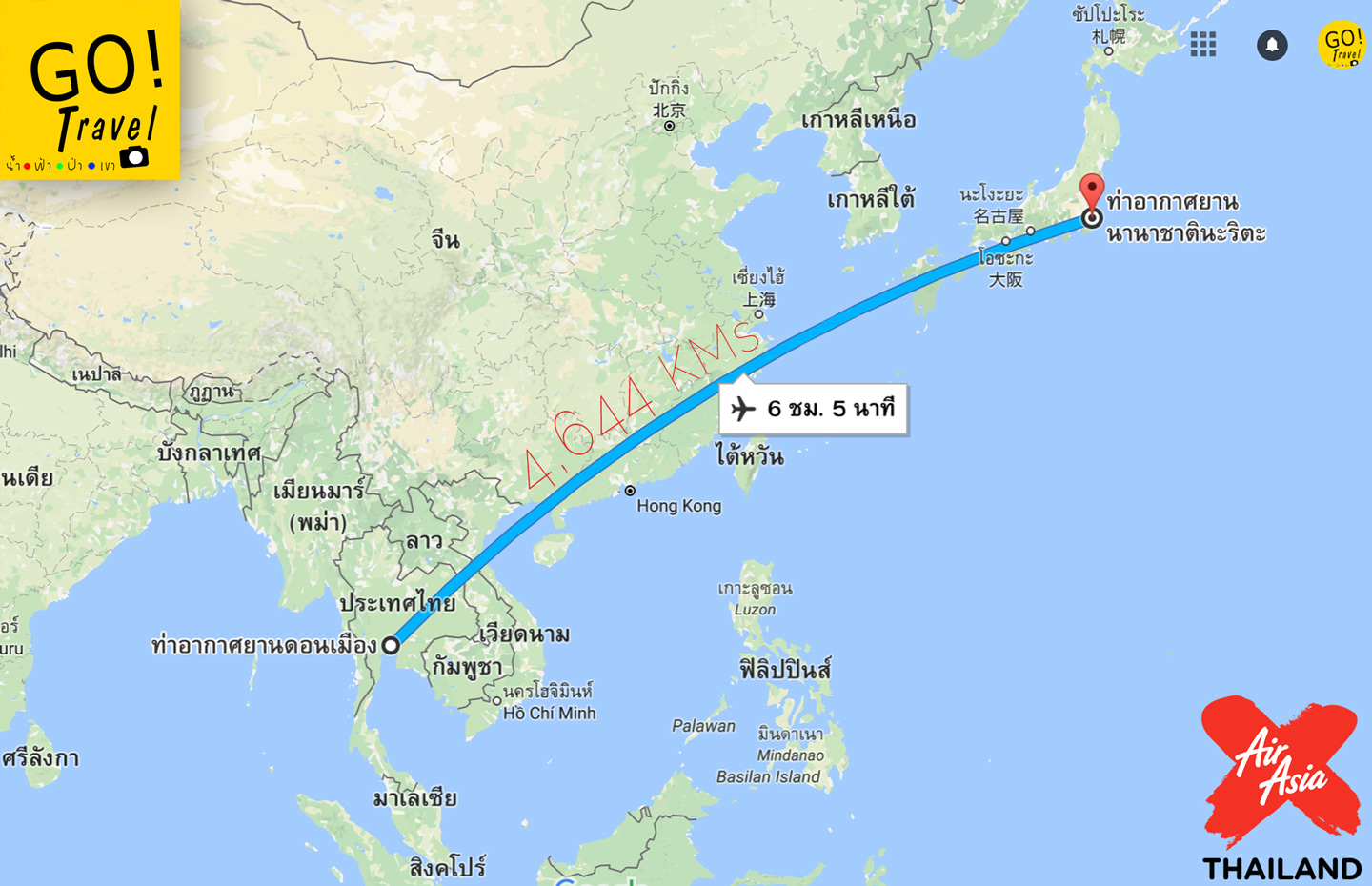 Departure leg has 11.15am and 11.45pm flights which I choose the first one.
Return leg has 09.15am and 08.55pm which I choose the latter one.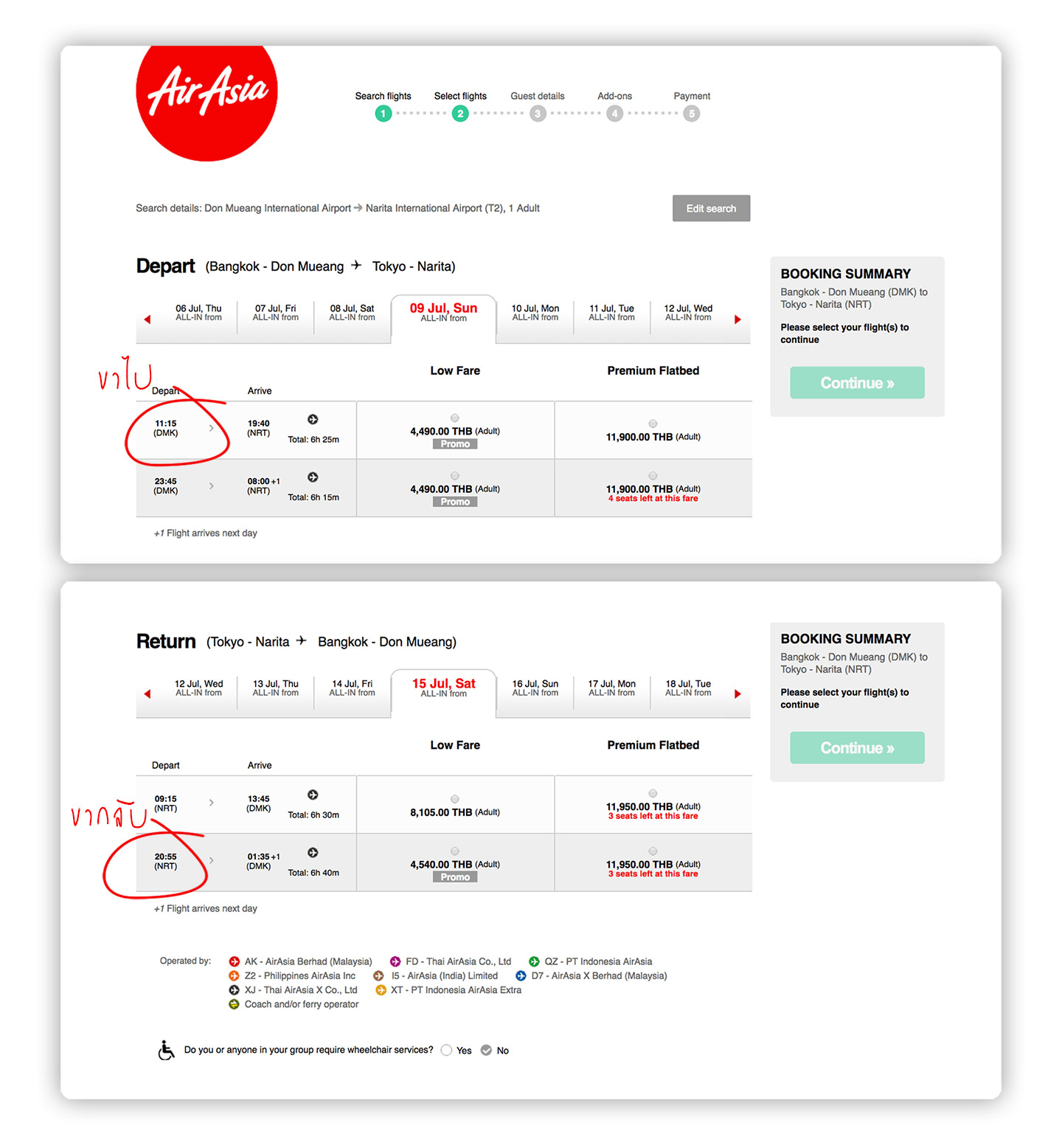 Getting to Tokyo from Narita

The convenient way is taking Narita Express from airport direct to Tokyo or you should directly get off at Shinjuku area where you could conveniently connect to Mt. Fuji. Anyway, it depends on where is the hotel you are booking which I suggest you should spend a night at Tokyo before, this way you won't be too tired. Nonetheless, if you are exceptionally tough, you could reserve a night flight to reach at Narita around 08.00am in the morning, then take NEX train to Shinjuku and connect to ride on a bus to Mt. Fuji, this way you could save more accommodation cost.

NEX train takes approximately 50 minutes riding or not over an hour to reach at Tokyo. On the train, there are luggage storage space with code lock straps and monitor in the cabin informing the realtime information that how many minutes will the train reach the destination, and it also shows the information about how to connect the flight and where it is located in the airport for the return leg.

Fare getting to Tokyo

One way adult costs 3,020 yen, for round trip costs 4,000 yen.

Fare to Shinjuku, one way adult costs 3,190 yen, for round trip costs 4,000 yen.

First ride is at 07.44am and last ride is at 09.44pm. If you are catching 11.00am flight like me, you will reach Narita at 07.40pm which even you have to pass the immigration process, you also could catch the last train in time and the return leg would also be the same.

For those who buy JR pass, then you could take a train right away without more charging. Well, for other traveling methods, you could look for more details at this website: ChillchillJapan.com
More information about NEX: JREast.co.jp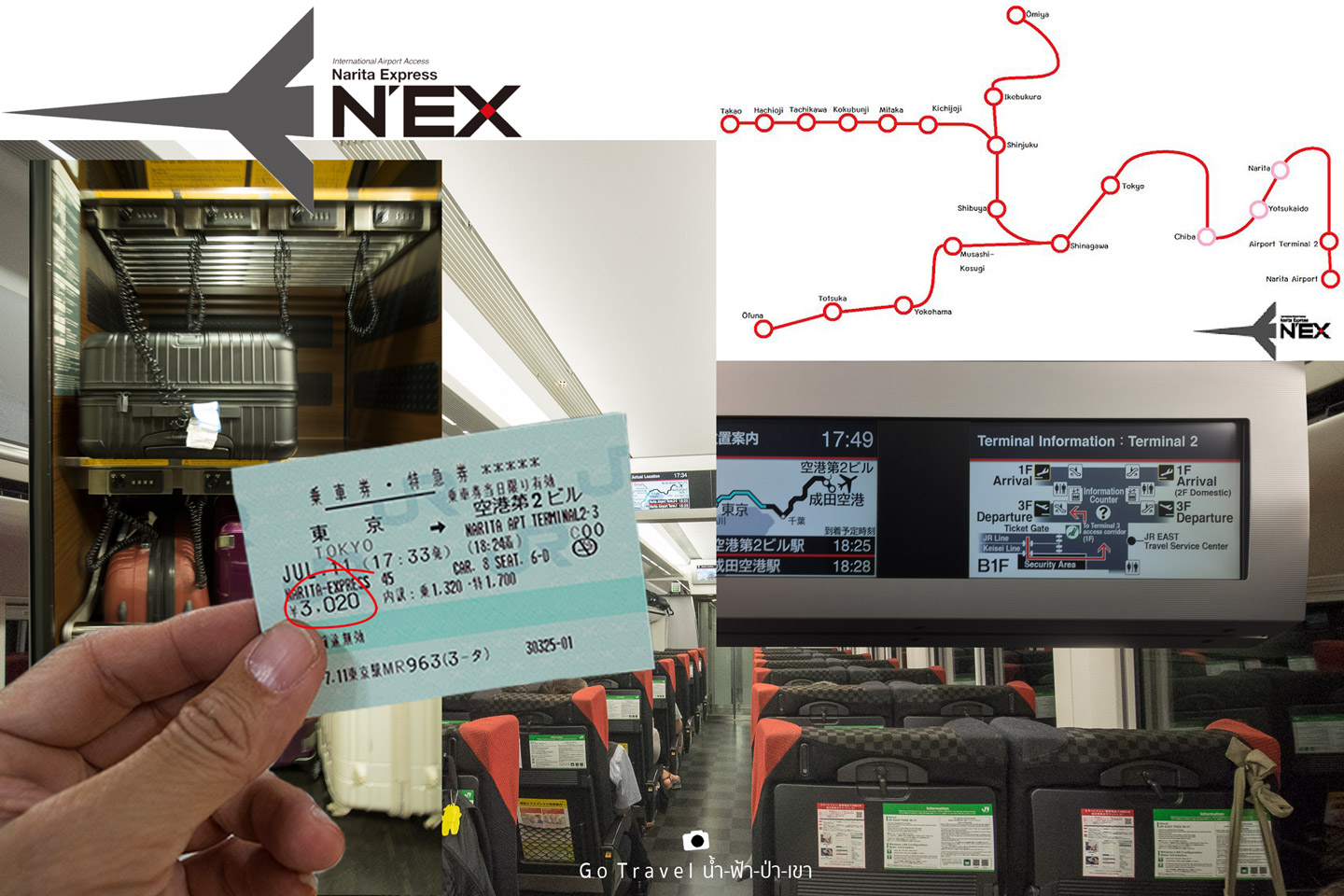 How to travel from Shinjuku to go conquering Mt. Fuji

There are 2 methods:

1. Take JR Chuo Line at Shinjuku station which has Kofu station as terminal station and hop off mid way at Otsuki station > then connect to Fujikyu Railways and get off at Fujisan station or Kawaguchiko > then catch a bus to 5th station Subaru line.

2. Take direct bus from Shinjuku station to 5th station Subaru Line. I would suggest this method as it is more convenient, not tired from transportation connecting.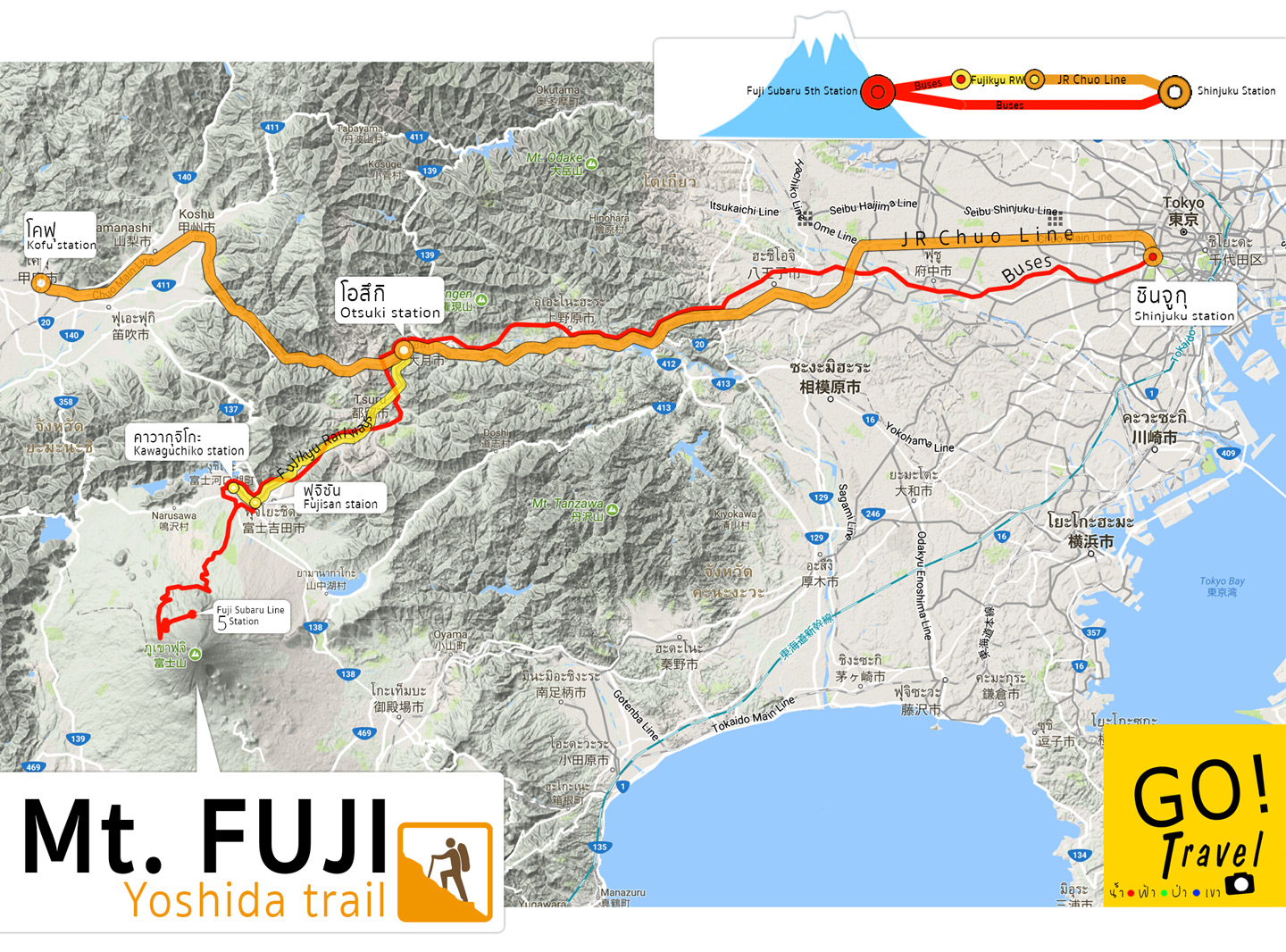 Bus schedule and price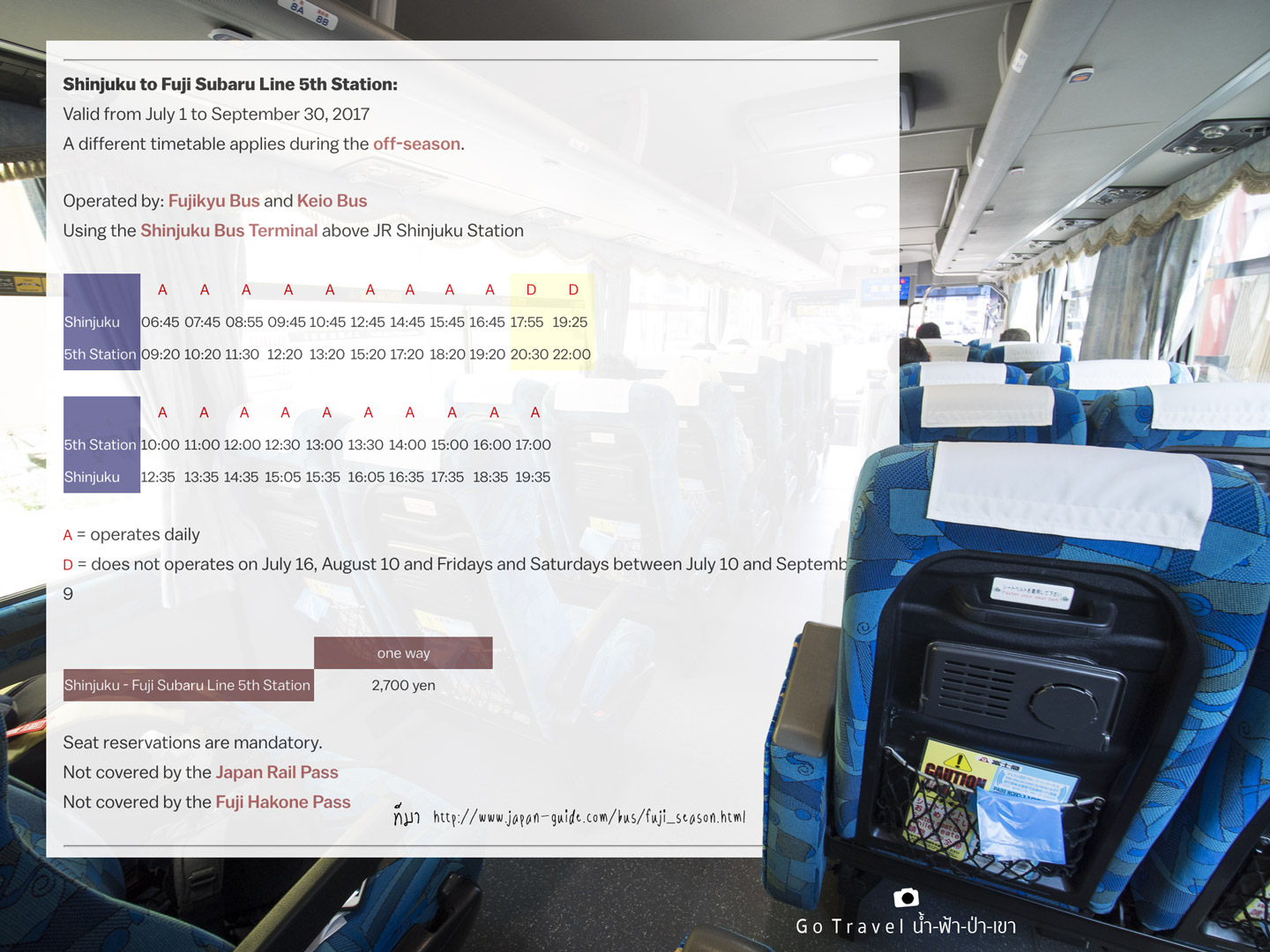 For more details: http://www.japan-guide.com/bus/fuji_season.html
Accommodation

There are some people who are tough enough to climb up to the top by not having a rest. Nonetheless, I think you should better have a rest a bit, as not only you could lower down your body from fatigue, also your body could adapt to high pressure area where the oxygen is lighter which is also a good way to reduce the risk of AMS altitude sickness.

Yoshida trail route has the most of accommodations comparing with other trail routes.

Starting from 7th station, there would be totally 7 accommodations.

8th station also has 7 accommodations.

8.5th station has only one accommodation.

And there is one accommodation at the summit. Well, I think no one will reserve the accommodation at this area, so if having a lot of time, maybe 3days2nights staying would be nice. Hahaha.

There are 3 accommodations that open for reservation, including

Kamaiwakan Hut at 7th station.
Taishikan Hut at 8th station.
Fujisan Hut at main 8th station.
The deposit for reservation will cost 1,000 yen, yet as there are a lot of people doing the reservation, if your reservation is unsuccessful then they will pay back money to you.

The higher you stay, the shorter route you will walk to the summit, meaning that there is a high chance for you to go admiring the sunrise scenery in time as the sun will rise pretty fast during summer around 04.30am in the morning during the beginning of July and it will be gradually late around 05.30am during the beginning of September.

For example, if you stay at Kamaiwakan, you have to walk approximately 4 kilometers to the summit.

But, if you stay at Taishikan like me, you will need to walk 3 kilometers.

And if you stay at Fujisan, you only have to climb up one kilometer more.

For more details: www.FujiMountainGuides.com
For the website that offer detailed information about climbing Mt.Fuji, you could learn more from these 2 links below:

Summary
1. Mt. Fuji is a fantastic mountain when admiring it from far distance, on the other hand, it becomes unpretty when climbing up.
2. There is a chance to face with a crowd that you might to line up walking and you might be in a bad mood.
3. The higher the area is, the more expensive of the price of food and goods are, and I would say it is indeed rather expensive for example using toilet costs 200 yen but when you climb up to the peak, the price would rise to 300 yen instead.
4. Don't let your body temperature be too cold, should wear enough warm clothes to reduce the risk of altitude sickness.
5. You could walk slowly, just make sure that you could reach the top. Yet, if you are confident, you could walk faster, especially when you are closing to the top area as the oxygen will be lesser (Hence, it is a good idea to carry oxygen can with you)
6. Everybody should have a trekking pole, at least one.
7. Don't be thrifty with the shoes, you should buy hiking shoes for this matter, due to if your legs get hurt, it is pretty suffering.
8. Trail route here is like a checkpoint testing your body and mind, especially your mind will be heavily tested, as when you are dishearten, your body will show. On the other hand, if you feel energetic, your body will be gradually strengthen up. Hence, when you get tired, just sit back a bit.
9. The most important above all of the things and those 8 difficulties that I have mentioned is the reward that you will receive after the trekking which are the impression and the picture of Mt. Fuji that having yourselves standing on it. Also, this impression will be in our memories forever, it is extremely worthwhile!
Thank you for following the review till the end. Pictures in this review are a bit a lot, I apologize for that and I would like to wish a good luck for those who plan to try climbing up Mt. Fuji once.