Project of promoting 12 must-visit cities, hosted by Tourism Authority of Thailand, is quite popular right now. Some of you may have heard about it already. There are 12 provinces in total.

Including Lampang, Petchaboon, Nan, Burirum, Loei, Samutsongkram, Ratchburi, Trat, Chanthaburi, Trang, Chumphon and Nakorn Srithammarat.
And this trip, I am bringing to another province which is Trat.
.....
..
.
Another channel to follow my journey at "Saphipae Taetuathai" .
https://www.facebook.com/saphipae


This time I have a chance t join activity of TAT to promote attractions in 12 must-visit cities.
By divided into 12 team for 12 cities. I am selected to be representative of Trat.
In order to present tourist attractions. What are those places? Let's find out together.
The province of fifty islands,
The most precious red gemstones are at hand,
Sweet "Rakam" fruit's always the best,
Ridgeback dogs're bred only in this place,
The battle 'Chang Island' is always recognized,
This easrern-most city of Thailand's our delight.

The journey starts from Bangkok with sponsor of transportation by Thai Rant a Car, providing car at every main city in Thailand. A large Pajero is enough for heading to dream island. There are four of us in the trip.



We arrive at Trat in quite late night. Don't have to tell everyone separately go to bedroom.
Recharge energy till the sun comes out. We meet at Klong Bang Phra community.

First location of the trip.


Klong Bnag Phra community is another famous attraction of Trat. If you are coming to Trat, don't forget to drop by or stay overnight. It is considered as aged community where used to be commercial center. It was also awarded by TAT in 2007.


Nowadays this place still remarkably preserves old buildings. Some have been modified as shops or accommodations.
Foreign tourists like to stay here before heading to various islands in Trat.
Many people compare the place with Chiang Khan. It is so-called "Eastern Chiang Khan".


After Klong Bang Phra with full stomach, we move to City Pillar Shrine of Trat.
Located on main street near Wat Yotha Nimit. This shrine is different from other shrines.
Because of its form as a Chinese pavilion.

After receiving fortune from the shrine.
Next stop is Baan Nam Chiew, Amphoe Laem Ngob which is a passageway to pier.
So, we decide to drop by.
.....
..
.
Baan Nam Chiew is an heritage tourism community which hides itself silently.
Not far from ferry port to Koh Chang. This place is a source of production of Ngop.
A wicker product by villagers using materials found in district.
Which becomes hat called "Ngop".

Baan Nam Chiew is a dual religious community where combines Buddhist and Muslim perfectly in harmony.
There is Nam Chiew canal flows through community to Ao Thai. In present, many home stays have opened to serve tourists.

Appearance of Ngop which made from palm leaf in different styles.
It is community's well known product apart besides main income from fishing.


Awards that Baan Nam Chiew has received is guarantee for being a must-visit village.


Next station "Koh Chang".
After a mission at Baan Nam Chiew, we continue to ferry port at Amphoe Laem Ngob.
Keep going to Koh Chang, a dream island of many. If anyone is coming to Trat, Koh Chang must be on top of the list.

Our plan upon reaching Koh Chang is divided into different places.
One is responsible for the beach while another is accountable for accommodation.
My responsibility is viewpoint at top of Koh Chang which is "Yod Khao Laem".

Ferry moors at Koh Chang around noon. I have an appointment with friends from fan page "Koh Chang Turn Left" in the afternoon.
As they are locals, we will be my personal guide in traveling through a forest to Khao Laem. After separating from my team ...
...
..
.
Start journey to Khao Laem. If you would like to see sun rise and sun set moment, you have to stay overnight on hill.
To put up for the night on hill, first thing you need to prepare is camping equipment, no matter tent, sleeping bag, kitchen ware and foodstuffs for 2 meals.
It depends on individual preference.This time we prepare easy food.
There is no drinking water or any facilities on top of Khao Laew. All tourists need to prepare by themselves.
Okay, we are now physically and mentally ready. Let's move. Our starting point is at villager's rubber plantation.

There is a foreign couple joining our journey.
So, we have a chance to discuss travel experiences especially about Koh Chang.

Apart from rubber plantation at the beginning, the forest is considered to be very plentiful. There are some big trees and orchids along the way. The weather is quite nice plus small rain. The journey is accordingly not that hot and tiring.

We keep going until there is no flat way. We walk, take some rest and encourage each other.
However, the couple seems to be energetic and walk very fast. I have to speed up to follow them.
Because I have boasted a lot about trekking, haha.

We pass the forest and reach to bamboo forest. I hear a companion say we are almost there. It's just slightly further from bamboo forest.
After hearing, I gain more inner strength because, in an hour, we are on half way now. It's not that far and tiring like I have imagine in the first place.

Last mount before reaching to the top makes us quite tired.

After 2 hours, we reach to the top of Khao Laem. We start to prepare sleeping place and dinner. Today is an easy life laying down on cradle. It would be better to bring fly sheet in order to protect you from rain and dew.

After finishing, we watch scenery view on Khao Laew where provides view of the sea, sunrise and sunset.
Unfortunately, it is cloudy today and seems to be raining as well.
It's alright. To travel in nature during rainy season, we have to depend on luck.
However, trekking in rainy season provides different views of beautifully greenish forest.

On The top of Khao Laem, I see tropical pitcher plants which are rarely found in normal case. However, there are lots of them on the hill. Tropical pitcher plants is a genus of carnivorous plants. Their leaves are in tube-shaped for entrapping insects.
Some species have down at peristome.

Within misfortune, there is still luck. The sun appears a while before falling. It is a significant moment when everyone nonstop taking photos. I can hear continuous snapshot sound before darkness spreads all over the highest hill of Koh Chang. Tonight we sleep higher than everyone in the island.

Next morning at the highest viewpoint of Koh Chang, the sky is slightly clear but still very beautiful view.
Watching the view together with sipping coffee from distorted cup, the coffee tastes better than any cups on my working table.

Though the sun doesn't shine brightly, this place can still show its charm perfectly.
I watch the view for a while and it's time to pack our bags for returning back.
Today I have an appointment with my team in the afternoon for continuing to next stop.


Next stop "Koh Mak"
You can read review of other places on Koh Chang
From friends who join the trip at following link;
http://www.thethailandbloggernetwork.com/teams/detail/T09
Encourage us by voting our team.

From Koh Mak to Koh Chang, you can get on boat heading directly to Koh Mak.
However, with time condition, I have to goback to the land and take speed boat to Koh Mak.
..
..
This trip I use speed boat from Leelawadee. The boat departs at 2.00PM.
I arrive at Koh Mak in an hour, super fast.

Leelawadee Speed Boat
Pier on land : Kom Lhoung pier
Pier on island : Makathanee Resort pier
Traveling time : 1 hour
Departure (from land) : 8.00AM. / 10.30AM
Departure (from island) : 8.00AM. / 10.30AM
Fare : 450THB per person per trip / 900THB per person for round trip

In short moment, I arrive at Koh Mak's pier where there are mini-buses for traveling around the island.
Or you can conveniently contact your accommodation to pick up.

Mini-bus drops me at my accommodation "The Cinnamon Resort and Spa Koh Mak".
It is a well designed resort with perfect combination of Thai style boutique house...
And fresh ambiance beside the beach, at Ao Tatan.
This resort is suitable for those who prefer highly private place.



Then I come down to walk on a bridge. Due to rainy season, there are not many tourists.
Also, there is only 1 room occupied tonight. Such a private place.

I borrow a bicycle from staff.

Time flies. Now is dinner time beside the sea.
Unfortunately today the sun doesn't shine again.
Easy meal for tonight.

I'm full and feeling sleepy. However, before going back the my room, I don't miss a chance to take photos of the bridge when the light reflecting on water.
Beautiful atmosphere.

Following morning, I wake up early to photograph view in front of the resort.
It is another charm of this place and also my personal preference.
With shipwreck floating at the beach, it looks charming and attractive to taking photos.

.....
...
.
After breakfast, we have program to tour around island which the first stop is "K.M. 0 Koh Mak Local Museum".
It is considered to be the beginning of journey on Koh Mak since it is the first site after we get off from the pier. This place is a local museum of Koh Mak which is so-called another important tourist attraction of the island.

The museum opens for public with free of charge and it is a location of "Koh Mak Seafood Restaurant".
After touring around museum, we can easily have a meal at the restaurant.
Most of seafood is from fisherman on the island. In other words, money is expanded to villagers.

Koh Mak museum displays appliances together with stories of Koh Mak in the past.
Start from important person who firstly pioneer to historic archaeology plus handicraft.
Well explain the background.



From historical stories of Koh Mak, we move to next destination "Ao Baan Yai".
Located on north west of the island. Its beauty is on top rank of Koh Mak with white sand and coconut trees beautifully lining up.
If you come at the right time, you will see Thale Waek (separated sea) to Koh Rayang.


Beach at Ao Baan Yai. On the left is Koh Rayang.
As I mentioned earlier, during right period, there will be Thale Waek long to another island.
Unfortunately we come little too late.

It is another charming beach of Thailand where surrounding with coconut trees leaning down.
If you are coming to Koh Mak, don't forget to visit "Ao Baan Yai".




It's already noon but we haven't toured thoroughly yet.
With recommendation from locals, "Pa-Paew Restaurant" is very famous on Koh Mak.
No matter Thai or foreign tourists, or even villagers, all admire the food here.
Especially Pa-Paew's smiling face to everyone.
...
.
Pa-Paew restaurant is an ordinary a la carte restaurant in local style but the taste is superb.
Don't miss a chance to try local food with extraordinary taste here.
It is near sanitarium. You can ask from villagers.


Another mostly seen view on Koh Mak is coconut trees lining orderly, looking beautiful.
Don't forget to take photos.

I remember my first time at Koh Mak, 8 years ago, I stayed at "Koh Mak Cococape".
Which is tourist attraction where you should visit for attractive bridge in legend of Koh Mak.
The bridge extends into the sea and is sunset viewpoint.


Apart from outstanding wooden bridge, Koh Mak Cococape offers accommodation for tourists as well.


From Koh Mak Cococape, we go slightly further on the hill. It is viewpoint where you can watch sunset.
Bridge at the bottom is the same as I showed above. You can also see Koh Kham not far from here.
..
..
Enjoy watching the view till sunset. It's a sign to go back to resort.

Tonight is the last night on Koh Mak. I have been staying at " Seavana Beach Resort" for 2 nights already.
The resort is situated on Ao Suan Yai with long beach, not far from Koh Kham. At this point, you can kayak to Koh Kham.
It offers various kinds of rooms connected the sea plus clear view.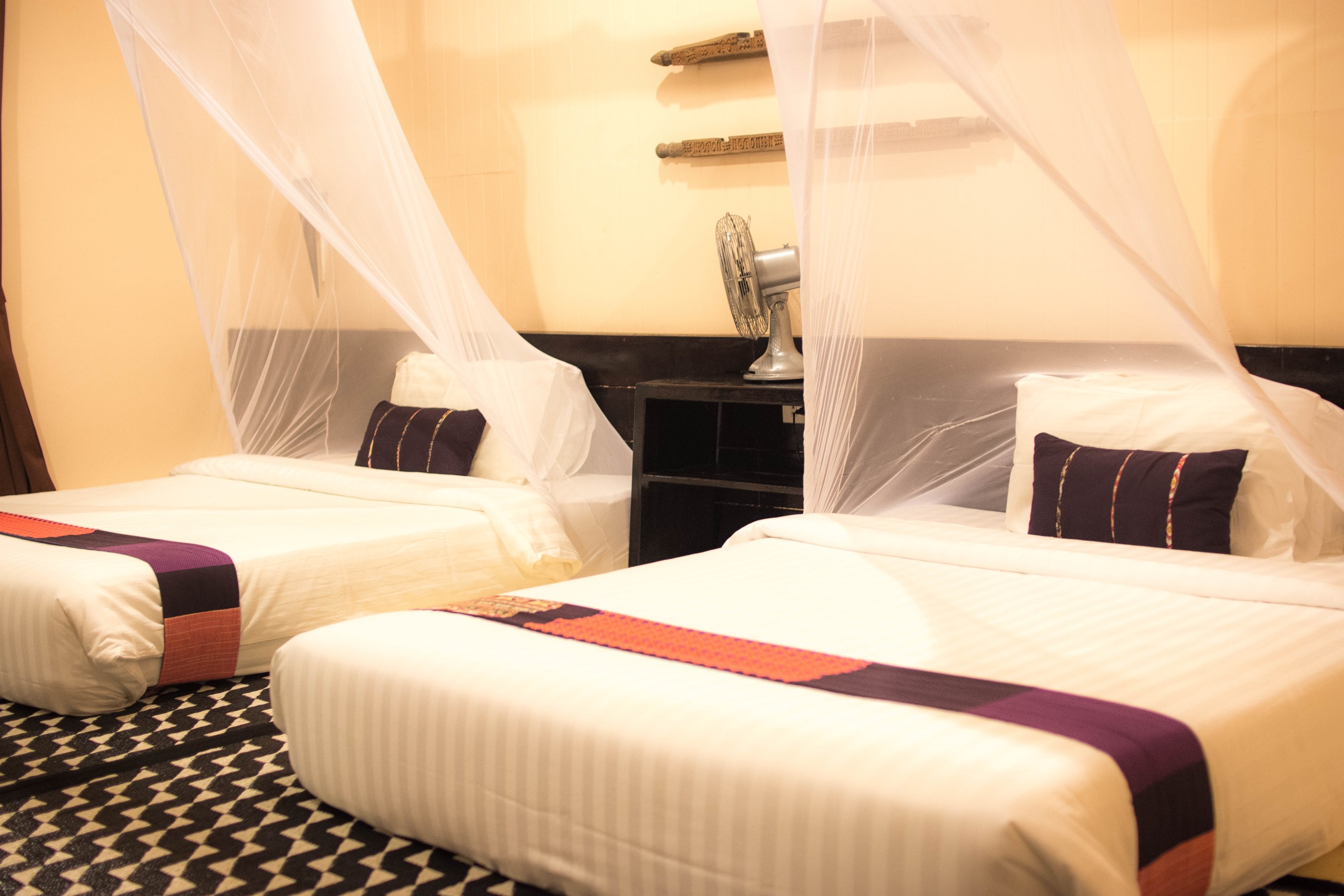 As we are at the sea, here's a meal full of seafood.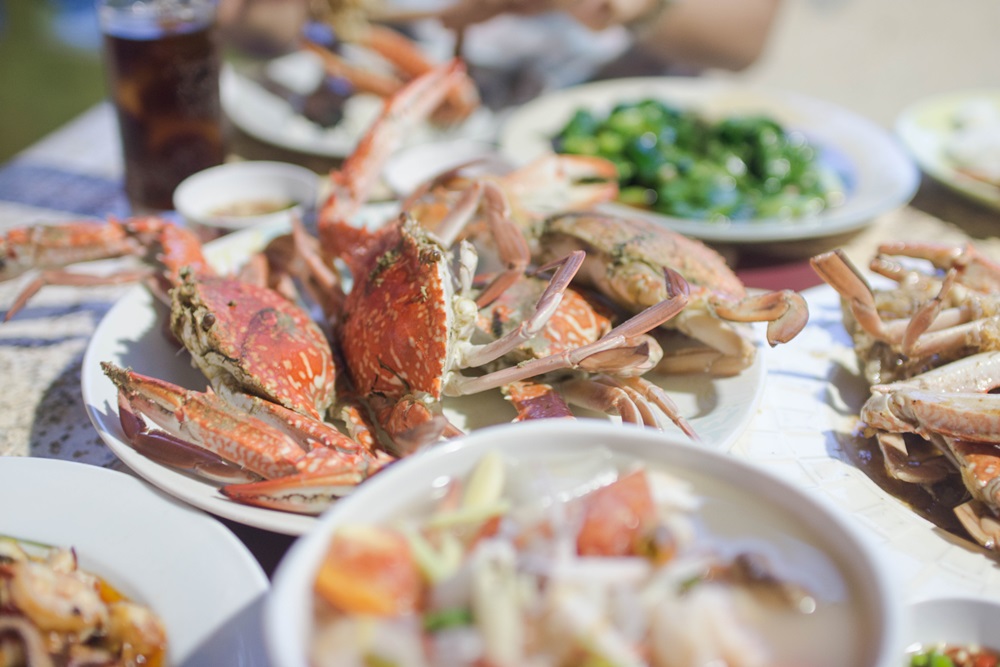 Wake up with morning ambiance of Ao Suan Yai beach. Long beach, white sand and clear water.
It is another well known beach of Koh Mak.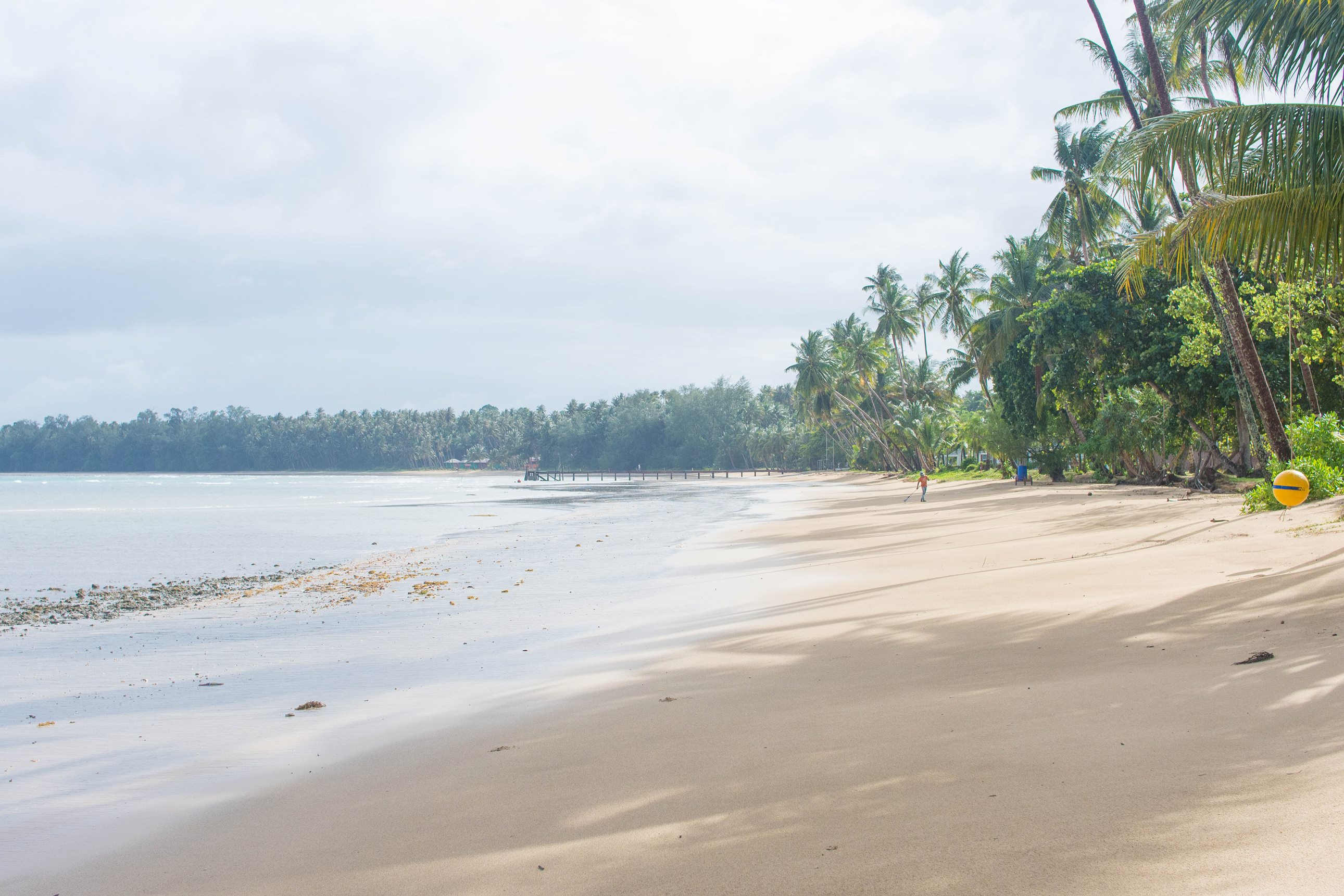 Leisure corner for reading and getting fresh air. Late morning is a time to go back home. Time flies super fast.
We have to go home now. Coming to Koh Mak next time requires 3 nights. If I have a chance, I will definitely come back. Today we have to get on ferry at 9.00AM.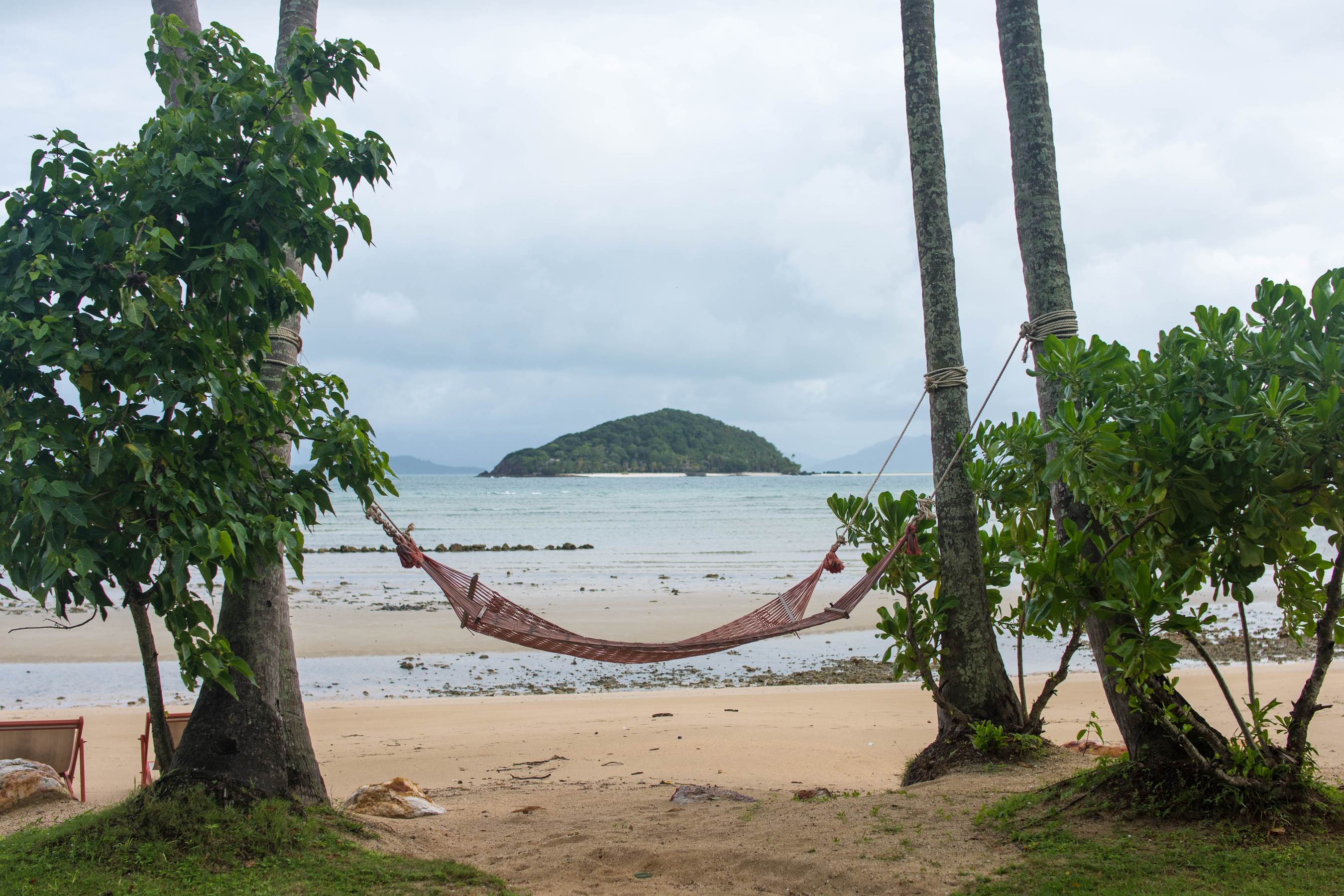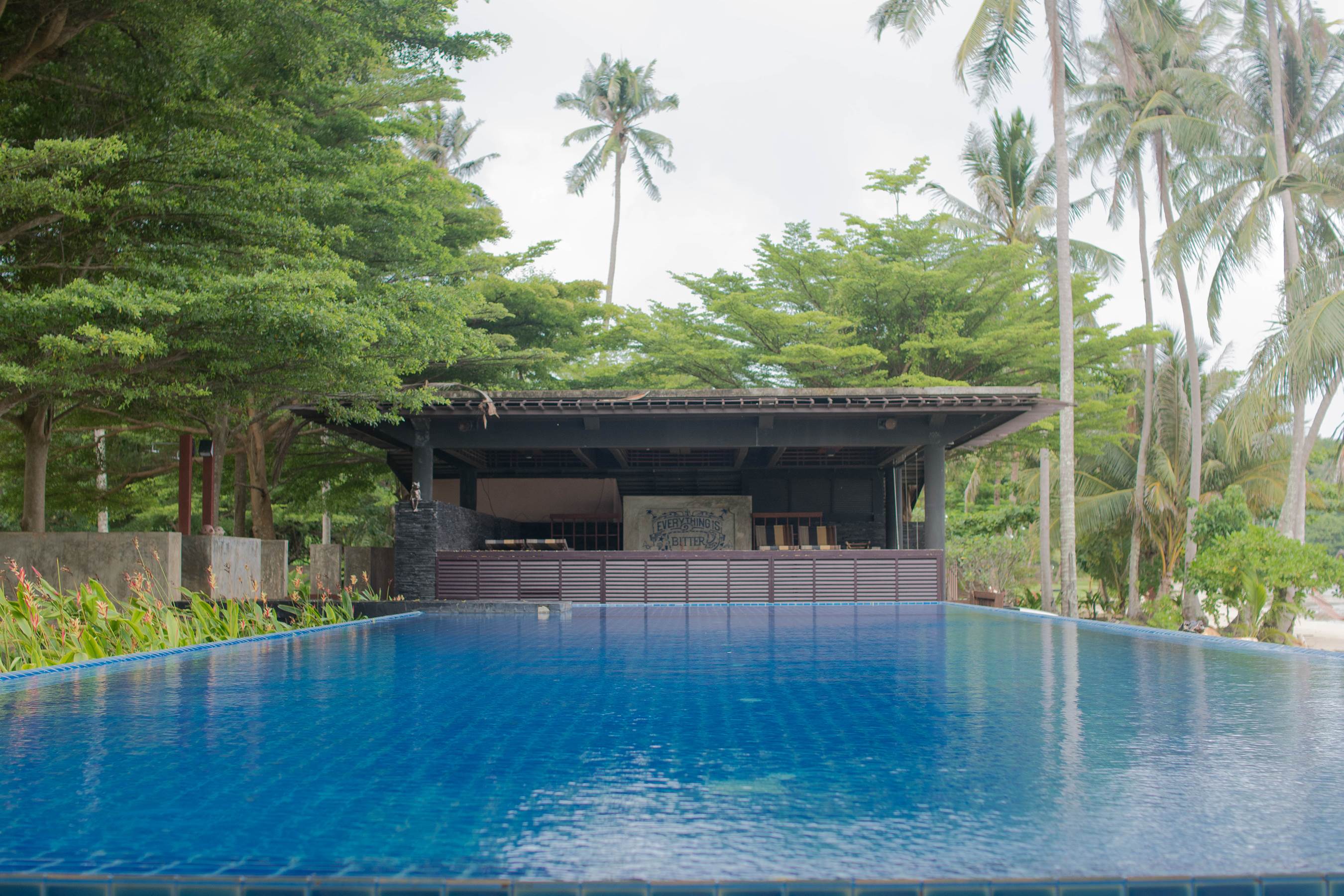 Lastly, I would like to thank you TAT for arranging this good project.
And also main sponsors of this journey;
Thank you Nok Air ( http://www.nokair.com/nokconnext/aspx/Index.aspx)
Car from Thai Rent A Car ( http://www.thairentacar.com/TH/rentcarthailand3.php)
Shoes by KEEN( http://www.keenthailand.com/)
Camping equipment from Outdoor Innovation ( http://www.outdoor.co.th/)
You can follow other reviews about Trat, 12 must-visit cities of our team T09 and vote for us at;
http://www.thethailandbloggernetwork.com/teams/detail/T09

Thank you T09 members for joining the trip.

Thank you P'Yee from "Nam-Fah-Pa-Khao Travel Blog".
https://www.facebook.com/Namfapakhao

Thank you P'Klong from page "Yhibklong Paithonglok".
https://www.facebook.com/yhibklong

Thank you N'Rin from page "RinSa YoyoLive".
https://www.facebook.com/RinsaYoyoliveTravelBlogger
...
..

And follow my journey at "Saphipae Taetuathai".
https://www.facebook.com/saphipae

And thank you everyone for visiting my page. Also, thanks for the encouragement for traveling. See you on next trip.