960 Baht It's very work out with A brand new hotel close to BTS
Big announcement for everyone who does not want to go out of Bangkok and still wants some privacy.
We recommend a brand new hotel in Soi Bearing.
Its grand opening was just a month ago on September 1st.
It is just a few minutes away from Bearing BTS station and only a 30 minute drive away from the airport.
The convenience of the hotel cannot be stressed enough.
Bangkokians can testify that our city can become very claustrophobic at times.
There are times when we would like to just get away from it all, even if it's just for a couple of days.
The Theorie hotel at Sukhumvit 107 can offer you that 'out of town' experience, right here on your doorstep.
There are many hip, trendy and chic restaurants and local markets to add to your experience at the Theorie Hotel.
Bangkok's popular bars are just a short drive away.
Maybe you just want to head on down for some shopping, The Theorie hotel has you covered,
it's close to local shopping malls such as Imperial Samrong and the Central bangna.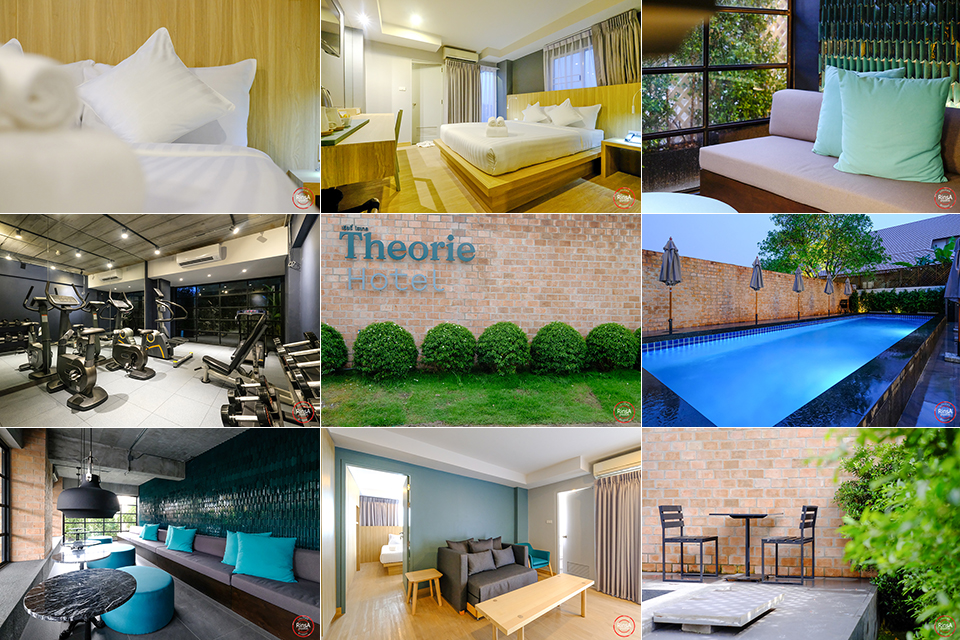 Theorie Hotel Sukhumvit 107
The location is easily found on google maps and is located on sukhumuit 107
heading towards Soi Bearing 17...


Theorie Hotel is located in soi bearing 17 where closes to sky train,
that takes a few minute, it is less than 3 kilometers.
If you come from the airport only 30 minutes.
15 minutes from BITECH bangna.
If you worried about transportation we have a shuttle van that is available to pick you up at the Bearing BTS station from 6am -10pm. IT'S FREE!!! You need to contcat us before to use this free service. We have a parking lot for your car as well.



When I first step in to Theorie Hotel I can feel how peaceful and beautiful it is...
by without noisy things because Theorie Hotel away from main street.
Including cool design in hotel wich I can not wait to take a picture.
for check in on my social media...





When I walk pass to outdoor pool I need to stop there for a while...
the owner said they are going to build the restaurant in the future... be side of the pool
The outdoor pool at Theorie Hotel Sukhumvit 107 is available at 6 am to 11 pm.
after dinner I can show my freestyles wim for relaxing do not worries for the time.
Everywhere I go I am able to see the cool things of Theorie Hotel
and green space on the wall at the lobby with loft style...
calling me to check in again.






At the lobby they provide Welcome drink with Palm juice village for all of us
Don't be surprise with 4 glasses in the tray. It is not too much for 4 girls. We are here to have fun and relax.
The more people the more fun, isn't it? LOL
Theorie Hotel is modern style, bran new big room offers fully furnished with a flate-screen TV.
Free WiFi without password is very convenient READY to log in.


WAIT, WAIT, WAIT!!! THERE'S MORE!!! The Theorie Hotel has a special offer on room rates running up until march 2018.
Room rates start at just 960 Baht and if you would like breakfast included it's only 1200 Baht.


The Theorie hotel is a 7 story hotel which consists of 78 rooms.
We have two types of rooms: the superior room which is 20 square meters and the junior suite which is a whopping 56 square meters.
You can choose either a king or twin bed.

The hotel is beautifully designed and there are plenty of spaces ideal
for relaxing or a nice photo opportunity as well as taking that fabulously unique selfie



The bathrooms are fully stocked with all the necessary amenities needed for our guest's needs.
Out of luck today, It is heavy raining. we have no choice that have to stay in Theorie Hotel. the storm is coming...


Our fitness room is equipped with modern equipment to get a nice work out before or after you relax at the outdoor pool,
it's available from 6am - 11pm.



Almost dinner time but we still no have any idea what to eat.
We are looking to the rain and sitting on bed researched for the restaurant around Theorie Hotel.
There are many restaurant...
Thai fusion restaurant, Thai tradition restaurant, Japanese restaurant ...
Opp...so many!!!!


Finally!! we decide to go chill out for dinner today at Imperial Samrong
where is near to Theorie Hotel the most and
BTS Samrong just open a few month ago...It is so convenient .


At Imperial Samrong, there is a very special event called the Temple fair.
There are diverse activities and so many traditional shops for guests like us to roam around and enjoy.
This Temple fair was so crowded with people even when raining, just to give you an idea of how popular this event is.



After searching what to eat...we all agreed to have barbecue at the Bar B Q Plaza restaurant located underground floor.
We got big 2 sets with BBQ pork.
Everyone gave it a Thumbs Up .👍 👍 👍 👍
The thin pork belly slices with it's signature sauce, melted in my mouth .
It was so delicious, we all forgot about the rain outside. We were HAPPY enjoy our delicious food.

We returned back to the Theorie Hotel in Sukhumvit 107 in the morning,
The hotel serves a Buffet breakfast at the breakfast room on the 1st floor next to the fitness center.
Breakfast is served between 6:30am -10:30 am.


The Theorie Hotel provides so many options for us (all you can eat)
such as bread, fried eggs, ham, hot-dogs, rice porridge with pork, mix fruit, salad and drinks.
We got enough energy from breakfast to equip us adequately for our day ahead.



Even the restaurant at the hotel do not have much space but
Check out is at 12 pm, so after breakfast you have more time to relax at the Theorie Hotel.
There is hi speed WiFi available for you to catch up on those important emails.




If you worried about transportation we have shuttle van is available to pick you up at BTS bearing 6am -10pm. It's free.
You need to do is contact us before!!! We have a parking lot for your car as well.

Summary!!! in Theorie Hotel Sukhumvit 107
✅ Room Rates starts from 960 baht which is an Amazing Deal.
✅ The hotel is beautifully designed and located with plenty of opportunities for that ideal photo shoot
✅The rooms contain all the necessary amenities for the guest's needs.
✅The best place to relax and conveniently located the Bearing BTS station.
✅Free shuttle service is available for guests wanting to go to Bearing BTS station.

Theorie Hotel Sukhumvit 107
4277, Sukhumvit 107 Rd., Samrong Nua,
Samut Prakan, Thailand 10270
Email: [email protected]
wab: http://www.theoriehotel.com
Lind id: @theoriehotel

Thank you for visiting us