2 Feet Stop at Mount KINABALU Peak


When looking at my headline, you think I conquered or failed at Mount Kinabalu Peak? Looking back, 11 days ago, I was standing at the crater of Mount Fuji, now I'm on the other peak. I'm now at the South Peak of Mount Kinabalu (elev. 3,9xx m) and the summit point of 4,095 m stands as my backdrop which is only 800 meters away now!
Mount Kinabalu is one of the dream destinations for many people, including me. This mountain looks so magnificent from below, challenges everyone with the height of 4,095 m above the sea level. It is the highest peak on Borneo Island which is the largest island in Southeast Asia. This island houses three countries including Brunei, Indonesia, and Malaysia. Mt. Kinabalu is located in the Kinabalu National Park, Sabah, Malaysia. It is the highest peak of the Crocker Range. Crocker Range is widely known around the world for the diverse plant and biological diversity of plants that originated from the Himalayas, Australasia and Indomalayan. But my attention was not to focus on plant or biological diversity, I have a solid goal of conquering Mount Kinabalu.

Location of Mt. Kinabalu https://goo.gl/maps/DVapWGZhND32

If you are ready, let's go!!!



My dream comes true when Thai Smile airline offers a direct flight from Bangkok to Kota Kinabalu!! Oh wow, this is so cool! The first flight was operated on 26th March 2017. Originally, we had to fly via Kuala Lumpur but now that won't be necessary. In turn, the flight is cheaper and additional 2 days off is saved with about 1,000 km distance closer!

We now only need to fly about 3 hours instead of 6. 3 months after the first flight in operation, I finally can follow my dream. I fly there in July 2017 which is the rainy season. I was so lucky to be able to take this flight because when I'm writing this review I couldn't find this route from Thai Smile anymore. Was it already cancelled?


Day 1 At Suvarnabhumi Airport (BKK) on Friday, 21st July 2017, my departure time is 7:50 a.m. (UTC+7).

Kota Kinabalu International Airport (BKI)

I arrive at Kota Kinabulu International Airport at 12:10 (UTC+8). The total flying time is 3 hours and 20 minutes. The airport is located near the South China Sea.


**There's an airport shutter bus service from the airport to downtown Kota. The fare is 5 MYR.



From the airport to Mt. Kinabalu National Park Headquarter

Kinabalu National Park is 94 km away on road and only 55 km away off-course route. It is not so far, neither it too close. On the clear sky day, we could see the peak of Mt. Kinabalu from here.

There are two options of places to stay on our first day of arrival.

1. Staying in downtown Kota or

2. Staying in the national park. I choose this option in order to have a closer look of Mt. Kinabalu before trekking up.

Of course, you have to choose it from home, not making decision here. The more difficult part is to book the quota of trekking up to Mt. Kinabalu.
This is because this place only allows no more than 135 people to trek each day. (Soon, probably the next season in 2018-2019, this quota will be expanded to even exceed 200 people each day due to the accommodation capacity at base camp is about to double as well.


There are a lot of website offering booking services but be careful of the scam ones. The most reliable website is the official website from Mt. Kinabalu: https://www.mountkinabalu.com/book


P.S. There're several packages to trek to Mt. Kinabalu but the most popular one includes:

2D1N (code ABK-MK01) by which pick up service from our hotel to the national park is included

3D2N (code ABK-MK02) by which we will spend a night at the national park and we will be picked up either from the airport or the hotel and dropped off at the national park



Mount Kinabalu Lookout

On the way to the national park which is about 12.5 km before reaching Mt. Kinabalu Headquarter, there's this beautiful viewpoint.

Location of the viewpoint: N6.02746° E116.46392° which is 1,010 m above the sea level.

google maps https://goo.gl/maps/a1xQ46YDjkS2

Oh, and if you happen to take a public bus, try to sit on the left side so that you can fully enjoy the view of Mt. Kinabalu, especially during the last 20 km.


Let's cheer ourselves up before trekking with a close up view of Mt. Kinabalu. It is so gigantic. Looking from here, I can't believe that I can actually trek up. It's so high up. The peak is swallowed into the clouds and only come out from time to time when the sky opens. Ok, now it's time to move on to our destination.



Mount Kinabalu National Park Headquarter

GPS: N6.00577° E116.54260° Elevator: 1,574 m

Google Maps: https://goo.gl/maps/bR7Ai81qjTL2

Here we are, the headquarter is located near the main road.



Actually, there are several hotels nearby both inside and outside the national park. I choose to stay inside the national park at Rock Twin which is the sub-hotel of Sutera Sanctuary Lodge. Actually, the hotels nearby are all belong to them. It seems like they got the concession from the national park including the Resthouse, the biggest house on base camp, Laban Rata too.

For more information, please visit: https://www.wavetune.com/sslweb/sslwww/index.php
But since I didn't quite understand from this website, here is the official website of Mt. Kinabalu, https://www.mountkinabalu.com/stay. Here, you can click at the accommodation for more details which is dividing into several zones:

Panalaban Assorted Huts or the hotel at base camp where we will stay tomorrow.

Kinabalu Park is where we stay on our first night.

Kundasang Ranau is the hotel which is a bit further away.

And Kota Kinabalu offers the hotels in downtown Kota.



While you are looking at each hotel's details, let me go contact the staff first.



I ask if I check out tomorrow and have some luggage that I didn't want to bring with me, what should I do? The staff says I can leave my luggage at the Luggage Room, it costs 12 MYR each bag.

Rock Twin Hostel

For more details, please click https://www.mountkinabalu.com/stay/kinabalu-park/rock-hostel

We can see Mt. Kinabalu right from our hotel but if we walk up a bit from our hotel, we will have a clearer view of the Kinabalu majestically stands in front of us.



Now let's enjoy the scene before it gets dark. The staff say that around 2 or 3 a.m. in every morning, you would see flashlight from the tourists trekking up to the summit point.

We have our dinner at Balsam restaurant which is just opposite to the national park. The price is quite expensive, especially beverages. After food, I go out of the national park and the beer at the shop which is about a kilometer away is much cheaper. My friend also bought a pair of stud shoes which is the same kind in Thailand. The shoes is only about 100 THB but it's so good and all Look Hab (or people who work like Sherpa) here all wear it.

Here is the restaurant from different angle, it has Mt. Kinabalu as a backdrop from the North.

The mini-mart outside the national park which is only about a kilometer away offers everything we needed like a flashlight, gloves, hats, snack, beer, and stud shoes which is only about 7-8 MYR or 60 THB.

Day 2 Trekking Day

22nd July 2017
This morning is the day where my dream will start to realize as we will be trekking up to the gigantic Mount Kinabalu.

The indoor and outdoor atmosphere of our room is quite shady.

This sign is such a familiar photo in every review I have read. Today, it's finally my turn to stand in front of it. It has map, warnings, rules, tips, and safety recommendations.


Here are the recommendations:

Photo Recommendation

For more information, please click https://www.mountkinabalu.com/tips/important-tips



Scale, it is to weight the stuff we want Look Hab to help us carry up.

Here also offers carry up service and the price is quite alright. The price is listed in the photo. Since it's just me and my friend and in addition to camera equipment, our clothes are relatively light, we decided to carry it ourselves.



We have our breakfast at the same restaurant as last night. We now have our food along the way ready too and put them in a plastic bag with a bottle of water (there's water filling point along the route). We have bread, sandwich, boiled egg, fried chicken, cracker, and a fruit.



Before trekking, we again register our name. We then are given an ID tag with our name on it. We have to hang it with us all the time, do not lost it.


2.7 km. away from the national park, we reach the earthquake monument which was built in a memorial of the big earthquake two years ago on 5th June 2015. That incident occurred at 7.15 a.m. and killed 18 people of which 4 of them were tour guide and 14 were tourists.

Earthquake Monument



This area is also a viewpoint. When the weather is nice, we can see the peak of Kinabalu and a big waterfall falling from the cliff. Actually, this waterfall can be seen from the viewpoint at Mt. Kinabalu Lookout too.

From the national park, it is 4.3 km to the trekking starting point.

Timpohon Gate

Everyone will be dropped off here.

Originally, there are two ways to trek up to Mt. Kinabalu but due to the earthquake, the other route was closed.



TIMPOHON GATE, the starting trekking point at 0 km.

"Pondok" that we see at the door is Malay language which means shelter. We would see around 7 shelters along the way so we will see "pondok" quite often.

Timpohon Gate is the first checkpoint where we register our name to start trekking. If you forgot your ID tag, you won't be allowed to enter.

3D map of google earth shows our route up there. The orange line shows the road route from the national park. The first day trekking distance is about 6 km (the blue line). We start to trek at Timpohon gate (elev. 1,866 m) towards Panalaban base camp and start to go onto the summit point the next day at 2 a.m. with a distance of 2.72 km (the red line).



Terrain view map shows the route to hike up to Mount Kinabalu.

KM 0 Our first step (starts at 8.53 a.m.)

After passing through the brown Pondok Timpohon Gate, it's the long going down trail. This could be a relax start but we could get really tired trekking up on the way back.

Carson Waterfall

Only after walking the first 100 m, we will see Carson Waterfall. The tour guide told us that it was separated from the tall waterfall we saw earlier from the viewpoint. Carson Fall is a small waterfall near the trail. It is such a great relaxing start because from now on we will start to actually trek up.


From the waterfall towards the KM 1 (From 1,860 m towards 2,039 m)

The first 700 m is a normal steep which is quite easy to walk. After slowly walking up to the stairs in the first 100 m, it's the left turn towards this long straight up stairs.



After those stairs, we get to relax a bit with this flat route. Soon, we will see our first pandok.

Pondok Kandis

When we reach here, it means that we already conquered our first kilometer. A few step from this pandok, we see the KM 1 sign (2,039 m). Well, it's not so long, we just took about an hour for our first kilometer!!! OMG, so we will spend about 5-7 hours for our first 6 km. towards the base camp just like the sign said. Now, let's take some rest and enjoy the scene before speeding up.

KM 1 towards KM 2 (2,039 m - 2,252 m)

Pondok Ubah, the second pandok

After the first break at Kandis, we start to move on. The route is not as steep but still a bit up of about 400 m stairs and flat route. Then, we reach our second pandok at Ubah (elev. 2,081 m) and the weather is cool too. Soon, we start to walk again as this pandok is not so far from the first one. More luckily, the rain doesn't seem to fall anytime soon as it was raining last night. Anyhow, the raincoat was in my bag already.



Kiw

After the Ubah, the road is quite flat before facing long stairs again. While my energy was almost up, I saw this view and I immediately have energy again. This view is the peak of Mt. Kanabalu from afar. This area is quite narrow that we need to have fences on both sides which is quite steep down. It's like a knife ridge.

Looking back from where we were.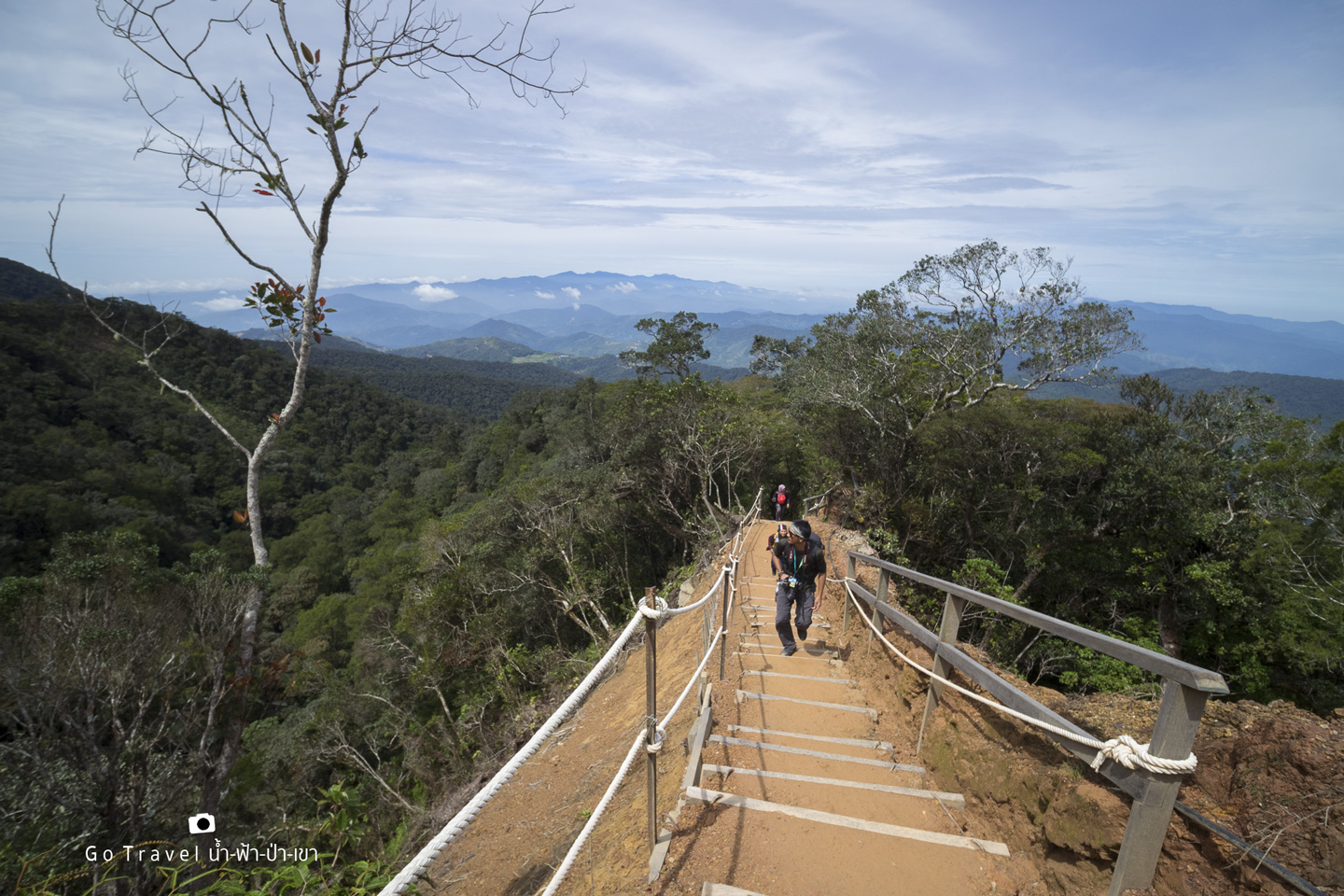 At the end of this ridge is the KM 1.5 sign at the elevator of 2,164 m.



The road before reaching the KM 2 (elev. 2,252 m) which is almost taller than Doi Luang Chiang Dao, is a half flat and stairs one. At this point, we already spent like 2 hours and 15 minutes meaning that we have spent more time on the second kilometer than the first. I probably make up the new record?

Now, let's keep on trekking. The handle here is so nice and smooth. I love it But one thing struck my attention, so far, I didn't see any insects or ants yet. Usually, we will see them quite often in a rain forest.



From KM 2 to KM 3 (2,252 m - 2,455 m)

This road is quite flat and not so steep. Relatively, it's easy to walk. Soon, we reach another resting place, Pandok Lowii, but I won't waste any more time stopping, otherwise, I wouldn't reach the base camp at night time.
Now, I see an uncle walking down already. If he just conquered the summit this morning, I'll be fine. Anyhow, he is so fast. If we started at the same time, I just walked 2 km while he already did more than 3. Or probably, he didn't conquer the summit?!





We start to see more people walking down while the weather is still cool. Yet, it's sunny. Looking at the weather pressure at my watch, I think we'll be safe for several hours but the tour guide said, probably this afternoon we could see some rain because the weather changes faster as we go higher up.



Now we are at the 2.5 KM sign (elev. 2,350 m).



When we reach the KM 3 (elev. 2,455 m), another full hour is spent. I'm quite slow.





Now, I start to walk slower and enjoy trees and atmosphere around more which is a good tactic of taking some rest.



Actually when we walk slower, we have more time to enjoy the surrounding. Thus, more cute things show up.

This tree is also cute, quite different but definitely beautiful.





This leave is even more strange. I've never seen it before. This forest is quite different than the one in Thailand. Of course, here is the Borneo Forest.



Like this condition of road, I usually only take 40 minutes per km but how come I'm very slow here? Probably I carry too heavy stuff and start thinking to hire my tour guide to carry it for me. The tour guide asked me to pay two phrases, the first one is towards the base camp and the second one is for going up to the summit point. I immediately agree but ask him to stay close to me in case I wanted to use the tripod. Actually, my tripod is not that heavy, it's only about 1.5 kg but now I feel like I'm 3 kg lighter. I don't remember the exact price, probably, it's 10 or 20 MYR per each phases.

This leave also looks strange. I'm not in hurry anymore since we will reach there anyhow. If we go faster, our energy would be gone quite fast too.



Looking up angle



Wild Flowers



Here is Look Hab, they just carry up like this with no assisting equipment whatsoever.



From KM 3, the road gets tougher. There're no more flat route but about 200 m long stairs. My legs are now shaking and I feel that every step I take is so difficult. This is considered the steepest route so far.



When my energy is almost up, I see this life saving resting place, Pondok Mempenning. It's so shocking that from KM 3 to here is only 300 m but I take 3/4 hours!!! OMG!!!

It's now 1 p.m. so we have our lunch here in order to decrease some weight and more importantly....I'm very hungry.





After that, the road is still steep. We reach the KM 3.5 at 2 p.m. In summary, we take like 2 hours from KM 3 to KM 3.5 and now in total we already spent like 5 hours. More importantly, we are only 0.5 km further from half of the trail, OMG!!!



From KM 3.5 to KM 4 (elev. 2,634 m - 2,745 m)

Now, I feel really exhausted. Even the flat road seems difficult to walk already. All I can do is keep walking. When I see other people also stop from time to time, I feel better, haha. I'm not alone on this.



Pondok Layang Layang

Here is the biggest resting place on this trail. The small national park office is also located here. My tour guide eats here but not in front of us, he's eating in the kitchen. I know this because I was going to call him up to continue and found that he's having his lunch deliciously. So we all take quite a long break here. There're 2-3 types of very tame birds. I can't capture the colorful one but this black one. The same case goes to the running squirrels. I feel like my energy is all gone as I can't even press a good focused shutter. My lunch is all digested so I take out chocolate bar as energy food to charge up my energy.

After the Layang Layang, it's another 40 m steep stairs before we reach the KM 4 (elev. 2,745 m) Well, I still have 2 km more to go but already spent 6 hours. Oh no, someone please help me!



Tri-Junction

40 m after the KM 4, we now meet with Mesilau Trail which was another trial in the past. It was farther but with more beautiful view. Now, it's permanently closed due to the road was heavily damaged by that earthquake. The road was also obviously changing into yellow dirt.



We start to see flowers on both sides more.





Taking photo while walking is the best way of resting.


Giant Bonsai Forest!!!

Only a few hundred meters away from the tri-junction, I was stunned by the scene in front of me which has changed completely. It is the giant bonsai forest. I used to think that bonsai was a small tree that looks like a big tree. The tour guide told us that this is a bonsai forest. Oh wow, it's so breathtaking. I forgot all my exhaustion for a while even though the road in front of me just keep on getting steep.

My breath is simply taken away by the bonsai forest. Now that the temperature is dropping too, I feel like I've come to a totally different and unfamiliar world.



Red leaves





When I take a careful look around, everything looks more unfamiliar, like this leave is so thick, round, and differently beautiful.

Looking up, we can see the tip of giant bonsai spreading around everywhere.



Oh wow, it's really beautiful I think. The tree comes in different shape. Now we also see the peak of Kinabalu as our background again. Soon, we will reach the base camp.

Mountains start to appear in front of our eyes. For the first time, we are cleared out of the forest and can see the vast landscape with strange plants. I can't resist but changing my lens for good photo taking. Also, I take this chance to wear more warm jacket.





The clouds floating below our eyes level reaffirms that we are now above the cloud level.




Let's take a shot of giant bonsai standing alone form afar. Now we can clearly see the below view which certain point of it could be the viewpoint we looked up yesterday.


Top view of giant bonsai forest is so magnificent.



It's so grand.

Borneo Rainforest



Let's keep on.

The location where we had a great time taking flower shots is Pondos Villosa (elev. 2,961 m). This area is quite close to KM 5. We spend about half an hour here before continue trekking. It's already 5.30 p.m. I think we can't be too slow, otherwise, it'll get dark before we could reach the base camp.



After packing my bag, I see another type of flower. When can we actually move? haha.



KM 5.0 is where we trek up to an elevator of 3,000 m. From here, it's only the last kilometer left. My GPS tells me that the sun will set at 6.33 p.m. so we only have about an hour left to reach our destination.



These two guys are also one of the last group of tourists to trek up today. The older brother who is more than 60 years old walk at front while the forty years old younger brother is taking care of him closely. They could keep up with me because I was busy taking photos earlier.

I also must hurry now.



The peak of granite Mount Kinabalu outstandingly sits in front of us. I think we have to walk through this bonsai forest for a while and only after we walk out of this forest then we will see the base camp.



Now, I'm back on walking alone again. My friend has long gone in front of me, probably already reach the base camp by now. My tour guide also disappears, probably is playing his game somewhere. So my tripod is also gone with him, what about our earlier promise? Anyway, the sun is already set and lots of clouds, so it's alright. The rain is also about to fall, oh no!!! Do not rain yet!!!



After this, I'm just keeping on walking. The dark makes the bonsai forest looking quite scary. My headlight is used now. The rain doesn't seem to fall anymore. Even I'm alone, I feel like the tour guide is watching me from somewhere. Finally, I arrive at Panalaban Base camp at around 7 p.m..

Laban Rata Resthouse at the elevator of 3,273 m.

This is the same height as Leh Ladakh where I just had an altitude sickness.





Oh wow, it took me 10 hours!! I'm so embarrassed, haha. Well, at least I'm not the last to com up, haha. When I see our tour guide again, I ask my tripod back and take more photo to post on Facebook, letting my friends in Thailand know that "I've made it". My tear almost burst out.



When I come in, it's so empty! My friend is waiting for me there with my dinner in a box. Thanks to him for coming earlier, otherwise, I'll be starved as the kitchen has closed already. Immediate I enjoy this so delicious duck rice.....and probably I'm really hungry too.

Supposedly, there should be 4 people in our bunk bed room, but it's only two of us tonight (well, this means that the 135 people quota has not been used up?)





There're several accommodation at the base camp in which most of them provide a budget room. The most expensive and the fullest option hotel is Laban Rata.

While I was looking for the bathroom to brush my teeth where most people already in bed, I find this interesting thing on the wall of Laban Rata Resthouse. It is the slogans, cheering up words, and inspirations for people to follow their dreams. Below are some examples.





Forgive Quickly, Kiss Slowly, Love Truly, Laugh uncontrollably.

It always seems impossible until it is Done.

Never never never … give up.

Don't wait, the time will never be right, Make it happen.

It's always easy to think small, but you get better results when you Think BIG.

Work hard stay humble.

Never lose your sparkle.

Push your fears aside, Keep your Dreams alive.

Enjoy the little things.

Believe in yourself.

Dream big, Live simply, Laugh often, Love Lots.

Live every minute, Cherish every memory, Love every moment, Embrace every possibility.

Don't let yesterday take up too much of today.

We can't spell s_ccess without "u".



———————— Goodnight everyone. Now it's almost 9 p.m. and it's time for bed as we will wake up again at 1 a.m. in order to complete our mission of trekking the Summit Trail to conquering Mt. Kanabalu ________________



Day 3 Summit Day, the long awaited day

23rd July 2017 at 1.35 a.m. (UTC+8)

It's only after 4 hours since I slept.

Most of the stuff I carried yesterday was for trekking up to the summit, starting from a hat, a heattech shirt, warm jacket, a heattech Long Johns tight, and a gloves good for -5 degree Celsius weather, and photography equipment. Today, I take the tripod back to me in case he goes hide himself and play games again. And also, I have my headlight, water, and chocolate bar. What must bring is a raincoat. Though it's not yet raining, the weather here, especially this season, is not predictable.

For the buffet food, even I know it's so important, I really can't eat it because it's not delicious and more importantly it's not our eating time, neither it a walking time, T_T

2.35 am (UTC+8) Summit time begins

We trek in the dark towards Mt. Kinabalu peak in the mist of cold and windy night. The only light was from headlights of all climbers. I feel like I can hardly breathe, it's also so difficult to walk. I have to stop for every two steps I take. I breathe so heavily. Why I get tired so easily?!

The first phase of the summit trail requires you to reach the checkpoint before 5 a.m. which is 1.4 km away from the base camp (I forgot to mention that there are two routes going up on the summit trail during the first phase. If you can't make it to the checkpoint on time, you won't be allowed to go further!!! The new route is called New Ranau Trail which is 3-400 m farther than the old route but probably less steep?!) Both routes will lead you to the checkpoint. With the distance of 1.4 km and two and a half hours time, I think I will surely make it. But now two hours have gone by and I don't seem to reach it just yet. It's almost 5 a.m. now, I feel like I probably be the first to go home. Darn it, my heart is already there but my feet won't move as I wanted.

My last hope happens when I see the light from the house which I assume is the checkpoint. It is the last 100 m and I pull up all my energy and keep on walking up even when I almost can't. I finally make it here at 4.52 a.m., only 8 minutes before the gate is closed.

KM 7.0 Sayat Sayat Huts Checkpoint (elev. 3,668 m)…. The heaven opens again.



The guide looks back to gives me an encouragement and suggests me to rest 5 minutes before walking up again as he sees that I'm all pale by now. For me, to know that I'm not a loser and made it on time for the first checkpoint, I'm all back up. I think it'd be horrible if we have to turn back before conquering the peak and this is the cruel part of Kinabalu trail. It is so because we have to walk against time. Sometimes we have to speed up in the last kilometer which makes it so difficult to charge our energy up. In turn, the rest of the road gets even more difficult.
At 5 a.m. I move on. Sayat Checkpoint is about half way to the peak. The first half took me like 3 full hours! What about the second half? The time is my enemy now. The tour guide said the second checkpoint is at the peak and we must reach there by 7 a.m. If you are late, you won't be allowed to hike to the summit. OMG!!! So I only have two hours left which mean I need to walk faster. Sadly, I still move quite slow, my average speed is at 9-14 minutes for every 100 m. In the other words, it is 0.5 km/hrs and I can't walk any faster than this speed.


//This blurring photo was taking while I was waiting to climb the rope. The sky starts to open.

Finally, the South Peak appears in front of me. When we most about to give up, that feeling is quite a symbolic sign which is more prominent than the peak of the summit. But we won't see that symbolic sign yet until we are at the summit and look back. Anyhow, seeing this is already a good encouragement.

When looking back, I see the staff walking behind me which means that I'm the last one.
My goal of conquering the summit has long been faded with a simple logic. Now I just want to stand in front of the South Peak.




6.37 a.m. and the sun has been up for half an hour but yet going out of the left bunker.

The South Peak, my love, I finally stand in front of you, I'm so happy.

I think the origin of its name come from the fact that it's the highest peak on the South side of Mt. Kinabalu. Now I'm surrounded by almost 10 peaks. On the right hand back of me is St.John Peak, the left is Donkey's Ears Peak and Tunku Abdul Rahman Peak. If turning back, we will see Ugly Sisters Peak and the Low's Peak which is our summit point.

Two Feet Stop at Mount Kinabalu

Here is the farthest I could come, at KM. 8 (elev. 3,929 m).

The temperature is -5 degree Celsius, it is so super cold.

Let's say my trail ends here at 6.46 a.m.. I only have 14 minutes left and the tour guide have advised that I would not make it by 7 a.m..

Well, he didn't have to advise me because I knew it already T_T Well, if I'm not gonna make it, I should have brought a tripod with me too.



While I was sitting to rest, I enjoy the view of South Peak. I just keep on watching it to make it worth for what I have walked, haha. The tour guide asked me to wait here while he went up to call my friend up down. My friend is so cool, he's been up there enjoying the summit for hours.

Here is my friend's review with the atmosphere of Low's Peak (4,092 m) https://pantip.com/topic/36724341



Various Mood

I'm tired, happy, exhausted and wanted to shout out loud that Kinabalu~~~~~I'm here, yay yay yay.... In fact, there's no voice coming out but inside my heart, it's loud and clear.


There it is, the Low's Peak, the summit point. From here, it is about 720 m away.



Let's give myself a selfie with the great granite Mount Kinabalu before saying goodbye.



Here is a 3D map looking back down of where we need to walk down today.



The view going down is the same as when we walked up in the dark earlier.



Sayat-Sayat Huts Check Point is where we have to make it before 5 a.m..



Tourists are climbing a rope down.

Actually, if you are very firm, you could just walk down. But if it's rain, you must hold onto the rope as it's very slippery.



Even though it looks quite thrilling, the actual scene is not as thrilling as in the photo.

However, here is the true thrilling trail. Did you see a small group of people up there? Yeah, here is the special route for via ferrata for those who buy a special package. If you are interested in climbing like this, please click https://www.mountkinabalu.com/map/ferrata-route-map The price is listed on the booking website, here it goes https://www.mountkinabalu.com/book

There are small and big circuit of via Ferrata route. The small circuit is Walk the Torq and the big one is the Low's Peak Circuit.



Panalaban base camp and the ruin of rocks from that major earthquake



Here is the viewpoint or the half way resting place from the base camp to Sayat Sayat Huts Checkpoint.



Let me take you through the summit trail now as earlier was too dark that I didn't take any photos.

In addition to holding onto the rope, certain area is made of stairs like this.



And something like this.



Looking back to the peak

In front of us is Tunku Abdul Rahman Peak and Donkey's Ears Peak.





On the way down towards the forest, we see lots of diverse and beautiful plants.


Flowers in this area is extremely diverse.

So we just keep on taking photos of these flowers.



Beautiful plants





We are back down to the base camp again at 9.52 a.m. which is very close to time limit again. There's a rule that everyone must check out by 10.30 a.m., otherwise, the late check out fee of 100 MYR per hour will apply. It's so tough here. We can't walk slow and our energy is used up all the time.

We quickly check out and eat a bit before the food was taken back. Then, we remember to sign our name at the board and start trekking down at 10.50 a.m.



Now my shoes start to pinch my feet. OMG!



There's orchid and Foilom plant hanging on giant bonsai, what a magical nature!



Helipad at elev. 3,052 m is the emergency parking area for helicopter. It is actually a hidden place and forbidden area that my friend found and told me to come.

Here is the view of Mt. Kinabalu from the helipad. We could take photos a bit before soon the staff found us and asked us to leave immediately. Only then that I realize it's a forbidden area.



Here is the last shot before the staff found us. Frankly, this area is such a great location for setting up a coffee shop.





Well, actually, I still got another one, hehe.

The giant bonsai forest is just so beautiful.



Standing above the clouds make me wanted to stop here longer, but I don't think that'd be a good idea because the time is limited and our destination today is below the clouds.

We now reach our last time limit where everyone must be at the KM. 0 Timpohon Gate by 4 p.m. otherwise, we have to pay the fine for the car has to wait to take us back to the headquarter.





I reach the Gate at 3.30 p.m.,half an hour early. I spent four and a half hour trekking down. It's really hard actually as I had to walk and run for 2-3 km before I almost couldn't move in my last km. After this trip, my body need more than half a month to get fully recovered whereas I only needed a night by putting my feet in a warm water to fully recovered from the Mt. Fuji trip.

This ID Tag would get us a free hot spring service at Poring Hot Spring. Here is a popular rehabilitation center of people trekking up Mt. Kinabalu. It is operated under Sanctuary Lodge where we have stayed at their sub-hotel at the national park area and the base camp.



If you are interested, here is the location https://goo.gl/bVNwWs It is about 39 km left of the national park towards the east.

Poring Hot Spring
Ranau Sabah Malaysia





I hope that after hours of hot spring therapy, my body would get better.....But no, I still feel quite painful and tonight we sleep here.
Cool stream flowing by in Poring Hot Spring





Day 4 Departure Day

24th July 2017


It's time to say goodbye to Sabah, Borneo Island the next morning. While taking the car back, I keep on looking at the peak of Mt. Kinabalu which I'm not sure if I will ever get a chance to come back again. This probably is the last time of me seeing this view. If you ask me whether I'm done of this kind of travel, my answer is no. Life still goes on and I could take it as an elderly memory. What can I do? Beautiful and wonderful places in the world usually is only accessible by feet. As a result, we must get tired a bit.



In summary, this is the most painful trip in my life. Is it that tough? Well, without time limit, I think it's alright. That I'm not tall and a bit aged, it gets much more difficult.... Anyway, you should definitely visit this place if you are a mountain lover. Mount Kinabalu surely is one of the high-end must visit destinations. Once in a lifetime, you must experience it yourself.

Here is the end of this trip :) Thank you so much for reading until this line.

See you guys again in my next review. If I go out and see something interesting, I will share with you guys again ^___^