Hello everyone...It's very nice to see you again in this review. Today Mr. Paksabuy is going to take you to visit a seaside town, which is not very far from Bangkok. The town that has delicious fruits, developed industry, a good taste of fish sauce, a beautiful Samet island, and a hometown of the great poet "Sunthorn Phu"....Of course...This town is called " Rayong". Now, I am going to take you to visit a new hotel in Marriott chain, "Rayong Marriott Resort & Spa" and I would like to give a definition of this resort to be "a paradise for family and seminar groups".
Well, let's have a look at a map...Rayong Marriott Resort & Spa is located on Mae Phim Beach in Wang Kaew sub-district. The resort is about 20 minutes from Baan Pae pier. If you don't have a car, you can take a share van from Bangkok and drop off at Baan Pae. Then, take a mini bus to Mae Phim beach, which costs only THB 20.
Many thanks for a map from Wang Kaew Resort.



The main selling point of this resort would be a huge swimming pool, which I believe that family and children will fall in love with this....So, let's have a look at the swimming pool then.

This is the main swimming pool of the resort. It's quite long and large, also it takes place from the central area of the resort to the beachside.

The area in the picture below is an aquarium, which is one of the swimming pool edges. If you swim around here, you will feel like you are doing snorkelling in the sea.

This area has 2 water-slides and it's only suitable for children since the water in the pool is quite shallow. Therefore, an (old) adult like me will hurt my bottom if I go to play this...Hahaha.

Well, let's continue swimming to another area. I can feel that the pool floor has uneven slope and it's quite long...

One of the pool edges is situated next to the beach and the best time to come to this area is during the sunset. Well, swimming and soaking with water while enjoying watching the beautiful sunset would be a great time. Isn't it?

Another swimming pool is located next to the main swimming pool. Although the pool size is not as grand as the previous one, this pool is also located on the beach. I think this pool would be more suitable for teenagers or young couples since there is underwater music, which gives more relaxation. Whereas, the other pool is more suitable for swimming with friends and family.


Also, we can watch the sunset at this pool. For me, I prefer watching the sunset here rather than the previous one.

In order to get the most romantic feeling, watching the sunset on the beach would be a good choice. Although the beach here is not totally white and the sea water is not totally clear like on Samet island, overall I think it's not too bad. If you can accept the beaches in Pattaya, this beach is qualified to be a better one.


The last pool is a Children Pool located in front of the Kids Club and next to the Beach Pool. It's quite beautiful though.

The Kids Club here is quite spacious. It has 2 levels with many rooms and many functions, so kids will have many choices to choose whatever they like. If you are impressed with the kids club at Courtyard by Marriott Hua Hin at Cha Am Beach or at JW Marriott Phuket Resort & Spa, you will be impressed with the kids club here since it has similar feeling.

In addition to the swimming pool, guest rooms are also one of the highlights here. Guaranteed by August Design Consultant Co., Ltd., who designs guest rooms of Hilton Pattaya, Veranda Resort & Spa Hua Hin, Veranda High Resort Chiang Mai, Centara Grand Mirage Beach Resort Pattaya and so on. The rooms are designed with Thai Modern Style. It has a combination between Traditional Thai style and Modern style, which Thai guests will be pleased and foreign guests will definitely love this.
Rooms in Deluxe and Premier types are decorated in the same style while the difference is only the room area. Guests can choose to stay either in Mountain View room or Sea View room. And of course, I would like to suggest you to stay in Sea View room. Let's have a look at the interior design of the rooms.
Below is a Premier room type.



Below is Deluxe room type, which the difference is only room space.

A design of the wardrobe and the minibar is quite modern and functional.


The feeling of the bathroom here is similar to the bathroom in Veranda Chiang Mai, but it looks more modern, more colourful, and less artistic design.




The balcony is not very large and there are a chic wooden stool placed in the corner.

A Studio Suite has sea view and located in a corner, which is very spacious. Overall, I am not quite satisfied with this room type since it's too large and there are many unused spaces in the room. The feeling of this room looks like a room at Hilton Pattaya, but over there, the facility is arranged in the right place.



The most expensive room type in this resort is Suite type, which has a separate bedroom, a living room, a big balcony facing to the sea, and a bathroom that looks like a bathroom in Deluxe and Premier.



Okay, let's go down to the lobby for exploring the lobby area. Below is the hotel corridor with stylish design on the floor and the wall.

Upon entering the lobby, the first thing you would see is these two elephants, which is entitled to be a national animal symbol of Thailand (Not a panda..LOL).

The lobby area is open-air, which I think most of resort hotels are usually designed with this style. I want to know that the purpose of designing with open-air style is only for creating great atmosphere or it's for energy saving :-)



The lobby is quite spacious and has a beautiful design.



But I think it should be higher up since the view seems to be more beautiful.




The lobby is decorated with big rocks. Giving such exotic feeling...

This zone is decorated with jungle garden style. I think kids would enjoy spending their time in this zone because there are many carps in the pond.

The Lobby Lounge is adjacent to the lobby. During the daytime, it's merged with the lobby like it's a part of the lobby area.

In the night, it's quite obvious that this area is the lounge, which is separated from the lobby.



This is the restroom of the lobby. It's so beautiful and stylish.

Java is a bakery restaurant next to the lobby. Here, we can find some bakeries, grocery items, and some gifts. There is 50% discount for bakeries, sandwiches and salad after 7.00 PM. The price of these items would be reduced to be around THB 50, which is quite cheap and it's really worth to wait in a long queue for such delicious food with reasonable price.






The main dining room of this resort named "C-Salt". We can have our meal here in the morning, at noon, in the evening, during rainfall or during sunny day, whenever we are hungry and have no idea of what to eat.



Breakfast is quite good here. There are various kinds of Thai dishes at breakfast and I think Thai food here is quite delicious....I'm loving it.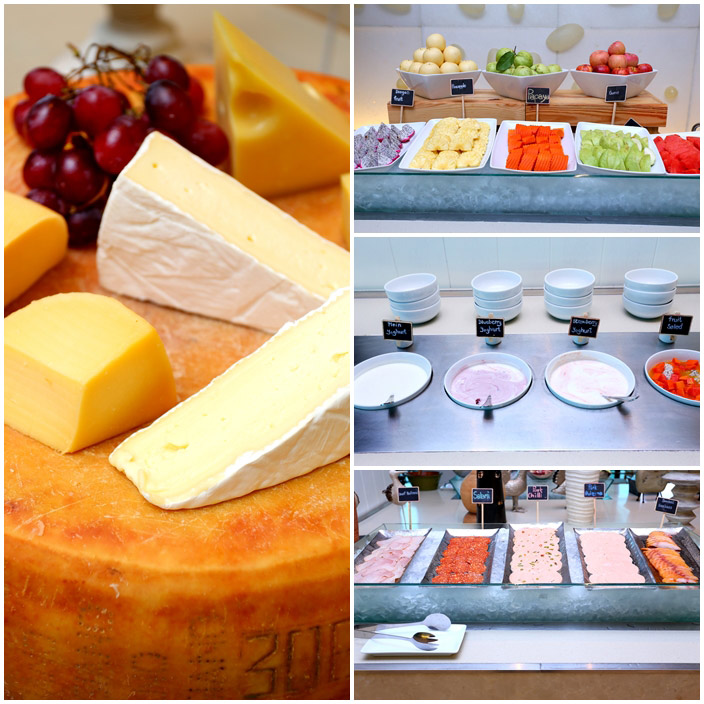 The other meals are either set menu or a la carte. The flavour of the food is based on Thai people's taste. Nowadays, the resort is proud to offer the taste of Indian food, which the menus are created for Thai people's taste as well. There are many signature dishes here such as noodle with stewed pork knuckle, Indian-style grilled chicken, pomelo salad, pizza, and honey toast.



A seaside restaurant, " Fish Bar", is a restaurant that located very close to the beach. It's situated near Beach Bar and Kids Club. The atmosphere is really great if the weather is good. But if there is a storm coming over, it will be a problem because it opens to receive the wind from the sea. For food and drinks here, I would like to say that I haven't taste them yet, so I definitely have no idea of the taste. Just imagine at first...


The final part, I will take you to the spa of the hotel. A brand of Quan Spa has been used for the entire spa products.

A spa area is divided to be 2 parts. The first part on the left side with red statue is fitness centre. The second part on the right side with blue statue is spa.



The Fitness Centre looks modern and it's quite spacious, but the view is not really delightful.




In the locker room of the Fitness Centre, there is a steam room and a sauna room available for free as well.



Let's have a look at the right side of the fitness centre. The entire area on the right side is a spa area.

Rooms are divided into several types but the best room type is separated to be a villa.

The design of the spa is quite modern and it doesn't look like ancient Thai design like some other places. I believe that many Thai guests will love this kind of design.




A room for Thai massage has a great design with some small decoration items.



A room for foot massage also has a good relaxing atmosphere.



Well, let's talk about the treatments here. I already had massage here so I can say that I didn't imagine on this...Hahaha...The signature treatment here is the combination of massage style between Bali-Thai and Hawaii, which your body will be frequently stretched and moved back and forth. For anyone who want to relax, I wouldn't recommend this style. Unlike, the oil massage would be such a good choice for relaxation. It actually made me falling asleep for a while...Hahaha....Last but not least, for scrub, the spa focuses on using natural materials such as coffee and coconut, which are one of guests' favourite.

To summarise with advantages and disadvantages of the resort.
Advantages:
I would like to accept the fact that the selling points of the resort are swimming pools and guest rooms. The main swimming pool is quite large and giving us enjoyable time. The guest rooms are well decorated and modern. I strongly believe that many people will be impressed with guest rooms here. Moreover, the thing that we should not miss is bakery. If you have an opportunity to visit this resort, do not forget to taste the bakery since it has a good taste, good quality and it has discounted price after 7.00 PM.
Disadvantages:
For the disadvantages of the resort, which I don't really appreciate is about the location, since the resort is really far from the city centre. We are not able to find a convenient shop such as 7 eleven nearby the resort. Therefore, if you want to eat out and do not want to drive a car to the city centre, you have to go to a restaurant in the resort...Moreover, the resort area is very large and it has some unused spaces that looks like the resort is still under-construction. And to walk from guest rooms to the swimming pools is quite far. If you want to walk to Beach Pool, Kids Club, Fish Bar, I think you will be sweating before arriving to those places.

Finally, I would like to say "Thank You" to Marriott Hotels Thailand, Angie, Pom, and Bob for helping me with this review. Many thanks to August Design Co, Ltd. for hiring me to take a photo shoot here. Many thanks to Por for picking me up, dropping me at the pier and offering a delicious meal. Last but not least, many thanks to all of you who read this review until this line. Thank You So Much....