Phetchabun - The mountain of flowers and beautiful fog.


Phetchabun is the province in the Northern part of Thailand.

It is quite a big city and it is one of tourist destination where is crowded with many tourists.

The most popular tourist attractions in this province are Phu Thap Boek and Khao Kho, the greenery view makes this province be really charming.


So, what are about the other places ?
As per mentioned above, there are many tourists come to visit this province. Hence, this refers that there will be many interesting attractions.
There will be 5 designers who join this trip and they are now ready to find the discover this province.


Please feel free to share and like our page as per below links;

http://www.facebook.com/gograph

https://www.facebook.com/coundsheckjourney

https://www.facebook.com/bychinyeuk

Furthermore, you are able to view the clip of our trip.



How to get there!
To take a flight is the easiest way to get there, this will also assist to less time consuming. It is better to take the flight from Bangkok to Phisanulok.

Thus, we choose the flight from Bangkok to Phitsanulok, it takes only55 minutes. We have now arrived at Phitsanulok!

We highly recommend to rent a car if you come as the group.

We drive the car from the downtown to Phetchabun, it takes only 2 hours. It has really spectacular view, I feel as if I am in overseas country.



START !
Please feel free to follow our trip, you might not feel too tired but you can get very great experience.



[Phitsanulok Part]

01. To eat noodle while suspending your leg
We have a chance to go to the market of municipality in order to have a look at the premium product of this area.

Mostly, the local people have sold the fresh products, we buy many things to prepare for the camping.

The signature menu of this area is noodle, it is actually normal menu but you need to suspend your legs once you eat noodle, this is to prevent you from having cramp.



02. To visit Sappraiwan Resort

On the way to Petchabun, we have seen an amazing resort.

It is so chic, it can be said that this resort is 2nd place where gather hipsters apart from Ari. This resort is named Elephant Lake View Café

We can guarantee that many hipsters in Bangkok would also like to take a photo at this place.



This is one of the corner in this resort with the background of dinosaur for taking photos.

We have just noticed that our cloths are really matched with the background, it is so cool!


03. To visit Kaeng So Pha waterfall

It is seriously concerned about the security at this zone, we are reminded to not walk too close to the waterfall.
At this moment, the level of water is quite high, it can be said that this waterfall looks like Niagara of Phetchabun. We have taken some photos of the waterfall. Then, we head to our next destination.





[Phetchabun Part]

01. To visit Phasornkaew

This place is well known as the landmark of Phetchabun, it should not be missed once you come to Phetchabun.
At first, this place is actually not in the list but the hidden Buddha statue has caught our attention to come to this place.






Furthermore, there is an outstanding tower which is decorated with tile in various color
I feel as if I am in Spain, it is so amazing. It is crowded with tourists. In this meantime, we have also seen some fog which has floated to welcome us.


There is a shop where we can sit and chill out.


02. To visit Sridit waterfall
This is the unique selling point of Phetchabun, the water level is quite high.

This place is suitable for having lunch, so Papaya salad will be the best menu that people usually order once they come to visit this waterfall.

So, we do not hesitate to try the tasty papaya salad, it is so spicy though.





03. To sleep at the accommodation of Thung Salaeng Luang National Park

This national park is named as Savannah forest.

(We feel like we are at Safari in Africa because our cloths are really matched with its surrounding)

The background is so beautiful, the land is fulfilled with greenery field.
The natural park is surrounded with mountains, hence we decide to stay here tonight.











* Camping Life*
We have never done campfire before because we seldom stay in the accommodation of National Park.

As it will be our long night, thus we have prepared many stuffs for the camping such as potatoes, pumpkins etc.
We have mixed above mentioned with marshmallows, Oreo, chicken breast. We try to grill them by ourselves.


We start lighting fire in the charcoal stove (we borrow the stove from villager and buy some charcoal from grocery shop.
The teenagers from urban city have lighten campfire while it is raining, it is such the great experience.

I repeat to light some fire many times. At first, we light with the cigarette lighter but it is not successful. Then, we try another way by using dry leaves to lead some fire.

Finally, we can do it, but we need to sustain the charcoal to be heat at all time.

Then, it is time to grill potato wrapped with aluminum foil, chicken breast, bread and end up with cookies and marshmallow.

Even though, we are not so full with the grilled food but we are so proud because we can light campfire by ourselves.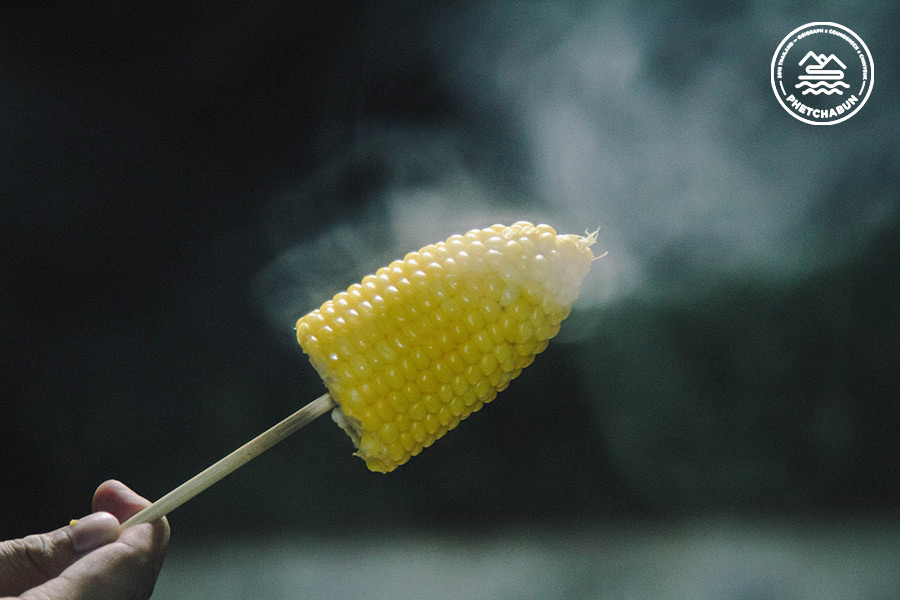 04. To enjoy seeing Khao Takhian Ngo

Khao Kho and Thung Salaeng Lueng National Park are not far from this area.

This morning, we drive to the view point at Khao Takhian Ngo where is named as Fuji mountain of Phetchabun.
Furthermore, there is also the interesting place that we need to visit, it is Daikon farm. It is the highlight of this place.

The farmer is harvesting the daikon, so we take the opportunity to take some photos

(Attention ! Please do not step on)

We think it is really cool that we are taken the photo while carrying the daikon.





05. The visit Weapon X Museum, the monument of dedicated people
This place is used to be the battle between communist and Thai soldiers at Khao Kho
We drive and follow the sign in order to see the weapon and monument.

The interior design is very modern, it is unbelievable that we can be here.






06. To sleep at Sirinati Resort

It is the most modern resort in Khao Kho. Furthermore, it has very good quality for both service and design.
We can really feel that how comfortable it is once we stay at this resort.

Indeed, the background is very suitable to take photo for both day time and night time.
We highly recommend you come to this place because it is really nice and great.









07. To visit B.N x farm at Khao Kho Talay Phu
We continue driving around Khao Kho without hurry.
B.N farm is our destination where has various raw materials of agriculture.

The most popular product is ice cream, which has various flavors such as passion fruit, avocado etc.

Khao Kho Talay Phu

The shop is the distribution channel for agricultural product, this matches with the concept of natural conservation.

There are various herbal products such as black sesame, herbal shampoo etc.

The ice cream is much better than B.N farm and the products are really good choices for souvenir. All of these herbal products can boost up good health and beauty.


08. To visit Latte Café

Once we come to Khao Kho and we decide to go to Phu Thap Boek again.

On the way to Phu Thap Boek, we go to Coffee Café, it is the most modern café in Khao Kho.

Today is quite foggy day since the morning, the coffee café is beautiful but the view is more beautiful.

There is no any better place than being in foggy atmosphere at Phetchabun.







09.To visit Phu Thap Boek

Phu Thap Boek is the village on the mountain where local villagers still stay here.

As everyone may know that cabbage is very popular vegetable to be grown at this place.

Since it is the harvesting season, hence the taken photos are not as nice as it should be.
We can be touched by the crowded fog on the way to Phu Thap Boek.

Luckily, we rent 4WD car which is driven by skillful driver, hence we can ensure about the security.



10. To reach view point

We are on a very high mountain, the city becomes very small once we see from this point.

We could not find any words to describe how beautiful it is once the city is covered by foggy curtain, please enjoy seeing beautiful photos as below.




11. To eat at restaurant in Phu Thap Boek

We have been caught attention by interesting advertisement of the restaurant
Pork leg is signature menu but we do not order because most of us do not eat pork.

Generally, the food is delicious, it is suitable to come with family.

Importantly, there is a live band to play some music, we really enjoy sipping some tea and steamed stuff bun

We are not so sure where are we right now (China or Thailand)?




It is the last day of this trip. We could not see the stars due to crowded fog.

According to this reason, we could not see the sun light in the morning as well.

The weather in Phetchabun is quite cold throughout the year, people are very friendly.

They are willing to welcome the tourists and preserve the uniqueness of their province.





12. The map for voyager



We have proclaimed since the beginning that this is the trip of designer.
If we have only edited the photos, it might not be enough for our profession.

Then, we would like to offer Phetchabun map (in the parts that we have been through) in order to make it easy to understand about our trip.


This is a plus to arouse your interest and enjoyment with our trip.

We have our theme on each day in according to the place where we visit.



Last but not least, this activity could not be successful if we do not have the great support from Tourism Authority of Thailand (TAT) who has arranged such a very nice campaign of 12 must-visit cities that should't be missed.

Our team and another 11 bloggers participating in this campaign have coordinated and created the map for each trips.

If you are interested in this campaign, your kind attention will be really appreciated. Please vote for us T02 as per below link;

http://thethailandbloggernetwork.com/campaigns/main





Lastly, the enjoyment might not be our priority for this trip but the most important thing is to go back and feel the nature.

To see the foggy curtain

To breath some fresh air

To listen to birds' beautiful singing

To let our heart indulge with peaceful ambience

We greatly believe that these are what many people are looking for.


Thank you for our official sponsors as per below photos.