In May when COVID quarantine and lockdowns were in effect, we thought why not try and visit some of the neighboring provinces from Bangkok. First, we thought we would visit Ratchaburi but before heading out, we changed our minds and decided on going to places a little risky (so we don't get quarantined).
Instead, we chose to take a day trip to Samut Songkhram and Samut Sakhon. These two nearby (1.5 hours away) provinces from Bangkok that have always been an afterthought. We considered them "visited" because we would always drive through them while going to Hua Hin.
So this was a perfect time and excuse to explore them. Seeing how charming and surprisingly beautiful these provinces are, we are so glad we went.
Check out all of the things we did and saw on this 12-hour trip.
Samut Songkhram
The day started early. We got up at 5 am and were out of the house by 7. Surprisingly, the roads were a bit busy along the way. Especially through the towns.
Despite it, we made it to Samut Songkhram by 8 am. With no real plan in mind, we took the first exit off the main road and started driving through the countryside.
Immediately we noticed all the sea salt farms. Both these provinces are well known for these picturesque fields that seem to span endlessly.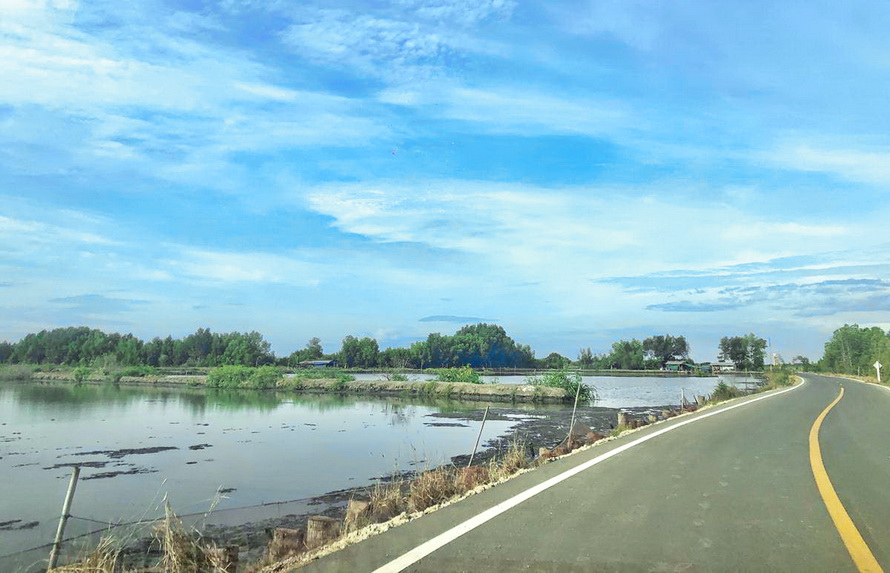 The scenic landscapes are all over at every turn. Basically, whenever you get close enough to the Gulf of Thailand, you will see these water-filled fields. During the dry seasons, the view must be very different.
We drove on, zigzagging past the farms, huts, villages, and the odd cafe or two along the way.
Don Hoi Lot
Our first point of interest to see was Don Hoi Lot, a sandbar at the Mae Klong Estuary used for fishing. Unfortunately, when we got there, it seemed like no one was here. All the restaurants and markets were also closed.

Could we have come too early? Or was this the impact of COVID? Definitely the latter.
Maeklong Market
From there we continued on with Google Maps as our best friend. We decided to go into town and check out if the markets were open there.
Yes. It was! After parking in a nearby building, we got some food and drinks from the Maeklong market. Grilled chicken, sticky rice, local snacks, and lychee filled us up quite well.

While there, I tried looking for the famous market area where the train goes through – known as Talat Rom Hoop. It was a rather hot day, so after a while, I gave up. I could have asked the locals but it didn't occur to me.
Well, guess what? While driving away, we saw it. It was just around the corner!
Should we drive back and check it out?

I asked Kanika
She said it was up to me but to be honest it was too hot for me to even bother. I would have loved to take some photos but who knows when the next train would come through. Next time.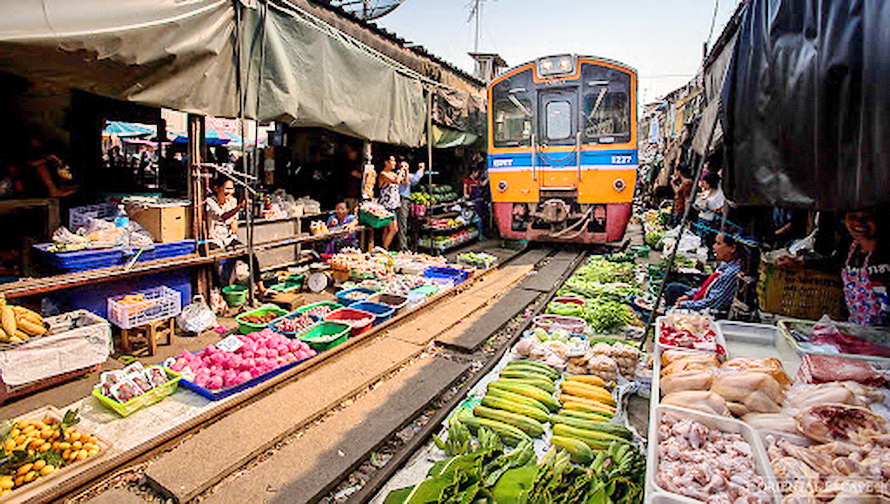 Fun Fact: Most tourists visit Samut Songkhram and Samut Sakun for this train market as well as Amphawa and Damnoen Saduak Floating Market. Both of which we have never visited. Ever. Can you believe it? We might do a market-only trip next time.
Scenic villages & towns
Again with no proper plan, we just drove around, literally getting lost. If I saw something that looked interested, I drove towards it. Sometimes we would look at the map in search of some temples or interesting geographical spots such as a bridge over a winding river.
This led us to Suan Luang in the Amphawa District. This area was very beautiful, filled with winding roads passing through rich green vegetation and charming villages.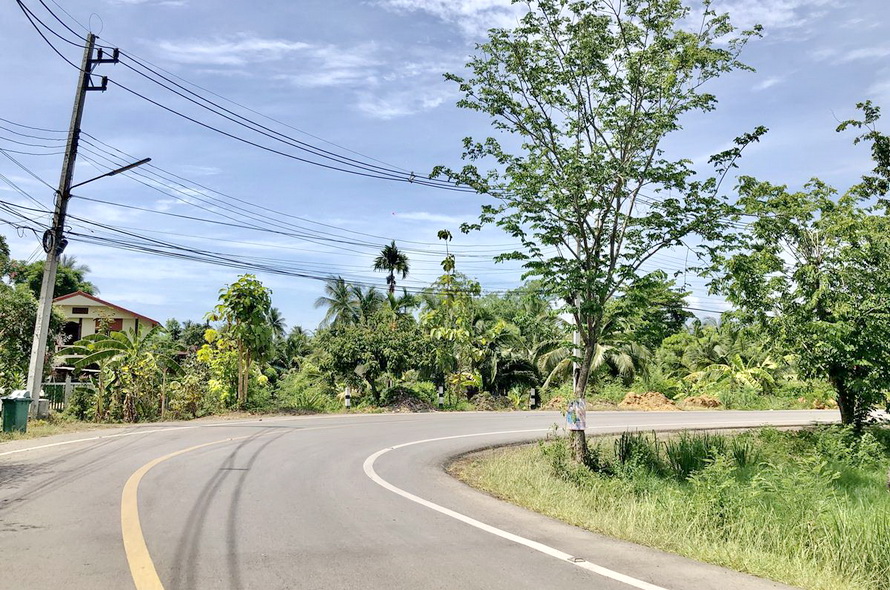 The homes and houses, in particular, caught my attention. Alternating between traditional Thai and colonial, these houses were quite mesmerizing.



I just appreciate unique architecture.
Temples
As part of the decree and lock-down in Thailand, all temples are temporarily closed to the public. But that doesn't mean we can't drive by to admire and take photos of them.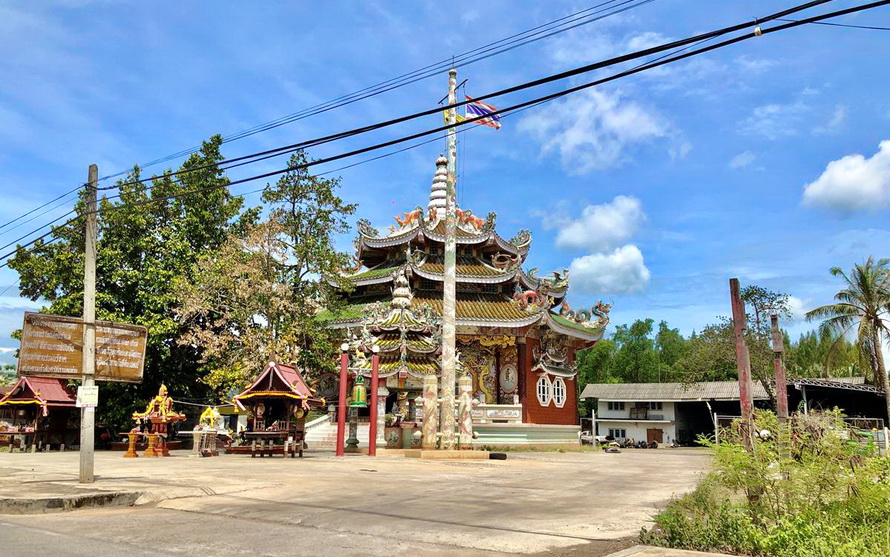 Now, most of these I don't know the names of or where I saw them. Sorry! As I said, we let ourselves get completely lost in Samut Songkhram. I would give you the same advice. If you are driving a car or motorbike, simply get off the main road and get lost in the small roads and alleys.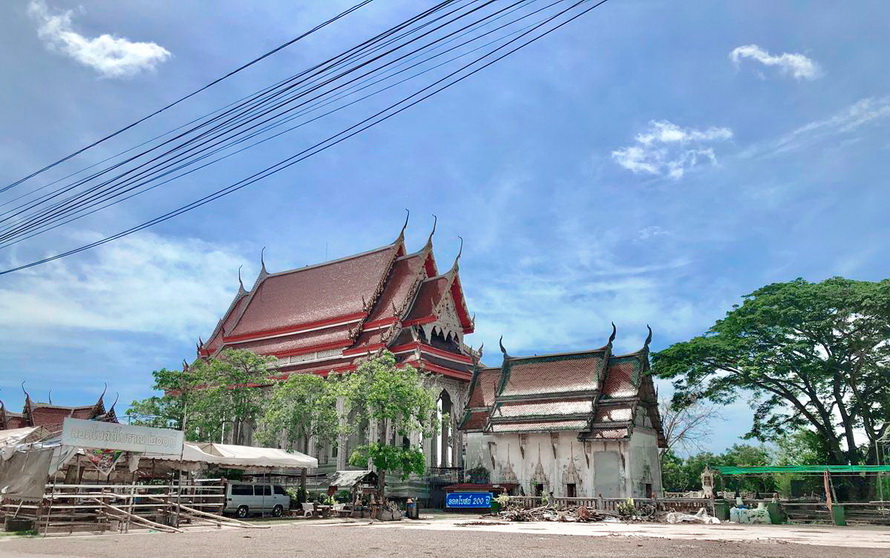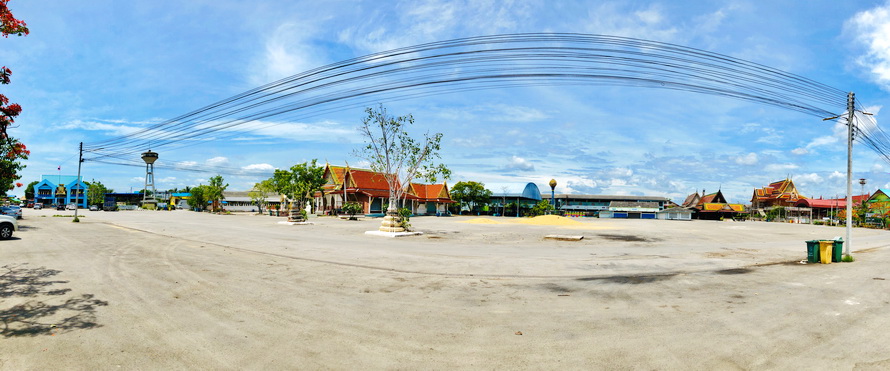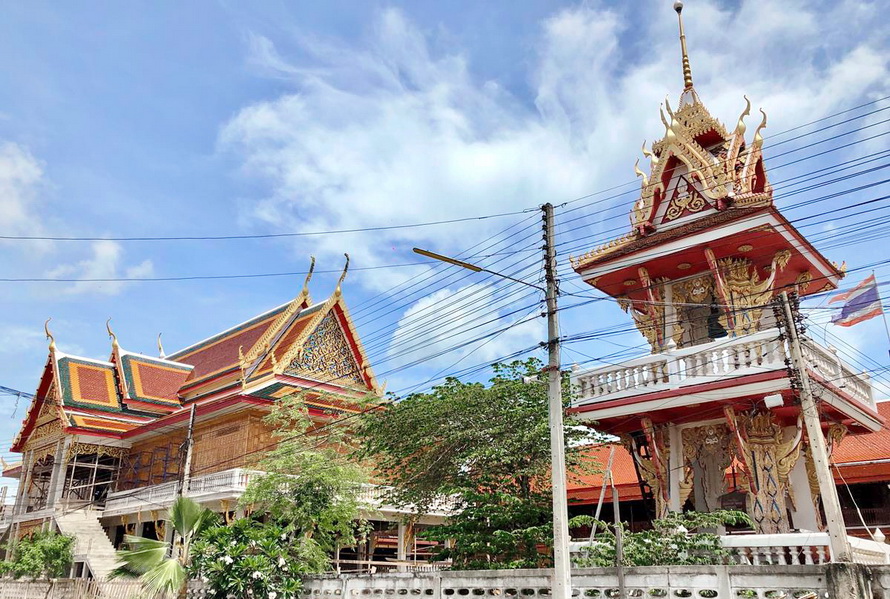 Lunch by the river
When Googling nearby restaurants, the first result was Khun Lin Restaurant. Without thinking twice, we headed there.


There was one table with customers when we got there. I know this must be a popular restaurant but with COVID going around, we can see why it would empty.
We sat closest to the river. We weren't actually hungry but we needed a break from all that driving. I ordered just one dish – prawn fish cakes, which were probably the best I have ever had. Most places make them soggy or use very little prawn. Not these. They were extremely appetizing. I had it with rice and some seafood sauce.
Samut Sakhon
Sea viewpoints
While I'm sure there are many others, we went to two sea viewpoints. The first was Kalong Beach. It's not really a beach but it's a nice Instagrammy viewpoint that looks out into the Gulf of Thailand.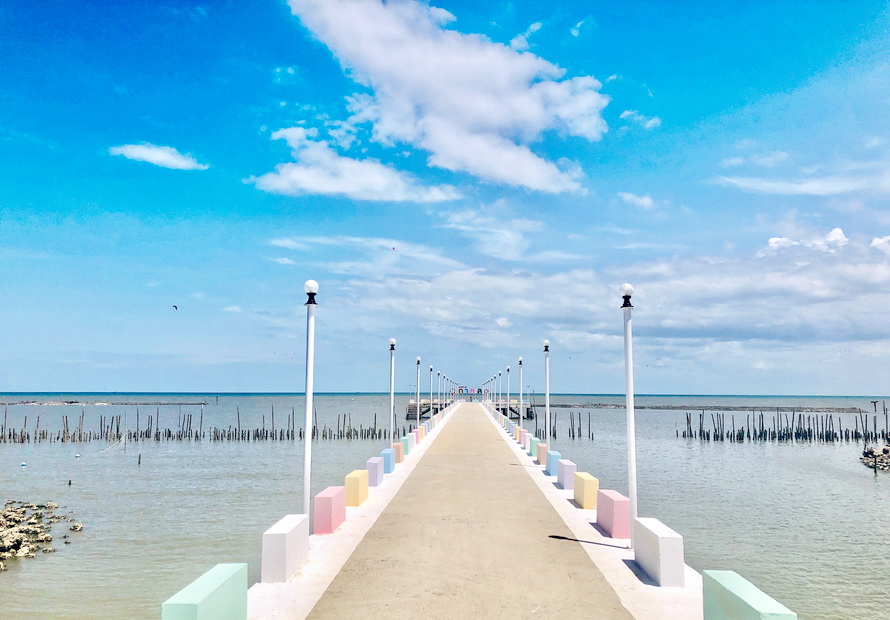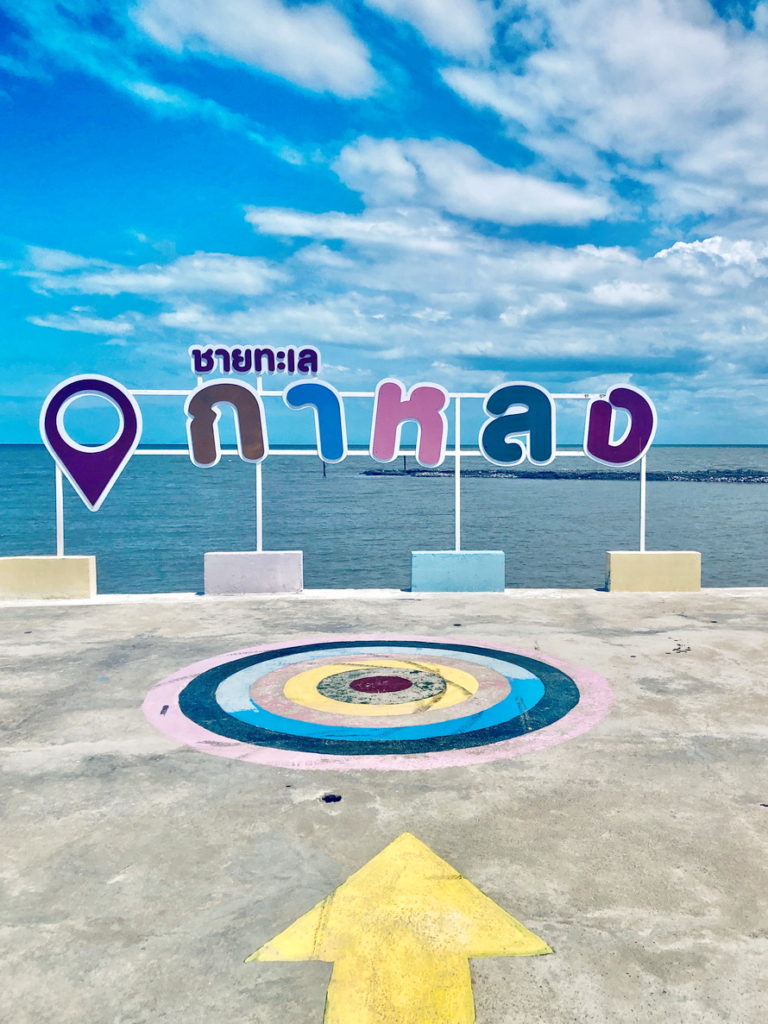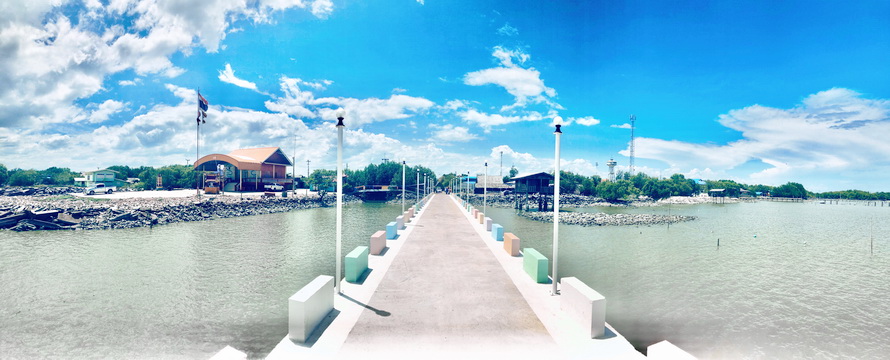 Now, as I write this, I just came across another viewpoint that was literally around the corner. Simply minutes away. I can't believe I missed this! It's called the Rainbow Boardwalk.
OK, I definitely need to go back for this.
The other viewpoint is the Red Boardwalk Bridge.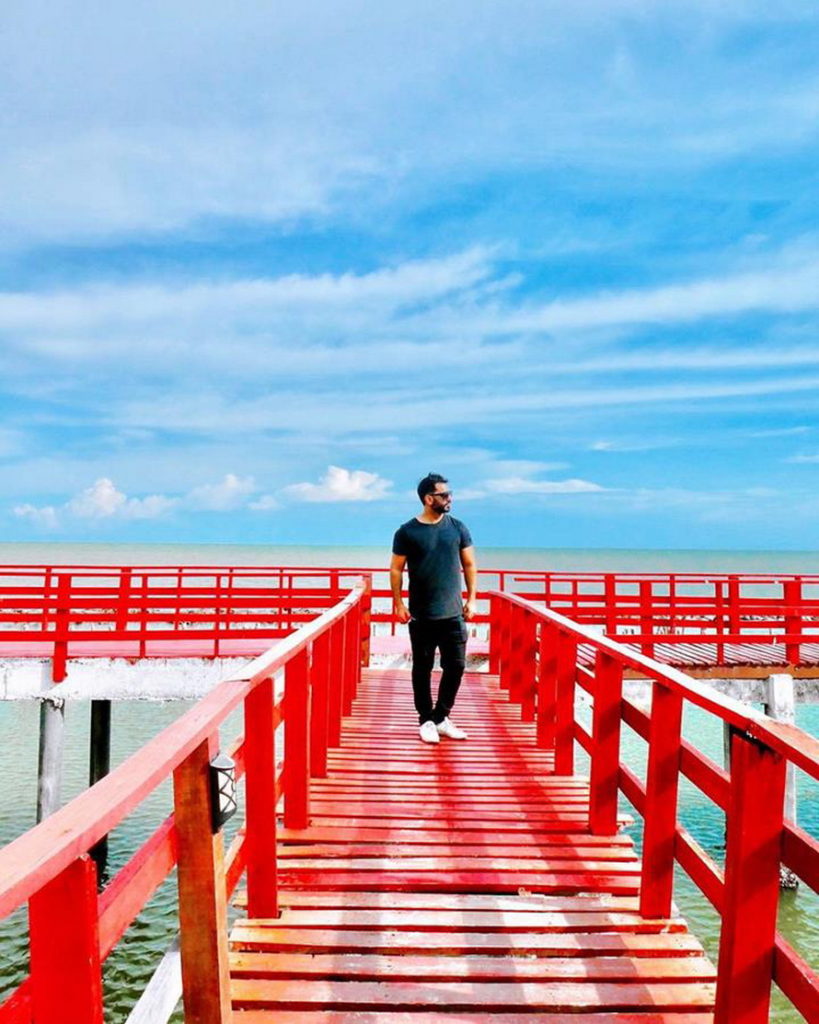 Samut Sakhon really has a thing for boardwalks, don't they?


The red bridge is quite impressive. I have no idea how long it stretches out for but I'm guessing 1-1.5 kilometers at least.
Despite the weather being extremely hot, the cool wind from the ocean made the walk bearable.
I imagine this attraction being very busy on normal days.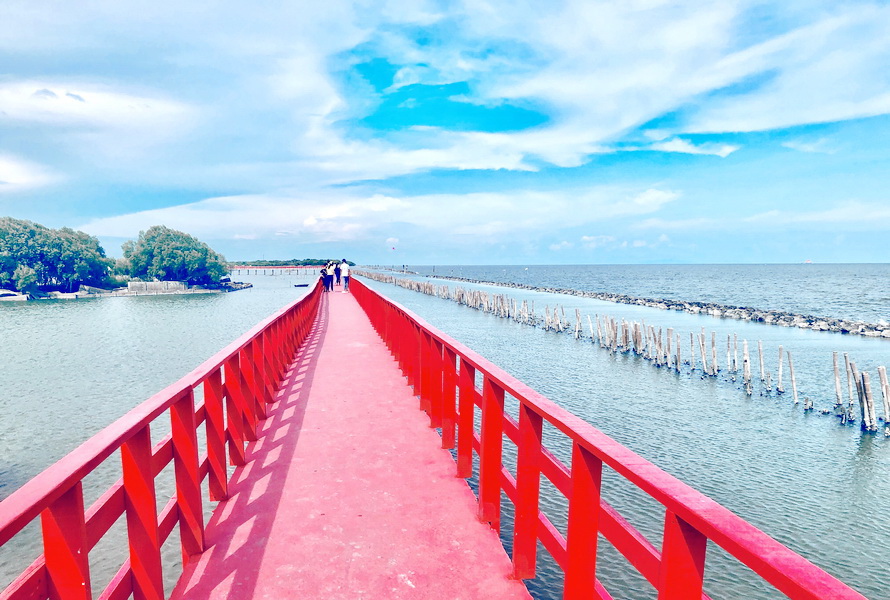 Abandoned train
Next Kanika told me to follow her directions. She wasn't telling me where we were going but that I would really like it.
Without question, I agreed. We ended up in what looked like the metropolitan area of Samut Sakhon. We drove past a mall called the Landmark Mahachai and right next to it was…This!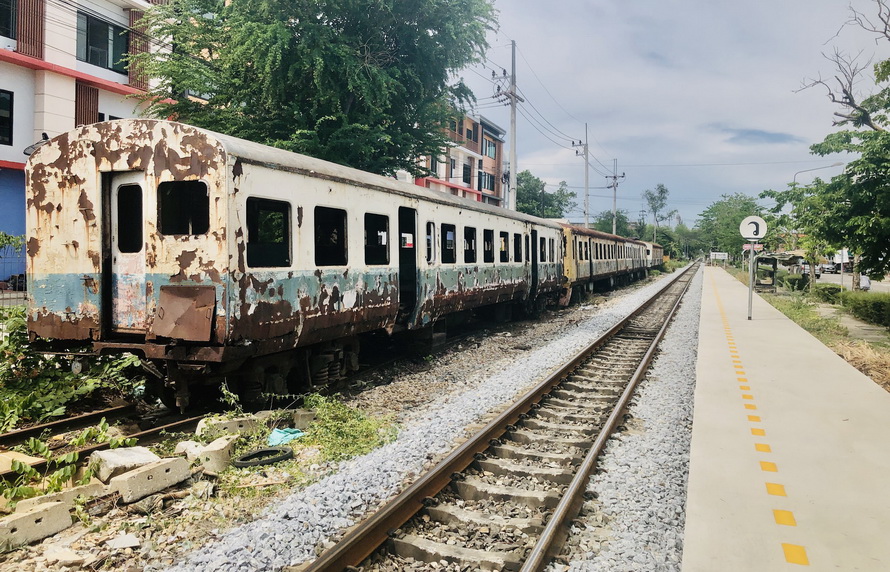 I mean it was right next to the mall. In the middle of the city. I couldn't dare go inside, even though I really wanted to. Nonetheless, pretty cool.
More temples and scenic drives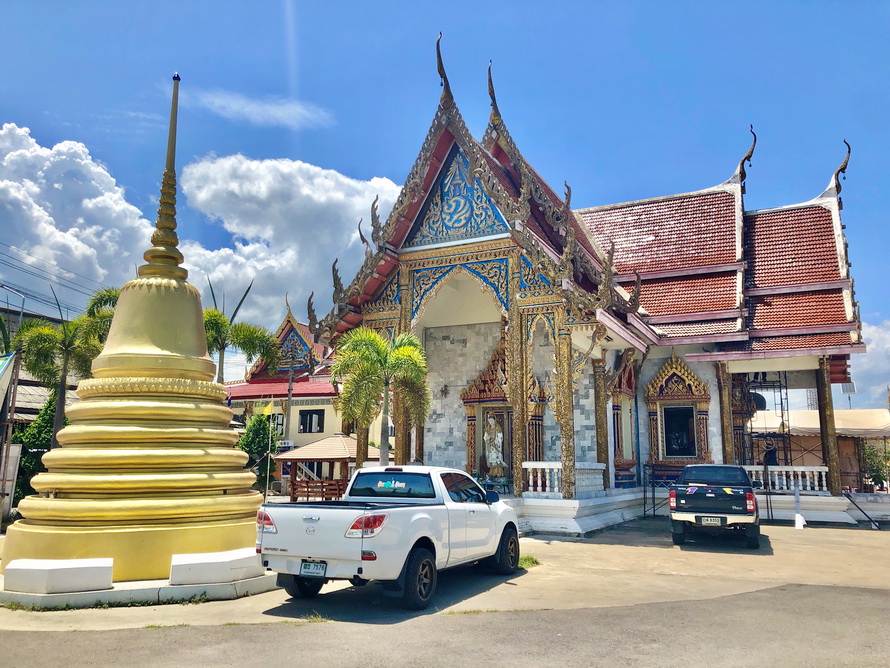 By now the sun was setting and I was getting tired. It was time to make our way home. We have to be back before curfew, which is 11 pm. More than enough time but still, better safe than sorry.
Also, we were taking the slow route opting for the country roads rather than the bypass highway.
On our return journey, we were met with more temples and endless salt farms. It definitely made the drive wonderful.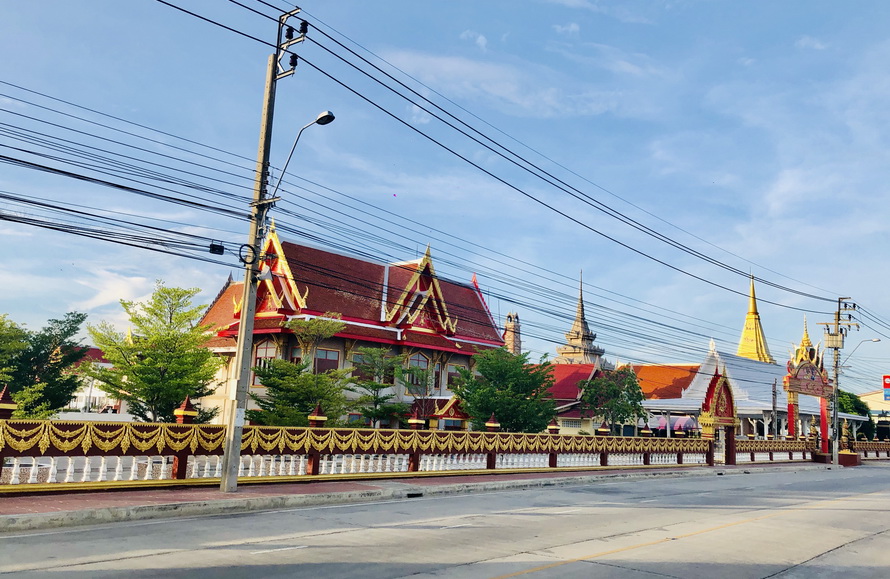 OMG. I totally forgot to show you guys one of the coolest and awe-inspiring sights of my life. On the way to Kalong beach, we saw this salt farm area.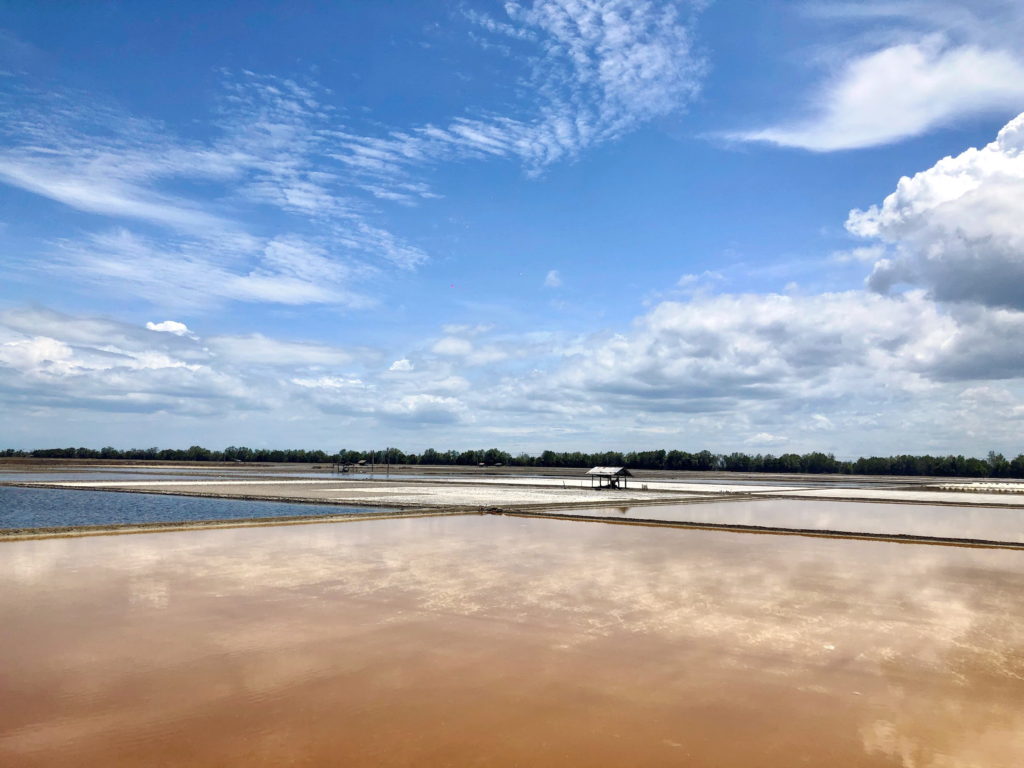 Look at the colors! I have no idea why some of the water fields have that orange hue. Do you? Let us know in the comments.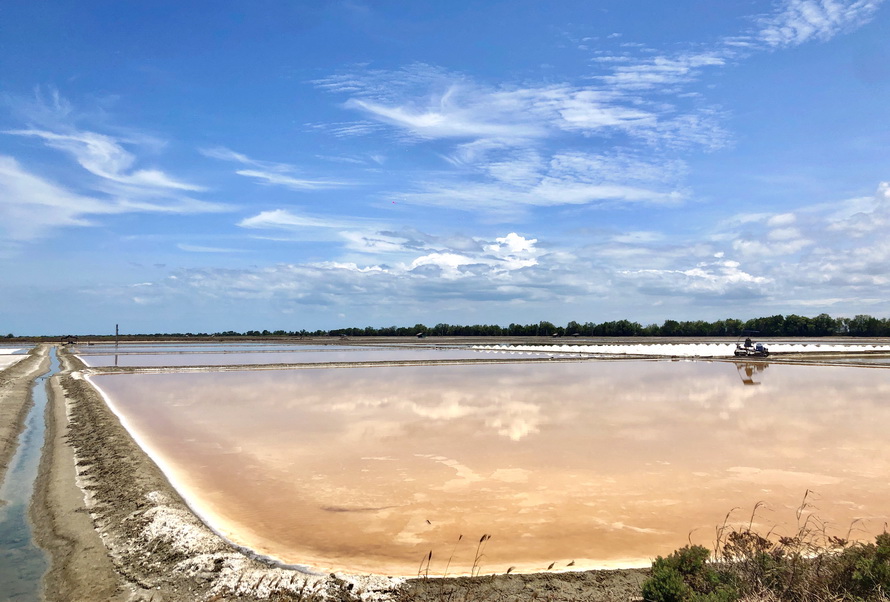 Looking back, there is certainly a lot more to see and discover in both Samut Songkhram and Samut Sakhon. A day trip is not enough.
I definitely have a higher level of appreciation for these two destinations.
3 reasons to visit Samut Songkhram and Samut Sakhon
The markets – Amphawa, Damnoen Saduak, and Maeklong markets are just some of the many to visit in these two provinces
Scenic drives alongside farms, rivers, and coasts
Close to Bangkok, giving quick access to a slower way of life and fresh air
Finally, we can also now officially and rightfully so, check Samut Songkhram and Samut Sakhon off our list of provinces to visit. I think Samut Sakhon is a bit more interesting though. It's also closer.
Would we go again? I think so as I plan to take some friends along too. I have a few reasons to go back now.